fashion history
Vuokko – Designer Behind The Iconic Marimekko Style
Vuokko Nurmesniemi created the distinctive Marimekko style that is still relevant today. After leaving Marimekko, Nurmesniemi developed her style even further in her own company Vuokko.
Liisa Jokinen · Jul 14, 2020
Cover Photo: Juliana Harkki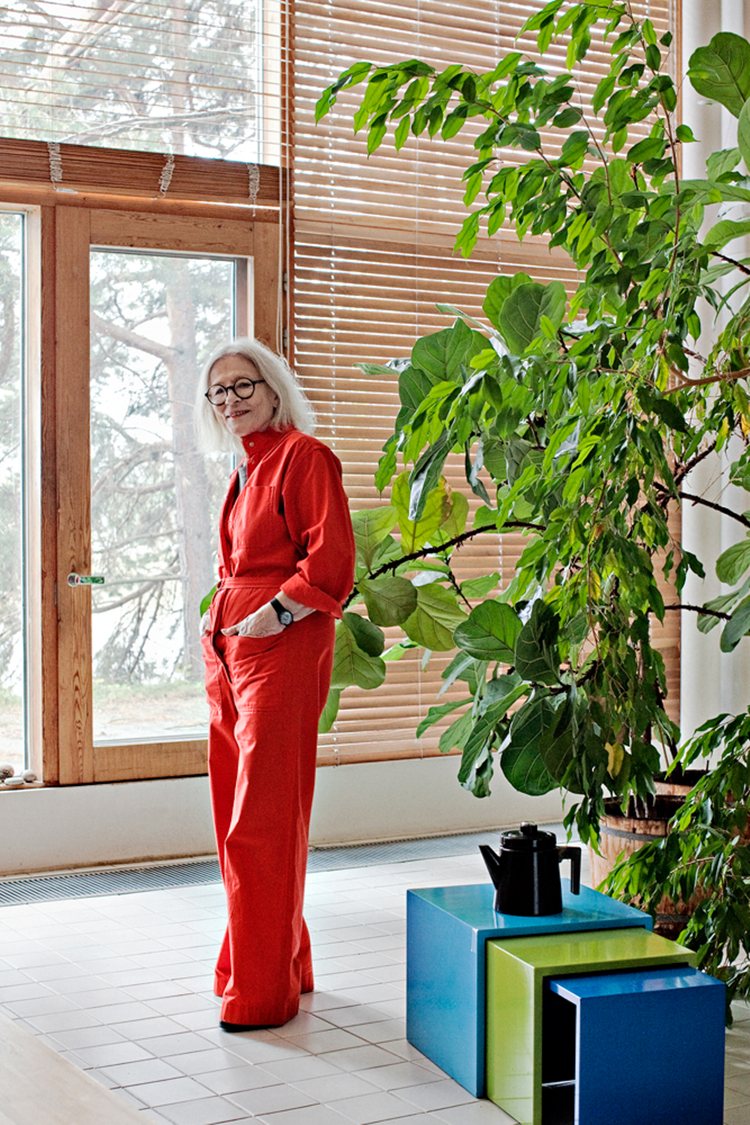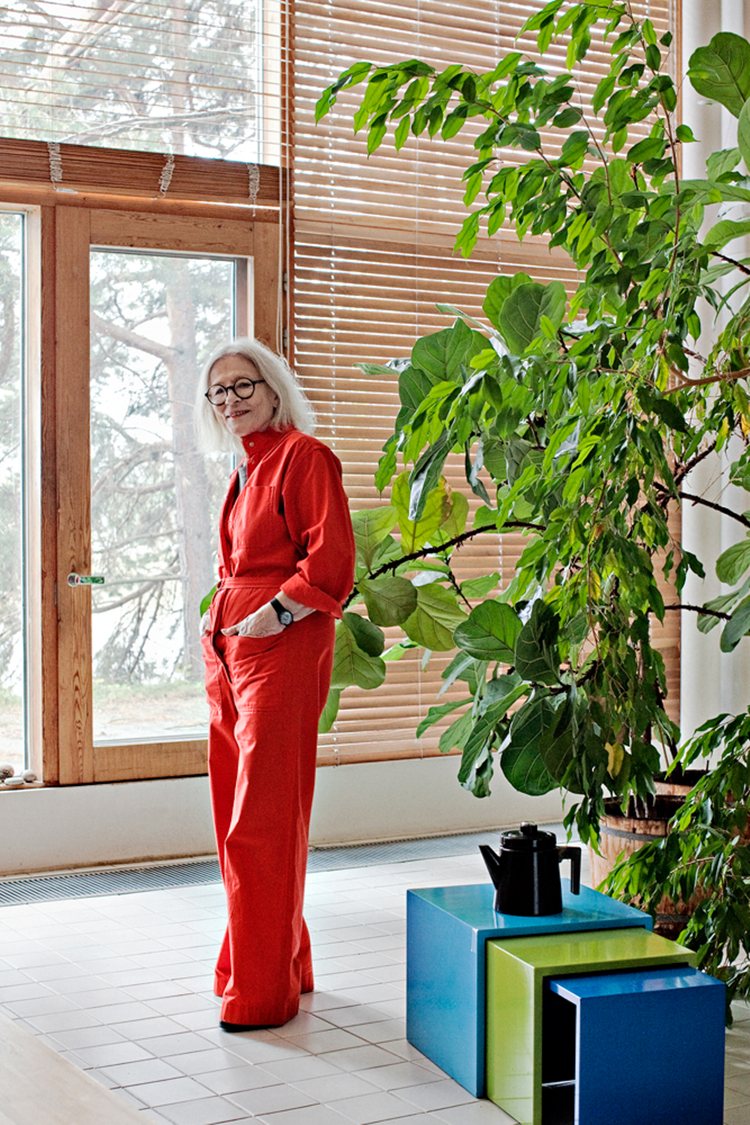 fashion history
Vuokko – Designer Behind The Iconic Marimekko Style
Vuokko Nurmesniemi created the distinctive Marimekko style that is still relevant today. After leaving Marimekko, Nurmesniemi developed her style even further in her own company Vuokko.
Liisa Jokinen · Jul 14, 2020
Cover Photo: Juliana Harkki
Vuokko Nurmesniemi worked only six years for the Finnish design company Marimekko. During that stint, she created what was to become Marimekko's evergreen signature style. After leaving Marimekko, Nurmesniemi continued to develop her designs in her own company Vuokko which is still active today.
Nurmesniemi started studying ceramics at the age of 16 at Ateneum, the prestigious art academy in Helsinki. She was pondering between ceramics and textiles for a while but eventually, ceramics won her heart. Nurmesniemi was still eager to learn how clothes are made and studied a 3-year course in tailoring and pattern-cutting alongside the ceramics.
In 1953 Nurmesniemi was hired to Marimekko to design modern print fabrics for the company. She was only 23 years old and fresh from school. Soon she was designing Marimekko's clothing, too, and was also in charge of Marimekko's advertising. The founder of Marimekko, Armi Ratia let her work very independently after seeing how unique and unconventional Nurmesniemi's designs were.
At that time there were not real fashion houses in Finland – most clothes were still home-made or custom-made at small dressmaker's shops. Nurmesniemi has said that there wasn't really any ways to follow international fashion or design scene in Finland.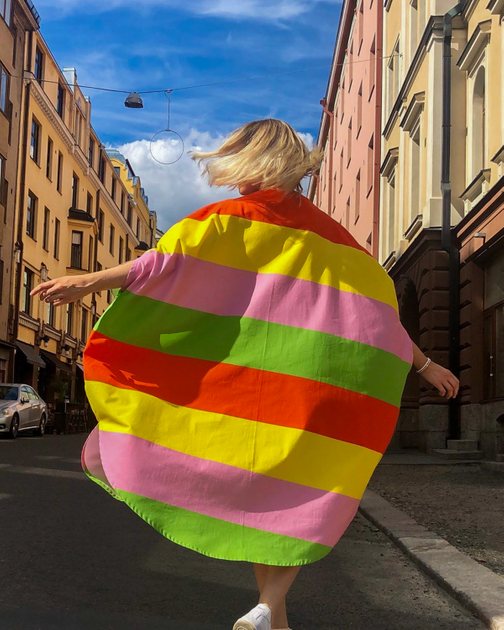 Marimekko had had its first successful fashion show two years earlier but the company's production was not streamlined enough to satisfy the sudden demand. Marimekko's first fashion designer Riitta Immonen had left the company – she didn't agree with Marimekko's vision to make every Finn buy at least one of their garments. Despite these difficulties, Marimekko managed to stay afloat.
The first Marimekko fashion show displaying Nurmesniemi's designs happened in 1954. All the garments were functional, simple, and modest, made of printed cotton fabrics. Most importantly, Nurmesniemi freed women from wearing corsets and girdles which were still commonplace at the time time. She abolished the intakes and any excess from the clothes she designed. Her clothes had as few seams as possible.
Nurmesniemi believed that when clothes did not emphasize a woman's body they emphasized her personality instead. The series were intentionally small – it was important that the customer would feel the clothes were unique, Nurmesniemi argued.
Nurmesniemi's prints were abstract, reduced, and minimal which was new at the time. Small-scale floral prints were still dominating the market but Armi Ratia despised them as old-fashioned and unstylish.
Nurmesniemi's color combinations were also unusual: fuchsia with orange, teal with bright green, yellow with pink and lime green.
Issey Miyake has been told to say that Nurmesniemi was "the mother of all his designs". Nurmesniemi herself was greatly influenced by Christobal Balenciaga and Madeline Vionette.
Nurmesniemi's designs were an imminent success. In 1959 they were discovered by Benjamin Thompson, the founder of Design Research lifestyle store. He organized an exhibition about Finnish design at their flagship store in Cambridge. Jacqueline Kennedy bought eight dresses and posed in one of them on the cover of Sports Illustrated – and Marimekko became a hit in the US.
Nurmesniemi and her husband, interior and industrial designer Antti Nurmesniemi were instrumental in making Finnish design internationally known in the 60s and 70s.
Despite the creative freedom and success, in 1961 Nurmesniemi left Marimekko and founded her own company, Vuokko, in 1964. The company is still active to this day. In her own company, Nurmesniemi wanted to elaborate and develop her designs even further. Her designs became even more simple and clean-cut, the color scheme more black-and-white, and prints grew into gigantic proportions.
Nurmesniemi often used the same fabric in multiple ways: depending on how the garment was cut the print could be used differently.
Nurmesniemi was ahead of her times in many ways: She designed the uniforms for the first female priests in Finland. In the late 60s, she woke up to environmental issues and stopped using synthetics fibers and plastic bags at her boutique.
Vuokko's designs have always been truly timeless: the striped Jokapoika cotton button-up she designed for Marimekko has been continuously in production since 1956. (For its Piccolo fabric Nurmesniemi has designed over 300 different colorways.) The same applies to her multi-pocketed, a-line Kihlatasku (also called Iloinen Takki), launched in 1958.
Nurmesniemi has always worked outside of fashion and trends and admired archetype garments such as Japanese kimonos, Indian saris, and Chinese suits. All this shows in her functional, simple but sometimes dramatic designs.
Functionality and comfort have been Nurmesniemi's leading principles to this day. At 90 years old, she is still actively designing and her business has a steady following. Her famous quote goes: There is no fashion, only time.
Sources:
Inspire Me! 25 Finnish Designers' Stories. Kukkapuro-Enbom, Isa & Ylä-Mononen, Jutta. Cozy Publishing 2017.
Vuokko Nurmesniemi – pukuja ja kankaita. Designmuseo 2007.