fashion history
How Marimekko Revolutionized Women's Fashion in the 60s
In 1951, a revolutionary textile company Marimekko was born in Finland. Integral to its success were the bold prints and operating outside of international fashions.
Liisa Jokinen · Aug 13, 2019
Photos: Tony Vaccaro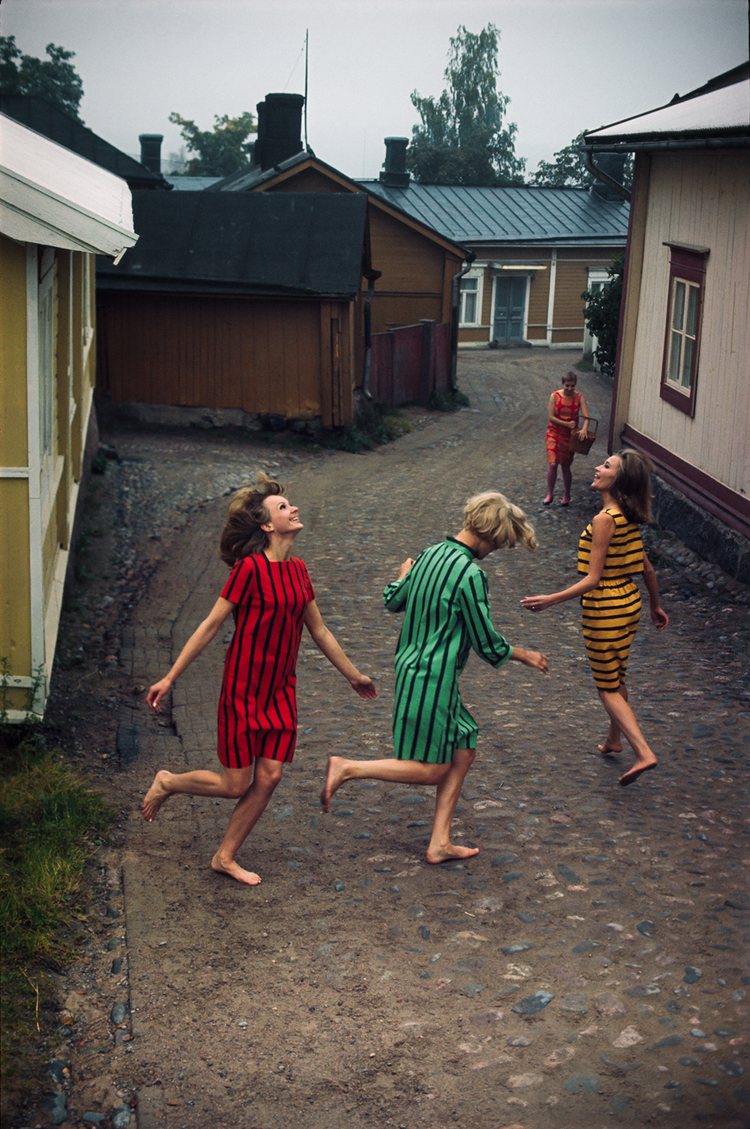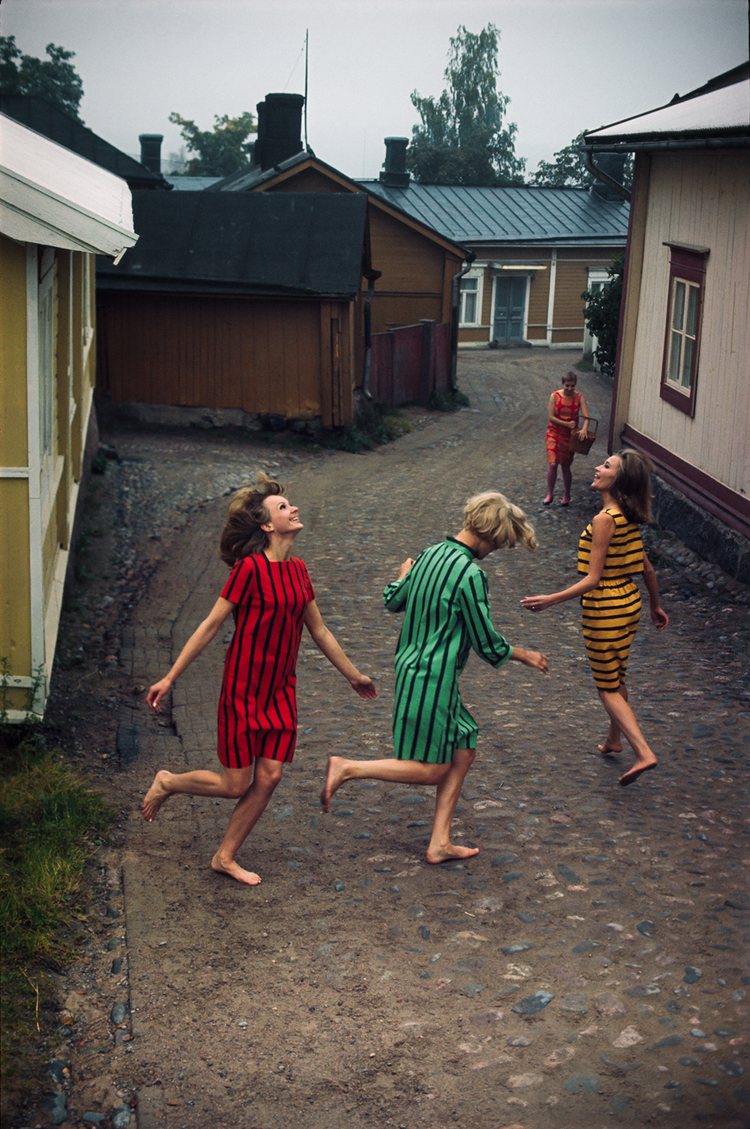 fashion history
How Marimekko Revolutionized Women's Fashion in the 60s
In 1951, a revolutionary textile company Marimekko was born in Finland. Integral to its success were the bold prints and operating outside of international fashions.
Liisa Jokinen · Aug 13, 2019
Photos: Tony Vaccaro
Marimekko's first fashion show was held in Helsinki in May 1951. The show consisted of 24 outfits and was a huge success – although company had not set up its production lines and was not able to deliver as many clothes as people wanted to buy.
From the very beginning, Marimekko aimed to produce classic, timeless designs. "There are no annual growth rings at Marimekko", Armi Ratia, founder of Marimekko, famously said. Marimekko was selling not just clothes, but a whole lifestyle.
"I make a dress for women to live in. I sell an idea rather than dresses. I sell a new woman," Ratia has been quoted to say.
Although the designers were given a lot of freedom, Ratia was the ultimate decision-maker in the company. She favored abstract, modernist prints in big size; a daring thinking that describes her revolutionary spirit at the time when other textile companies favorited smaller, figurative prints.
When Marimekko dresses were criticized as unsexy, Ratia told that it is the woman who is sexy, not the garment she is wearing.
Marimekko dresses were meant to be worn at all occasions; they were the new uniforms for women of all ages and body types.
In 1971 Marimekko launched Ultra Mari collection, for "big girls" and "problem bodies". The pioneering plus size collection was designed by Pentti Rinta.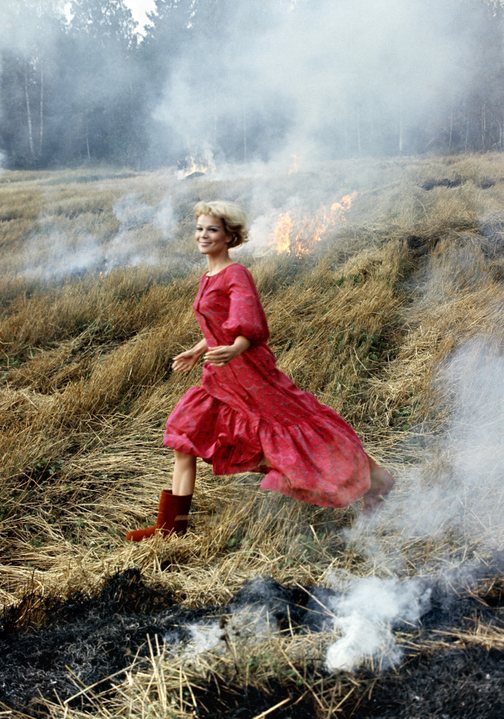 Not all people loved Marimekko though. A local newspaper wrote in 1964: 'people sometimes come into Marimekko store and spit with disgust'!
Financial risks, bohemianism, and independence are words often used to describe Marimekko as a company. Ratia even described herself as the worst dressed woman in Helsinki. Her dream was to build a whole Marimekko village near Porvoo where she had bought an old mansion in 1963. Eventually, only one house was built in 1966.
Vuokko Nurmesniemi – Jackie O's favorite
The striped Piccolo print (in the photo) from the year 1953 has a Vuokko Nurmesniemi signature: overlapping adjacent colors create a third intermediate shade. When other companies were desperately trying to avoid this kind of "faults" Marimekko made them part of their design.
Piccolo was first used for women's garments. 1956 Nurmesniemi designed the Jokapoika ('Every Man') shirt with Piccolo print. The simple cotton shirt with metal buttons and a breast pocket became an instant hit and architects' favorite shirt. It was Marimekko's first garment for men but soon became a unisex classic, still in production, and favored by Finnish teens and older people alike. Jokapoika shirt was also Armi Ratia's favorite working shirt.
Vuokko Nurmesniemi was the first full-time fashion designer in the whole of Finland although she was trained as a ceramic artist. The founder of Marimekko, Armi Ratia, had seen Nurmesniemi's outfits and thought she would make a good fit for the company. It is told that Nurmesniemi would sometimes wear her coat inside-out with a fishing lure as a brooch.
Nurmesniemi designed both prints and clothes for Marimekko and changed the course of Finnish fashion history. She dumped the form-fitting silhouettes of the 1950s and created loose, clear-cut, modern dresses which made Marimekko an international success and liberated women from girdles.
In 1960 Jacqueline Kennedy bought seven smock dresses designed by Nurmesniemi.
This happened when Kennedy's and Nixon's election campaigns and fight for the presidency were intense and Mrs Kennedy was accused of spending too much on French fashion. Over 300 media outlets published the news about Kennedy wearing humble, affordable Finnish cotton dresses.
It was probably because of lack of Nurmesniemi's professional training that made her such an innovative textile (and clothes designer), says Lesley Jackson. Her trademark was extreme graphic simplicity and daring use of color, Jackson describes – as few seams as possible, narrow shoulders, no sleeves or collars.
Nurmesniemi often re-used her most successful designs in successive collections but with different color ways or fabric patterns – an anti-fashion statement decades ahead of its time.
Annika Rimala – unisex, democratic clothing for all
Annika Rimala was hired as a clothing designer after Vuokko had left the company to start her own business. (Which she still runs to this day, at the age of 89.)
Rimala wanted to make clothes that women could run, jump, and dance in. She increased the spaciousness of Marimekko dresses, especially at the sleeves and shoulders.
Petrooli and Kukka prints (in the photo above) were among her early designs for Marimekko but already showing her bold, assertive style.
Rimala was inspired by everyday life, youth culture, art and rock and roll. Toward the end of her career, her designs became increasingly timeless and universal. She was trained as a graphic designer which shows in her work.
By the end of the 1960s, everyone was wearing jeans, also in Finland. Rimala wanted to create unisex, democratic clothing to go with jeans. This is how the famous Tasaraita print was born although Ratia resisted it first and told Rimala to take full responsibility of her actions. The striped t-shirt is a Finnish fashion classic and has been produced in countless color combinations.
Maija Isola – creator of the Poppy print
Maija Isola created 533 designs for Marimekko during her 38 year long career. Her most famous print is the well-known and often-copied Unikko, Poppy.
Ratia had forbidden the design of floral prints for Marimekko as all the other companies were busy designing cute, small-scale flower prints. She thought flowers are more beautiful in nature than on textiles. Isola did not obey and Unikko was born. Bold Unikko print resonated with the Flower Power movement of the time and became one of the most popular Marimekko prints.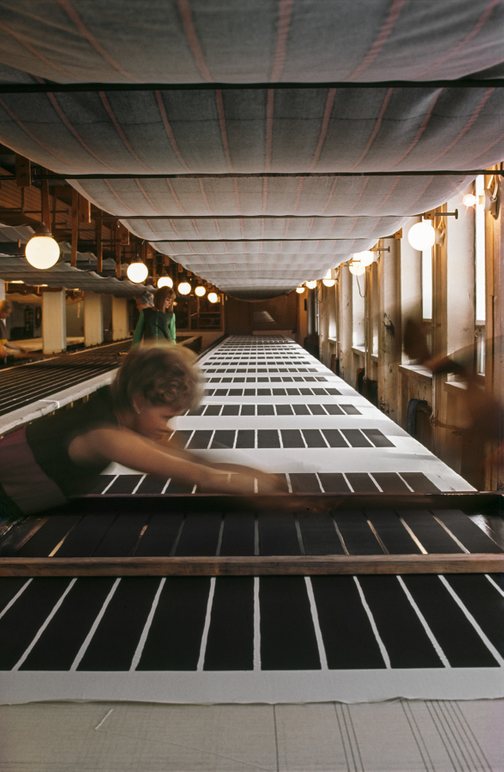 Finland's cultural remoteness and isolation can be seen as weaknesses but Marimekko used them for its strength.
"Being far removed from mainstream currents in fashion made Marimekko's designers more self-reliant and much less vulnerable to external influences", writes Lesley Jackson in the book Marimekko – Fashion and Design.
None of the designers mentioned in this post had a fashion designer's education. There was no fashion industry in Finland when Marimekko was born. The Marimekko designers were completely free to create their own aesthetic.
Sources:
Marimekko In Patterns. WSOY. 2012.
Marimekko: Fabrics Fashion Architecture. Yale University Press. 2004.
Marimekko – Fashion and Design. Designmuseo. 2010.
Marimekkoilmiö. W&G. 1986.
Photos by Tony Vaccaro. Originally published in Life magazine 8/1966.