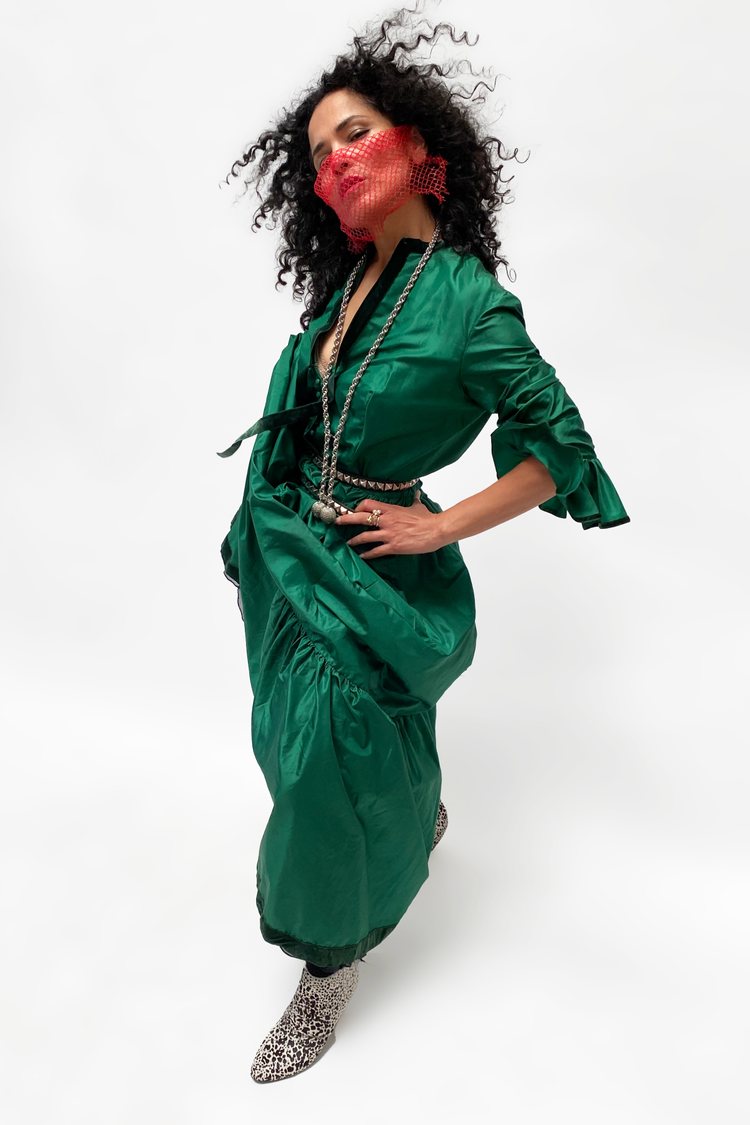 Take the pledge to buy no new fashion this year.
The most sustainable garment is the one that already exists. So why buy new at all?
At this point, we all know that the fashion industry is one of the top three polluters in the world and is one of the largest consumers of water on the planet.
Fast fashion is particularly harsh on the environment. Brands like Zara, Forever 21, and H&M produce an average of 52 new micro collections per year. Compounding this problem is the exploitation of people (mostly women of color) that make our garments. Most work under dangerous conditions without earning a living wage, both in and outside of the United States (yes, clothes that are "Made in the USA" can still be exploitative).
New fashion's impact on the planet cannot be understated.
In response to the fashion industry's practices, #NoNewFashion movement has gained momentum to combat the environmental toll. People are joining this grassroots effort because they want to be part of the solution and they realize they can be stylish and fashion-forward without buying new clothes.
And here's a feel-good stat for added motivation: According to ThredUp, if everyone bought one item used instead of new this year, it would save 449M lbs of waste – 18,700 trucks full of garbage. That's huge!
Here are 10 practical tips that help you commit to the challenge.
Unsubscribe
Unsubscribe from fast fashion newsletters. Subscribe to vintage stores' letters instead.
Newsletters from vintage shops are often written by the shop owners themselves. They provide a unique perspective on style and fashion that corporate newsletters never can. And while we all love a discount and a great sale, inspiration and connection is far more authentic and meaningful coming from a message sent by the owner or team member of your favorite vintage shop.
Unfollow
It is time to clean your feed and unfollow fast fashion brands on Instagram. Follow vintage stores and sustainability influencers instead to avoid the lure of shopping new.
Flooding your feed with inspiration from your favorite vintage shops and style influencers is a great way of growing your online community with like minds and shifting your attention away from new fashion.
Repeat outfits
Be a proud outfit repeater! Wearing the same outfit over and over again is something that you should not be ashamed of, quite the contrary. It shows you have found your style and your uniform, your trademark, and your signature.
And after all, the rich and famous outfit-repeat all the time! Royal family members Meghan Markle and the Duchess of Cambridge have worn the same thing multiple times over the course of the year. "To be specific, Markle has been seen in a '60s-era Courréges trapeze coat from one-of-a-kind dealer William Vintage again and again", knows Liane Satenstein of Vogue.
Aim for 300 Wears
In 2019, Eco-Age founder Olivia Firth launched the #30wears challenge. It is about wearing every piece of clothing you buy at least 30 times. And coincidentally, asking the question: Will I wear that 30 times?
But we say you can aim for much more when you choose vintage and take good care of your clothes: 300 wears. Think about your favorite vintage piece and how long you have owned it? How many times a week or month do you wear? How long do you imagine keeping the item? Add to these numbers the item's previous life and you are soon in 300 wears.
Learn to mend
Mending your clothes is a brilliant way to extend the life of your garments. Modifying your clothes will give them a style refresh. If you don't know how to sew, find a trusted tailor to professionally mend your clothes. Modification can be as simple as adjusting the length of a sleeve or pant leg. For more complex projects, a tailor can execute your vision and can provide more creative ideas to further your vision.
For inspiration, discover people on social media who are master upcyclers and teach how to transform old clothes into beautiful new fashions.
Some menders we like: Kate Sekules of Visible Mend and Lily Fulop of Mindful Mending.
Borrow and rent
If you know you're unlikely to wear an item more than once, don't buy it – borrow it, whether that's from a generous friend or a fashion rental service such as Rent the Runway, Nuuly, or Armoire.
If you then fall in love with the piece and want to own it, try searching it secondhand with Gem alerts. Borrowing is like test-driving a car – get to know the garment before you commit to it!
Swap (after the pandemic!)
Clothing swap events are essentially a free thrift shop – you donate clothing items you no longer need, and in return, you can get other items that people donate.
At the moment, we don't recommend attending or organizing a clothing swap because it is difficult to organize one 100% covid-safely.
Clothing swaps work double duty; they're fun and usually free to attend. Swaps hosted by friends or locals means you get to hang out, eat, drink, and explore fashion in a way that engages your creative fashion energy with the community. Some swaps require an entrance fee and they sometimes limit the number of items you can swap, but those rules are usually in place to make the grassroots effort manageable.
To find a clothing swap near you, try searching on Eventbrite, Meetup, Facebook, and Instagram, for starters. Type in "clothing swap + your city" and you are bound to find something. If not, there are plenty of articles online about how to organize your own clothing swap.
Shop your own closet
Most people wear regularly only 20% of their wardrobes. We tend to own way too many clothes – we have bags and bags full of clothes that we very seldom wear. Force yourself to wear every item you own and suddenly you have quite many "new clothes" again.
"Ignore anyone who tells you to get rid of everything you haven't worn in a year. Fashion is cyclical – come on, we know this – and no sooner have you sent a tired old trend off to the charity shop than Vogue will suddenly declare it hot again. It's amazing how often you can medicate trend flu with something that's already in your wardrobe", writes Lauren Bravo in The Guardian.
Mix and match
Try new combinations – and you will get more outfits from your existing wardrobe.
You'd be surprised how the most unpredictable prints or colors play well together for a look that takes the edge to a new level. Using basic color theory when dressing can really help you mix prints like an expert stylist.
Layering is another way to create new combinations and get more out of what you already have – who says you can't wear your summer dresses in winter?
"...layering – an art form I'd previously believed you could only do if you were Scandinavian or owned your own kiln. Turns out no! You simply take your clothes and… put them on top of other clothes. Slimfit polo necks under summery slips, shirts under short-sleeve sweaters, jumpers over dresses over jeans", says Lauren Bravo.
Postpone
When you get an urge to buy something new, stop on your tracks and try to wait a couple of days before shopping. Probably your shopping fever will drop down during this time, and you might even forget the garment you were desperately wanting to buy just some days ago.
And remember, new fashion is ultimately not "new." More often than not, a past style inspired it.
Judith Soto is the owner of LaliSimone vintage store.