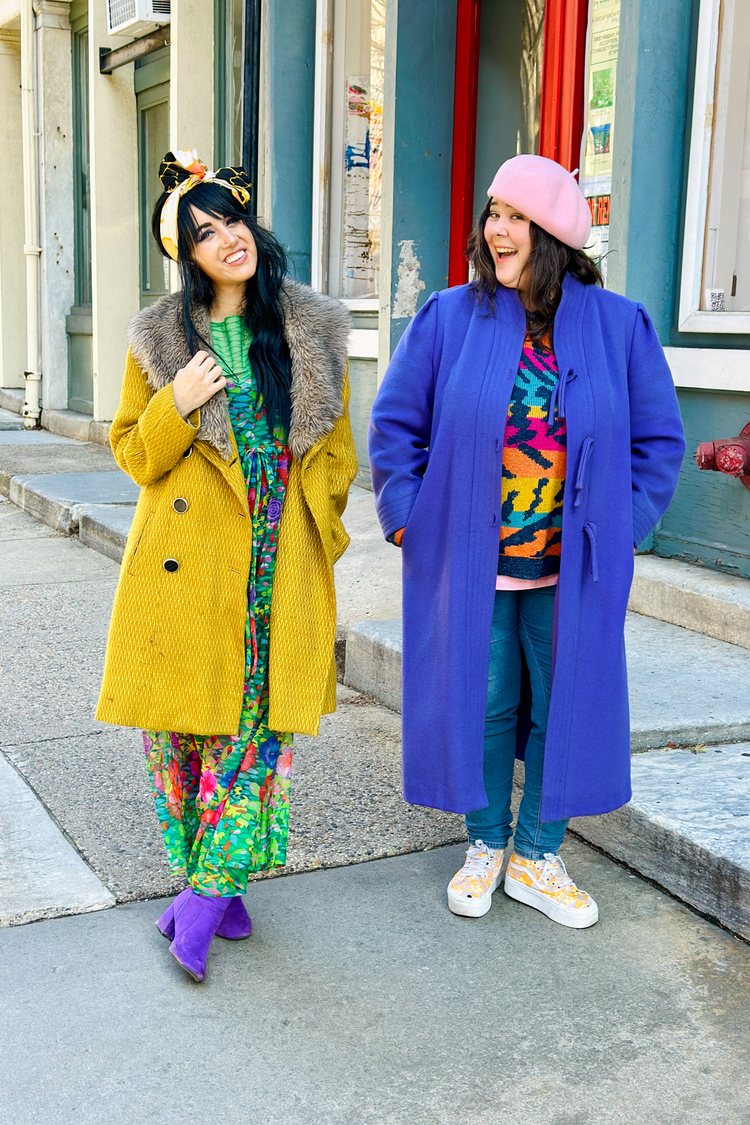 If anyone, Aimée Siegel and Marisa DiSalvatore, know the Philly vintage scene. They collect and curate vintage, and lead visitors on vintage and thrift tours. Here are their current favorite vintage stores in Philly!
We think Philly is a hidden gem – so often underrated next to some of the larger cities which receive a lot more press. However, with its charming and historic cobblestone streets, art-filled alleys and alluring, bright vintage boutiques offering great prices and a wide range of styles, it's the perfect place to add to your travel wishlist for unforgettable treasure hunting. And it is only 1.5 hours by train from New York City.
The vintage scene in Philadelphia is as varied as the people who call the city their home. Whether you are looking for psychedelic 70s prints, oversized 80s sweaters or high-end vintage pieces and documented couture through the centuries – you can find it all here. Where the shopping experience used to be limited to more traditional storefronts and hours, you can now find a variety of ways to access vintage clothing in Philly; from showrooms to designated racks for unique collections within a variety of vibrant small businesses.
PS. Check out more Philly vintage & thrift shopping tips in our earlier local guide from the year 2021. Plus this Google Maps list of all the Philly vintage & thrift stores!
Moore Vintage Archive
Moore Vintage Archive was founded in 2014 and now also has a gorgeous shop and showroom in the vintage corridor on 4th Street in Queen Village. Walking into this modern and chic shop, you are immediately drawn to the ultimate stars of the show: the vintage garments themselves, organized on simple and stunning racks like the awe-inspiring pieces of art that they are.
Owner, Keesean, is deeply committed to entrepreneurship, sustainability, and community and passionate about preserving the history of garment making. His collection features exquisite high-end designer vintage womenswear and documented couture with pieces going back as far as 1890. The fact that he also sources a lot of his pieces from France is just another reason added to the long list of why you should certainly make a point to stop by this one-of-a-kind spot for vintage whenever you find yourself in the Philadelphia area. It has been said, by other vintage collectors and sellers, that it's one of the best vintage stores they've visited on the East Coast. We'd absolutely concur.
Moore Vintage Archive
725 South 4th Street
Philadelphia, PA 19147
Mon & Tues: By appointment
Wed-Sat: 11-6
Sun: 11-5
@moorevintagearchive
Wayward Collection
Wayward Collection is an ever-changing one, made of playful prints and designer pieces that will leave you swooning at first sight. Head down the quaint, charming streets of Queen Village and follow your eyes into an inspiring oasis of ideas that will lead you to a mix of patterns, textures, and colors to take your vintage style to the next level. Their deliciously minimalistic window displays never fail to turn our heads, and the warm glow of their well-displayed interior makes us want to slow down, breath deeply and take the time to appreciate every carefully curated piece on their racks. Peaceful, pretty and quite the perfect vintage shopping experience, we'd say.
Wayward Collection
707 South 4th Street
Philadelphia 19147
Wed-Fri 12-6
Sat 11-6
Sun 12-5
@waywardcollection
Elektra
A good shopping experience starts from the moment you approach the storefront, and as soon as the alluringly styled window display and unique, colorful glass sign hanging outside Elektra Vintage catch your eyes, you know you're about to step into something special and fun. Once inside, you will find some of the best the 90s to Y2Ks have to offer: cute little slip dresses, platform sandals, low-rise denim, brand names like Juicy Couture, Von Dutch, Baby Phat – the gang's all here. The treasure hunt continues as you spy playful, funky knits and 70s dresses, as well as 80s pastel trinkets and bright home decor.
There's truly something for everyone here, as well as (drumroll please) a blast from the past basement SALE where everything is just five dollars! We both walked away with some great new pieces that were an absolute steal. Elektra is a wonderful addition to the Old City shopping corridor and it's also just a hop, skip, and jump away from that famous bell and such. End your historic sight-seeing tour here, with a splash of vintage color and charm!
Elektra
53 North 3rd Street
Philadelphia 19106
Wed-Sat 11-6pm
Sun 12-5pm
@elektravtg
Sol Reminisce
We walked up to Sol Reminisce on a very appropriately sunny day and were immediately drawn in, through the wide open doors, to this warm, welcoming space. Owner, Cruz, opened his shop in April of 2022 and his clear vision and passion for curating has translated into the most captivating collection where street style culture meets vintage pop culture and makes you want to linger forever in its vibrant, inspiring atmosphere.
You will love sifting through their 80s and 90s tees and track jackets, while also taking a gander at their extensive collection of VHS and vintage toy gems too. Another creative and brilliant feature of this shop is a large rug in the center of the room piled with ten-dollar items for you to rummage through. It's like literally digging for buried treasure. Marisa walked out with a handful of fun finds for herself and her family!
Philly is known as the "City of Brotherly Love" and, to us, it feels like that slogan has come to life, in shop form, in Sol Reminisce. We can't wait back to go back again and again.
Sol Reminisce
11 South 3rd Street
Philadelphia 19106
Mon-Sat 12-8
Sun 12-6
@solreminisce
B-Bop Vintage
B-Bop Vintage has been open less than a year now, but in that short span of time has become one of our absolute favorites. Shop owner, Bridget, is an absolute doll and the years and years she has invested into collecting and curating vintage and working for other vintage stores is very apparent in this magical and kitschy jewel box of a store she's created. Marcia Brady eat your heart out!
There are the best 60s and 70s patterns here, so many styles and colors that leave us absolutely swooning each and every time we visit. Inviting, colorfully curated racks and racks of dresses, rompers, sweaters, shoes… literally anything you could ever want to create the complete vintage outfit of your dreams. She also has a beautiful jewelry collection stocked by Jen Thunderhorse, so you can accessorize to your heart's content. If your soul is left in the 60s and 70s, then you need to run here. Of course, there's plenty of brightly patterned 80s and 90s pieces to satisfy your retro pop spirit as well.
Marisa scored the cutest 90s floral slip on Keds here and it's where Aimée found one of her favorite 70s kaftans ever. We can't say enough good things about B-Bop and are so happy to see Bridget's happy little haven thriving in the midst of Queen Village, an area that's becoming its own sort of vintage district here in Philadelphia.
Bbop Vintage
619 South 4th Street
Philadelphia 19147
Tue-Sun 11-7
@bbopvintage
Book here a Philly vintage & thrift tour with Aimeé and Marisa!
Google Maps list of all the Philly vintage & thrift stores.