travel
The Philadelphia Vintage Guide – The Best Vintage Stores in Philly
If anyone, friends Aimée Siegel and Marisa DiSalvatore, know the Philly vintage scene. They collect and curate vintage, and together they also lead visitors on vintage and thrift tours. For this post, they listed their favorite spots in the city they love.
Liisa Jokinen · Dec 28, 2021
Photos: Marisa DiSalvatore and Liisa Jokinen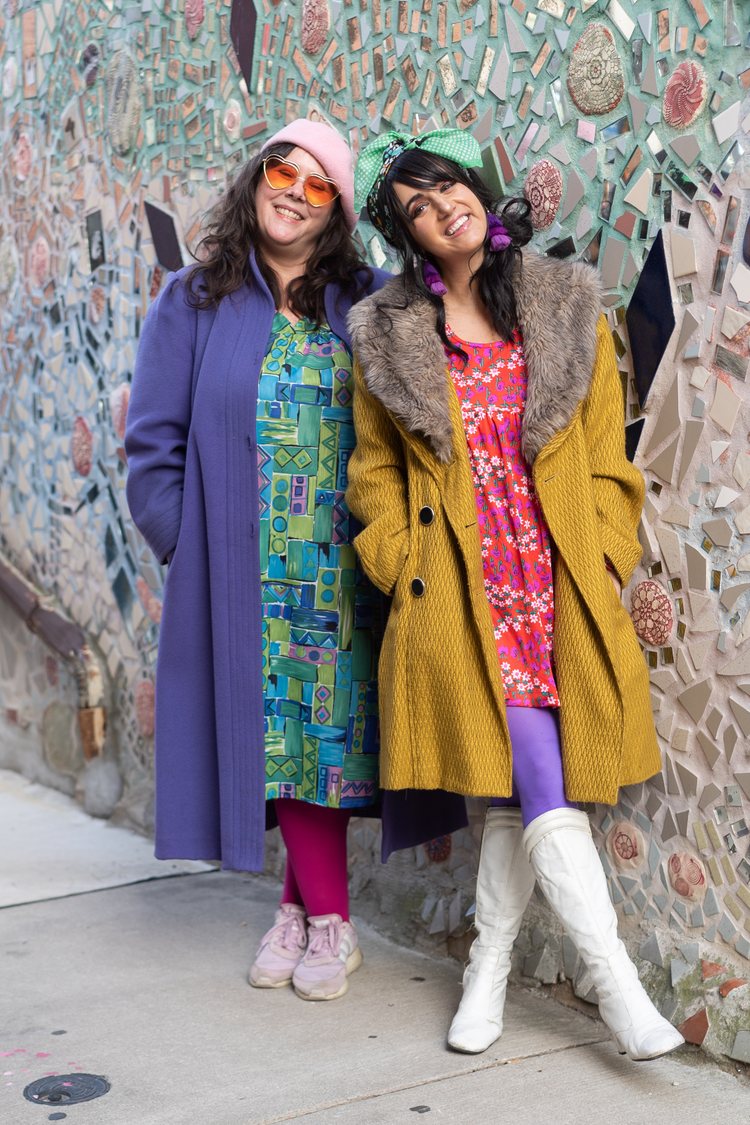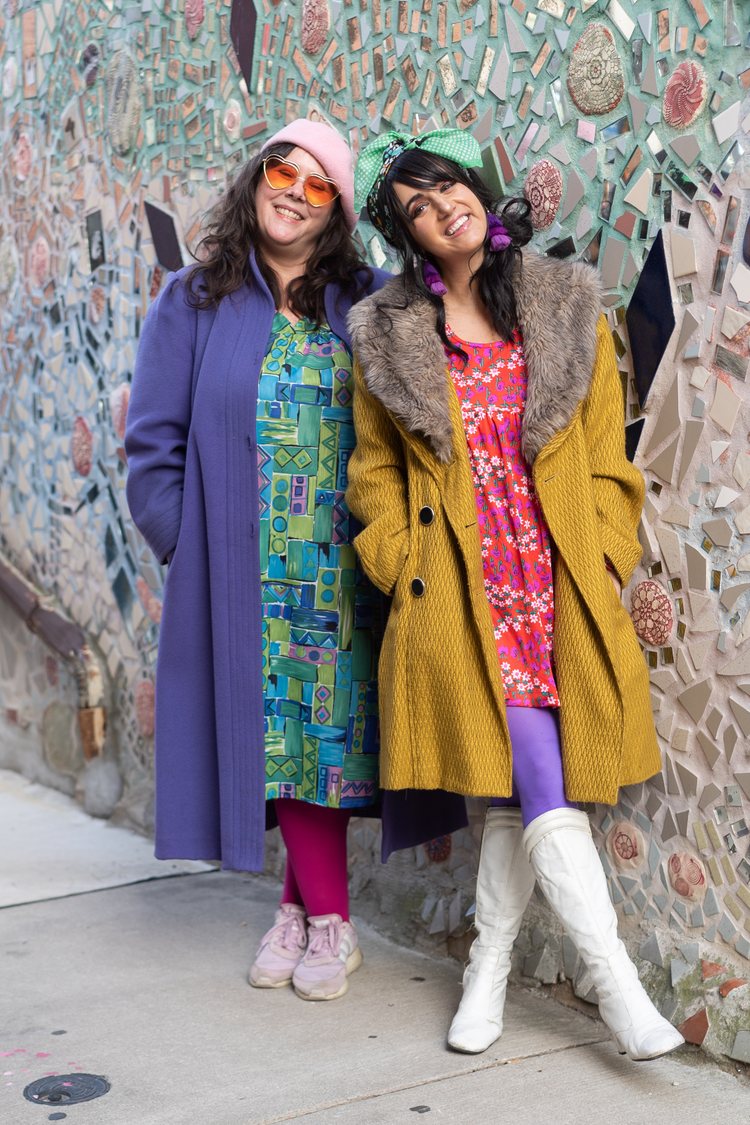 travel
The Philadelphia Vintage Guide – The Best Vintage Stores in Philly
If anyone, friends Aimée Siegel and Marisa DiSalvatore, know the Philly vintage scene. They collect and curate vintage, and together they also lead visitors on vintage and thrift tours. For this post, they listed their favorite spots in the city they love.
Liisa Jokinen · Dec 28, 2021
Photos: Marisa DiSalvatore and Liisa Jokinen
We think Philly is a hidden gem – so often underrated next to some of the larger cities which receive a lot more press. However, with its charming and historic cobblestone streets, art-filled alleys and alluring, bright vintage boutiques offering great prices and a wide range of styles, it's the perfect place to add to your travel wishlist for unforgettable treasure hunting. And it is only 1.5 hours by train from New York City.
The vintage scene in Philadelphia is as varied as the people who call the city their home. Whether you are looking for psychedelic 70s prints, oversized 80s sweaters or high-end vintage pieces and documented couture through the centuries – you can find it all here. Where the shopping experience used to be limited to more traditional storefronts and hours, you can now find a variety of ways to access vintage clothing in Philly; from showrooms to designated racks for unique collections within a variety of vibrant small businesses.
PS. Check out this Google Maps list for all the Philly vintage & thrift stores.
South Street Area
A lot of the places we like to frequent are conveniently concentrated in the South Street area and just south in a neighborhood known as Queen Village. With several popular spots within walking distance, this is a great place to begin your vintage shopping journey here in our city.
Retrospect Vintage
Retrospect is a perfectly curated vintage shop under the umbrella of Goodwill. However, instead of going to their individual thrift stores to hunt for all the best of vintage, they have gathered it all together for you under one roof and it's truly one of our most favorite and frequented places. Here you can find dresses from any era or style, the 50s and beyond. As a duo, we are always on the hunt for funky, flowing caftans (Aimée's style) and bright swingin' 60s minis (Marisa's vibe) and we can almost always find what we are looking for here. There is also an ample men's section, color-coordinated t-shirt racks, shoes, boots, accessories and denim. They also have always-changing outfit ideas hanging on all the surrounding walls, vignette styling ideas and fabulous front window displays with themed scenes.
Retrospect Vintage
508 South Street
Mon-Sun 11am–7pm
@retrospectvintage
Philly Vintage Bazaar
One of Philly's newest hot spots for vintage, this shop was launched by a collective of several sellers who together have created a stellar atmosphere that immediately draws you in from the street with its bright neon sign and makes you want to discover more. Going deeper inside the brick-lined haven, you will find racks filled with clothing from every era, punctuated with a well-curated selection of colorful mid century housewares and local art. They have a killer boot collection that we can never pass by and their seasonal coats and track jackets are ever-alluring, as well. They team up with local vendors and makers to throw fun events in the evenings, too.
Philly Vintage Bazaar
744 S. 4th Street
Mon, Wed–Sunday 11am-6pm
Tue closed
@phillyvintagebazaar
Philly AIDS Thrift
It's the hunt we love here. This store has been an institution in Philly for years and you can find their mission clearly stated as selling interesting (amusing, mysterious, useful) products that have been donated to them so they in turn can share the proceeds with local organizations fighting against HIV/AIDS. While being a large multi-level thrift store carrying everything imaginable, they do have a room solely dedicated to vintage clothing, but also: don't skip their dollar bins. We once found a fabulous 60s teddy coat casually tossed in amongst the vast assortment of apparel.
Philly AIDS Thrift
710 S. 5th Street
Mon–Sat 11am–8pm, Sun 11am–7pm
@phillyaidsthrift

Raxx Vintage Emporium
Along the bustling South Street corridor, you will find Raxx Vintage Emporium which is one of the biggest and most spacious vintage shops Philly has to offer. It's very neatly organized and well laid out, with a great plus size rack as well. Go for the vintage tees and sweatshirts, one of their specialties, and stay for the wide selection of accessories like belts, jewelry and scarves. We are smitten, in particular with their selection of 60s and 70s dresses, all alluringly arranged according to color.
Raxx Vintage Emporium
534 South Street
Mon–Sun 12pm–7pm
@raxxvintage

Bok Building & Surroundings
Heading a bit further south into South Philly, you can also hit three other shops listed here on our guide, two of which are located in the Bok Building, a vacated 1930s school building that has been repurposed into an inspiring destination spot as studios and shops for makers, small businesses and artists.
Roomshop Vintage
Roomshop's founder and creator, Shelly, has a showroom that will wow you from the moment you peek through its front door. In a world of so many competing shops and brands, she has given us something truly special that stands out from all the rest. You can tell that every small touch is intentional and curated with care. From delicate, dainty handbags of days past to unique, lovely cottagecore dresses of your dreams. Don't forget to check out her handmade hair accessories, masks and purses too. The scrunchies, of all shapes, colors and sizes (we especially like the "cloud" ones!) have become well known and well loved by shoppers far and wide. You can even buy one to match your mask too! We think you, like us, will very much fall in love with this bright and dreamy gem of a store.
Roomshop Vintage
1901 South 9th Street 315B (Bok Building)
By appointment
@roomshop
Moore Vintage Archive
The Moore Vintage Archive was founded in 2014 and now also has a shop and showroom in the Bok Building in South Philly. Owner, Keesean, is deeply committed to entrepreneurship, sustainability and community and passionate about preserving the history of garment making. His collection features exquisite high-end designer vintage womenswear and documented couture with pieces going back as far as 1890. The fact that he also sources a lot of his pieces from France is just another reason added to the long list of why you should certainly make a point to stop by this one-of-a-kind spot for vintage whenever you find yourself in the Philadelphia area. Contact him to make an appointment for an unforgettable and personal shopping experience!
Moore Vintage Archive
1901 South 9th Street 1H (Bok Building)
By appointment
@moorevintagearchive
Mesh
Shop owner, Michelle, has been collecting clothing for 30 some years and has been sharing her fabulous array of styles in the East Passyunk area since 2015. She has a great eye for the avant garde, funky footwear for days, an enticing row of brightly patterned dress racks with 60s minis and groovy 70s maxis, vibrant overcoats at fantastic prices and almost anything else to tickle your vintage-collecting fancy. You can find all the eras represented here, from dreamy 40s and 50s negligées to a vast selection of cozy 90s knits. Marisa scored an amazing pair of red suede slouchy 80s boots here that have become a fast favorite in her wardrobe. This shop is a go-to place for pieces that will make you stand out in any crowd – groovy, fun and "depressingly awesome" as the sign above her register states. We want to buy everything here!
Mesh
1820 E Passyunk Ave
Opening hours posted on Instagram each week
@meshvintage
Fishtown
Another neighborhood that we would recommend adding to your list is the Fishtown area. There are, again, several places within walking distance, with lots of public art, delicious food and well-loved bars along the way.
Made and Maker
Eilidh and Kiley created this shop and space to help people become who they truly are. One of their core beliefs is that the right piece of clothing can change your perception of self for the better, which then can empower you to accomplish almost anything you set out to! They are passionate about vintage as a sustainable option for our planet and in making that option accessible to all. Also unique to this endearing shop is their curated vintage bridal collection. You can find pieces that range from the 30s through the 90s, to suit any style of wedding from formal, to courthouse, to backyard. If you are not a bride-to-be, but just a lover, like us, of flowing frocks in general, their selection of frothy, colorful and patterned dresses is especially notable and so delightfully displayed. Go here to find pieces that will make you feel like your favorite character on Mad Men!
Made and Maker
2021 Frankford Ave
Thu–Sat 12-6pm
Sun 12-5pm
@madeandmaker
Urban Exchange Project
Take us to funkytown. This is the store where the characters from In Living Color would come to shop. It has a very well-defined vibe where you can be guaranteed to find the best selection of 80s and 90s track jackets, denim, tees, and so much more. We love the way they create looks with well-layered outfits and display them on their end caps and around the store. You will be tempted to purchase all of them, as they are, straight off the mannequins!
Urban Exchange Project
2050 Frankford Ave
Mon–Sat 11am–7pm, Sun 11am–6pm
@urbanexchangeproject
Old City
Philadelphia is known as the birthplace of our country and the Old City neighborhood, specifically, is where it all began. Whether you want to see the room where the Declaration of Independence was signed, the tiny, charming home of famous seamstress Betsy Ross or the Liberty Bell, this is the ultimate area for any history buff. Elfreth's Alley, the oldest residential street in America – yes, people still live there! – is actually one of our favorite historic spots. The magical colorful narrow cobblestone street, lined with brick homes, is at times also the site of a local flea market where we've found some treasures to add to our vintage collection.
Wayward Collection
The Wayward Collection is an ever-changing one, made of playful prints and designer pieces that will leave you swooning at first sight. It is housed in the lifestyle shop Cuttalossa & Co. in the charming, historic Old City section of Philadelphia. Head down the quaint cobblestone streets and follow your eyes into an inspiring oasis of ideas that will lead you to a mix of patterns, textures and colors to take your vintage style to the next level.
Wayward Collection
47 N 2nd Street
Wed–Friday 12pm–6pm, Sat 10am–6pm, Sun 11am–5pm
@waywardcollection
Book here a Philly vintage & thrift tour with Aimeé and Marisa!
Google Maps list of all the Philly vintage & thrift stores.