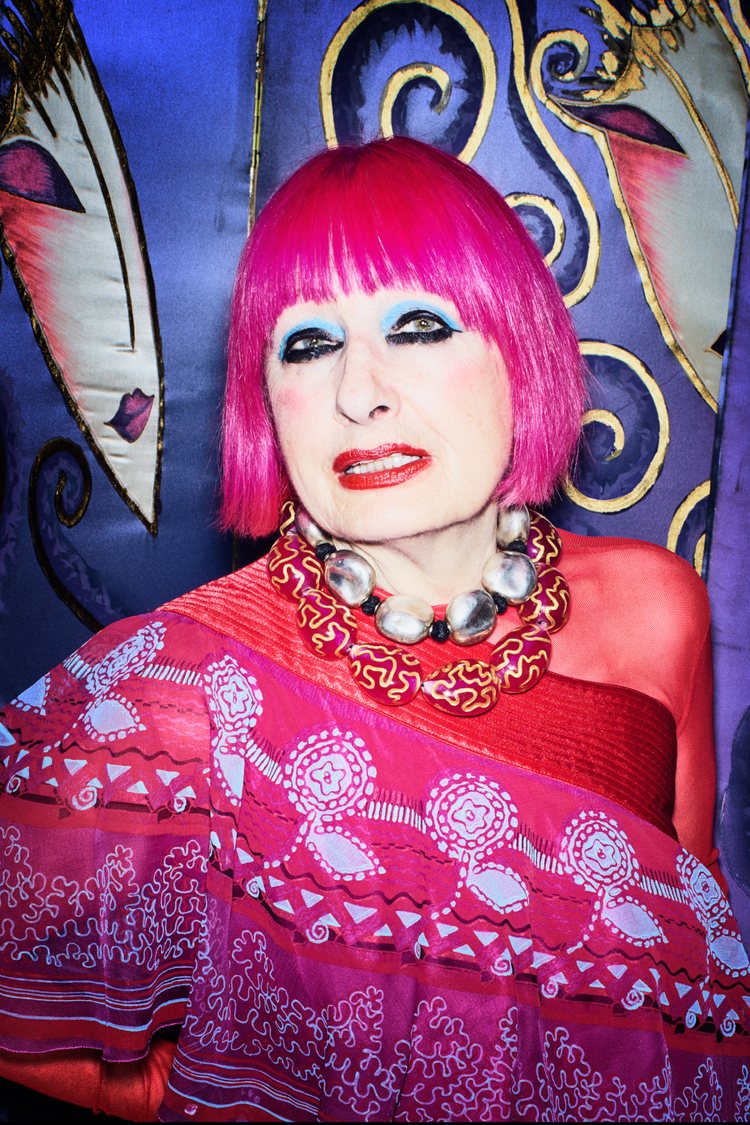 Zandra Rhodes has been in fashion for 50 years. We met her in London in August and chatted about her career.
"I never thought I would become a dressmaker", says Zandra Rhodes looking back at her career.
Rhodes is the British master of print, color, and fine fabrics. She is famous for her colorful prints and her trademark – shocking pink hair. She has dressed several world-famous artists from Freddie Mercury to Elizabeth Taylor and Paris Hilton. Collectors of Zandra Rhodes vintage include Tom Ford, Anna Sui, Kelly Osborne, Ashley Olsen, Kate Moss and Naomi Campbell.
"I always liked doing art, painting and drawing. It seemed logical that I go to an art college. I thought I would do book illustrations and teach."
In 1957 seventeen-year-old Rhodes entered Medway College of Art where her mother was lecturing on the fashion course. Previously, her mother had worked as a fitter for the Parisian fashion house, House of Worth.
"I had a wonderful textile teacher Barbara Brown and fell in love with doing textile design."
On Brown's encouragement, Rhodes applied and got into the Royal College of Art in London.
Rhodes' diploma show from the Royal Academy of Art in 1964 was a mix of all the ideas she had about textiles, prints, and fashion. She showed twelve hand-printed fabrics. The theme of her diploma work was medals and it was inspired by David Hockney's paintings. One of the prints was bought by Heal's and produced as a furnishing fabric entitled Top Brass.
Top Brass was an eight-color print that used the same number of screens. Rhodes experimented a lot with different printing techniques and used acid dyes because they worked well for making bright and garish colors Rhodes liked.
"I have always liked garish colors – the things that people call a bit too bright. If colors always 'go' together, it will always have to be Swedish design, and you don't want that, do you?"
"I don't want my things to be all tasteful and beautiful. I can't bear good taste", she comments in the book Zandra Rhodes – Textile Revolution: Medals, Wiggles, and Pop 1961-1971.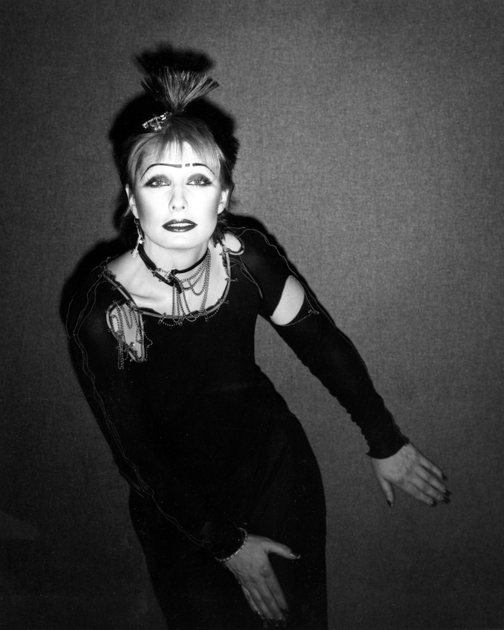 After graduating Rhodes struggled to find a market for her pop-art styled dress fabrics.
"I was told my designs were too extreme. When I was selling my textiles directly to designers I was unhappy that my patterns were just being cut out at random and the possibilities of what the print and the garment could do together were being ignored."
Rhodes decided to begin making dresses from her own fabrics and in doing so, pioneered the use of printed textiles as an intrinsic part of the garments she created.
Together with Sylvia Ayton, Rhodes opened The Fulham Road Clothes Shop in 1967. Ayton designed the clothes and Rhodes did the prints. After two years the shop closed because of financial problems. Rhodes decided to branch out on her own, using her prints as she had always intended.
As a fashion designer, Rhodes is self-taught. Early on her career she tried to steer away from fashion but could not fight her faith. She cites her mother, a dramatic dresser, as one of her biggest influences.
"I asked a friend to teach me how to make patterns. I did my first collection and took it to America in 1969. After that, I have been doing prints for garments for the last 50 years."
Her breakthrough came when Diana Vreeland in New York decided to feature Rhodes' garments in the American Vogue. Her bold prints were noted, and she was finally able to focus on the prints enhancing the garment instead of being overlooked in favor of the garment silhouette.
Special commissions started pouring in. Parisian design agency Mafia and London-based &Vice Versa placed special orders. Many of them were based on Rhodes' second collection Chevron Shawl which was inspired by Victorian shawls. Heavily embroidered tasseled shawls were hugely popular in the early 1970s. Some women were wearing them as skirts, some wrapped around their shoulders.
Rhodes experimented with printing the collection on many kinds of fabrics: on light silk chiffon, quilted silk, and voluminous Jacquard satin. The design followed the print: Feathers were stitched onto chiffon to anchor the pointed hems and the quilted jacket's shape followed the zig zag shaped print.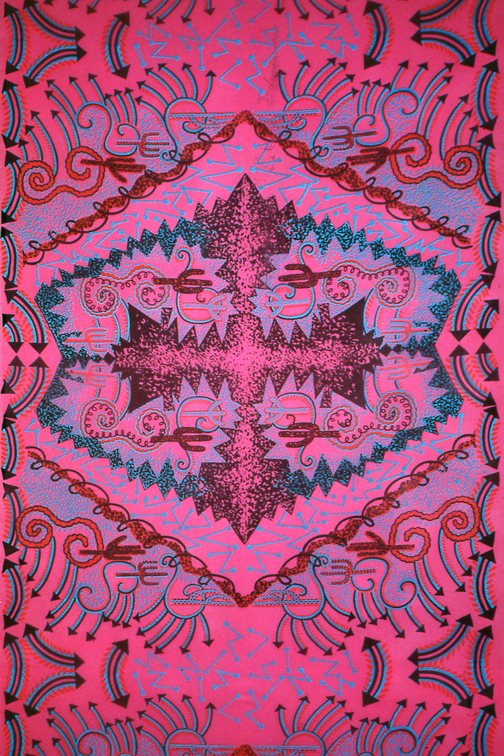 "I toured around America a lot, that was my customer base, not the UK. I toured with Neiman Marcus and did appearances at Bergdorf Goodmans and at the iconic New York boutique Martha. From the 70s to the 90s people liked to be dressed up and I made a lot of special occasion dresses. For example, a designed the wedding dress for the actress Linda Evans, both the real one and the one she wore at the tv soap opera Dynasty."
Paloma Picasso, Britt Ekland, Grace Jones, Debbie Harry, and Donna Summer were also among Rhodes' famous customers.
Beginning in the early '70s, Rhodes began to play with the idea of featuring external seams. She transformed sewing details, raw edges, and hand-cut slashes into decorative elements. She was the first designer to use safety pins straddling slashed holes in clinging jerseys. The Conceptual Chic collection earned her title Her Priestess of the Punk.
"I looked at the safety pins from an artistic point of view, like Elsa Schiaparelli. We put beads on the slashes, they glittered and they looked lovely. Versace did not use safety pins on his dresses until 10-15 years later. And Vivienne Westwood's safety pins were noticed more because she hang out with all the pop stars."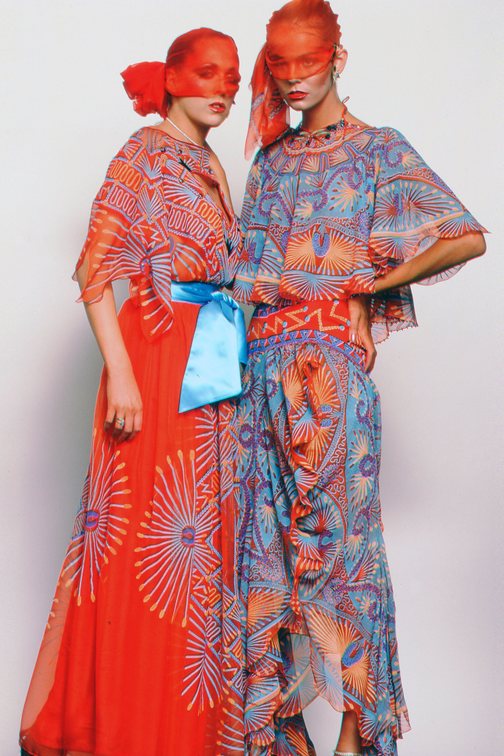 From early on, Rhodes has been interested and inspired by the costumes around the world. Wherever she travels she has her sketchbook with her. She was one of the first Americans to visit communist China and did a cowboy-themed collection before any American designer in 1975.
Also underlying in her work is an element of Englishness. She has often referenced her own cultural background in her designs, from pastoral medievalism to Elizabeth I.
In 1987, Rhodes was invited to design and produce a range of traditional saris and salwar kameez by the Indian Government. She was the first western designer to produce designer clothing in the Indian style.
In 1972 Rhodes was awarded Designer of the Year by The English Fashion Trade. The same year she staged her first fashion show and opened her freestanding boutiques in Mayfair, London and Chicago, USA.
In 2014 Rhodes was made a Dame which she cites as one of the most memorable moments of her career.
"I'm most proud of surviving 50 years in this country! The UK is not a fashion country. It is more and more difficult to make business in this field but it does not mean I am giving up. Fashion is more and more about big houses, not about independent designers. I have tried to keep something from every collection. I'm a rare designer in that sense.
I only wear my own designs. If I didn't wear my designs myself it was like I am not believing in myself enough."
Rhodes' early designs are now coveted vintage collectables but she is still as active as 50 years ago. All of her garments are printed, cut and hand finished in her atelier in London.
"My designs have lasted because they are original", she knows.
Zandra Rhodes: 50 Years of Fabulous at Fashion and Textile Museum 27 Sept – 26 Jan.
Sources
• Interview with Zandra Rhodes, Aug 14, 2019
• Safer, Samantha Erin: Zandra Rhodes. Textile Revolution: Medals, Wiggles, and Pop 1961-1971. 2010 - link
• Zandra Rhodes – a lifelong love affair with textiles. 2005