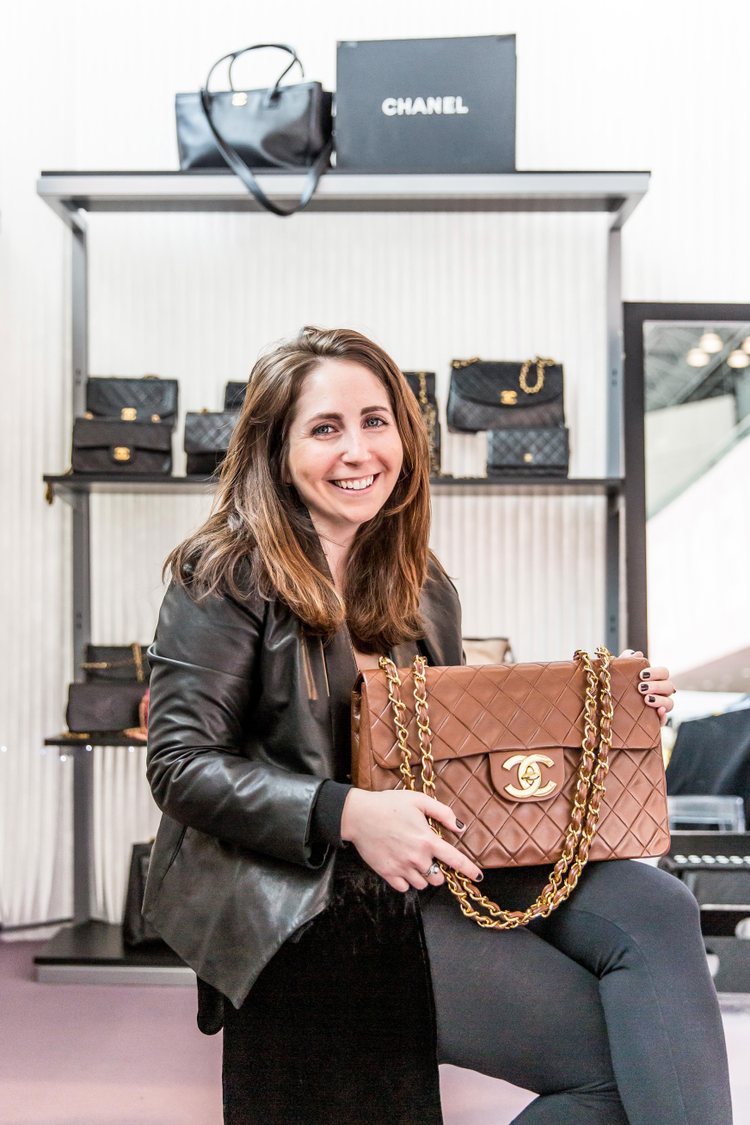 If you want to invest in a vintage handbag, choose Chanel. Alexandra Steinberg of Classic Coco specializes in vintage 80s and 90s Chanel handbags and knows why vintage Chanel will never lose its appeal.
"Before launching my own business, I managed a high-end consignment store. I was 18. This was before vintage was considered 'cool!' I fell in love with how iconic and classic the Chanel brand was.
I started researching the brand and learned how to authenticate handbags from a young age. I was lucky enough to see so many bags. At the time, not many people knew how to authenticate Chanel. I became so invested in the brand that I studied to be an attorney and specialized in the Chanel trademark and its designs.
Chanel and Hermès are the only luxury brands on the market that will always appreciate in value. It comes down to the heritage of these brands. Chanel and Hermès will always be the most desirable brands because they never have sales that are open to all – only VIP or high-end customers are invited to attend the Chanel sale.
Chanel does regular price increases, and immediately after one, the Chanel vintage bags go up in price as their desirability grows.
Think of the Chanel Classic Double Flap Bag for example – its price increased by 16% in March. People who could afford a new Chanel bag some months ago might not do so anymore.
People love Chanel because it is not trendy. Other brands do not have the same longevity.
The Classic Double Flap, the 2.55, and the Princess Diana bags are the most desirable Chanel bags and everyone should invest in one if they can!
The 2.55 was the first bag Coco ever designed with a shoulder strap, the first bag in history to be worn on the shoulder. Coco made the handbag functional. Princess Diana bags are desirable because of their scarcity: the model was discontinued the year she divorced.
During the pandemic, the Chanel belt bags were trending. And lately, thanks to Kylie Jenner, the heart-shaped bag that Lagerfeld designed in 1995 has been trending – vintage versions are crazy expensive now (between $10-60k). Lagerfeld's successor at Chanel, the current creative director Virginie Viard, re-issued the heart bag in 2022.
Another trend I am seeing: people want to have a bag from the year they were born.
It takes years of studying to be able to authenticate a Chanel bag. It is about touching and feeling the bag. And what makes Chanel interesting and challenging is that there are some anomalies– not all vintage Chanel bags are exactly the same.
The 80s and 90s did not have the so-called 'super fakes' so that's why vintage Chanel is easier to authenticate than the new bags. But with the evolution of people being interested in sustainability and shopping vintage, they have also started making super fakes of vintage Chanel.
I would not trust myself to authenticate new Chanel.
But here is a tip I can give to authenticate. A real Chanel label will always say 'Made in France' or 'Made in Italy, never 'Made in Paris'.
To ensure your vintage Chanel bags keeps its value, I recommend restoring them at a leather professional for at least re-conditioning. This is required to preserve the longevity of the bag.
It is like your face – these bags are handmade from the most luxurious leather hides (compared to new bags). I always say leather is like your face – it needs to be moisturized! What would happen if you never moisturized your face for 40 years? If a vintage bag has never been conditioned, it is most likely dry, rotting and will fall apart.
You must choose the right leather professional – do not cheap out! I recommend Leather Surgeons whose owner, Gerry Gallagher, was the authorized Chanel repair specialist for over 30 years.
What sets vintage Chanel apart from new bags is craftsmanship.
The craftsmanship of the bags from the 80s and 90s is unlike any other brand… except Hermès, which presently remains superior.
At the retail level, Virginie continues to take inspiration from Karl Lagerfeld's greatest hits, the vintage bag designs. Another reason why vintage Chanel bags will always keep their value."
Classic Coco
Follow @classic_coco on Instagram