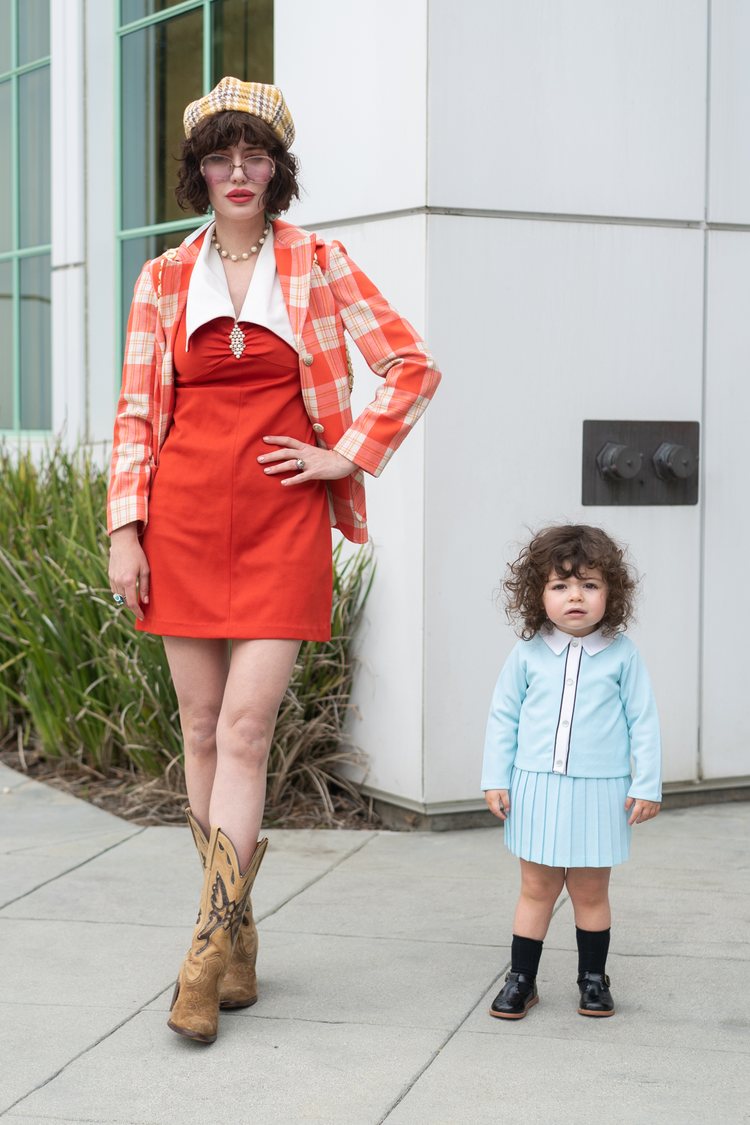 Amy Roiland, 37, and her daughter, Ryder Bird, 2, are known for their matching vintage outfits.
"I'm a fashion blogger, designer, and full-time mom to style icon Ryder Bird, 2.
I started my blog about ten years ago for fun. I wanted to style outfits and share my style with the world. I got addicted and never stopped. I love posting blogs and I still do them occasionally.
I also work as a designer – mostly working with accessories like eyewear, shoes, and bags. I have done an entire eyewear line for Betty and Veronica clothing line, eyewear for Pared Au and Polette Eyewear, a shoe line with Jessica Butrich and my very own vegan shoe line and vegan camera straps. I am starting to design and Mommy And Me clothing line.
I have a huge love for vintage and always have since I was younger. I started thrift/vintage shopping up in Northern California when I was younger. I loved vintage coats and cowboy boots mostly. I would buy a staple vintage piece and style an outfit around it.
Now I love to dress up Ryder in vintage, too. A lot of vintage kids' pieces are well made and comfortable. If you are a parent, you should at least try some pieces and see! It's so worth it and so much fun to have unique pieces in your kid's closet.
My style is very eclectic and fun: 60s French school girl meets Wes Anderson characters and Gucci. Some may say it's modern style with a twist and a punch of color.
This multicolor gingham dress came from Depop, I cannot believe I found it. The floral hat is from a vintage vendor online in Atlanta.
Etsy and Depop are my favorite online platforms for vintage. IRL, Stockton, Lodi, and San Francisco are my favorite places to thrift. I always find the best stuff at thrift stores up north where I grew up. My favorite spots never let me down. They just don't seem to be picked over like they are here in Los Angeles. I also really love Ventura lately for thrifting, Main Street is my fav and they have some incredible stores, especially kids vintage for Ryder.
I love shopping for fun vintage pieces at Buffalo Exchange as well. I've found some incredible vintage dresses there.
I love the 1960s and 1970s all the way. I love bold silhouettes and collars. I also love mini dresses, bell bottoms, and anything high-waisted.
I love colors and prints so much. My favorite colors to wear are red, orange, pink, anything super bright. I even love wearing yellow as well. I love especially gingham prints and multi-color prints.
My Capezio vintage butterfly cowboy boots have been my favorite since I was a kid. I got them at age 19. My long sleeve mini dress was a gift from a friend during a shoot for her vintage clothing collection.
I love to accessorize. I feel like you can wear a plain shift dress and really make it so fun with all the accessories you add to yourself: a beret, knee-high socks, saddle shoes, necklaces, and even add a fun shorter pink tweed blazer over it and don't forget a matching bag.
Of all the accessories, vintage eyewear is my favorite. I love the details mainly. I feel like modern eyewear lacks the details vintage eyewear has.
Places, people, and movies give me my style inspiration. Chantal Goya is a favorite of mine. I also love Brigitte Bardot and her cute mini dresses, bolo ties, knee-high boots. French 60s is a fun era for me.
I love anything Wes Anderson makes, his movies are a huge inspiration, and I love his color palette.
I love Palm Springs, I feel very inspired by the architecture, thrift stores, and colors when I'm there.
Something that more people should know about vintage: You never have to wear a full-blown vintage look head to toe.
You can always start off slow and incorporate some vintage pieces into your daily looks, like vintage jewelry or a hat or sunnies. I truly love vintage accessories and jewelry most.
If you are new to vintage I suggest find some local thrift stores or vintage shops – find some pieces you love and style around them. Start slow and yes, it can get addicting for sure."
Follow Amy and Rider on Instagram @afashionnerd @ryder.birdie