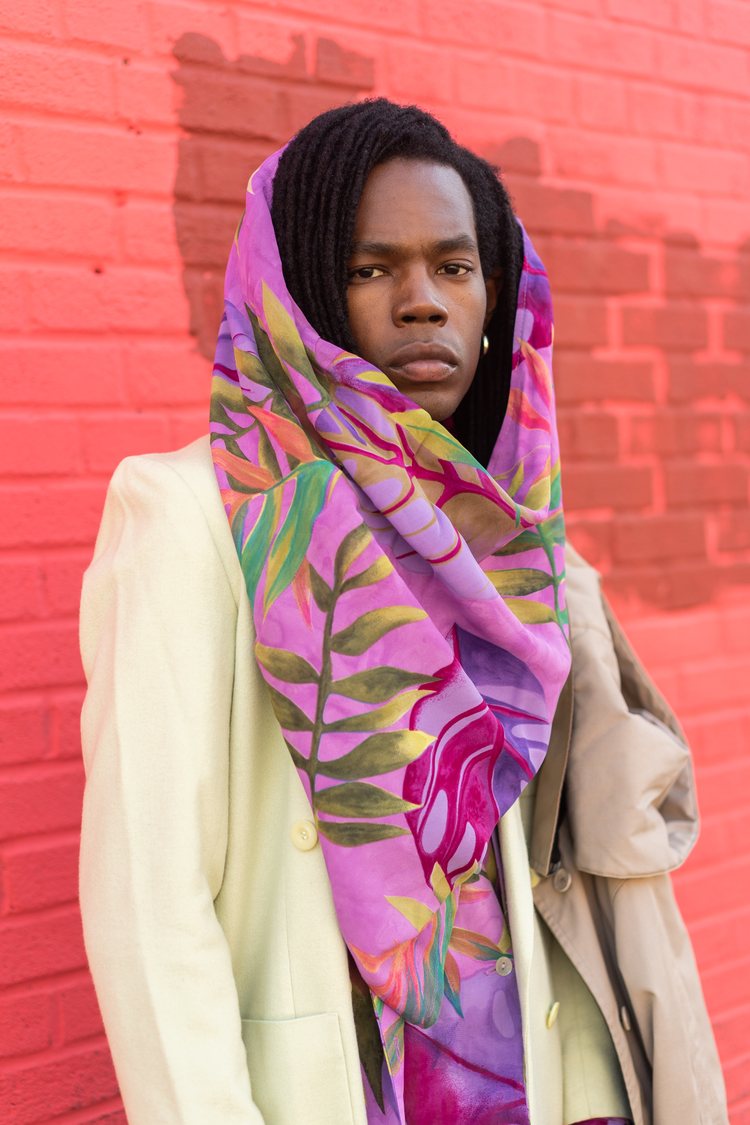 Stylist and model Eric Ellison likes to challenge norms and invent new ways of wearing clothes that he already owns.
"My style has always been about experimenting with new things. I've tried everything from tube tops to pantsuits. I have always been a rebel to normalcy.
My style inspirations change constantly and I don't have any favorite pieces of clothing. Only at castings, you can catch me wearing something regular like skinny jeans and a black t-shirt.
Trying to follow trends is boring because you are trying to keep up with something that is constantly changing. The trend is always just a trend.
My style is unapologetically me. I look at fashion as an art form. They say that clothing is your armor. It helps me to take on different roles.
I like mixing things that you would not think work together, like two completely different patterns, things that are a little off.
With this outfit, I wanted to put a color story together, with a limited amount of pieces I have. Half of my clothes are here in New York, the other half is in Maryland where I am from.
I like to figure out different ways of wearing a garment. You can wear pieces that you already have in your closet and be versatile with them. Make it ownable, something specific to you.
Upcycling is a way of life now, and that is what I do: I wear what I have but in a new way.
Reusing and giving clothes a second life, pushing the bar, and just making things more fun. Especially now that our society is open to gender fluidity I think there is not a normal way of wearing something.
The Jil Sander vintage blazer is from my aunt and the shirt is from a friend who found it in California.
The scarf and button-up duo is actually a three-piece skirt suit I turned into a top. The pants I found in Paris. The trench jacket I love because it has a detachable hood.
I am really into draping and textures. If something is oversized I use it as an opportunity to drape the excess fabric and add a different dimension to the outfit. I love incorporating several textures into one outfit. I love subtle textures like velvet, corduroy, and pony hair.
This look is my favorite. It speaks to my informal side. Reeboks are classics and the colors go with the Nautica jacket. The shirt I found walking down the street in Brooklyn for $5 – always be on the lookout!
Growing up, my mother used to shop at thrift stores for me and my siblings sometimes, and my grandmother was really into antiques. That definitely influenced me.
Most of my clothes are secondhand. Secondhand gives you so much freedom because it is always one-of-a-kind. Even if it is a designer piece you are approaching the item from a different standpoint than when the designer designed it.
Secondhand is an opportunity to make it your own.
Self-awareness helps me to wear whatever I want and not take other people's cues on what things are supposed to look like."
Eric on Instagram @ej.ellison