clothes maintenance
Visible Mending
Old clothes aren't worn out, they're opportunities, says Kate Sekules, a fashion historian rescuing old clothes by mending them.
Liisa Jokinen · Jul 2, 2019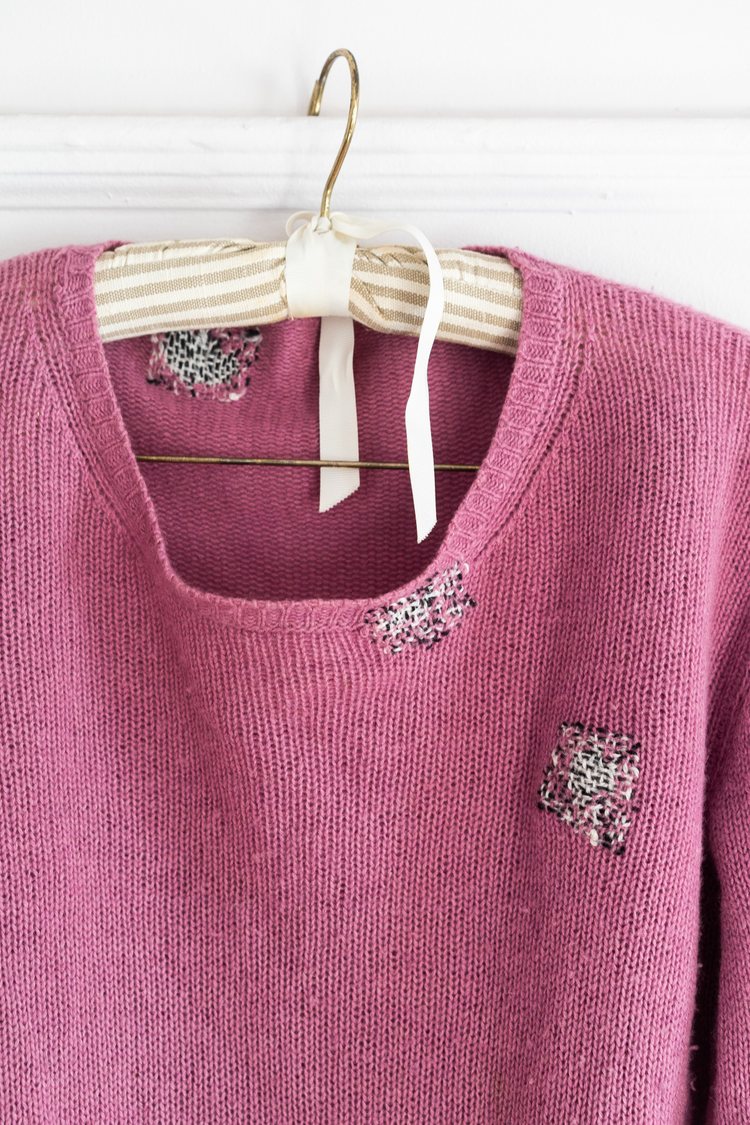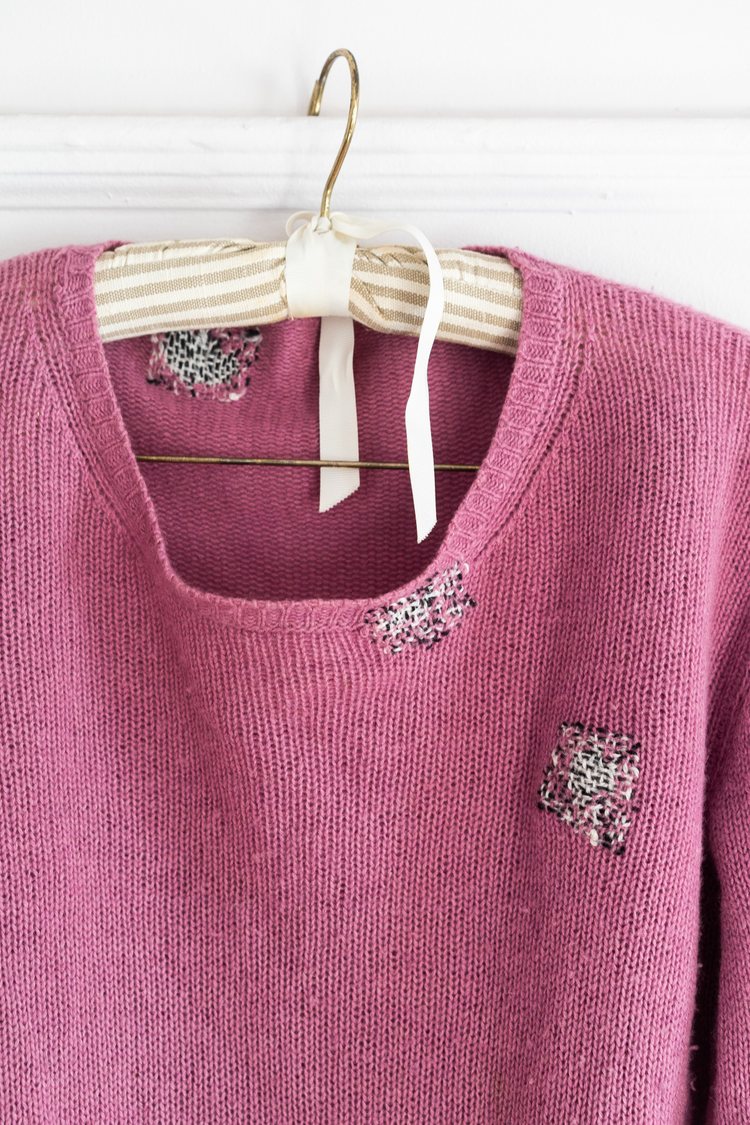 clothes maintenance
Visible Mending
Old clothes aren't worn out, they're opportunities, says Kate Sekules, a fashion historian rescuing old clothes by mending them.
Liisa Jokinen · Jul 2, 2019

Globally, 80% of our discarded clothes are doomed for the landfill or incineration. Only 20% are actually reused or recycled. But it does not need to be that way. By mending your old clothes you can dramatically extend their lifecycle and add more meaning to them. Kate Sekules shows how to do it!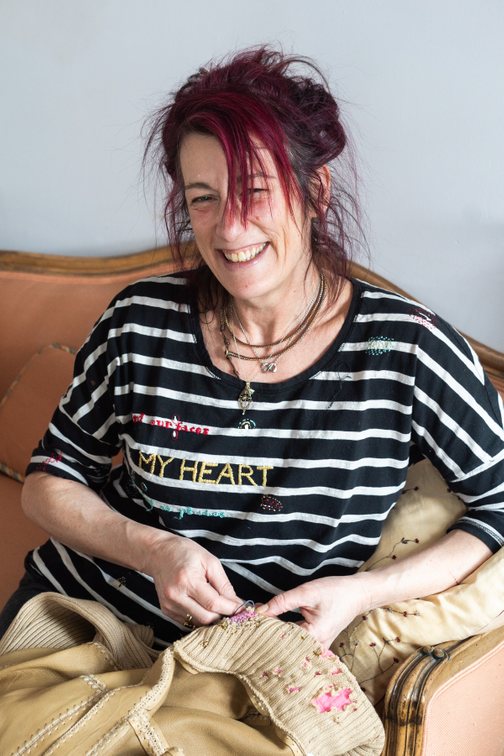 "Visible mending is very simple: it means mending your clothes when they have a hole so that you can see the mending. Any mend is great. Making it visible adds meaning.
This kind of stitching is a radical act. It says: I squandered time on something unnecessary. It says: I value things. I tend. I care.
I started visibly mending many years ago, and I've been sewing all my life. My mother taught me, as her mother taught her, and so on down the generations. But despite learning how to sew properly, I've always preferred making it up as I go – that's what visible mending is all about for me.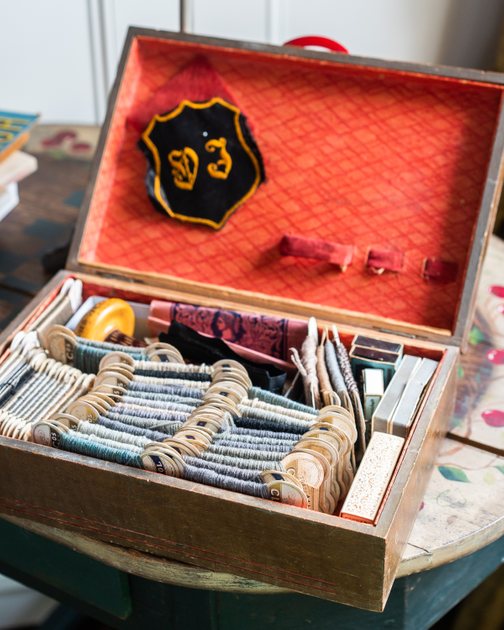 There is no wrong way to mend your clothes. If it works, it's correct. Just do it, in any way you can. Any kind of mending is going to be better than throwing the garment away. And if you don't like the result, unpick it, and do it again!
It doesn't matter if your stitches are a mess. Mess is great because then your garment doesn't look like it came from a factory.
Mess is your handwriting, something nobody else can do and that is valuable. It is your signature and you are going to love it.
This is the world's softest oversized pink cashmere crewneck. The knit is pretty loose so it kept getting snagged and then holed. Darning visibly is all about the colors, and I thought monochrome would look nice, then added a spot of green. The visible rows made it easy to keep it neat. This is also called needleweaving, which is a marvelous word.
Fortunately, visible mending has been trending lately. People are desperate to have something more interesting in their wardrobe. There is a whole community around visible mending – just search #visiblemending on Instagram and you will find a lot of inspiration.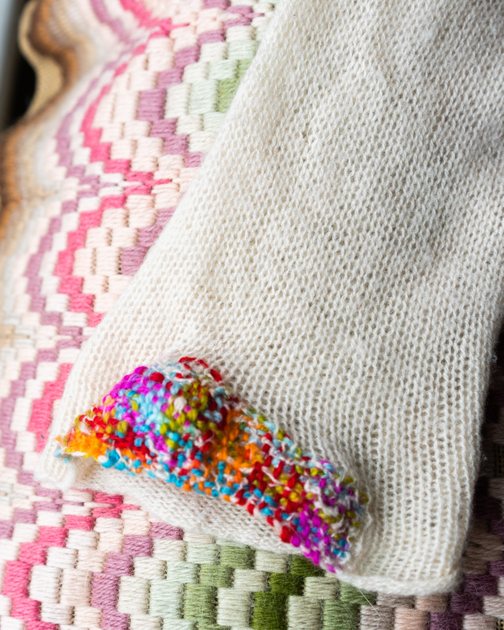 I think clothes have souls, they are not just things. They are part of me. More and more people are getting this.
Mending is meditation: MEND-itation. By touching the fabric you can learn about materials and connect with whoever made your clothes. Visible mending requires and teaches presence.
This navy silk shantung on this pretty little jacket had split on both shoulders, exposing the padding (unlike 80s shoulderpads it's intrinsic to the garment). I had a few yards of French millinery ribbon I got from this divine lady's French haberdashery stall on Portobello Road, and thought: yep, it's a match. Slinking the ribbon beneath the jacket's extravagant frogging was a bit fiddly, as were all those teeny tiny pickstitches, but I really like how it came out.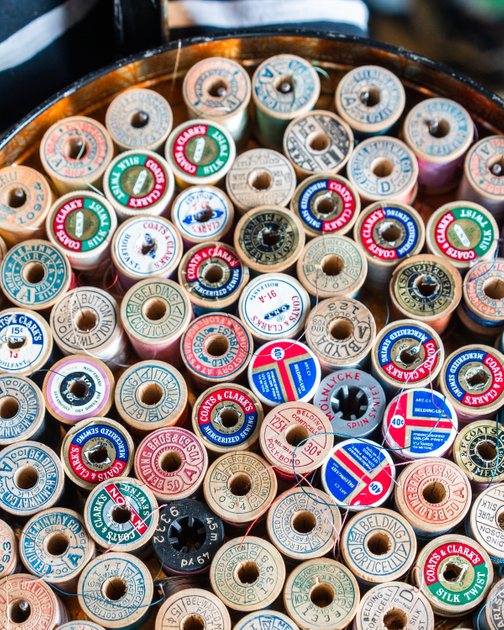 The most useful yarn for visible mending is ordinary embroidery floss. DMC is one of the good brands. If you get the cheapest yarn out there you will drive yourself insane. It will just go knotty and horrible.
If you need to patch a hole, the general rule is to use the same type and weight of fabric that the garment is made of. If you are mending a t-shirt, use cotton jersey. If you don't have the fabric, go to Goodwill and their most cheap end-of-life bin and buy some old clothes to cut up.
You can totally use a sewing machine for mending, too. Use the machine for boring stuff like long seams.
One of my oldest tees (a Loomstate organic cotton twisted seam number) had gone holey above the hem. So I backed the area with offcuts from another ancient tee and embroidered over it, repeating the mysterious mushroom motif using simple running stitch. I mean, why mushrooms, however magic, fashioned into a cross and titled "Faith" I cannot tell you. But I think they look nice stitched.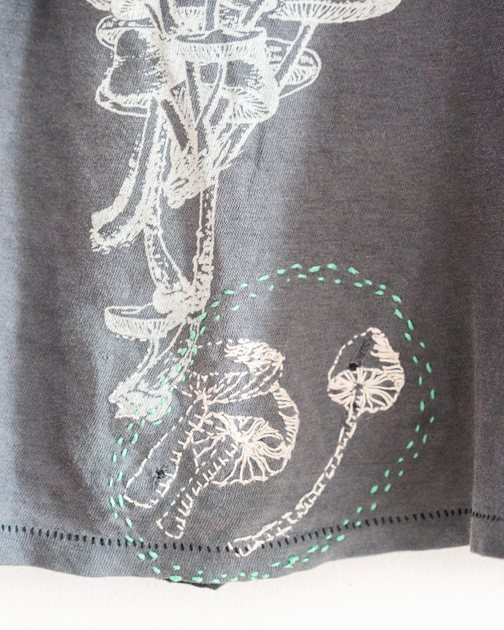 There are only a few things that you can't mend. When a fabric is disintegrating and losing its integrity you can't stop the process. That is impossible to mend. Vinyl is pretty hard to mend, too, as it is going to break down by itself eventually.
Most often the items that are beyond repair are those made during the past 20 years of bad materials and workmanship.
I wore this marled V-neck to death in the early-1990s, having scored it in the Dolce & Gabbana sample sale, then lost it for 20 years, then found it, but holey. It wasn't even moths, just sheer age and sadness. Given its lack of color, I thought it a perfect canvas for my favorite porthole effect. This is where you simply outline the holes in a neat eyelet stitch. It's all about the colors. And the shapes. Now people think the knit was born this way.
Never throw your clothes away. Do buy new clothes, but do it consciously. And use what you've already got."
Find more information and inspiration on Visible Mending. And be on the lookout for Kate's book about visible mending, coming out fall 2020 and published by Penguin!