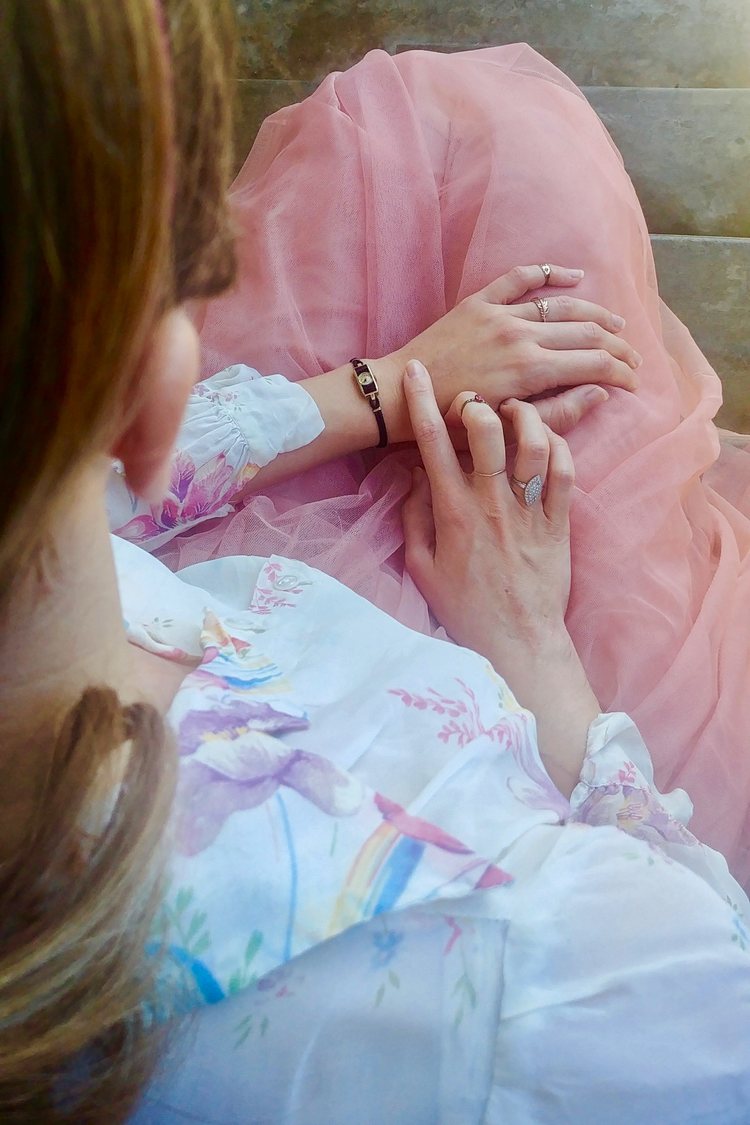 Founder of Sultry Vintage, Lauren S, loves Edwardian and Art Deco watches for their timelessness.
"What fascinates me about the watches is the intersection of beauty and function. For me, it's really satisfying to have something functional also be a work of art – if you must have it in your life, why not make it more delightful and lovely to look at?
Although watches are definitely not a must in our lives like they used to be (because, phones), I think that makes them even more charming. They're little gems of a lost time (no pun intended), waiting to be worn and appreciated again. As with many things – take for example the pleasure of practicing penmanship with vintage fountain pens to write letters – there are a lot of analog items that have fallen out of favor thanks to new technology, but rediscovering little joys of past ways of doing things is fun to explore.
The first vintage watch I got, it just struck me as a little wonder. I'm not even sure how I ended up with it, it's all a bit of a blur, but I know as soon as I got it and put it on, I was a goner. Which is doubly weird as, up until this point, I've absolutely disliked bracelets or having anything on my wrists.
Though my love of eras reaches into the 40s a bit, my pulse quickens for Edwardian – 30s watches. I think it's the imagination, the craftsmanship, oftentimes the glamor, really just the art of them. I also really love the jewelry that was made from the 1800s into the 30s so it's no different with the watches of the time.
Each era has its own fairly distinct hallmarks: Edwardian watches looking closer to the pocket watches they evolved from, art deco watches are more ornate – though some can be more simplistic, purposefully – and have a lot of detailed work on the cases, often with jewels incorporated.
The price range for Edwardian / art deco watches is a bit all over the place as there are quite a few factors at play – the quality of the materials it's made from, brand, running condition, where you're buying them.
On average, if you're looking for a beautiful, running vintage watch you can expect it will run you around a couple hundred and up. They are, after all, a piece of jewelry, a work of art, and a utilitarian item. And considering so many of these watches originally cost several hundred near to thousands when adjusted for inflation in today's dollars, you're getting a much better deal than their original owners.
If you're just stepping into watch collecting, I recommend you first decide what you value most about them, then find out which brands would offer you that which you value. Are you collecting them as beautiful works of art, to lend authenticity to a vintage outfit, as a daily wear watch, or as a special occasion watch? I think most important, however, is that if you are in the market for a daily-wear watch or one you want to keep running accurately, know that they do need regular maintenance.
A lot of the paperwork that I've seen for vintage watches (that originally came with them) recommend service every year. I think today the consensus is every 2-3 years, but it really depends on each individual movement's needs based on how it was put together, and a watch repair person would know what's best.
Regular oiling and checking over of parts to see that they're all in place and not wearing each other down from being off-kilter – this is my understanding of the regular maintenance that vintage watches require.
How to make sure the watch works and what to do if it doesn't? The easiest way is to set and wind it and then keep an eye on how it keeps time – but be gentle! So many of these watches could have been sitting for decades in a drawer. Never, ever force them. Also, it's best to do it only once just to see how accurate it is and then get it serviced so the oil is fresh and to avoid any damage from running a movement that's not aligned and oiled.
Apart from that, if it doesn't work I'd search out a watch repair place that – if not specializes in – works regularly with vintage timepieces. They'll know better what to look out for, what specifically it needs, and if they're passionate about vintage watches, they may also have on hand vintage parts needed to fix issues.
Vintage watches are so charming, the histories connected to them can be so wonderful – people would treasure their watches for years if not decades. They would wear them nearly every day and often pass down family lines.
Many of the pieces I sell I would consider heirloom pieces. A lot of times these were gifts to loved ones for special occasions. They can have named and dated engravings. I think they're set apart in a lot of ways as something special, for those reasons."
Shop Sultry Vintage on Etsy
Follow Sultry Vintage on Instagram