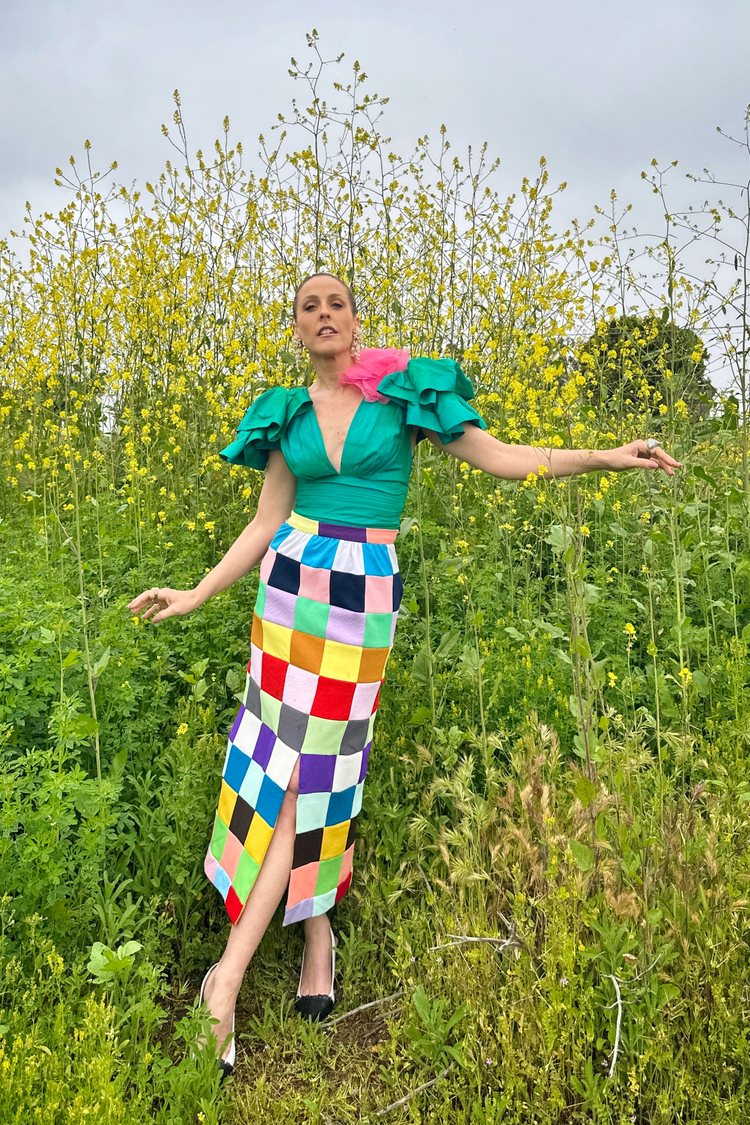 For Beth Jones, every day is a reason to play dress up. The long-time influencer, creator and vintage style icon is now sharing her favorite vintage finds with us.
Beth Jones is a digital creator with 16 years of experience under her belt. She started out by launching a fashion blog back in 2007, and since then, she has worn many different hats in the industry. For instance, she has worked as an online fashion editor, a fashion stylist, and more recently, the mastermind behind B. Jones Style – a creative hub that encompasses a YouTube channel, Instagram account, and TikTok presence. She is also a social media host and speaker, most recently for the Pickwick Vintage Show in Los Angeles.
"I found this Judith Roberts jacket on a trip to Joshua Tree at The End, which is a really magical vintage store. I love this jacket's mix of prints and colors and the 80s shape.
For me, the appeal of shopping for vintage and secondhand is all about the excitement and sense of adventure that comes along with it.
I have a huge soft spot for vintage and secondhand clothing for many reasons, but one of the most significant is the pure joy of discovering an amazing and unique piece. There's nothing quite like strolling through a thrift store or flea market and stumbling upon a true treasure. Whether it's a nautical pair of pants or a 90s Norma Kamali suit (which I found in a thrift store), the thrill of finding something truly one-of-a-kind is what keeps me coming back for more. I get so inspired by each piece that I find!
I love to shop at any thrift store I can find – I visit my local Savers, Goodwills and Charity Shops all the time and whenever I travel I yelp the area to see what thrift stores I should visit.
I also love to shop at some of the vintage boutiques in Orange County like Elsewhere Vintage, Swellegant Vintage and Landers.
Local markets like the Long Beach Flea and the Rose Bowl are great and my favorite is to find treasures from all the amazing vendors at the Pickwick Vintage Show. These picnic pants are from Golden Threads Vintage at the Pickwick Vintage Show in 2021. They are from the brand called Ilish by Cindy Newman. She takes vintage tablecloths and turns them into sailor-inspired pants. I love how they feel like a party every time I wear them.
I also love to use the Gem app to find specific things I'm looking for. I have a bunch of saved searches so that every morning I get an email with the latest finds – it's the best!
I found this vintage 50s sailor hat at Swellegant Vintage last year and I decided it was going to be one of my signature hats. I love to choose a few hats to keep on constant rotation and style with multiple outfits. I always wear it on a slight tilt and I love how it adds some sailor chic to any outfit.
Everyone can wear vintage and secondhand; even if you just start with easy vintage add-ons like a great vintage blazer, statement earrings from the 80s or a beautiful dress from the 70s.
You can dip your toe in and just add that extra spice to your outfit with a vintage treasure.
I found this 40s Guatemalan jacket at an antique mall in San Diego. It's so special and incredibly well-made. I love the corduroy collar and all the embroidery. I was recently inspired to dress it up with Karl Lagerfeld inspiration after the Met Gala.
I've had a pretty small closet, but I'm currently in the middle of home renovation adding on a beautiful big closet! I can't wait to have the space for everything. I do have a lot, but I also try to edit things out on a regular basis. Then I mainly just do closet sales from my Instagram when I have some time. It's a fun way to pass along my clothes to new happy homes!
This Escada Sport nautical jacket is one of my recent finds from Crossroads in Costa Mesa, CA. It's everything I love - oversized fit, bold red color with fun nautical patches, and I love the latch button closures. It is so classic and chic and makes everything look effortlessly fabulous.
I found this 70s homemade checkerboard skirt at Swellegant Vintage in Newport Beach. It was the first day I went shopping since stores re-opened after quarantine in 2020. It felt like a special day to be reunited with treasure hunting and I think this skirt was the ultimate treasure! I've seen other checkerboard skirts – but none of them have this unique midi-length shape. It's a moment every time I wear it."
Follow Beth Jones on
Instagram @bjonesstyle
YouTube B. Jones Style
TikTok @bjonesstyle