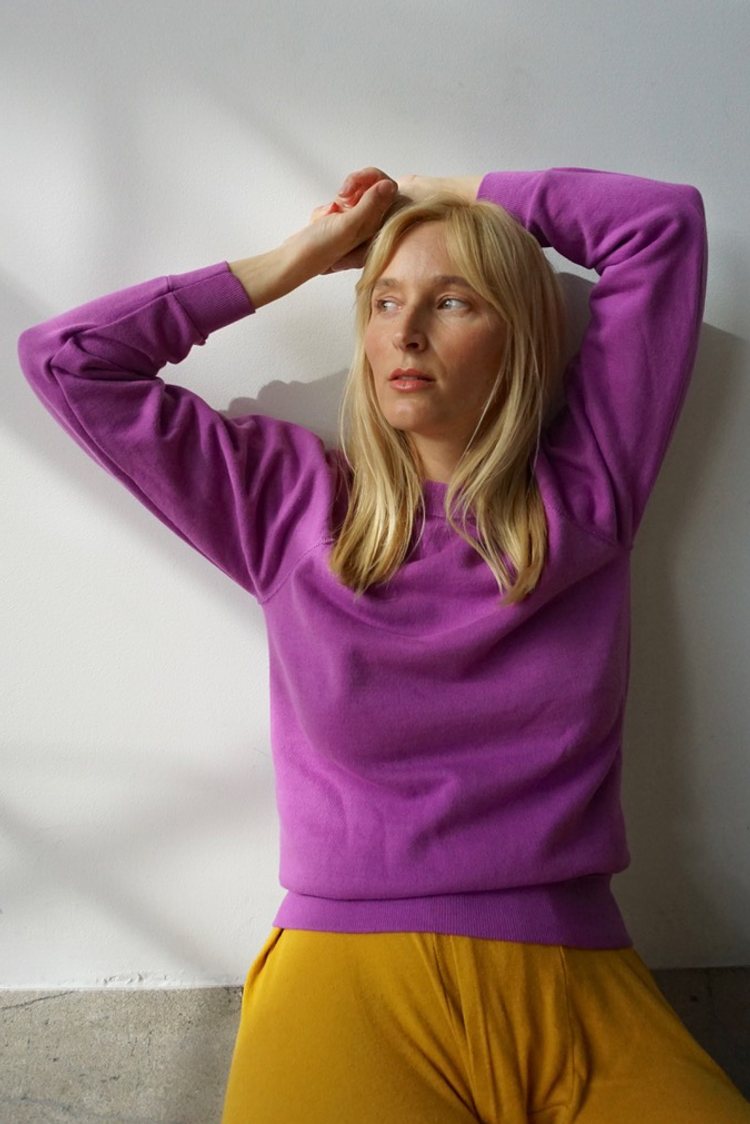 Toni Walker knows the vintage staples: tees, jeans, and sweatshirts. What are her tips on shopping and wearing vintage sweatshirts?
Originally a football jersey, now a ubiquitous wardrobe staple. The sweatshirt has a rich history and comes nowadays in countless forms. Like the name suggests, the sweatshirt was originally a sports garment.
The sweatshirt was developed in 1920 by Russell Manufacturing Company (which became the Russell Athletic Company). Tired of itchy wool jerseys, the son of founder Benjamin Russell thought to swap out the chafing uniforms with something cooler and more comfortable. After going to his father with the idea, Russell Sr. made his son's idea a reality and Russell Athletic was born. Knowing the comfort and durability of cotton, the iconic crew neck sweatshirt began production in the Russell Athletic mills in 1930.
The original sweatshirt is most similar to what we call a crewneck sweatshirt today, with a small v-shaped piece of fabric around the collar. The triangular piece of cotton helped collect sweat and control the stretching of the collar after years of wear.
We sat down with Toni Walker to chat the many facets of vintage sweatshirts.
"The feel, fit, and quality are really different when you buy a vintage sweatshirt versus a new one. You can't reproduce the kind of wear and distressing that you get with vintage clothing. A vintage sweatshirt just looks better on you. It feels softer and is also going to last longer because the material is better.
I personally like the shorter sweatshirts so sometimes I look at kids' sizes too – a kid's XL can fit an adult small size. I also love a raglan sleeve and always look for those ones.
Some iconic vintage sweatshirt brands are Hanes, Healthknit from the 70s and early 80s, and Jerzees from the late 80s and early 90s. The famous brand is Champion. Their sweatshirts are made with the so-called reverse weave out of cotton-poly-rayon tri-blend. That makes the sweatshirts really heavy and slow to dry so I don't usually sell Champion.
Vintage sweatshirts often don't have tags so they are not the easiest to identify. If the tag is cotton, you know the sweatshirt is older. Newer ones have rayon tags.
The solid color sweatshirts (the ones without any logo or print) are harder to find and I always look for them. Novelty ones with funny or humorous prints tend to sell faster though. Sweatshirts related to iconic places like New York, Los Angeles, and Hawaii are always popular.
The sweatshirt is a classic athletic garment so there is not a huge variation in materials. The print and tag help you more with dating sweatshirts.
Starting in the 70s sweatshirts have been made with 50/50 cotton/polyester blend. If you want to have a 100% cotton one you need to look for older ones.
I think a sweatshirt goes with everything! A collared shirt looks cute underneath a sweatshirt. I like to wear a gray sweatshirt under a blazer and with jeans. A tweed blazer looks great with a navy or green sweatshirt. I also like a sweatshirt under overalls or worn with a long skirt and cowboy boots.
Hooded sweatshirts are so good for layering and so practical. I have a gray zip-up hoodie that has a thermal waffle knit lining and I wear it all the time. I love it.
I have a bunch of heather gray sweatshirts. For me, they are the perfect example of a sweatshirt. I also have a pale blue one that I wear all the time. I'm still looking for one perfect pullover hoodie.
Over the past few years, there has been a lot of new brands making matching sweat sets. The vintage market reflects that a little bit – soft calming pastel colors are popular in both new and old sweatshirts. 80s pastel colors like lavender, pale pink, pale blue, and easter egg yellow.
There is so much DIY you can do with sweatshirts – you can cut off the sleeves, write and paint on it, embroider on it.
Sweatshirts are easy to take care of. But never underestimate the color red – never ever put a red sweatshirt in the same wash with other colors. No matter how many times the red garment has been washed it is going to bleed.
I use Oxiclean powder and hot water soak to clean white sweatshirts. I don't recommend bleach for vintage white stuff, it is so corrosive. The bleach destroys things.
I started my vintage business with a lot more dresses but noticed that overalls sold out over and over again. I realized that was something people were looking for online. All jeans would sell out, too. There was a clear demand for vintage staple items like jeans, tees, and sweatshirts so I focused on them."
All sweatshirts for sale on Fair Season
@fairseason