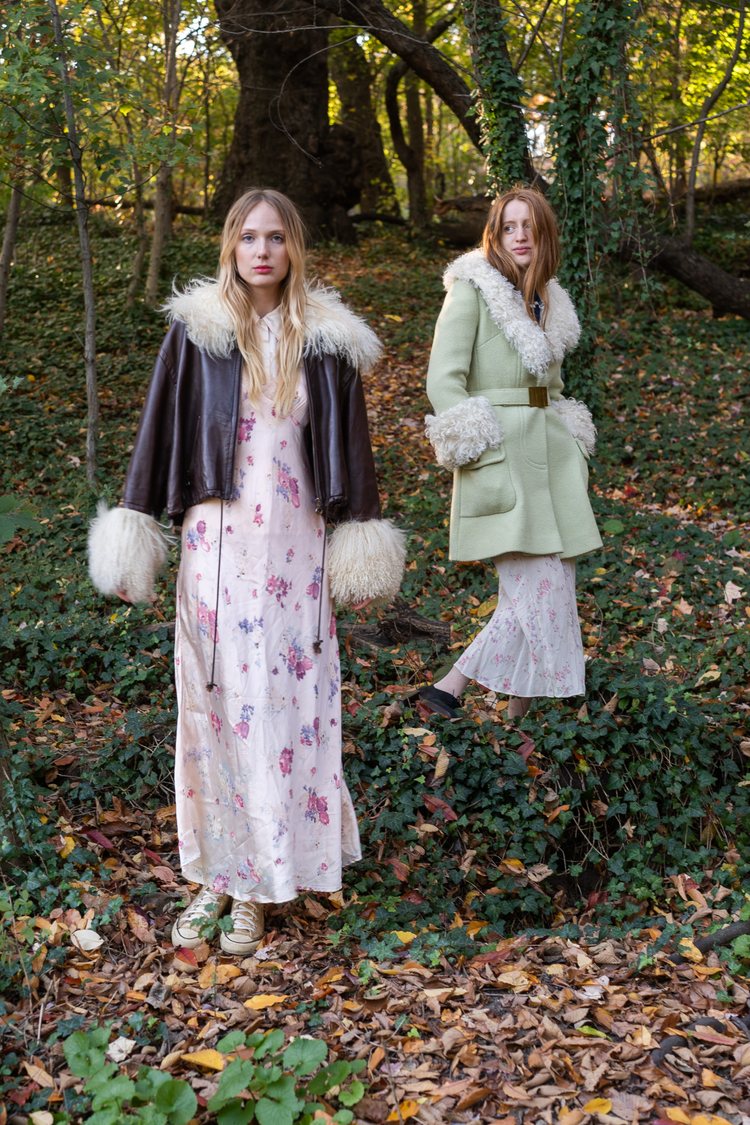 style persons
Vintage Friendship
Annika White and Landis Urquhart connected over their love for vintage clothing. Now they create vintage collections and photoshoots together.
Landis Urquhart runs an online vintage store called Breath of the Earth. Annika White is a director, photographer, and stylist. She also sells vintage on Depop. We met with Landis and Annika on a sunny fall day in Prospect Park, Brooklyn, and started talking about vintage clothing, friendship, and how you can connect through clothing.
How did you two meet?
Landis: "Annika and I first met at the Manhattan Vintage show last January, drawn to each other's outfits. We were both in pastels and fur, both intricate dressers who enjoyed indulging in all of the details of an outfit. We learned about each other through our outfits and continue to! I had seen Annika on Instagram, admiring her style and photography. I think I was in a 40s slip when we met, what you can find me in most days. Annika had on white fuzzy leg warmers, layered with pink tights, and mixed print skirt and sweater."
Annika: "I remember meeting Landis at the vintage show and instantly adoring her and her style. Landis is such a sweet and genuine person with wonderful energy, and I instantly felt comfortable talking with her. She had on this beautiful pale green 70s coat with curly fur cuffs that is still one of the best vintage coat finds I've seen to this day. I spotted a cat brooch in her shop that happened to be the spitting image of my cat Zuzu which we then talked about for a while. We made plans to hang out after that and have been friends ever since."
Do you have the same sense of style?
Annika: "I would say that we have a lot in common in terms of style and adore many of the same pieces but don't have the exact same sense of style. Right now, I'm really into vintage Gaultier, 30s dresses, 70s coats, novelty knitwear, and fun Fendi baguettes. Love vintage Courrèges, Vivienne Westwood, Bobbie Brooks, and Kenzo. My favorite decades of fashion are definitely the 30s, 70s, and some 90s. My favorite colors are blush, brown, sage green, baby blue and crème."
Landis: "I adore slip dresses, tee shirts, suit sets, and bell bottoms. Anything made of silk or velvet. My favorite eras are the 1890s, the late 1930s, and the late 1960s. I mainly wear black, purple, green, and blush pink. It's hard to choose favorites from my personal collection, but lately, I've been adoring pieces I dreamt of for years before finding; my collection of 1982 ET underwear, my 1940s slime green satin balloon sleeve blouse from my friend Emily of Tea Street Vintage, my black floral 1940s slip, and my purple crepe Biba dress from my friend, Alessandra of Allybird Vintage."
Have you influenced each other's style?
Annika: "We share a lot in common in terms of pieces we think are beautiful and have sold each other some really lovely pieces. Landis' style is very lovely and inspiring to me! Earlier this year Landis picked out a really beautiful 70s floral cropped jacket from my shop and I just recently acquired two dream dresses from her – one is a 60s mini from Bobbie Brooks with a bedazzled heart center that I've already worn a handful of times. We've borrowed each other's pieces for shoots and I know we'll continue to share and admire amazing pieces in our "fashion family" (AKA our wardrobes) with one another."
Landis: "Annika's style is beyond inspiring! I love her color pairing and use of accessories. We have each admired and coveted some of each other's pieces, adding them to a list of pieces we hope we'll see again."
Have you worked together since you met?
Landis: "Yes! We have helped each other out with a few of our personal projects. Most recently, we released a vintage collection together, photographed at a farm in Pennsylvania. The collection is on sale on my website Breath of The Earth Vintage and on Annika's Depop. Both Annika and I adore exploring style and creativity through different mediums, so we collaborated on curating, styling, shooting, and modeling the collection. Some pieces we had had for years, some pieces we had just found on the way there. It's always wonderful to work with someone inspiring!"
Annika: "As Landis said, we've helped each other out with personal projects and markets in the past and are now super excited that we finally got to collaborate on a vintage collection together! We have so much in common in terms of vintage and what we're drawn to, so I really think this collaboration was a very inspiring and natural next step for us in our friendship. I look forward to many more! It was such a dream shooting together on the farm (so many cute animals) and I'm really excited to share more from our collaborations as time continues. In the coming warmer months, we may do some markets together."
Do you have something fun planned for the future?
Landis: "We are already working on another collection and planning some road trips for next year, too."
Annika: "We have a ton of amazing friends in vintage along the east coast and we're in the midst of developing plans to go visit some of them together early next year."
Have you learned something from each other?
Annika: "Something I wasn't aware of before Landis told me was that a lot of older vintage (ie 1930s, 40s) was actually more expensive in relation to its current average pricing back when it was first made since it was mainly custom made. It's really special to hear her share and talk about all that she knows when we're looking at clothing together."
Why do you love vintage clothing?
Annika: "Too many reasons to name – much of it is one-of-a-kind, the quality, the design… I love seeing the inspiration that comes from all the decades before and how it comes through in fashion today. I love the history of it. The fabrics! The patterns! All of its beauty."
Landis: "I can explain it and I can't. Vintage clothing is remarkable for its beauty, craftsmanship, captured glimpses of history, and that we can still wear it today. It also has a deeper allure to me, something I can't quite put words to. Maybe it's the creativity of it all. Vintage fashion is my greatest passion and spending time with clothing is something I rarely tire of."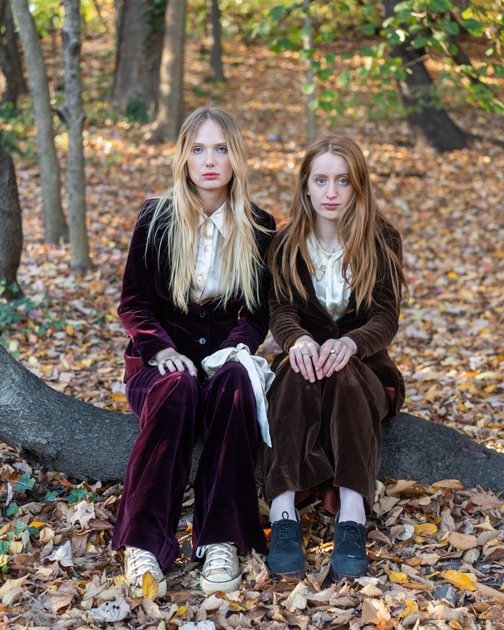 What do you think more people should know about vintage clothing?
Annika: "Following what I mentioned above, I wish that more people realized the high quality, special nature and, ultimately, the worth of vintage clothing. So often I go into modern designer shops and am honestly disappointed in the quality of the garments. Lots of modern design is inspired by vintage (some pieces are nearly replicas), and yet so much of it is created at such a mass rate using such low-quality materials… And for such high prices! For example, it's a pet peeve of mine to see a low quality sweater at a designer store priced at $200+ that I just know will begin pilling after one season (which is not sustainable) and then have shoppers complain about high-quality vintage sweaters priced at half that despite that the vintage version was actually made to last and is not only the more environmentally friendly option but also perhaps the design original."
Follow on Instagram @annikawhite & @breathoftheearthvtg