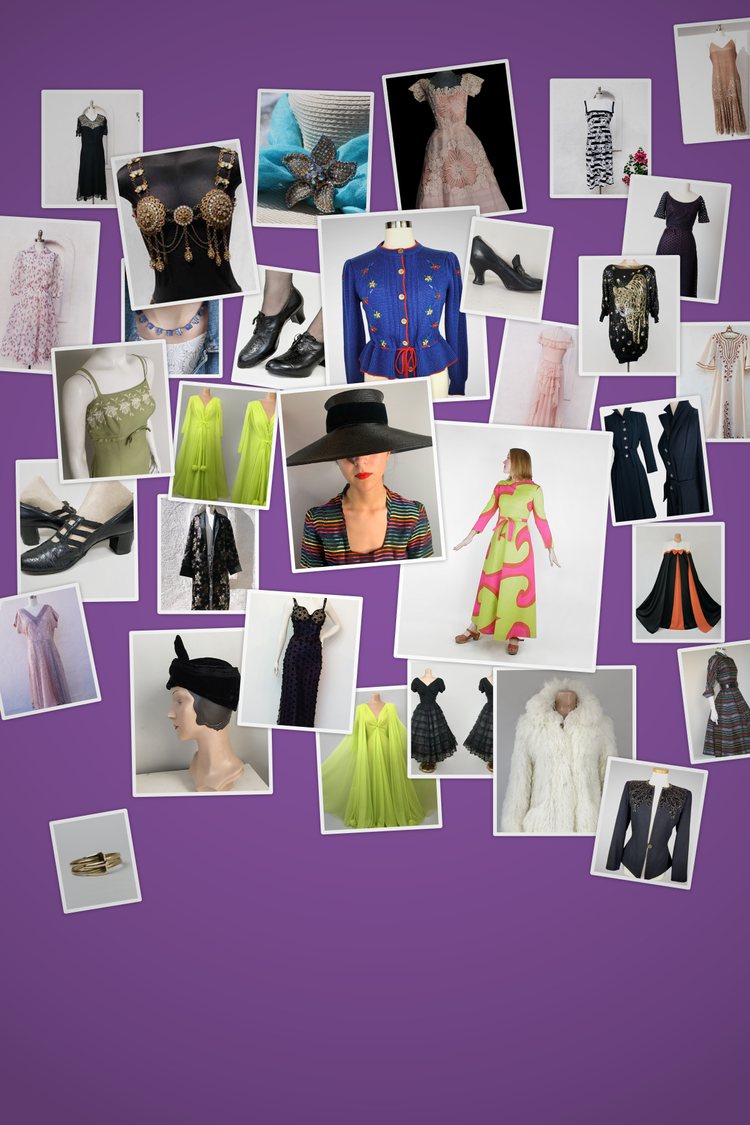 To celebrate the 20-year anniversary of the Vintage Fashion Guild, we talked with Margaret Wilds, the current President. Why is VFG needed and what does the future of vintage look like?
Any questions about vintage fashion you may have and you can be sure the Vintage Fashion Guild database has you covered. The nonprofit online organization has created the most extensive vintage fashion resource and a strong community. We talked to the current President, Margaret Wilds, to discuss the past and future of the Vintage Fashion Guild.
How and when was the VFG born?
In the year 2000, eBay was practically the only game in town, and its Vintage Clothing & Accessories forum was where a lot of shop talk took place. Some of the regulars in that forum decided to form an independent group because they saw an opportunity for improvement.
The founding members of the Vintage Fashion Guild envisioned an organization that would provide a supportive environment and an educational platform for vintage fashion. The VFG's future direction would evolve from this groundwork that was laid. About a dozen of the original members are still active.
The VFG was officially established on July 8, 2002, when the domain name vintagefashionguild.org was registered. 
Why is an organization like VFG needed?
Formally, the Vintage Fashion Guild is the leading online vintage fashion resource – fostering knowledge, understanding, and appreciation of vintage fashion through our international community of members. That is our stated mission. Our goals are to promote excellent (ethical, knowledgeable) selling practices, to provide a central educational resource for all, to encourage both the conservation and wearing of vintage clothing, and to position vintage as a viable and environmentally friendly alternative to conventional fashion. 
We are a nonprofit 501c6 trade organization. Our membership is comprised of vintage sellers, and a growing number of museum professionals, researchers, costumers, appraisers, educators, editors and writers.
To be sure, there are many honorable vintage sellers and others involved in fashion history who are not VFG members, but our members have the advantage of using the VFG's credentials to offer something akin to a Good Housekeeping Seal: an earned level of trust. In addition to our public forum, we have a private forum where we discuss critical information, difficult questions, and business decisions. Members support one another, and our collective wisdom is greater than the sum of its parts. 
Who can apply to be a member?
We currently have 182 members (with 12.5K registered guests visiting our forums). All VFG members applied for membership and were approved by the membership committee and the board. They were evaluated on how well they adhered to our code of practice (if they were sellers) or whether they have sufficient credentials if they were other types of professionals. Because not everyone can meet these qualifications, we provide our resources to the public for free. Also, we want people to feel welcome in our public forum, to ask questions and share their finds, and to learn and gain expertise that will benefit them whether they become collectors, wearers, sellers, or even members.
VFG is a non-profit organization. What does it mean in regards to your operations?
We primarily promote the members as a group due to our nonprofit status (mutual-benefit nonprofit or 501c6). But we also highlight individuals by offering our members numerous promotional and exposure opportunities – such as a Facebook shop and Instagram posts. We have a membership directory. We haven't recently considered monetizing the VFG; I believe we are rare in that way.
The vintage business and industry has changed dramatically during these 20 years. How would you describe the change and has it been for the worse or better? 
Vintage fashion popularity has ebbed and flowed over the decades, but the overall trend has been one of massive growth, especially in recent years. Sustainability, a rejection of fast fashion, and a growing awareness of fashion history (via books, websites, museum exhibits, social media, small and large screen shows and movies, current designer references to the past, and shopping accessibility) have all fueled the popularity of wearing secondhand and vintage items. I also believe that the freedom some people have in their dress, which is less dictated by fashion authorities than it once was, makes vintage fashion a top mode for personal expression. In Gem Stories, I've seen some incredible examples of this.
The business of selling vintage clothing has changed remarkably as well. There was nothing like the prevalence of social media that exists today, and I could never have predicted the number of people involved in small businesses that rely on vintage fashion, and the number of people interested in vintage fashion.
It seems more and more people want to launch their own vintage businesses. What does this mean to VFG?
Who wouldn't want to do something that involved amazing vintage clothing and accessories, something that gives a sense of history and is part of the circular economy? It is something many people find accessible and even fun.
Outside of a small echelon of the highest-end vintage dealers, vintage is very democratic. Everyone can and will find some fantastic pieces. The more you understand about what you're doing, the more likely it is that you'll have good fortune (say, like finding a Fortuny in a thrift store – true story!). This is where the VFG can help. We offer information on clothing construction and fabric, garment types, designer and brand history, historic fashion trends, current vintage-wearing trends, and vintage care. We provide advice on how to sell more effectively. Every day, our knowledgeable members answer many questions in our forums, which can be searched for detailed information. 
You have an incredible database! Who wrote everything and how do you monitor the content?
The resources that the VFG shares have been created by legions of VFG members. The Label Resource is unquestionably the most popular section of our website, as well as the oldest of our features. That resource alone represents the work of hundreds of volunteers in terms of research and writing. I created the Fabric Resource with the help of some of our fabric specialist members, especially Claire Shaeffer, a couture sewing expert.
The content in the resources was created by evolving teams of members, and their work was carefully reviewed and published. When we discover something that needs to be updated or corrected, we get to work. To me, the people who do this work are heroes. They volunteer their time and knowledge to help others gain a foundation for their own understanding.
You have a strict code of conduct. How do you guarantee your members do follow it?
Our membership committee vets seller applicants specifically on how well they comply with our code of practice. We don't expect anyone to be perfect, but we do want to recognize someone who tries hard to present items with care, integrity, and enough knowledge to give a buyer the confidence to make an informed purchase. We provide feedback to those not accepted and encourage them to reapply when ready. Some people are admitted with a few recommendations for how they can improve. We don't police them after they've been admitted. We rarely hear of something that does not appear to be correct in a seller-member's item listing. Again, we look for a good record, not perfection. It has been a long time since someone was expelled from the VFG for violating the code of practice – it has to be a pretty serious situation. 
How can you help a vintage seller to develop and grow their business?
The VFG's forums and resources (as well as social media) provide free advice, inspiration, and education to the general public, including sellers, 24/7. Members have access to an extensive private forum with even more shop talk, camaraderie, and support. They can also participate in a variety of promotional opportunities, such as our Facebook Shop, blog, social media exposure, and newsletter. Every week we hold themed Vintage Fashion Parades, and Fresh Vintage to showcase new items for sale. The VFG logo and other graphics are available to all members.
Anything else you would like to add?
The line 'Proud Member of the Vintage Fashion Guild' snagged me in 2005 when I saw all these people I admired were using that statement.
As president, I am extremely proud of our members. They don't just find and sell vintage fashion with integrity; they also write books, restore clothing, create costumes, organize exhibitions, promote vintage fashion, hold auctions, write fascinating and well-researched articles, assist others on various platforms, expand the VFG's resources, sew skillfully, draft patterns, give lectures, create videos, teach, and inspire others. So many achievements. 
I'm deeply grateful to those who generously support the Vintage Fashion Guild through donations, information to strengthen our resources, label images that we don't already have, and word-of-mouth. 
Vintage Fashion Guild
@vintagefashionguild
Photos: Members of The Vintage Fashion Guild and their collections