jewelry
Victorian Mourning Jewelry
Victorian mourning jewelry is making a resurgence among antique and vintage jewelry lovers. Jewelry designer and curator Stephanie Sutch explains why.
Stephanie Sutch · Jan 12, 2021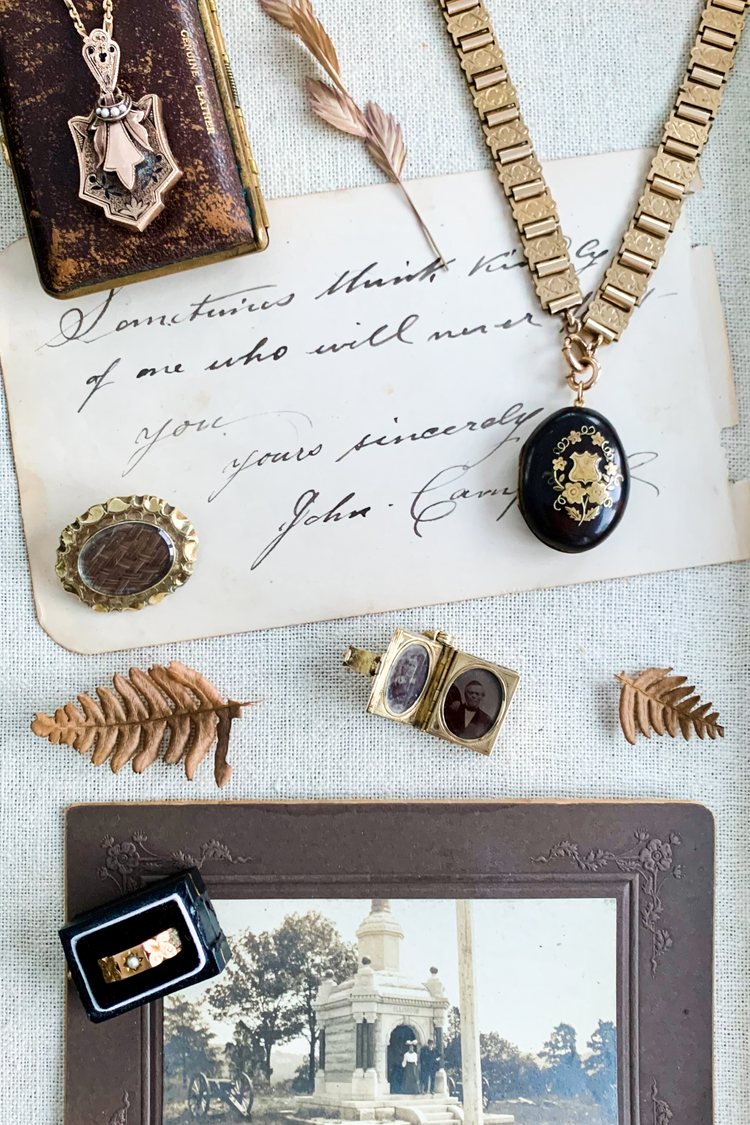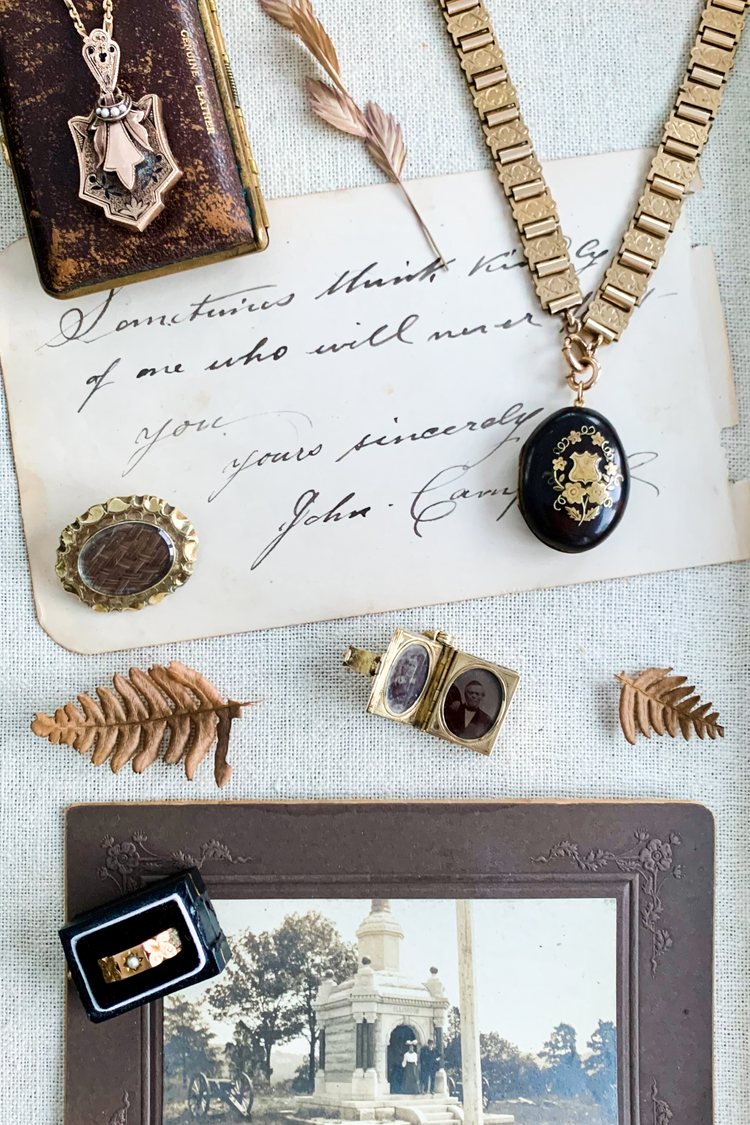 jewelry
Victorian Mourning Jewelry
Victorian mourning jewelry is making a resurgence among antique and vintage jewelry lovers. Jewelry designer and curator Stephanie Sutch explains why.
Stephanie Sutch · Jan 12, 2021

Mourning jewelry dates back to the Middle Ages and gained widespread popularity in the Georgian and Victorian Eras, spanning from the early 1700s to the turn of the 20th century. It was a way for people to outwardly demonstrate their grief for the loss of a loved one. The jewelry pieces were personalized and often contained engravings and personal effects (such as hair) that belonged to their departed loved one. During this time period, photographs and portraits were very rare. A lock of the departed's hair may be all that remained for the mourner to carry with them.
Today, in the 21st century, death is not a common occurrence in our everyday lives; however, in the 1800s disease, poor medical care, and war made it ever so common. The average life expectancy from 1871–1880 was only 40 years. It was not uncommon to lose a close member of one's family (parent, spouse, or even a child). Mourning jewelry was a way of coping and dealing with the loss of a loved one. It offered a beautiful way for people to keep their loved ones close and remember them.
Mourning jewelry is very unique as it is highly personalized. In general, it is quite rare to be able to tell the exact time an antique jewelry piece was created and for whom it was commissioned. Mourning jewelry, on the other hand, offers us a snapshot in time and allows us to have an intimate connection to its past. It also has so much beautiful symbolism and contains intricate detailing that is unlike anything being made today.
Personally, I love how the pieces reflect the connection the wearer had to their lost loved one. These pieces have heart, soul, and grief intertwined into their fiber. You can't get any more personal than that.
Today, people are attracted to both the beauty of the piece and its uniqueness. These pieces were created well over a hundred years ago and have a stunning classic beauty and styling to them. It's like collecting a highly personal piece of art.
Mourning jewelry is definitely making a resurgence among antique and vintage jewelry lovers. However, it is not something that is widely collected or sought after by the general public. While some may wear it to remember a loved one, others are just drawn to its beauty, its symbolism, and maybe even a little to its strangeness. One trend I have seen is more people seeking out mourning pieces to mourn the loss of a loved pet.
I think one of the main things people equate with mourning jewelry is the use of the deceased's hair in the piece. This tends to be an eye-opener to many and may either intrigue or repulse them. Hair was often artistically shaped or woven into the detailing of a piece. However, not all mourning pieces contain hair.
Many contain symbols that represent death and the mourning process. Such symbols include urns, cherubs, crosses, forget-me-not flowers, weeping willows, and seed pearls (symbolizing the many tears shed). They often contained inscriptions such as "In Memory Of" followed by the person's name (or relationship) and their date of death.
Pieces were usually done in black or with black detailing. The color black was synonymous with mourning, symbolizing a lack of light as the departed's life (their light) was extinguished. Most pieces were done in solid yellow gold while others were done in gold fill which was a way for the less affluent to obtain the same look at a more attainable price. Mourning jewelry is most often seen in the form of rings, lockets, pins, and watch chains.
It is important to note that not all black Victorian jewelry is mourning jewelry. Black was definitely in vogue in the mid to late 1800s as Queen Victoria went into mourning after the loss of her husband Prince Albert. You will find no shortage of stunning examples of Victorian jewelry that use black enameling or that are made of black materials like jet, a fossilized wood. You need to look for the symbols and personalization that are associated with mourning jewelry to properly identify it. Either way, the jewelry of the Victorian period is beautifully made and will make a striking statement when worn today.
Written by jewelry designer and curator Stephanie Sutch.
Farmhouse Romance Btq on Etsy
Instagram @agenda_1896