vintage business
Vibe Vintage – How To Start Your Vintage Business Later In Life
Rebecca Gombos launched her vintage business at the age of 53. Selling vintage was always Rebecca Gombos' dream. Finally, at the age of 53 she was ready to launch her business.
Liisa Jokinen · Jul 26, 2022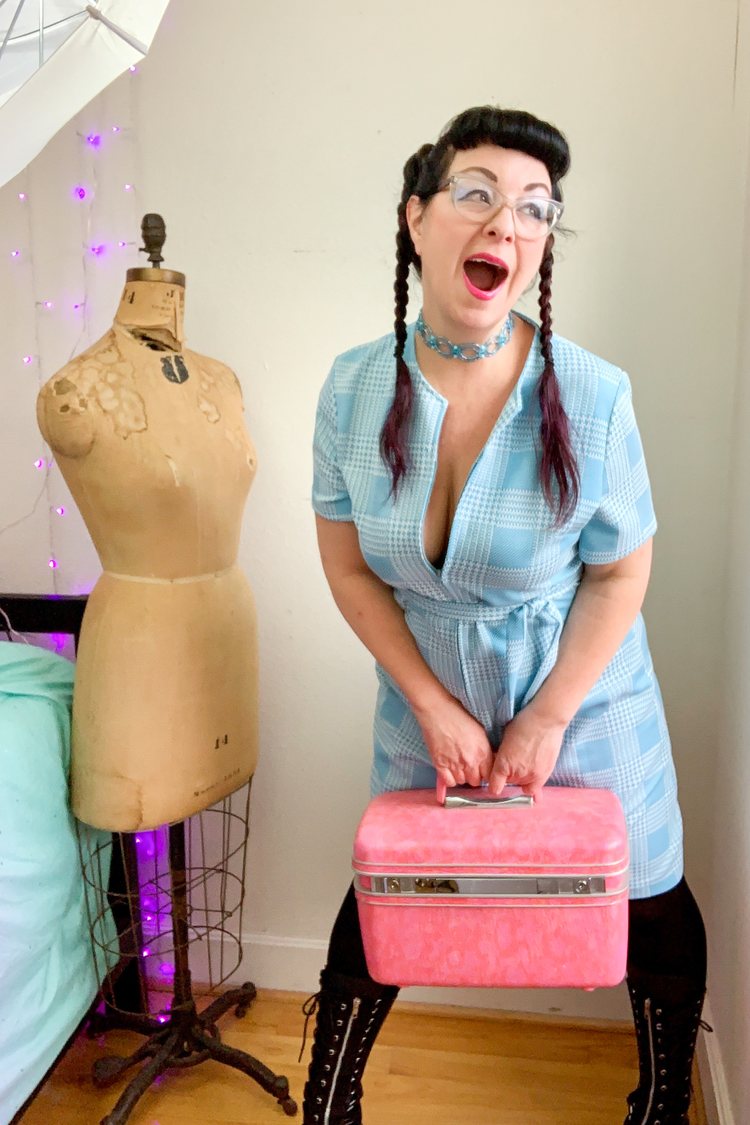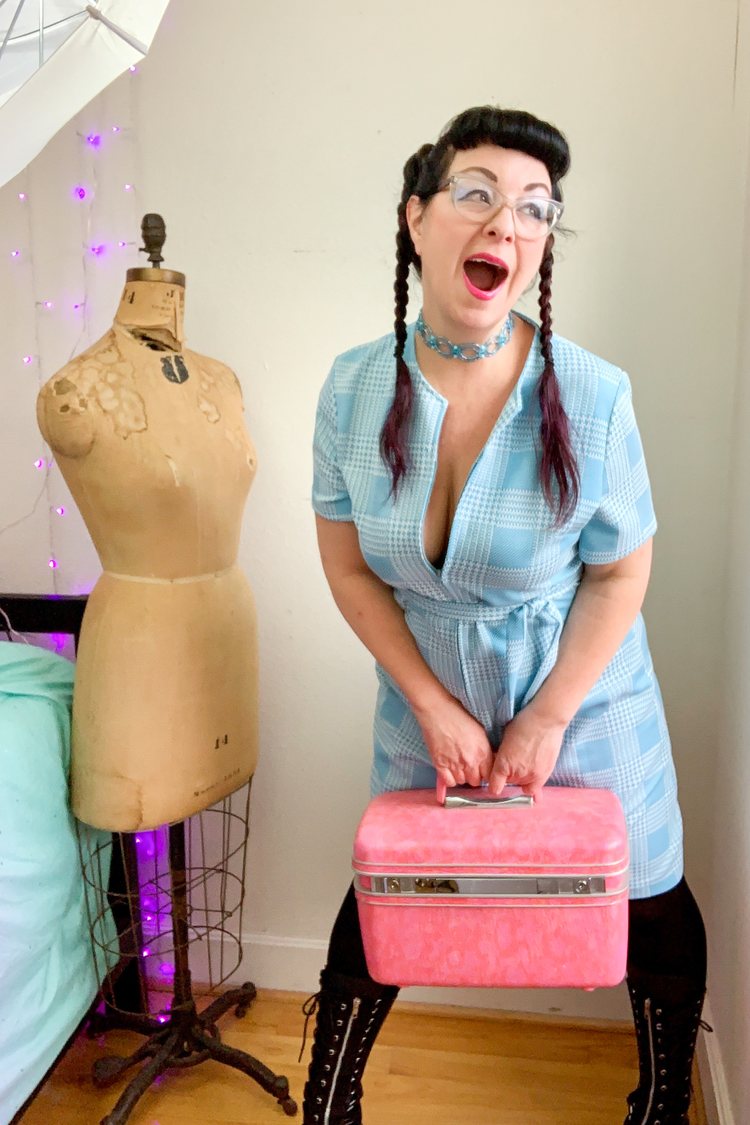 vintage business
Vibe Vintage – How To Start Your Vintage Business Later In Life
Rebecca Gombos launched her vintage business at the age of 53. Selling vintage was always Rebecca Gombos' dream. Finally, at the age of 53 she was ready to launch her business.
Liisa Jokinen · Jul 26, 2022

"When I graduated high school in the mid-80s I was really into the alternative music scene and I shopped thrift/antique stores for vintage from the 50s and 60s. I wore long, funky 'Grandma' coats, men's cool suit jackets, vintage military, sparkly brooches, hats, and any dresses I could find from the 50s that would fit me. Once when I was visiting New Orleans in the late 80s, I found an amazing 60s men's smoking jacket in an antique shop. I remember walking out of the store thinking, that if I ever won the lottery I would open a brick-and-mortar vintage clothing store. It became my ultimate dream.
Finally, two years ago, I fulfilled my dream.
I have always been into vintage clothing. I would buy vintage dresses that didn't fit me because I fell in love with them. I got frustrated with not being able to find my size, even in vintage sewing patterns. I took three years of weekly sewing lessons learning how to make a vintage pattern bigger, so I could make my own vintage-style clothing. I also have always collected vintage buttons, lace, and costume jewelry.
I put myself through pharmacy school starting at the age of 27. I was on my own at 19 so I worked waitressing and as a pharmacy tech until I graduated college at 34. I've been a pharmacist for 22 years.
I worked as a clinical pharmacist in a small female-owned biological pharmacy when Covid hit. I was laid off for business continuity. I had just lost my mom to cancer and had been wanting to do something more creative and enjoyable for work. The pharmacy had become an extremely stressful field to work in, and my health was starting to suffer from it.
I moved from the Jersey shore to Philadelphia kind of on a whim with a friend. I started looking for a job and found a job ad for HR in a wholesale vintage warehouse called Bulk Vintage Clothing, close to where I was living. I had decided to start a vintage Etsy shop and figured I would go into the warehouse shop and give the owner Amanda Saslow my resume. I respected that the owner was dressed in jeans, Doc Martens, and was hauling bales, etc.
I came back a week later to shop more, and I really started to pursue the owner on her Instagram. I offered to intern. I really wanted to work for her and learn more about the industry. I interned for almost a year. I was a Gal Friday for her, responsible for the retail website which specializes in men's vintage (mostly disco and western shirts), dating, researching, pricing, and organizing the women's higher-end vintage (Victorian all the way to the 70s), working with HBO & Netflix movie costumers (SO FUN), helping out in her brick and mortar store Raxx Vintage on South Street which is a shopping destination in Philadelphia. I worked really hard, loved every minute of it, and learned SO much.
I had gone into business expecting to sell only women's vintage clothing but fell in love with men's vintage as well. The western shirts are SO fabulous. I absolutely love offering both women's and men's clothing. And most of the men's shirts fit me, so I can easily model them.
The biggest challenge has been getting found online! Social media needs a lot of care and attention to grow.
I follow and interact with my followers, other vintage sellers and interesting accounts. I'm big on accurately hashtagging everything I post. Great photography and interesting content goes a long way on social. Usually, that is what attracts me to an account.
Etsy is really hard to get found on and is super competitive so I have had to get creative with my photos. I truly believe in great customer service bringing repeat customers. Next, I need to work on my TikTok video skills a bit.
Marketing is definitely a challenge. I have some photography experience and I believe that great photos and hashtagging correctly is helpful. I spend a lot of time on social media trying to network and promote Vibe Vintage Company. I love the process of cleaning vintage so I have made some tutorials on my process.
I have a process of cleaning, steaming, repairing, and photographing before listing the item. I want to sell items that are ready to wear, so there is a lot of prep that goes into each post, so the listing is a challenge. I have a huge inventory to get cleaned and posted. I also have plans for rehabbing old vintage that is no longer wearable. I have a huge collection of vintage lace, flowers, buttons, and fabric, and I want to utilize them in the process. I hate when beautiful, old clothing winds up in a landfill. I have bins full of clothing that are in need of repairs or reworking. I just need a few more hours in the day.
I think people should follow their dream and do what makes them happy. We are living in challenging times right now, and a joyful workday does amazing things for our mental and physical well-being.
Taking a leap to pursue your ultimate dream is challenging and sometimes scary but SO worth it!
When you find a situation/job/mentor to help you make your dream a reality, pursue them! Be humble, patient, driven, and consistent. Expect to make sacrifices with your time, this is your dream, it takes lots of work.
Amanda Saslow gave me the opportunity to learn from her. She is an amazing businesswoman, and I have tons of respect for where she has taken her thriving business. Another mentor has been Will from Plaid Soapbox. I met him on a buying trip for Amanda. He owns a brick and mortar, has a textile degree, and an amazing eye for fabulous vintage and he is an awesome human. I love networking on Instagram and I have met some amazing fellow shop owners that have been super supportive; Robin from Grandma's Garage and Max from The Cat's Used Pajamas, to name a few.
I source from many places. I love early morning flea markets, thrift stores, estate sales, and I still shop with Amanda at Bulk Vintage. I love the thrill of the hunt, and my goal is to travel the US and go to the flea markets looking for vintage! I sell on Etsy, farmer's markets, and punk rock flea markets.
I specialize in anything fabulous!
Women's vintage I will buy any period from Victorian and Edwardian through the 70s. I am super picky about 80s and 90s clothing that I buy, it's more curated. Because I was a young adult through those decades, it has to be fabulous to pique my interest. I also buy a ton of men's vintage clothing and accessories from the 50s-70s. I'm a total fashionista. I love fabulous clothing. I shop vintage and only thrift for my personal wardrobe."
Shop Vibe Vintage
Follow @vibe__vintage on Instagram