thrifting
Thrifting with Kate Bauer
Kate Bauer, 25, is a doctoral candidate, an avid thrifter, and a vintage clothing reseller living in Toronto. She is a master of layering cute looks so we wanted to ask for her best thrifting and styling tips.
Liisa Jokinen · Sep 15, 2020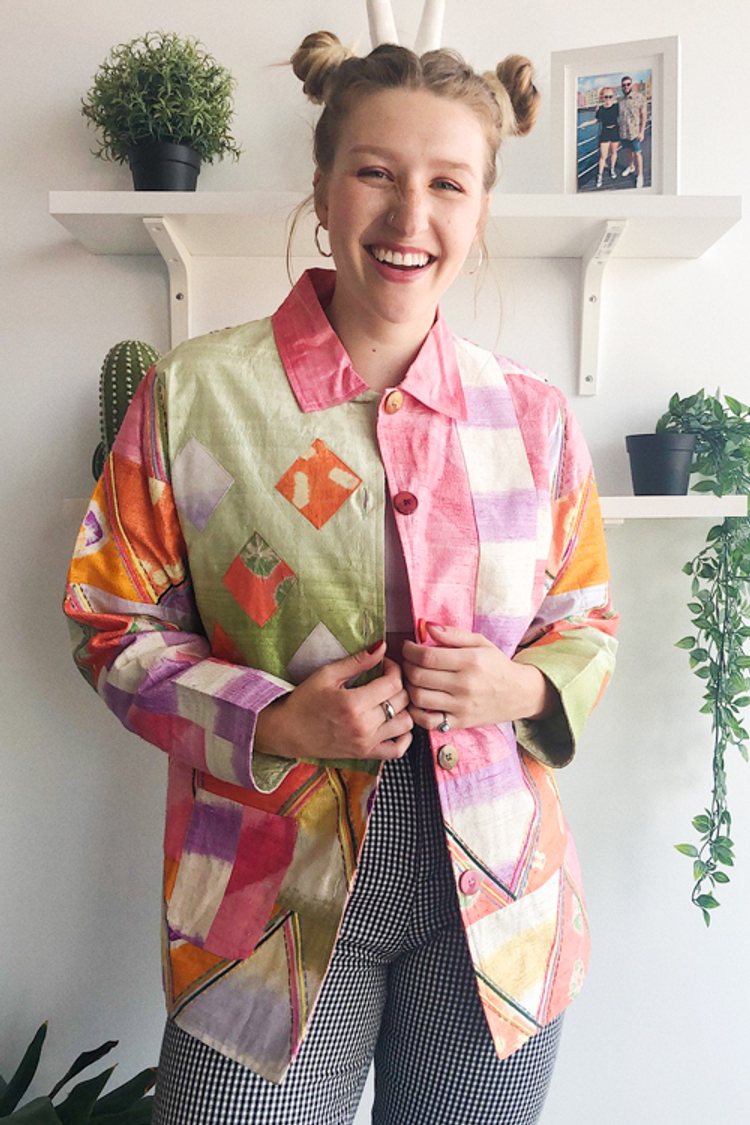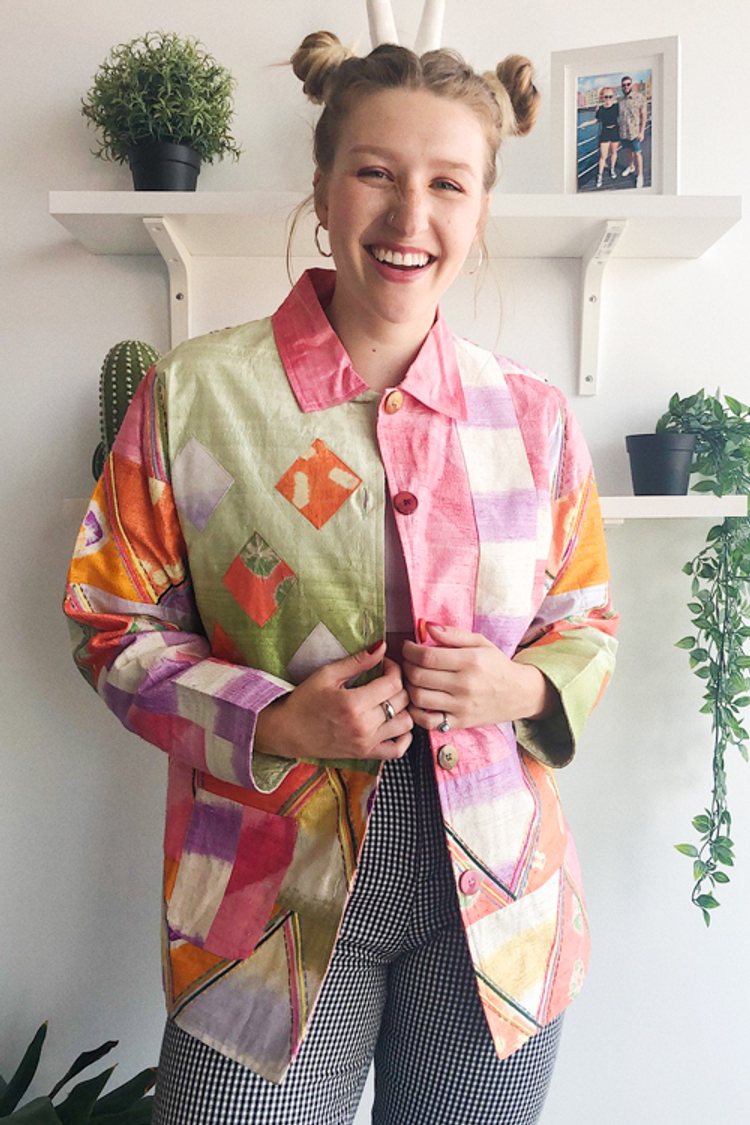 thrifting
Thrifting with Kate Bauer
Kate Bauer, 25, is a doctoral candidate, an avid thrifter, and a vintage clothing reseller living in Toronto. She is a master of layering cute looks so we wanted to ask for her best thrifting and styling tips.
Liisa Jokinen · Sep 15, 2020

"I have always loved thrifting. I can't quite trace my love back to a specific moment, but I remember taking the train into Toronto in high school with my friends to shop for vintage sweaters with my friends. I came home with this awful, amazing 80s wool sweater and my mom said, "I'm pretty sure I owned that sweater in 1988."
Since then I've always loved the thrill of the hunt and the freedom of expression that comes with buying secondhand clothing. Every day is a unique opportunity to find something different. In the last few years, I've learned more about the devastating environmental and humanitarian impacts of fast fashion and the global fashion industry, and I made a personal choice to only buy secondhand clothing.
Thrifting, shopping secondhand online, and vintage shopping are ways to support charities, small businesses, independent resellers, and keep clothing out of landfills.
It feels great, and it's way more fun and satisfying way to participate in fashion and try different trends.
My two main thrifting tips are patience and persistence. I can't stress enough that the best finds come to those who thrift often, and thrift widely.
Big thrift stores can be really overwhelming to just browse, so I always go in with a list of styles or specific items that I'm looking for. I then go to *every* section to look for my list – you never know if things have been moved around by other shoppers.
Instagram, Pinterest, and other apps are a great tool to find inspiration; if you like somebody's look, make a list of the items that you like and you should be able to easily find similar goodies. Some of my secret places to score great finds are the PJ/lingerie section (for slip dresses), suits and matching sets, men's blazers and jackets, and the kids' jeans section. You never know if things have been tagged or placed in the wrong section, and I've found some amazing vintage jeans in the kids' section.
If you're able to, I suggest thrifting often. Stores put new stock out every day, all day, so you might feel like you're in a completely different store even if it's the same one you were in a few days before. I think I credit this with a lot of my successful thrift finds.
I have a pretty small closet so all of my clothing is visible at once, and I let my eye wander to take in different items and different patterns. I usually anchor my looks in my shoe choice (I looove thrifting shoes and boots) and build up from there. If I'm mixing lots of different colours, layers, and patterns, I like to create a consistent thread through the whole look. For example, I'll wear a floral shirt under a floral dress as long as they have one colour in their pattern in common, and then I'lll match my bag to my shoes to tie it all together.
I also focus on silhouettes, and work with how different layers fall on my body and what sorts of lines they create. I love long dresses and long coats, which I love combining with platform shoes and oversized bags.I really don't think there are any specific combinations of colours, patterns, and silhouettes that are out-of-bounds anymore, so if you like what you're wearing, then you'll look good wearing it.
Right now I'm really into 90s and 2000s pastel knits, long prairie dresses, platform shoes, and shoulder bags. My number one target item right now is a maxi-length flowy white dress.
I always keep an eye out for 100% cotton vintage jeans, silk shirts, leather blazers in all sorts of fun colours, and cool vintage earrings.
I know a lot of people struggle with the cleanliness of thrifting - that it's sort of gross to buy clothing that other people have worn. I would say that thrifting is even cleaner and safer now during the pandemic than it was before - masks and gloves keep you safe from the coronavirus as well as from potentially yucky things in the store. But on the whole, most thrift stores are diligent about not putting soiled items out for sale, and I always make sure to dry clean or wash thrifted items as soon as I get them. A hot wash in the washing machine is enough to make a thrifted item as good as new and ready for you to wear.
The best way to avoid feeling overwhelmed by a big thrift store is to make a list. As I mentioned above, going in with a plan, and being satisfied with finding one or two items you really love is a great place to start.
We live in a time where people celebrate thrift "hauls" of 10 or more items, but you shouldn't feel pressured to find a dozen new items or outfits every time you go.
Slow, dedicated, and practical approaches to thrifting can make the experience really rewarding and much less overwhelming.
I live on the same block as a Value Village / Savers, so I go there often. They're reliable, I'm familiar with the organization, and I can always find great stuff. I also like to shop from local trade-in or consignment stores, and small vintage stores. And I also get a lot of my secondhand clothing from online reselling apps, as well as Etsy and eBay. The possibilities are endless for finding the exact items you want secondhand, which is why an app like Gem is so great to bring a lot of those platforms into one place.
I love all my thrifted goodies equally as if they were my own children but I have to admit that I have a few favourites: A pair of bright red cowboy boots I thrifted online are a standout, platform clogs from Value Village, a pair of oversized zebra print earrings for $0.99, an original 1990s Spice Girls tote bag, and a one-of-a-kind silk patchwork jacket. Now that my whole closet is secondhand, vintage, or thrifted, it's a lot harder for me to choose."
Follow Kate on Instagram @readwritethrift
Shop Kate's wardrobe on Depop @readwritethrift