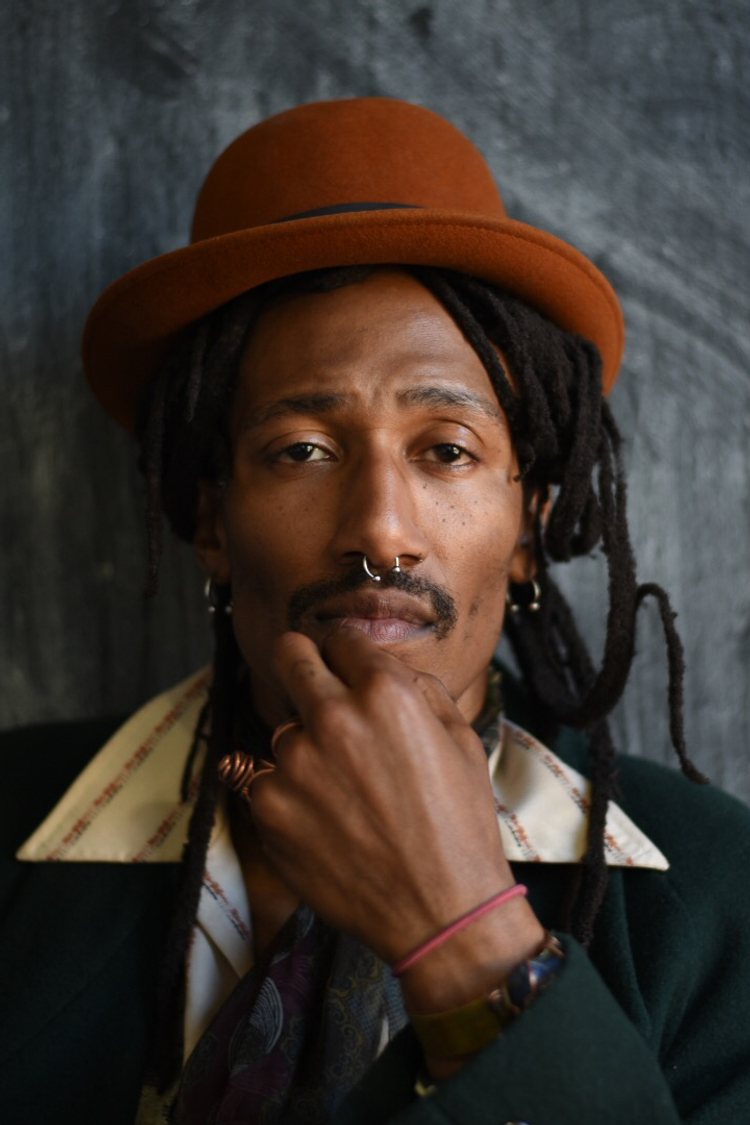 Thrifting Tycoon of Crown Heights – Meet Devin Finley aka Specks "Funky" Johnson
Devin Finley, 36, goes by many names but one thing stays the same: his thrifted style. An unfortunate event taught him to shop more mindfully.
"I did not tap into thrifting until I got to New York in my mid-20s. I grew up as a military child so I moved around more often than most people but I spent a lot of my time in the DMV area and went to college in Baltimore. I wore the same clothes as everyone else but the way I put them together was unique. I always got compliments for my style.
When I moved to NYC, I noticed that everyone was wearing the same things as I was: H&M, Urban Outfitters, etc. I moved from a small pond to a big ocean!
I thought to myself: 'I have to do something about my clothes and style.' My mother has always been thrifting, she has a huge closet and never wears the same outfit twice. If she gets a good deal, she will buy the piece, even if she would not wear it herself.
I started looking in her closet and she would let me try on stuff like bell bottoms and leather coats. Luckily it was all just collecting dust in her closet so I could take them with me.
When I got into thrifting I realized that is the way I can really express myself.
So I started thrifting to find my own unique flavor and style. I started with low grades: Goodwill, Out Of The Closet, and Salvation Army where you can get good deals.
Thrifting is all about the location: You will get what people donate in that area. So each NYC neighborhood is different.
Slowly I was creating my wardrobe. People started noticing and asking where I get my clothes from.
I used to go to Housing Works Buy The Bag events, too. My friend organized the events and she showed me how to do it. You need to know how to dig and shift through a lot of stuff to find the gems.
Then I started doing stoop sales and thrifting parties on my friend's rooftop with vendors selling their stuff and dj's playing music.
Unfortunately, I had an electrical fire that burnt a lot of my clothes last April. First, I was hurt. I had to start from scratch. The thing is: I had a lot of stuff and I had been telling myself I needed to get rid of it. I have a tendency to hoard stuff, especially clothes. I had been shopping too much.
So the universe was just doing its magic. I had to be optimistic about the situation and take the good with the bad. Now I am smarter and only shop things that I am going to wear. I took a hit but I am back now!
My biggest style inspirations are 70s blaxploitation films and Westerns. I grew up watching Westerns and love denim on denim, ponchos, and stetsons. The style of the blaxploitation films blew me away. I love the way people in the blaxploitation movies portray themselves: cool, funky, and soulful.
Crossroads, L Train Vintage, Beacon's Closet, and Buffalo Exchange are my favorite spots in the city nowadays. Back at home in Maryland, my favorite store is Prime Thrift Waldorf. I am ok not buying every time I visit a store. Usually, I have a particular style or item like belt buckles or zebra print I am looking for.
I am not into brands and it does not need to be real vintage for me. There are many contemporary items that fit my style. I don't discriminate. I like to mix it up. But I do wear a lot of 70s clothes.
I always wear jewelry. I like to accessorize. Jewelry is a great way to add spice and flavor to your outfits.
I like to be unique when I step out. We are all special and one of a kind.
Personal expression, sustainability, and price are all important to me. I like a good deal! That's something I learned from my mom. The most I have paid for a garment was probably $100.
If you look good, you feel good. And then you leave a good impression. Self-expression is everything!
Being comfortable makes for a groovy style. Style is like fine wine, it gets better with time.
Never limit yourself, always express yourself through your style and clothes. As long as you are happy, the world is your oyster. As long as you are not trying to be someone else, I will appreciate you and your style."
Follow Devin Finley on Instagram @speckstheallmighty1