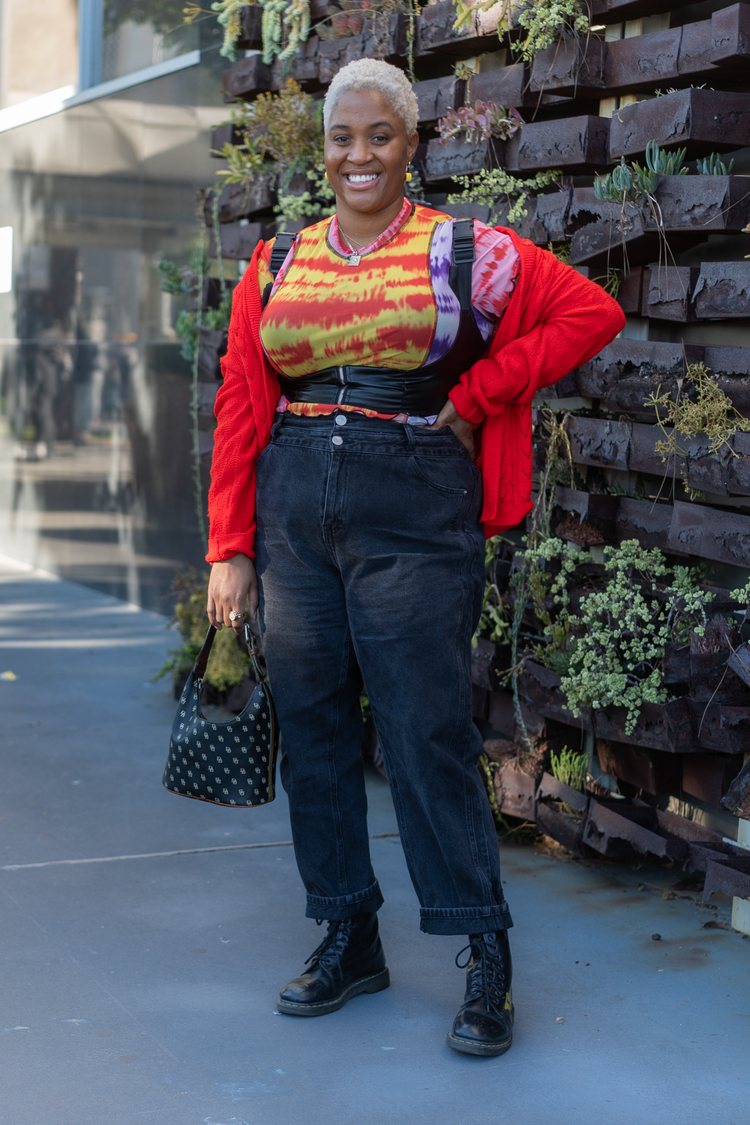 The thrift & vintage event ThriftCon popped up in Los Angeles in December. We stopped some stylish visitors for a photo and interview.
ThriftCon was founded three years ago by three entrepreneurial minds from Denver: Mario Conte, Ken Mead and David Bywater. The first event was held in May 2018. After the launch, ThriftCon has traveled across the US and has popped up in major big cities.
In December, ThriftCon visited Los Angeles for the second time. We asked some visitors how they liked the event, what did they shop and where did they get their vintage looks from.
"I'm wearing a vintage corduroy newsboy cap (thrifted in Guatemala), Ancient Youth 1/1 denim patchwork jacket (designed and made by me using 100% recycled denim), vintage blue turtleneck (thrifted in LA), vintage 90s Marithé François Girbaud pants, and Dr. Martens boots.
ThriftCon was fun, I was working with my friends Earthling VIP. I didn't get to walk around and shop much because I was working. But I did buy one piece from Earthling – a vintage 90s United Colors Of Benetton t-shirt."
"I work at a thrift store called Village Merchants in Portland, OR, and that's where I found all of the pieces I am wearing except for my shoes, which are the Unif Parker boots that I got as a present for my birthday.
ThriftCon was great! It was so cool (and also slightly overwhelming) to see so many unique pieces in one place. I bought one piece, although I was tempted by many. It was a black and white tassle-y short jumper. I don't sell vintage, but I'm working on sewing and crocheting my own clothing and hope to sell/trade those with people sometime soon."
"My outfit is almost entirely vintage. Between the price, sustainability, and the character of secondhand clothes, I try to buy them as often as I can.
The vest I got at ThriftCon from my good friend, The Chubby Chicano… added some texture and some retro aesthetic. He always curates one of the more unique selections. I've been going to him since I first started buying secondhand.
The shirt might be as old as I am and it's my favorite. It is some San Diego Zoo merch from Golden State Vintage by way of the homies at Day to Day Vintage.
The pants are 2000s Wranglers, from Day to Day Vintage. Shout out to David Chun for scoping them for me. They fit perfectly and they go with everything. The shoes are Nike Off-White Blazers All Hallows Eve. Rest easy, Virgil!
A special shoutout to Joog Plus Goods – another one of the best selections around. I was able to get a perfectly fitting mint jacket from his personal collection at Thriftcon. It is in my tote.
All in all, I think ThriftCon was alright. The promotion left a lot to be desired and the space wasn't really decorated like I was at 'ThriftCon' if that makes sense.
Everyone was super cool though and packing up after was pretty seamless. Could use a bar next time lol!"
"This was my first ThriftCon. I was really excited because I was picturing it as a huge flea market. I was VERY shocked that the majority of the items started at $40-$60 because I've come to know thrifting to be at least a little accessible for all. Some of the vintage or other 'special finds' were going for $150 or even 1K.
I also found it very interesting to see where sellers are at publicly and what's 'in'. Sportswear is still here to make its mark and there was plenty of Lakers merch. I've heard talk of streetwear finally starting to die out so it was nice to see it's still making its presence felt.
It was interesting to see some of the hypebeasts there. Some folk seemed like they were just there to walk around and show off their fits. All in all, everyone was so sweet and I had a nice experience with my friends.
We did get there around 1PM so maybe we would've had more options if we had arrived earlier. I bought three things in total."
"ThriftCon was great: I got two t-shirts; one from Privileged Vintage and traded one shirt with Retro Vault.
I have on a 4x1111 custom sweater which I will be selling on my website starting January. The t-shirt is a rare Xanax promo t-shirt for anxiety. I heard they made less than 100 of these in the 90s. I bought it from a vintage seller within our online vintage community. His name is Graphic Nest."
"My blazer is vintage Bill Blass that was thrifted back home in Virginia. The pants are thrifted but unsure of the brand. The shoes are Rick Owens to add some high fashion flare.
I loved ThriftCon and I bought a lot. My favorite piece came from The Hause Collective. I do sell vintage, but I mostly style my clients using vintage pieces. Book me!"
"What I am wearing: top is from The Frankie Shop, pants are from Topshop and shoes are vintage."
"This was my first ThriftCon and I really liked the vendors, especially on the second floor. I got a Carhartt vest and Nautica navy blue and yellow jacket from a vendor that uses baseball cards as their tags but I can't remember the name because it wasn't labeled. I snagged a duo-chrome velvet 90s style dress from SJ & Alex.
I don't sell vintage but I very much respect and treasure vintage pieces. It's tangible history and conveys self-expression per user/wearer that is timeless.
My leather jacket and jade flower earrings are my mom's from the 90s. The green top is Dolls Kill from three years ago, 80s slip dress is from Silverlake Flea Market, skirt Mukzin, socks Daiso, and shoes Killstar."