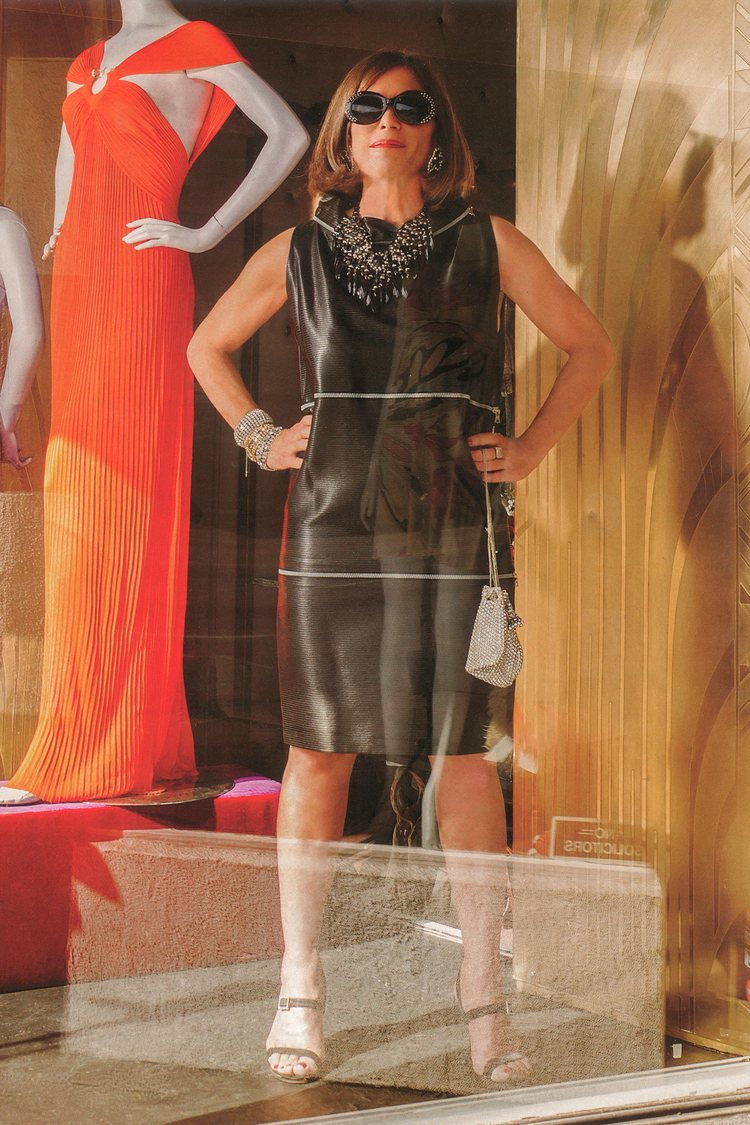 Doris Raymond and her store The Way We Wore are LA institutions. We sat down with her and chatted about the past and the future of vintage.
Doris Raymond started buying vintage in the 60s, opened her first store in San Francisco in 1979, and relocated to Los Angeles in 2004. Raymond is a walking encyclopedia of fashion history, a trusted vintage vendor, and passionate collector. She knows what is up in the vintage business.
How did you get into the vintage business?
I had been buying vintage clothing in the late 1960s because back then it was inexpensive and I really identified with the Bohemian spirit of the hippies. Because I knew how to sew, I was drawn to pieces that were made with quality fabrics and nice details. My affliction started out as a necessity and when I moved to San Francisco in 1974, it became a kind of hobby. 
In about a year I filled a large Victorian flat with all kinds of vintage treasures from stacked oak bookcases to perfume bottles to vintage clothing and accessories. When I had to move from that large apartment to a studio, I was forced to take a cargo van full of pieces to the Marin City Flea Market to sell. And lo and behold – I actually sold pieces for a profit!
After 4 years of selling at the flea market (off and on), I got tired of the loading and unloading, the erratic weather and the flea market mentality of low-balling on prices and offers so I decided to open a store.
What is the story behind the name "The Way We Wore"?
In San Francisco, you have to have a second-hand dealer's permit in order to be legit and I had to come up with a name. I remember going to the SF library to research textiles and clothing and left without any good names. Turned on my radio in my car and Barbra Streisand came on with her song "The Way We Were. I started to laugh when I realized "That's it"! I have always loved puns and the name has served me well. It is a registered trademark now. I moved to LA in 2004 and opened the store in April of that year. 
You have been in vintage business for almost 40 years. What have been the biggest changes during this time and how do you see the future?  
When I started, I swore that I would quit when polyester became desirable. Fortunately, I did not live up to that threat. It's strange to now be carrying those things we all wore when I opened The Way We Wore. I think the biggest change has been that vintage has become mainstream and it is worn by a huge demographic now. Back in the 70s and 80s, you would wear vintage if you were a hippie, a wealthy eccentric, a collector of a particular category like Bakelite or Hawaiian shirts or if you were an artist.
With the climate change awareness and people recognizing that the clothing industry is one of the biggest contributors to waste and global warming, the 3 R's (reuse, repair, recycle) have kicked into most people's line of vision.
What will the vintage look like in 20 or 50 years? 
I think that upcycling and repurposing will become a much bigger deal so we will see many iterations of pieces that seem somewhat familiar. I love the idea of making something your own. People will value the patina of use and age and not discard an item because of a stain or a hole. 
What are some of the most precious, memorable, or rare items you have encountered during your career?
I'll answer that from a sentimental point of view: A piece designed by my uncle in the 1960s. He was a successful and young designer in Palm Beach and many of his designs feel like Rudi Gernreich. Not sure who inspired who. No one in the family had any of his pieces so I am grateful this one found it's way to me. 
What made you launch the Way We Wore YouTube channel and what can be expect to see in the future?
About 8 years ago I had the good fortune to have a docu-series on Smithsonian Channel. It was called LA Frock Stars and we got two seasons. It was internationally distributed. Season 2 aired about six years ago but every week we get people in the store and emailing from around the world  asking when will we do another season? One of my staff said: you have a built-in audience so why don't you start a YouTube channel. We are going to start doing different things like sit down interviews, brief reviews of similar and interesting pieces and a special episode just answering questions that we get sent through comments or Instagram. 
What are current vintage trends? What are people looking for currently and what do you think will be the next trends in vintage fashion?
People seem to gravitate to what contemporary designers are doing. We find that classic and iconic are always in demand and are not trend-driven. Tulle is a fabric that we are getting a lot of requests for. Films and tv often push the trends. "The Marvelous Mrs Maisel" is a good example and we saw "Mad Men" having an impact on mainstream fashion. Watch for those super flattering late 50s/early 60s silhouettes. I like pieces that are unique and cause a visceral reaction. Reuse and recycling is a major trend and vintage is the way to go. 
What are some common misconceptions people have about vintage clothing?
The word "vintage" has been bastardized and misused because of it's popularity. You'll see newly made garments with "vintage" tags. Wrong, wrong and wrong! I try to keep my inventory at least one generation or older (my definition of vintage) but make a few exceptions if something is so fabulous. Vintage clothing can outlast fast fashion if you know what to avoid and look out for. 
What are some things that (more) people should know about vintage clothing?
If a piece is not haute couture or highly collectible, please have the piece tailored to fit you. Doing that makes it look like a million dollars. How you store and clean your clothes will determine how long they will live. 
The Way We Wore
334 South La Brea Ave
Los Angeles
@thewaywewore
Photos: Tomas Muscionico, Maria Laxamana, and Liisa Jokinen