travel
The Six Best Vintage Stores in San Francisco
For the style seekers exploring this historic city, listed is the top 6 contemporary vintage stores that will take you through the era's.
Amanda Assing · Oct 1, 2019
Cover photo: San Francisco Travel Association
travel
The Six Best Vintage Stores in San Francisco
For the style seekers exploring this historic city, listed is the top 6 contemporary vintage stores that will take you through the era's.
Amanda Assing · Oct 1, 2019
Cover photo: San Francisco Travel Association
San Francisco vintage scene: A colorful oasis of eclectic finds, that hints to the city's peacekeeping and cool-kid, beat generation past.
Listed are six curated vintage stores that keep the eclectic cool-kid history alive and offers a fresh take on today's booming San Francisco. They offer the hard to find pieces that vintage shoppers can only find in SF.
These stores are chosen based on quality, rarity, and modern wearability of pieces as well as the curation of spaces.
PS. Coming up soon: the best vintage stores in Oakland and Berkeley!
1. Ver Unica
Legacy Pieces - Dreamy boho caftans, metallic cocktail dresses, and wedding worthy wonders can be found at this legendary vintage-purist boutique. Eye-popping gold and silver jewelry is close at hand to match. Perfectly placed in the heart of Hayes Valley, you're guaranteed to walk out with something special that will be a forever favorite. Cindy, the owner is also one of the nicest people you'll ever meet.
Ver Unica
526 Hayes St
Hayes Valley
Mon-Sat 11-7
Sun 12-6
415-621-6259
@Ver_Unica_SF
2. Vacation SF
The New Wave - For the maximalist, minimalist, and avant-garde, this small but mighty shop is eclectically curated with hard to find pop-culture pieces from the 70-90's, darling antique silk slip dresses, coveted 'IT' jackets, jewelry, and rare t-shirts. I marveled at a vanilla and gold chinoiserie silk coat that I still think about today. Catering to all sizes, genders and identities. They even host punk shows, drag shows, poetry readings, live album recordings in their basement. Cool.
Vacation SF
704 Larkin
The Tenderloin
Mon-Sun 12-8
415-795-3633
@vacationsf4sale
3. St. Lightning
Spirited Away - Beautiful silk blouses, workwear jackets, and delicate trousers float in this modern vintage store. Perfect for the minimalist and capsule collection seeker. St. Lightning is also THE spot to grab the perfect vintage Levi's. They even host pop-up tailoring events to get that extra snug fit.
St. Lightning
1813 Polk St
Russian Hill
Tues-Fri 12-7pm
Sat 11-7
Sun 11-6
415-400-4579
@st.lightning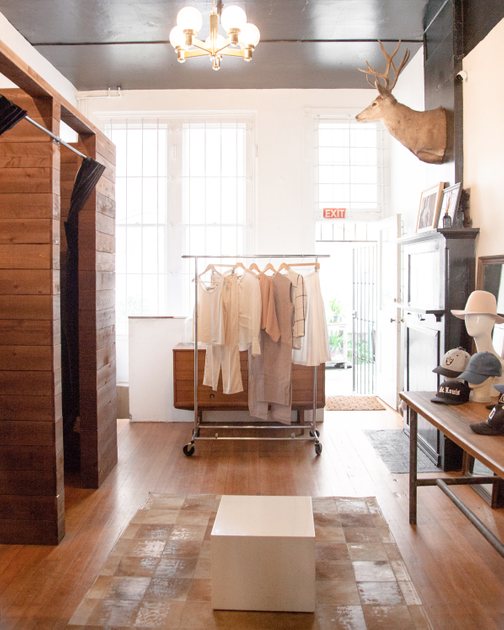 4. ReLove
The Culture Club - There's a reason that ReLove was named the best contemporary vintage store in SF. Offering a curated mix of vintage, designer, and modern pieces, this is where all the cool kids shop. Expect to find a healthy dose of 90's street, Japanese avantgarde, French classics, and designer names all for amazing prices. YSL, Supreme, CDG, Chanel, Balenciaga, Coogie sweaters, Yamamoto, Prada all mix together to create the ultimate combo for the brand name seeking client.
ReLove
1815 Polk St
Russian Hill
Tue-Sat 11-7pm
Sun 11-6
Mon 12-6
415-800-8285
@shoprelove
5. Baba Yaga
The Devil is in the Details - Inspired by a witch in Russian folklore, Baba Yaga is a stylists dream. Situated on a quiet street in Sausalito, everything has a purpose and a place in this immaculate, gallery style boutique. I literally lost my breath over a cream 1940 Japanese, brocade opera coat, patterned with gold, green and red chrysanthemums. Expect to find liquid silks and embellished jacquards, next to prairie cottons, and cozy basketweave wools. Prices are great, too! Ask the owners Paloma and Lisa about their vintage tarot cards.
Baba Yaga
510 Caledonia St
Sausalito, CA 94965
Tue-Sat 12-6
Sun 12-5
415-595-2334
@babayagastore
6. Afterlife Boutique
Cult Status - Known for their vault-worthy collection of rare vintage tee's, Afterlife hits the mark with everything americana-cool. Located on the popular Valencia Street strip, their high ceilings and wood panel walls show off prized leather moto's and perfectly distressed military finds. With items for men and women, expect to find 1970 Indian caftan dresses, 1970-1990 sportswear, Japanese souvenir jackets, and the best assortment of buttery Coach bags.
Afterlife Boutique
988 Valencia Street
The Mission
Mon-Sun 11-8pm
415-796-2398
@afterlifeboutique
Photos: stores' own, Ver Unica photo by Thompson & Homonnay.