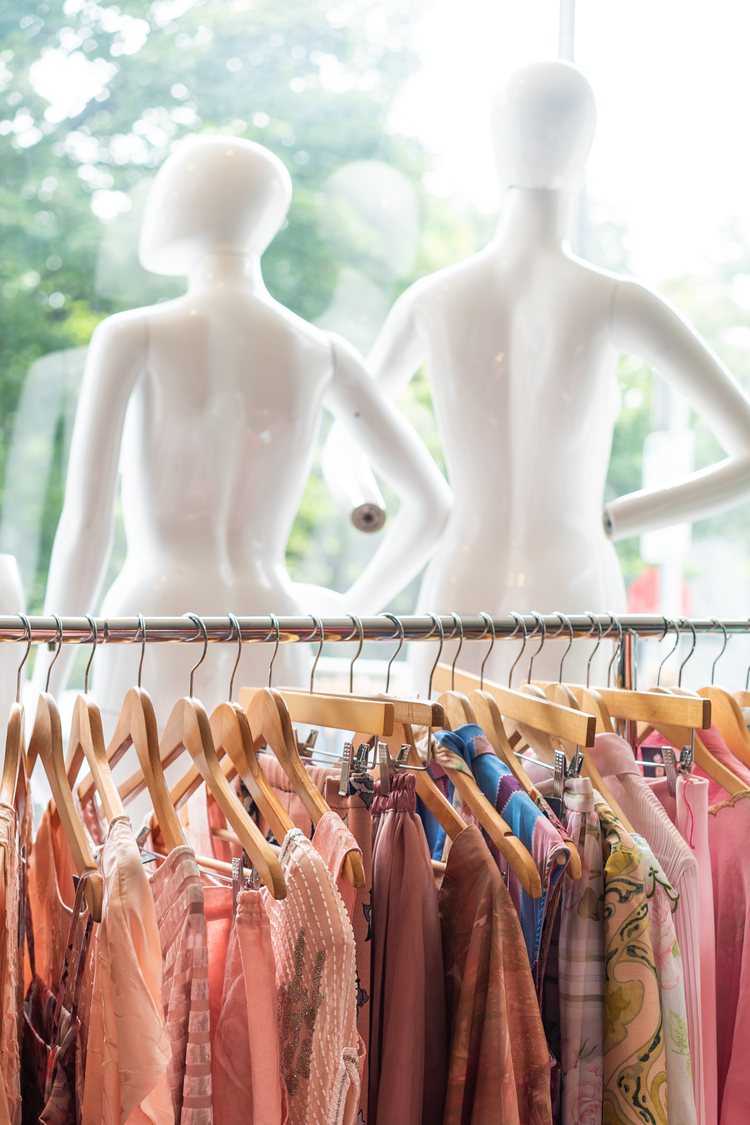 Our favorite vintage, second hand, and consignment stores in the Emerald City. 18 stores in six neighborhoods – and even more on our Google Maps list.
Eighteen Seattle vintage stores made it into our vintage guide (read below!). On our Google Maps list you can find even more stores: shops selling both new and old clothing and small second hand shops.
We arranged the stores according to the neighborhoods which hopefully helps your navigation. Feel free to send me feedback if you feel something essential is missing from my story or the map!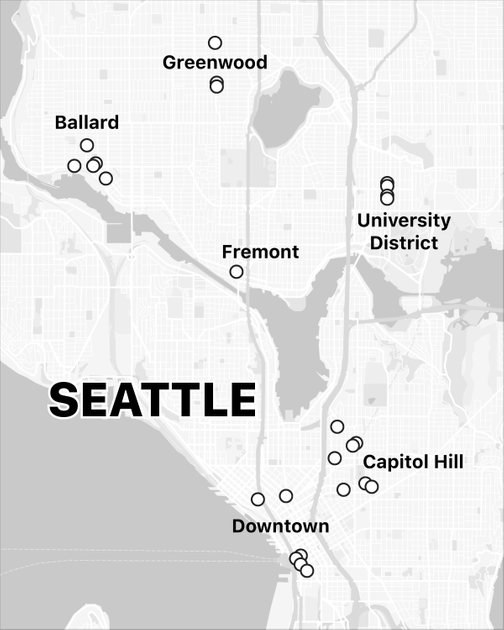 Capitol Hill
Most of the vintage stores in Capitol Hill are gathered along Pike Street which makes shopping easy and fun; you can just walk from a store to another. But do not forget the Indian Summer vintage store, 20 mins walk to the north from Pike.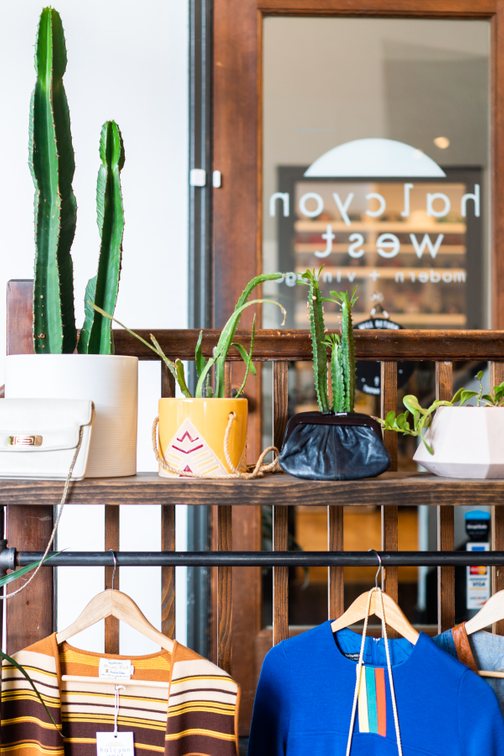 Halcyon West
The former Zorro Vintage, one of the newest vintage stores in Seattle, opened in spring 2018. The collection is "less retro and more minimalist, lots of natural materials, no polyester", describes the owner Leslie Ellis. Spotted some unusual, beautiful 70s suede pieces, beautiful denim, and cute summer shorts. We loved the airy space with its white walls and high ceiling. Bonus points for the cool neon sign saying "go vintage". Yes to that!
Halcyon West
Oct 2019: Permanently closed.
@shopfalcyonwest
Throwbacks Northwest
Next door to Halcyon West you will find Throwbacks, a store specializing in 80s and 90s urban and pop culture inspired sportswear. If you are looking for a Seahawks or Mariners sports jersey this is your place. The store also hosts pop-ups with local designers. Soon 12 years old and going strong.
Throwbacks Northwest
1205 E Pike St #1D
(206) 402-4855
Mon-Sat 11-7
Sun 12-6
@throwbacksnw
Le Frock Vintage
Le Frock collection is an unsual mix of contemporary consigned pieces from locals and true vintage from the 1960s and the decades prior for both women and men. This is your store if you are looking for party or cocktail dresses, jewelry, or Japanese vintage kimonos. The women-owned store has been in business for 28 years already, cheers to that!
Le Frock Vintage
613 E Pike St
(206) 623-5339
Mon-Sat 10-7
Sun 12-6
@lefrockconsignment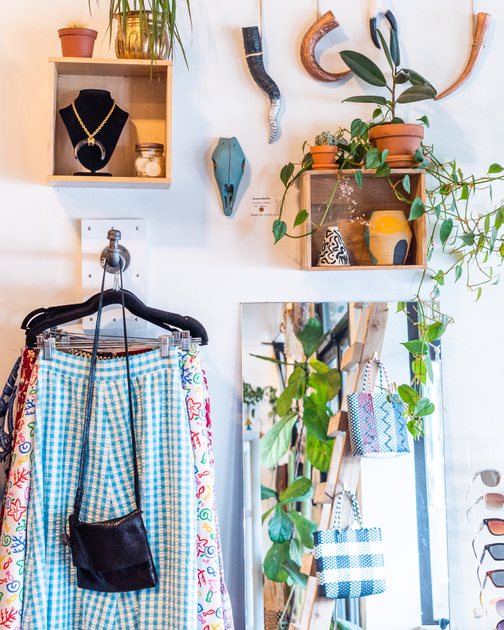 Revival Shop Seattle
By selling vintage on eBay for several years, Ashley Busacca built the foundation for what would later become Revival Shop Seattle. The store's collection is a mix of vintage clothing for women and locally made small goods. You can find here everything else except shoes and jeans. The price point for most items is $20-40. I spotted a delightful amount of 70s maxi dresses and skirts. A woolen plaid skirt by Levi's almost broke my heart.
Revival Shop Seattle
233 Broadway E
(206) 395-6414
Mon-Sat 11-7
Sun 12-6
@revival_shop_seattle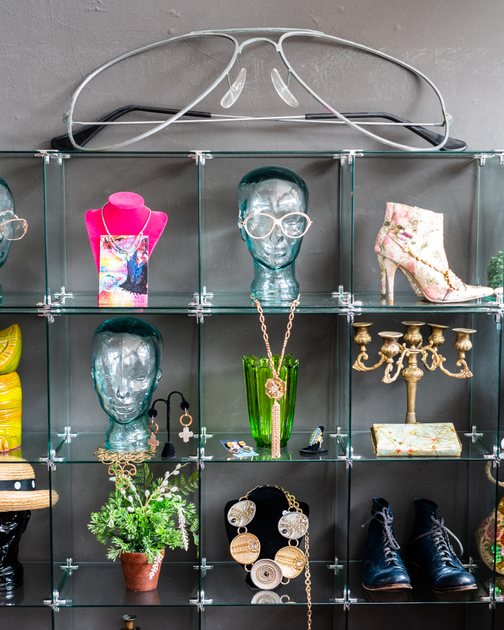 Indian Summer
This store is some blocks away from the other stores in Capitol Hill but it is really worth the trek! Everything inside this gem of a store is fantastic. Even the shopping windows are genius – you will see! The owner Adria Garcia has a great eye for picking contemporary-looking, exciting vintage pieces in delicious colors you want to wear and eat! Size-inclusive, gender-flexible. This is the store where I did most of my shopping in Seattle.
Indian Summer
534 Summit Ave E
Thu-Sun 1-7
@indiansummervintage
Downtown
Pioneer Square in Downtown Seattle has another nice conglomeration of vintage stores.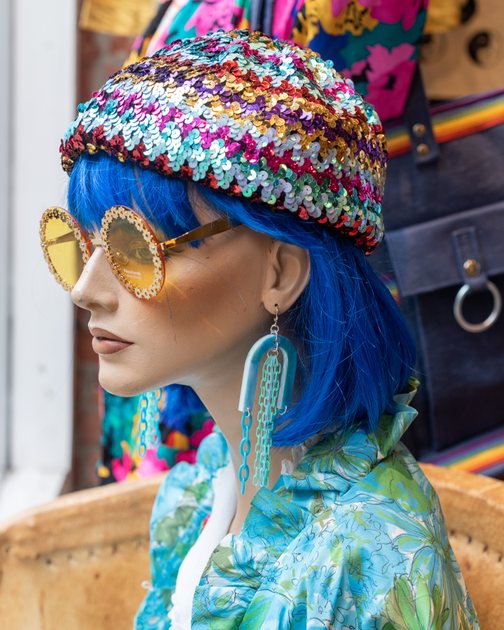 Bon Voyage Vintage
As fun as vintage can get! 15 rotating vendors guarantee that the store always has some unique gems. Lots of colors and prints, 80s and 90s vintage, affordable prices, plus art and jewelry from over 30 local artists. Be sure to check the Bon Voyage Vintage Instagram account for some fun outfit ideas!
Bon Voyage Vintage
110 S Washington St
(206) 412-7669
Sun-Wed 11-6
Thu-Sat 11-7
@bonvoyagevintage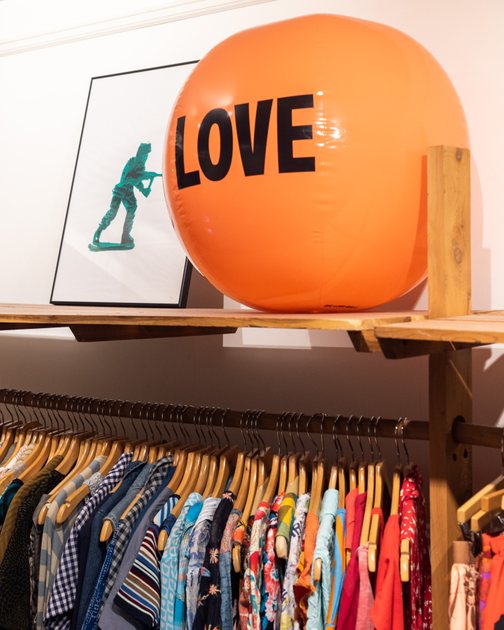 Swan Dive Vintage & Consignment
Downstairs of the Clementines clothing store, you can find Swan Dive, a fun little vintage shop selling eclectic pieces, lots of colors and prints. "I try to find pieces that can be incorporated into a modern wardrobe. Pieces that make you feel that they were made for you only", explains the founder Ali Brownrigg.
Swan Dive Vintage & Consignment
310 Occidental Ave S
(206) 935-9400
Mon-Sat 10-6
Sun 11-5
@shopswandive
Sell your Sole
The most fashionable of the stores I visited in Seattle. Tucked inside an industrial building a loft-like space is brimmed with almost-like-new designer clothes and accessories. I spotted new-looking shoes from Céline and Gucci, cute dresses from Simone Rocha, Jill Sander, Comme des Garcons, lots of handbags. Everything is consigned so you can sell your seasonal goodies here too – and never forget to check the sales rack for some bargains.
Sell Your Sole
2121 1st Ave. #101
(206) 443 2616
Tue-Sat 11-6
@sellyoursoleseattle
H. Bailey
Hilary Bailey Burnett has created a concept that should exist in every city of the world: a curated resale boutique for men. She sells "quality menswear that's a little worn" – selected items that have a nice patina and can last for generations. Lots of suits and jackets, cool denim, sportscoats, cashmere scarves. Amazing customer service!
H. Bailey
108 Cherry Street, Suite 1
(206) 351-1595
Mon-Sat 12-7
@hbaileyboutique
Fremont
Only one vintage store from Fremont made it to our list but for even heavier reasons.
Fremont Vintage Mall
Like the name says, this is not a store but a mall! 30 something vendors have filled the labyrinthine space with their treasures. So much fun browsing! Reserve plenty of time to make sure you get to see everything. If you only have time to visit one store in Seattle, make it this one.
Fremont Vintage Mall
3419 Fremont Pl N
(206) 329-4460
Mon-Sun 11-7
@fremontvintagemall
Ballard
Ballard is a great destination if you are looking for classic vintage items: 50s dresses, workwear or accessories from the decades past.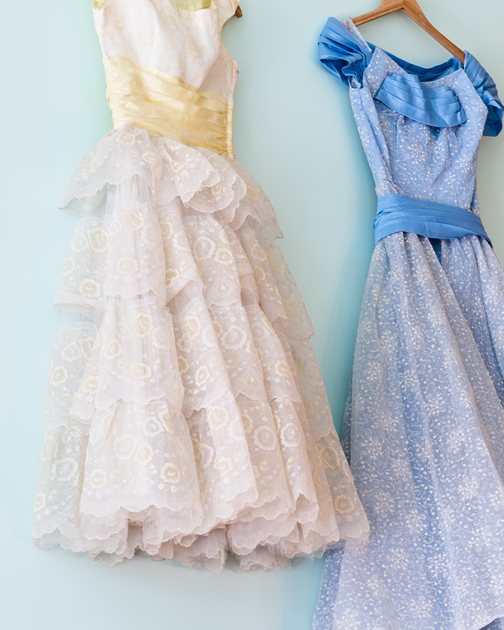 Trove Vintage
Founded in 2012, Trove is a nicely curated collection of vintage gems in beautiful colors: fabulous dresses, all kinds of accessories, and also some designer items. In the backroom, a bridal salon operates by appointment. The owners, Cyrena Preszler and Maxine Thomas tell me their customers are 10-85 years old. The store certainly has something for everyone if you love feminine and girly clothing.
Trove Vintage
2204 NW Market St
(206) 297-6068
Mon-Sat 11-7
Sun 11-5
@trovevintageboutique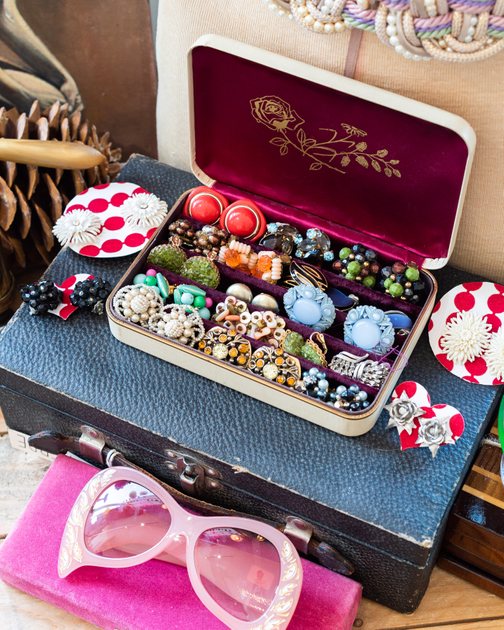 Le Merde
I fell in love with Le Merde the minute I saw its shopping windows full of little knick-knacks and treasures. The cutest and loveliest of the vintage stores in Seattle. The founder Debi Boyette used to run an art gallery before opening the store and it shows. Every corner and wall is decorated with instagrammable still lifes. And most of the lovey items are for sale! Oh and the vintage collection – loved it too!
Le Merde
2607 NW Market St
(206) 817-5328
Sun, Mon, Wed, Thu 12-5
Closed Tue
Fri-Sat 12-6
@lemerde_seattle
Lucky Dry Goods
A classic, well-kept and nicely organized store is bound to enlighten any vintage lover. You can expect to find traditional vintage items here: dresses and skirt suits mostly from 50s to 60s, cool denim, leather, workwear, varsity sweaters and t-shirts for men. Any vintage accessory you might need and dream of. Also a small kids' section.
Lucky Dry Goods
5424 Ballard Ave NW
Mon-Sun 12-7
@luckydrygoods
Greenwood
This residential neighborhood has some fun stores with lots of character.
Lucky Dog Clothing
The cutest location! Lucky Dog Clothing operates from a wooden one-family house and sells men's sneakers and streetwear, both brand names and more regular stuff. The house used to be a childhood home of one of the founders and it has a nice patio, tv screens, snack bar, and alcoholic beverages! Talk about coziness here. The store hosts events and barbecues and by joining the members' club for for $10 a month you get a discount of selected items. Lucky Dog recently opened a second location in University District.
Lucky Dog Clothing
8201 Greenwood Ave N
(206) 784-6374
Mon-Sun 11-8
@luckydogclothing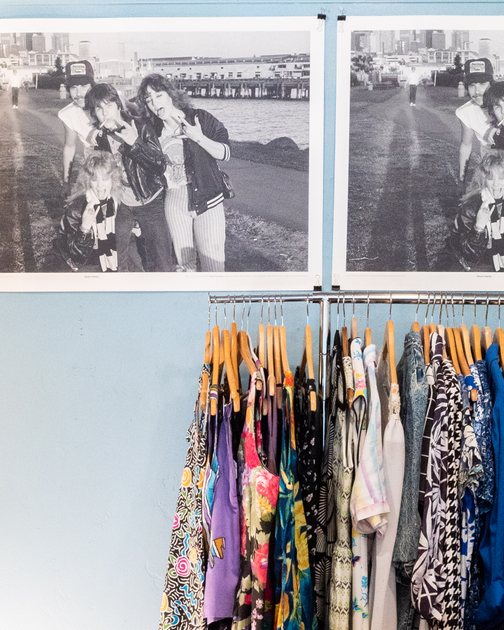 Beats & Bohos
"Countercultural fashion from all eras. Bold prints, and solid neutrals and vintage basics." Strong focus on clothes from the late 60s to 70s, but also 80s to aughts and recently the 1930s-1940s vintage has grown, too. The store hosts a variety of events from art openings and concerts, to self-care lessons, tarot readings, and feminist zine releases. Check out their Instagram for the upcoming events!
Beats & Bohos
7200 Greenwood Ave N
(206) 395-4468
Tue-Thu 11-7
Fri 1-7
Sat 11-7
Sun 12-5
@beatsnbohos
University District
This is your hood if you are looking for affordable vintage and second hand. There is a bunch of vintage stores in University Way plus some second-hand stores as well (not listed here but you can't miss them while walking down the street!).
Lucky Vintage
The sister store of Lucky Dry Goods in Ballard. Curated for college students so the price point is cheap and the shop full of fun stuff from t-shirts and sweaters to party dresses.
Lucky Vintage
4742 University Way NE
(206) 523-6621
Mon-Sun 11-7
@luckyvintageseattle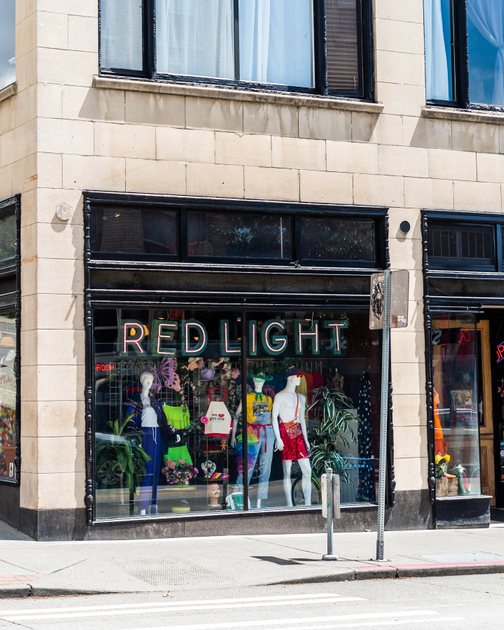 Red Light Vintage & Costume
I completely lost track of time when browsing the clothes racks at Red Light Vintage & Costume. A huge store with a bit of everything for both boys and girls. "Seattle's biggest clothing shop since 1996." Big on costumes.
Red Light Vintage & Costume
4560 University Way
(206) 545-4044
Mon-Sat 11-8
Sun 11-7
@redlightvintage