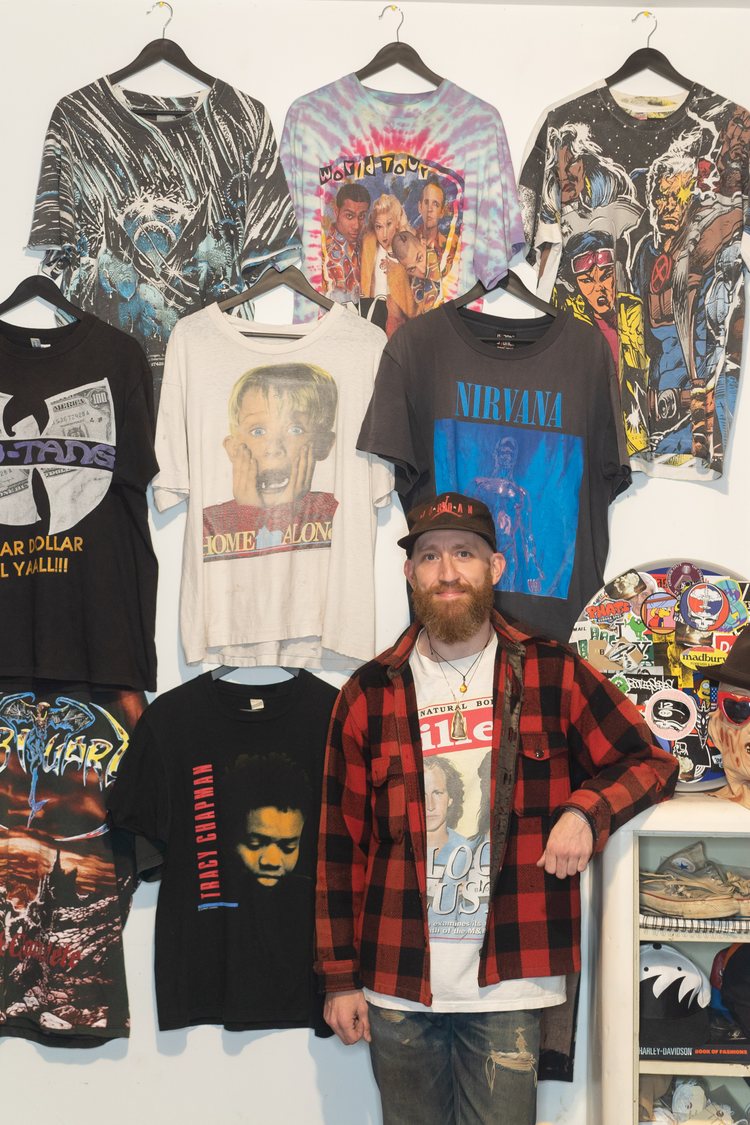 t-shirts
The Most Prized T-Shirts of Jeremy Oliver at End of The World Vintage
Love for graphics, music, and movies made Jeremy Oliver a t-shirt guy.
"I grew up skateboarding and going to punk shows. Music was always part of my life and t-shirts were my identity. My shirt collection just kept growing and suddenly I realized that people loved what I have and pick.
T-shirts became my full-time job during the pandemic. Before that I was selling during my freetime and lunch breaks. I've always been obsessed with graphics too. So it makes sense that I've become the t-shirt guy!
It has been a good transition.
Smashing Pumpkins Zero
In the 7th grade, my Dad got me tickets to see The Smashing Pumpkins. At the time I was a very shy and timid kid. At the venue, I bought a medium size t-shirt, got back to my seat, noticed it was too tight but I was too timid to go back and return it. I've had a medium for years and now I finally have one in my size.
I was at Brrrtual Flea and a person had this shirt laid out on the floor as a trading option, and I was like boom, easy!
A lot of times shirts find me, I don't find them.
Taxi Driver
When I first started posting my collection the vintage world knew me as the movie guy. I am an introverted person – as odd as it seems. So as a kid, I would never really go out. I would stay at home and watch movies and play video games and dive into those worlds.
As a kid, I was always drawn to New York City. I thought New York was so gritty because I would watch movies like Taxi Driver – which was not a great representation of the city for a 15 year old kid. New York just seemed so different and with endless possibilities, especially living in the suburbs. This city is where I wanted to be.
When I collect a certain film or genre, I become obsessed with finding all the different variations Taxi Driver was no exception, through my time collecting I've had over 15 different taxi driver t-shirts and currently have 4 in my current collection.
Whitney Houston Waiting to Exhale
This is the shirt that gets the most comments and makes people talk. I think I am pretty approachable but this one makes me even more!
Wu-Tang Clan Cash Rules Everything Around Me
This Wu-Tang Clan Cash Rules Everything Around Me bootleg shirt came from Pete of Fresh Kills Vintage. It is single stitched, size large. It is one of the t-shirts that has always been out of my price range. The circumstances how I got this is the reason why I can never get rid of it.
Since the pandemic started, I have met many people online. One of them is Joe from Boston who is also on my morning Instagram show. We came up with an idea to do A Boston Versus New York battle-style auction. We would each pick our teams, Joe pulling the Boston crew together and me rounding up my local crew.
Pete is known for not selling too much and never doing auctions. I had wanted this t-shirt from him forever. So he was doing just claims. Once he showed this shirt, I asked: Pete, how much is it? And I just took a wad of money out of my pocket and threw it on the screen and cried SOLD! Everyone on the live was going crazy. It was the first time we were doing a versus thing on Instagram and so many people were watching. This is the shirt that made the show. It will always remind me of Boston Vs New York and the pandemic time.
Bootleg concert tees were made by someone by hand, sold outside of the venue, and there was usually a very limited amount made. Because of that, they are rarer than the official ones and sometimes also more expensive.
Marvel x 2
On the left is the first Marvel piece I ever bought. I am not necessarily a big Marvel fan but I am just obsessed with these graphics and colors. For me, this is art. I love the motion they are able to convey in this piece. These are the pieces that changed what I am doing as a collector. I'm collecting wearable art. If this was a painting people would say it is art. These two changed my mind about what t-shirts can be.
Josh from Future Past had the Wolverine shirt laid out and every time I walked past I would look at the colors. People often ask what is it that I'm looking for when I'm buying. I don't know. I never know, but when I see it, I know it.
This Stanley DeSantis Atomic Wear tee is one of those pieces that I had no idea what it was looking at when I first saw it. But I knew it was something special. The colors, the huge print the rocket ship and the astronaut. It had it all.
I love kids who come up to me at events and want to show me some shirts. 9/10 the shirts are amazing but maybe something I've seen or had before. And I continue by asking what else do they have in their bags and start digging. The bottom of the bag is where I seem to have the best luck finding those truly one-of-a-kind unique pieces. And that's how I found this shirt by Stanley Desantis at Brrrtual in Houston.
Home Alone
Home Alone was a movie I would watch three times a year as a kid. Many people may look at this t-shirt and think I am foolish to pay $600 for this considering the condition of it.
This one was also laid on the floor at Brrrtual Houston. Everyone saw it. But no one else took it. I'd rather have it in my collection than in someone else's. I will give it the due justice it deserves. It is a great piece. It is trashed and I paid a lot of money for it and it is my favorite. It is also by Stanley Desantis.
MC Escher
MC Escher is famously known for his 3D graphics but this print is called Mummified Priests in Gangi, Sicily. This used to be a black shirt that someone wore to shreds and got it faded. I love this because my mom would never let me have a shirt like this. It would have been thrown in the trash years ago. But the fact it is still around and made its way to me; that's why I have to keep it. One of those mysterious pieces.
Dune
This was a 3am eBay snipe! The first original David Lynch directed Dune, single-stitched, from 1984, made one year after I was born. It is one of the oldest t-shirts in my collection and almost jumps me. I just love it, it is so simplistic. I didn't even know what the movie Dune was when I saw the shirt but it made me watch the movie. That's what t-shirts do for me: they can make me watch a film or listen to a band I didn't know before.
My father is a chemistry and physics professor and he taught me astronomy during the summers. He would take us out to learn the constellations and the ceiling in my room was painted like a sky – so I'm always pulling space stuff.
Natural Born Killers
This has always been the epitome of what I wanted to have in my collection. This is the perfect synergy of me: the front is the movie and the back lists all the bands on the soundtrack. I love the fact that at the time they would list all the bands at the back and use the bands' original fonts. This one will be never for sale.
At school it was hard to find friends – I was quiet and awkward. But I liked music and band tees were a way how I could express myself. They made other kids talk to me and that's how I would make friends.
I do get tired of t-shirts sometimes. They will always be part of my life but maybe not 100%. Just picking and selling is so one-dimensional. Getting the right things into the right hands is important to me and making the connections is really what I'm here for.
Follow Jeremy Oliver on Instagram @endoftheworldvintage