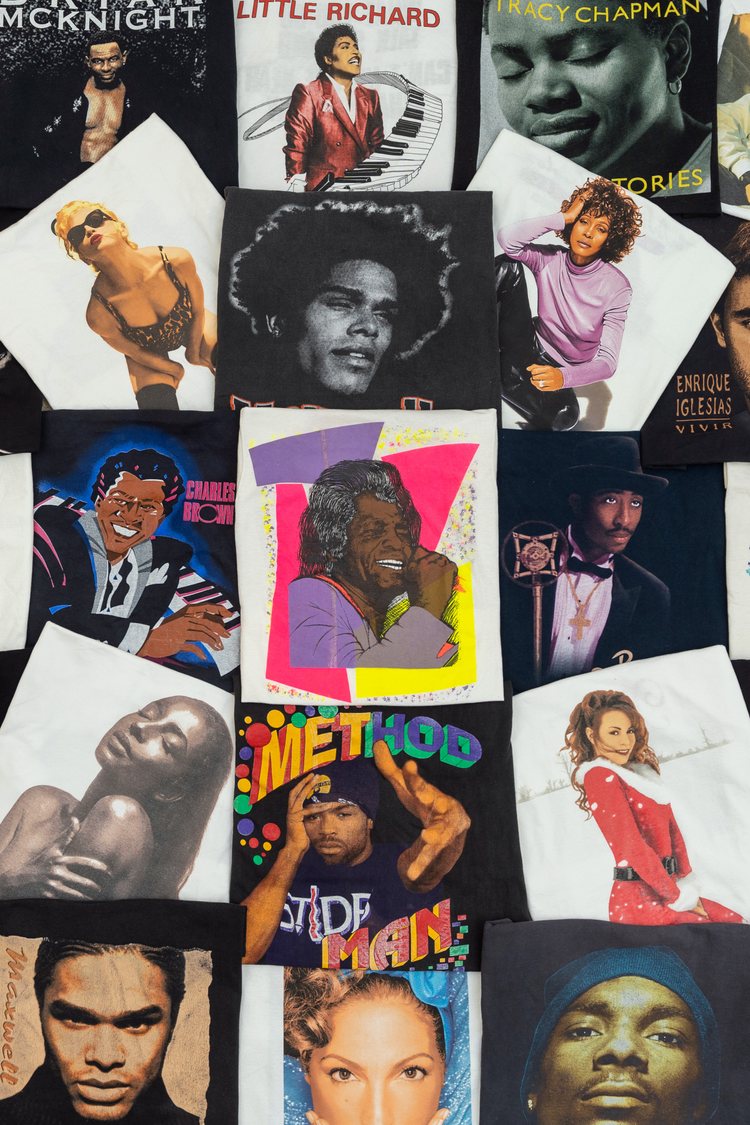 T-shirt is probably the most common piece of clothing in the world. What is your favorite t-shirt and what makes it so special to you? We asked vintage vendors and collectors.
After t-shirts became part of our daily outerwear in the late 50s and early 60s, they soon "became microphones for political activists, advertisements for companies and movies, and souvenirs for concert-goers", writes Collectors Weekly.
The first concert tee was printed by an Elvis Presley fan club in the late 50s. Despite Presley's popularity, band tees did not become fashionable until the late 1960s, when impresario Bill Graham promoted West Coast bands like the Grateful Dead and Jefferson Airplane.
Since then t-shirts have been used for promoting just about anything from sports events to restaurants, movies and ideologies.
We asked three well-known vintage vendors & collectors to share their favorite t-shirts and stories behind them.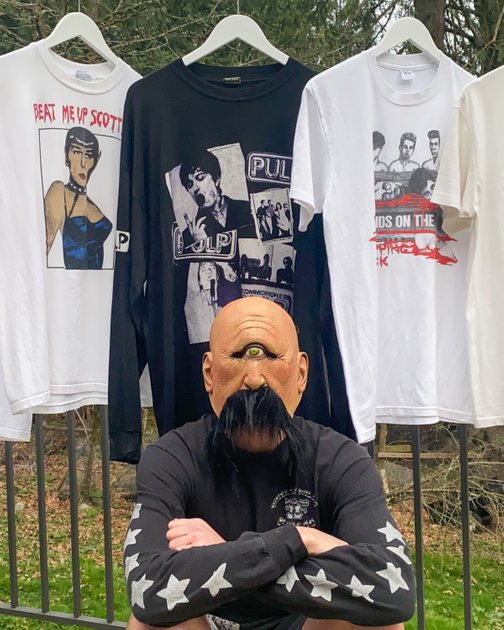 Kirby Fisher of Dead Union
"I am a vintage clothing dealer and collector from Australia but now based in Vancouver Canada. I got into this weird world of selling old clothes by a combination of destiny and by chance. Always been a collector and obsessor and the door one day opened for me to enter the industry, and I haven't looked back... At times wish I never opened the door tho.
As far as tees I have sold over the years, it's literally thousands. I do have seller's remorse on a few but it's almost too painful to talk about and I'm all about moving forward not back so... It is was it is.
In saying that if anyone has a thrashed out white Bad Brains "quickness" tee..."
1990 Sinéad O'Connor tour tee
"Sinéad tees are as rare as hens teeth and this one will be with me till I kick the bucket. I love her, she is just a fucking badass."
1980s "Beat me up Scotty" Star Trek parody tee
"I collect gay and leather daddy tees and I have some very raunchy / saucy beauties in my collection. This one is just so fun! I have never watched Star Trek... But I have lost a few fights."
1980s "NEW KIDS ON THE CHOPPING BLOCK"
"So if there was one category that I would say is my favourite, it would be "Parody". To me, a t-shirt is a walking billboard to promote the inside out, and by nature, a smart ass and sucker for a silly spoof goof, this 80s NEW KIDS ON THE BLOCK parody is both hilarious and brilliant. And that's what good art is to me."
1980s "CHARLES AND DI" parody tee
"Staying on the theme here.... This... I mean, what's not to love. It's Charles Manson in place of prince Charles (another evil son of a bitch) and the late great (and my mum's favourite) princess Di. It's the greatest royal family spoof tee that I have seen."
1995 PULP "common people" bootleg long sleeve
"Pulp are one of my favourite bands. And "Common People" is about as perfect of a pop song as you can get. Puff paint sleeves and classic bootleg black and white colour variant on the backside.
Long sleeve tees are my absolute favourite. I have way too many and it's a real problem. It seemed like it was a bigger fashion choice in the UK in the 90s than almost anywhere else in the world. And a lot of my favourite UK band tees from the 90s are long sleeves, and that's a damn good thing for me."
Taylor Mickal of Body Double Vintage
"I'm a 30-year-old professional photographer from New Orleans now living in DC. I started vintage just over a year ago; one of my best friends at the time exposed me to this seemingly underground world of vintage graphic tees. The first category I discovered was movie tees; for me, movies are a significant part of my life, and to be able to find, collect, and wear original promos for some of my favorite films is incredibly rewarding. As I explored the rest of the vintage world I found new categories that hooked me, including music and art tees. As far as why do I specialize in graphic shirts specifically? That's something you're going to see collector Varlago speak about in the coming year, so I think I'll let that answer unfold in the content he'll be making. He's been collecting and planning something big for the last decade, and some of my most valuable tees came from him (including James Brown and The Burbs). He's going to be a major force in vintage, no question."
James Brown
"My favorite music piece: an 80s single-stitch James Brown in size L on an 80s Screen Stars tag. This one just screams out at you with its incredible bright colors in combination with the iconic pose and phrase. James Brown's famously electric performances are rendered here in a visual way that serves as a perfect testament to the "Godfather of Soul" – which is without question my favorite music genre. Not only is this piece incredibly rare, but it is in wonderful condition. I still have this one and am unlikely to ever part with it."
Gustave Doré
"My favorite art piece: a 90s single-stitch Gustave Doré collage in size L on a 90s FOTL tag. This beautifully designed collage of several works of Gustave Doré was made with thick high-quality ink that has now cracked beautifully with age, and gives the shirt a heavy feel – whoever designed and printed this back then did so with plenty of admiration for the artist and his work. The art itself is so hauntingly beautiful, and Doré is so gifted in depicting figures. Doré himself was a prolific artist and a prodigy, and to own a wearable piece of his illustrations is incredibly fulfilling for someone who appreciates it so deeply."
The Burbs
"My holy grail: a 1989 single-stitch The Burbs movie promo in size L on an 80s Hanes tag. This is my father and I's favorite film together. We must have watched it so many times and yet he never fails to laugh at the line, "That kid's a meatball!" It's honestly probably his favorite line in any movie ever. While The Burbs is not in my top 5 favorite films, it is the most sentimental film for me because of the way my father and I share love for it. Tom Hanks kills it (as usual) in this very funny and kind of spooky comedy, and the shirt does absolute justice to how I feel about this film. It's one of the most stunning shirts I've seen; the beautiful and bright colors, a perfectly large and centered graphic, and a crazy Hanks in the middle of the street. It's perfect. By far my favorite piece in my collection. I can't imagine ever letting this one go."
Jon Feldman of Grand Street Local
"I started Grand Street Local three years ago with my wife but I've been selling vintage for many years. I've always enjoyed a good mix of old-timey true vintage from the 40s through the pop-culture classics that we all love into the 90s. My personal style has always blended a more rugged military workwear vibe with street and pop culture.
I've been collecting tees since I was a kid. I'm always exploring all my personal interests from skateboarding and music to military, workwear, and other pop culture items. I started in army and navy surplus stores later discovering thrift stores, vintage and antique shops. I'm always looking."
Notorious BIG
"The wear and fade on this early bootleg is priceless."
Air Jordan
"These are all original from 1985. That very first air Jordan release. I've been collecting these for 15+ years I've had over 20 of them in a number of different sizes and colors including youth sizes for my kids as well."
Elton John
"This is a very interesting one from the year Elton John worked with Versace to design his tour merch."
Pulp Fiction
"This is another strong favorite movie from back in the day and just such a classic."
BodyDouble Vintage
@bodydoublevintage

Dead Union
245 East Broadway, Vancouver BC, Canada
@deadunion

Grand Street Local
154 Grand St, Brooklyn, New York
@grandstreetlocal