people
Green Lady of Brooklyn – artist, vintage collector, lover of all things green
Elizabeth Sweetheart, 78, is known as The Green Lady of Brooklyn for her head-to-toe green looks. She is also a fine artist, print designer, and collector of vintage.
Liisa Jokinen · Sep 10, 2019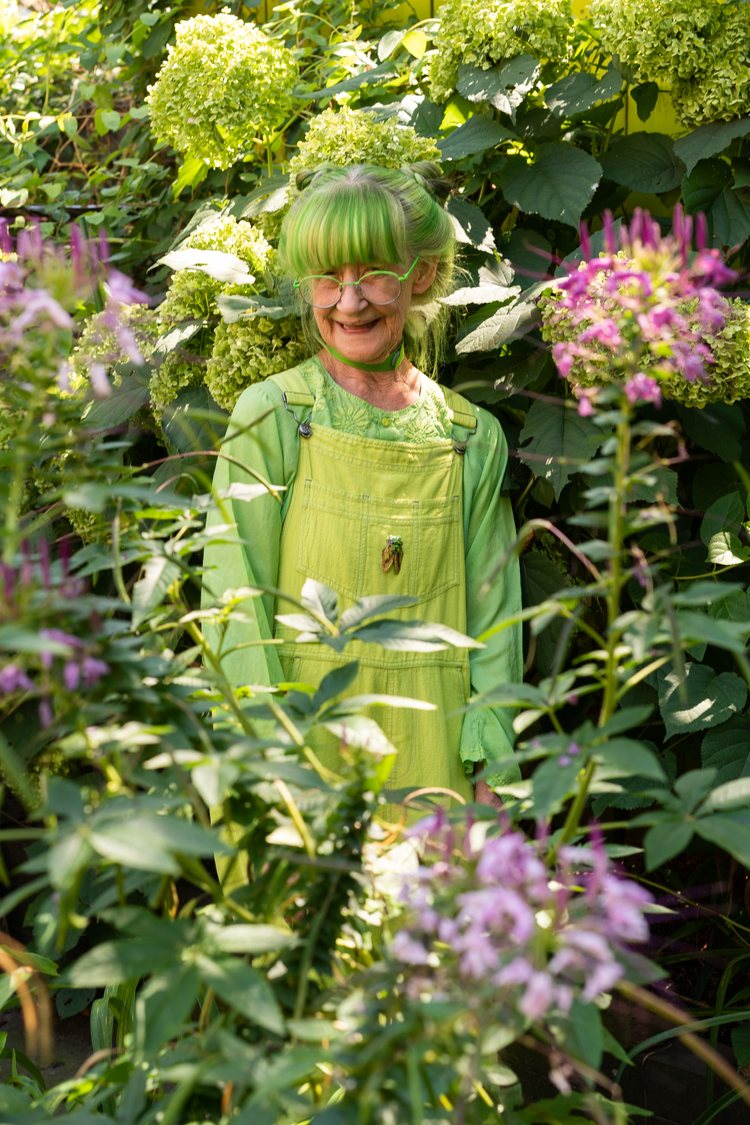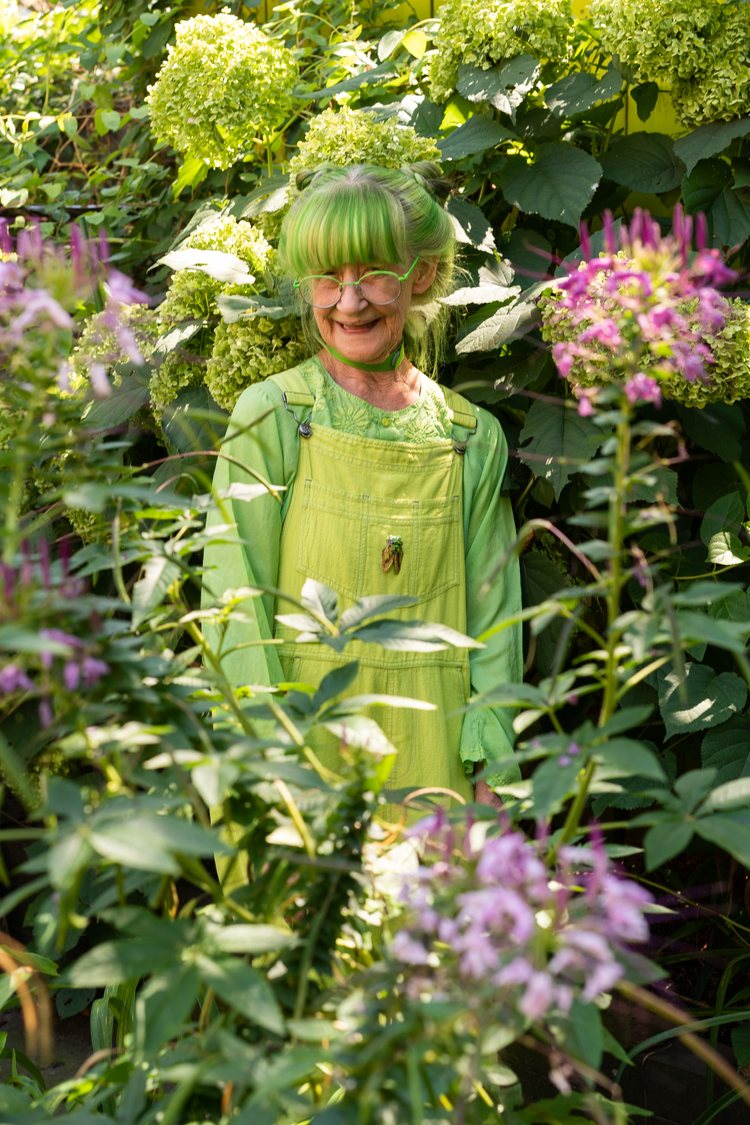 people
Green Lady of Brooklyn – artist, vintage collector, lover of all things green
Elizabeth Sweetheart, 78, is known as The Green Lady of Brooklyn for her head-to-toe green looks. She is also a fine artist, print designer, and collector of vintage.
Liisa Jokinen · Sep 10, 2019

"I hitchhiked to New York in 1964 from Nova Scotia, Canada, because I wanted to be an artist. I did not know anybody in New York so I asked somebody in the street how to get an apartment. They said: 'you have to have a job' and so I asked somebody in the street: 'how do you get a job?'. They sent me to the New York City Employment Agency.
I was asked what I can do. I answered nothing! But I did have my sketchbook with me, and the person helping me said OMG and sent me to an interview right away. And I got a job!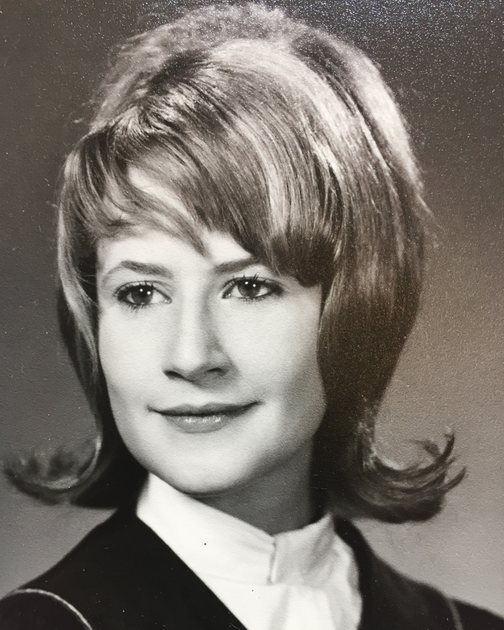 My first job was at the Garment Center (also known as the Fashion District of New York). I worked as an artist, hand-painting prints for clothing designers and manufacturers. Those days converters had their own art studios with artists working for them.
I never studied textile design or commercial art. I am a fine artist by profession, from Mount Allison University in Canada. I also studied for two years with the most celebrated Canadian artist, Alex Colville. I learned everything from him. It is very important to learn not how to be creative but how to do it.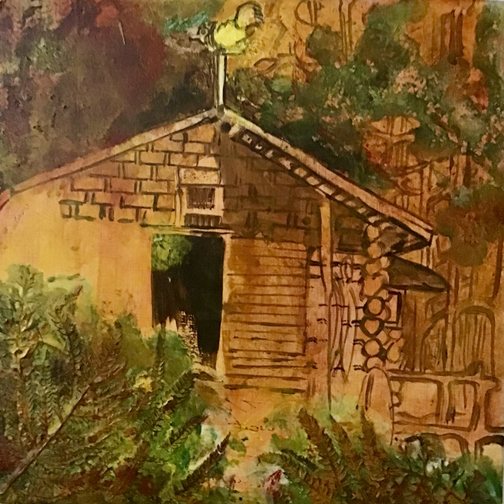 I always wanted to be an artist. Maybe from the age of two, my grandmother would sit with me and we would watch the sunset together. She would hand me the brush and we would paint it together.
I loved the Garment Center, I was doing what I loved.
In the mid-80s I opened my own print studio called Sweet Pea. I designed mostly prints for women's fashion but later I would start designing wallpapers, too. There was a great demand for all kinds of prints.
During my Sweet Pea years, I only wore vintage, mostly 30s and 40s rayon dresses. I would make a hat to go with the outfit, wear my platform shoes, and tie a home furnishing band around my waist as a belt. I decorated my hats with vintage pins and flowers. I collected bakelite jewelry, too. It was amazing and so much fun to wrap yourself in all that wonderful fabric. And make it seen. It looked fabulous. I just loved to dress up and be creative.
After around 15 years, I started a new print design company Sweetheart with my husband Robert. The whole Garment Center was changing because of the computers. The work disappeared. We started to work more with vintage: collecting vintage fabrics for inspiration; from all decades and all kinds of prints. We also sold vintage pieces to fashion houses for inspiration.
In summer we took our backpacks and traveled to Massachusetts and Pennsylvania to visit big flea markets. Also in New York, there were at least two dozen flea markets all over the city, on empty lots and schoolyards.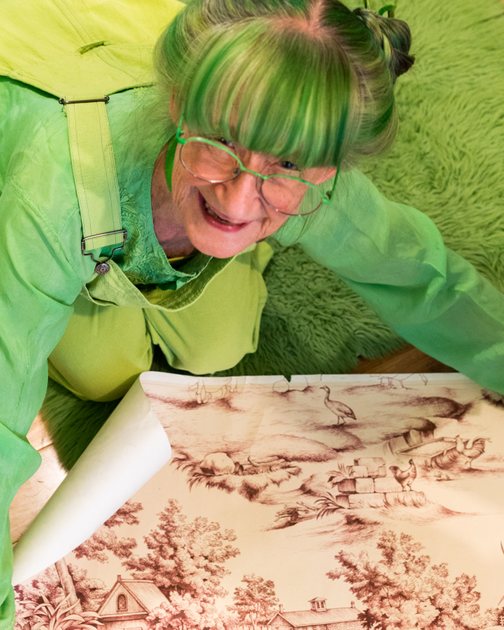 Sometimes the fashion companies would send us real objects they wanted us to paint for their prints: antique horse saddles, gold clubs, bridles! And I would have to carry them on the subway. It is wonder they did not give us a living horse!
One year it was fashionable to wear distressed fabrics. We made everything look old. We soaked fabrics in tea, sand-painted everything, we painted belts and twisted them so the paint would crack.
I shopped a lot at Chinatown, beautiful silk blouses which I wore until they looked worn and then dyed them. Old became something new. The stains would look natural.
I also always loved overalls but there weren't any in my size so I used to buy them at Gap Kids. Now I have 30 pairs of them.
I became Green Lady gradually. Before I never wore green because I thought it should be in nature only. It all started with little accents and nail polish which I mixed myself as there was not a green enough shade available.
And now I only wear the color green, because it is such an amazing, positive, and loving color. Animals and kids love it."
Photos: Liisa Jokinen and Elizabeth Sweetheart's photo album.