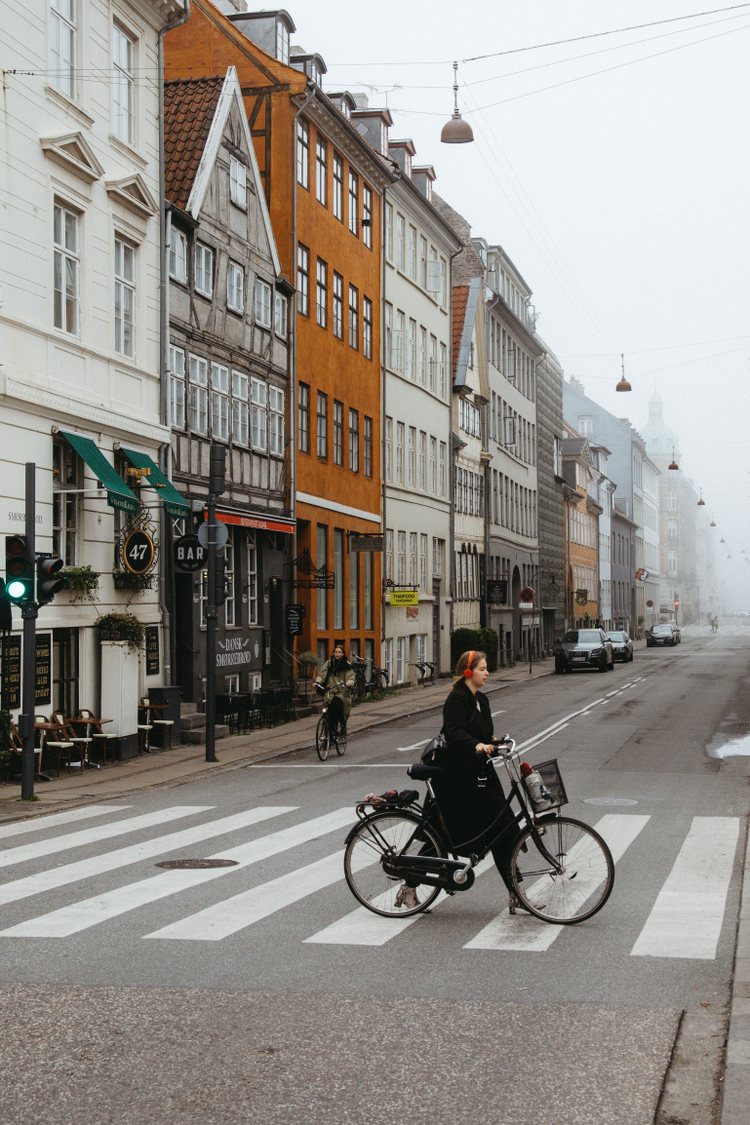 Copenhagen is known for its many bikes, Nordic food scene, and Danish design. But did you know that the city has a vibrant and steadily growing vintage scene, too?
Our Copenhagen Vintage Guide includes the best high-end vintage stores all within walking – or biking distance – of each other.
Our Google Maps list helps you in navigating from one store to another.
Time's Up Vintage
There's a reason why Lady Gaga and Naomi Campbell stop by Time's Up Vintage when they're in town. Think high-voltage glamour from Hermès, Yves Saint Laurent, Thierry Mugler, Chanel and the likes. My last stop there made me the happy owner of an Oscar de la Renta maxi summer dress. This store is your destination for some seriously unique vintage finds. Both women's and men's clothes.
Time's Up Vintage has a new addition – a pop-up in the department store Magasin. You'll find an equally carefully selected vintage selection here.
Time's Up Vintage
Krystalgade 4, Copenhagen K
Mon-Thu 11-6
Fri 11-7
Sat 10-5
+45 33323930
@timesupvintage
Jerome Vintage
Carefully curated and contemporary. This vintage store carries classic brands such as Celine, Yves Saint Laurent, Givenchy and Gaultier alongside handpicked no-name gems. The last time I visited, I spotted a beautiful Celine trench coat and a Ungaro silk dress. A look at their Instagram account says it all. A sharp eye for edgy styling and a selection to boot. This store has gained wide international recognition, and the clothes are out the door before you can blink.
Jerome Vintage
Kronprinsensgade 9, 2ND floor, Copenhagen K
Tue-Fri 11-6
Sat 11-4
@jerome_vintage
Rosy Vintage
Little sister to Jerome Vintage, this store is on the 1st floor with Jerome on the 2nd right in the city centre. You can expect good prices and a selection that includes everything from cool t-shirts and sweatshirts to denim, blazers, boiler suits and leather skirts – both no-name and designer brands. Mix and match and you're sure to find a highly original look in this store. Both women's and men's clothes.
Rosy Vintage
Kronprinsensgade 1st floor, Copenhagen K
Tue-Fri 11-6
Sat 11-4
@rosyvintage_cph
Tootsie Vintage
If Dynasty rings a bell you get the idea. High-powered vintage pieces - many from the 80s and 90s - and designer brands such as Moschino, Dolce & Gabbana, Fendi, Versace and Yves Saint Laurent. You're likely to find leopard print on jackets, shoes and skirts, and you might just discover that Gucci bag or scarf that's on your wish list. The store space is just as colorful and bold as the clothes. A small selection of men's clothes also available.
Tootsie Vintage
Tullinsgade 4, Copenhagen V
Wed-Fri 12-6
Sat 11-4
@tootsiecph
Thirdhand Vintage
Quilted robes and maxi dresses give this store an airy feel. Dusty pastels and flowery textiles complement each other, and you are bound to walk out the door with a pretty floral robe or a designer pajama that will give you sweet dreams.
Thirdhand Vintage
Klosterstræde 24, Copenhagen K
Tue-Fri 11-6
Sat 11-3
@thirdhand_vintage
Transit Vintage
Cotton and silk dresses with an 80s twist, cute shirts, and a selection of vintage necklaces, bracelets and shoes. Designers such as Kenzo, Guy Laroche and Ungaro as well as some great no-name pieces. Fresh, handpicked and with a selection that fits most budgets. Also a small selection of men's clothes.
Transit Vintage
Sankt Hans Gade 9 kld, Copenhagen N
Wed-Thur 12-6
Fri 12-17
Sat 12-4
@transit_vintage
Carmen Copenhagen
A classic. This store is quite the treasure trove. Here you'll find an eclectic mix of fun vintage jewelry, beautiful kimonos, wedding dresses and your next leather jumpsuit or Hermès scarf. This store is a gem in the Latin quarter of the city and one you don't want to miss.
Carmen Copenhagen
Larsbjørnsstræde 7, Copenhagen K
Mon-Wed 11-5
Thu 11-6
Sat 10-5
@carmen.cph