travel
The Boston Vintage Stores Guide
Lexie Griffith, the owner of Lexie Butterfly Vintage, knows the Boston vintage scene like her own pockets. This is her guide to Boston vintage stores, antique malls, and outdoor markets.
Lexie Griffith · Nov 30, 2021
Cover photo: Kyle Klein for Greater Boston Convention & Visitors Bureau
travel
The Boston Vintage Stores Guide
Lexie Griffith, the owner of Lexie Butterfly Vintage, knows the Boston vintage scene like her own pockets. This is her guide to Boston vintage stores, antique malls, and outdoor markets.
Lexie Griffith · Nov 30, 2021
Cover photo: Kyle Klein for Greater Boston Convention & Visitors Bureau
The individual vintage stores in Boston have a style all their own making each shop a unique world to experience. Given the historic nature of New England, residents and visitors alike value the past and therefore, value the vintage universe. The city is exploding with history, as are the vintage stores within it. There is no wrong place to shop vintage in Boston; the city is relatively small making it easy to maneuver to each part of town where stores are located via car or public transit. Most of the stores are concentrated in the Somerville/Cambridge area, keep on reading to experience the magic!
Here is a Google Maps list to help you with the navigation.
Somerville, Union Square
High Energy Vintage
Probably the most unique store you'll find in the Boston area, HEV features vintage menswear, epic 80s coolness, and even vintage video games! I personally found my favorite pair of pink sweater pants there in addition to a rare The Who record. The owner of the shop, Wiley, is very active in the community and frequently pops up at the local outdoor markets. It's a small shop packed with gems; I'd recommend calling ahead of time to see how busy they are since there may be a line to get in.
High Energy Vintage
429 Somerville Ave
Wed-Mon 12-6
@highenergyvintage
Bobby From Boston
Bobby's has become quite the institution in Boston with a stunning store in the brand new establishment, Bow Market, in Union Square. What was once an old storage building has become a beautiful opportunity to shop, eat, and enjoy. Located on the second floor next to many other incredible small businesses, Bobby's offers sharp menswear, military, and preppy styles for your viewing pleasure. They also have a wonderful collection of vintage denim in all sizes, men's and women's! Bobby's provided me the most incredible 70s pink butterfly print bell bottom suit, so they definitely have a few funky pieces thrown in the shop too.
Bobby From Boston
1 Bow Market Way
Thurs-Sat 11-6, Sun 12-5
@bobbyfromboston
Cambridge, Inman Square
We Thieves
With a focus on boho fashion, We Thieves offers a wide selection of vintage Levi's, Indian cotton, and generally ethereal pieces. They also offer apothecary and are located next to several great restaurants and coffee shops in Inman Square. My favorite piece from this shop is a pure white Bonwit Teller linen jumpsuit that I wear all summer long.
We Thieves
1307 Cambridge St
Tues-Fri 12-7, Sat 11-7, Sun 11-5
@wethieves
Cambridge, Kendall Square
Cambridge Antique Market
This five-story antique mall is a sight to behold. Be prepared to spend an entire day inside if you are a person who likes to see everything. The first floor is dedicated to furniture and the other floors are a mixture of vintage clothing and other antique collectibles. My favorite booth to shop is on the 3rd floor, space 54 called Riverside Design Vintage with a hardy selection of clothing from the 40s-Y2K. Also, bonus points if you love vintage Pyrex – they've got it. The best piece I've found here was a 70s Missoni Sport terry cloth mini dress, too fun!
Cambridge Antique Market
201 Monsignor Obrien Hwy
Tues-Sun 11-5
@cambridgeantique
The Garment District, Boston Costume
This thrift and vintage mixture store is quite unique in that they have an entire room dedicated to vintage in the upstairs portion of the store with a huge costume shop on the ground floor! They also offer by the pound buying, which is always a fun adventure. They have their racks separated by era, so you can go right to your preferred time period. The 80s and 90s are heavily represented with a great selection of both men's and women's. They also have some very funky 60s and 70s pieces like prairie dresses and go-go dresses!
The Garment District, Boston Costume
200 Broadway
Sun-Fri 11-8, Sat 10-8
@garmentdistrict
Cambridge, Central Square
Great Eastern Trading Co
Located in Central Square, Great Eastern Trading Co offers a nice selection of 60s-80s focused hippie vintage in both men's and women's with an emphasis on costumes as well. If you need a disco shirt for a costume party, they've got you covered! They also have some antiques hanging from the rafters as a little surprise. Great Eastern also has a second location in Malden, which is sightly out of town, but it is worth the trip if you have the time! The Malden location stocks an entire section of antique clothing and collectibles in addition to their 60s-70s focus.
Great Eastern Trading Co
49 River Street
Tues-Fri 12-7, Sun 1-6
@greateasterntradingco
Cambridge, Porter Square
Raspberry Beret
This consignment shop carries a great selection of vintage amongst some modern items as well. They have two floors (Yes! There's a whole other floor hiding downstairs!) with sale items downstairs and new arrivals on the ground floor. They always have fantastic vintage window displays and colorful offerings in addition to older vintage from the 20s-40s! My favorite piece purchased there is a 70s bright purple jumpsuit. The staff are also some of the kindest and most fun people to shop with. They will make you smile!
Raspberry Beret
2302 Massachusetts Ave
Tues-Sun 11-7
@cambridgeraspberryberet
Buzzy's Bazaar
If you are someone who doesn't mind the thrill of the hunt, then Buzzy's is a place you shouldn't miss! It is packed to the gills with great vintage ranging from Victorian to the 90s and some modern items as well. You'll find designer, sparkles, silk, jackets, everything you could imagine…you just have to dig for it. The prices are low and the excitement is high! The shop is run by the relic Buzzy herself who has endlessly fun stories about her life. This is an old-school shop with limited hours, so plan your trip accordingly.
Buzzy's Bazaar
25B Massachusetts Ave
Fri-Sun 12-5
@buzzysbazaar
Allston
Vivant Vintage
I must say, I cleaned up pretty good at Vivant Vintage and most vintage lovers in Boston agree that Vivant is top tier when it comes to selection. With a heavy presence of americana, Vivant has a broad selection of military wear, denim, and classic americana pieces. They also stock some 60s-80s colorful wares, but their strength lays in epically rare t-shirts and your perfectly fitted denim organized by size and shape. I was able to find a 70s western suit, a stunning opal ring, and a Hudson Bay coat all in one trip. My wallet couldn't take it! Do yourself the great service of making your way to Vivant.
Vivant Vintage
318 Lincoln St
Mon-Sun 11-6
@vivantvintage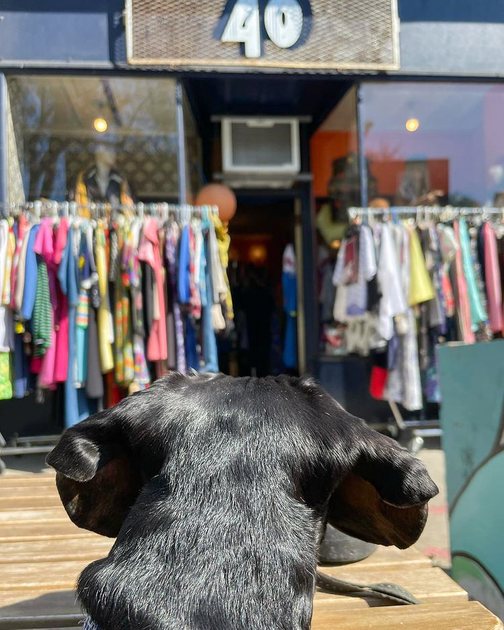 Boston, Jamaica Plain
40 South St.
40 South St. (formerly Gumshoe) is one of those places that is just exploding with funkiness. They don't specialize in one specific era – more like they carry anything that's interesting pre-2000. Tons of textures, colors, prints, and unique pieces with a separate room for menswear! There is a little digging involved just because there is so much amazing vintage packed into a small space, but it's worth spending the time to see everything. The owner is a rock and roll lady who will happily help you find the piece of your dreams. My favorite piece they've had recently is a 60s blue embroidered Afghan coat.
40 South St.
40 South St, Jamaica Plain, MA
Thurs-Sat 12-6, Sun 12-5
@40southvintage
South End
SoWa Vintage Market
SoWa is a very interesting market because it is like a flea market, antique store, brick and mortar shop all in one. Open only on Sundays, this indoor market offers plenty of vintage goods to fit every taste. Different vendors from around the city gather to bring shoppers unique items for a market feel, but indoors. There is a great selection of clothing dealers as well as furniture and art.
SoWa Vintage Market
450 Harrison Ave, Boston, MA
Sundays 11-4
@sowavintage
Outdoor Markets
In addition to the strong variety of brick and mortar vintage stores, Boston has a booming outdoor market scene that is worth a trip.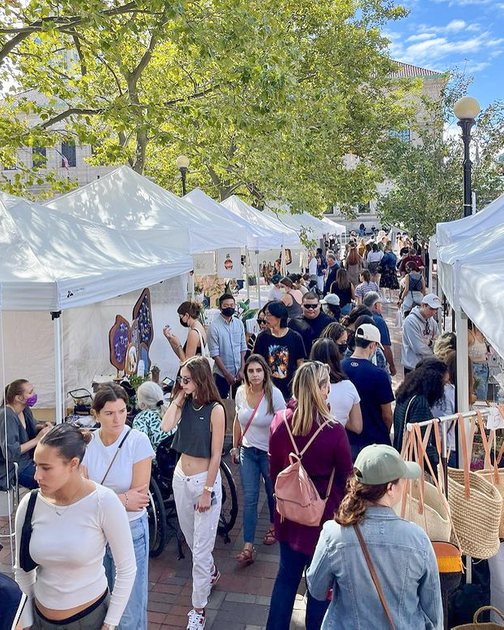 On Saturdays and Sundays from May to November, a plethora of great markets are being held around the city. Some of these markets even continue into December for holiday offerings. In Boston proper, the New England Open Markets host a fabulous regular market in Copley Square and on Newbury Street on Saturday and Sunday from 11-5 featuring over 60 vendors showing vintage clothing, housewares, records, and artisans with unique creations.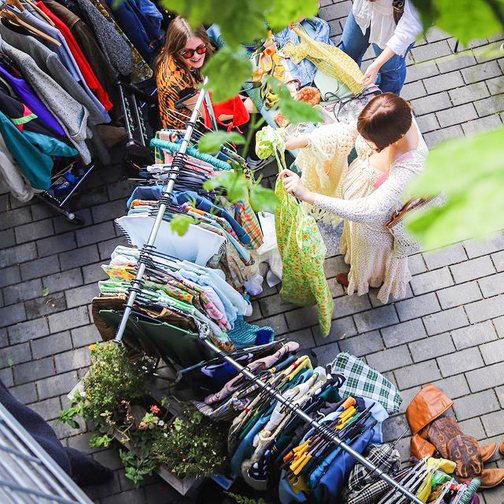 In Somerville, there are two outdoor markets in the area. The Somerville Flea is every Sunday from 11-4 in Davis Square where you'll find vintage furniture, vintage clothing, and jewelry maker vendors every week. Just down the way in Union Square is a less regular market at Bow Market, which occurs twice a year in May and October. This is one of the most popular events in Somerville hosting 40+ high caliber vintage vendors with mostly vintage clothing amongst other small businesses inside Bow Market. This event goes from 12-8 usually, check out @bow.market on Insta for the most up-to-date events!
Other events to check out are The JP Flea and The Brighton Bazaar.
Lexie Butterfly Vintage on Etsy
@lexiebutterflyvintage