street style
The Best Street Styles at The Pickwick Vintage Show
We visited the first Pickwick Vintage Show at their new location at Row DTLA. Here are the best looks we spotted.
Liisa Jokinen · Mar 1, 2022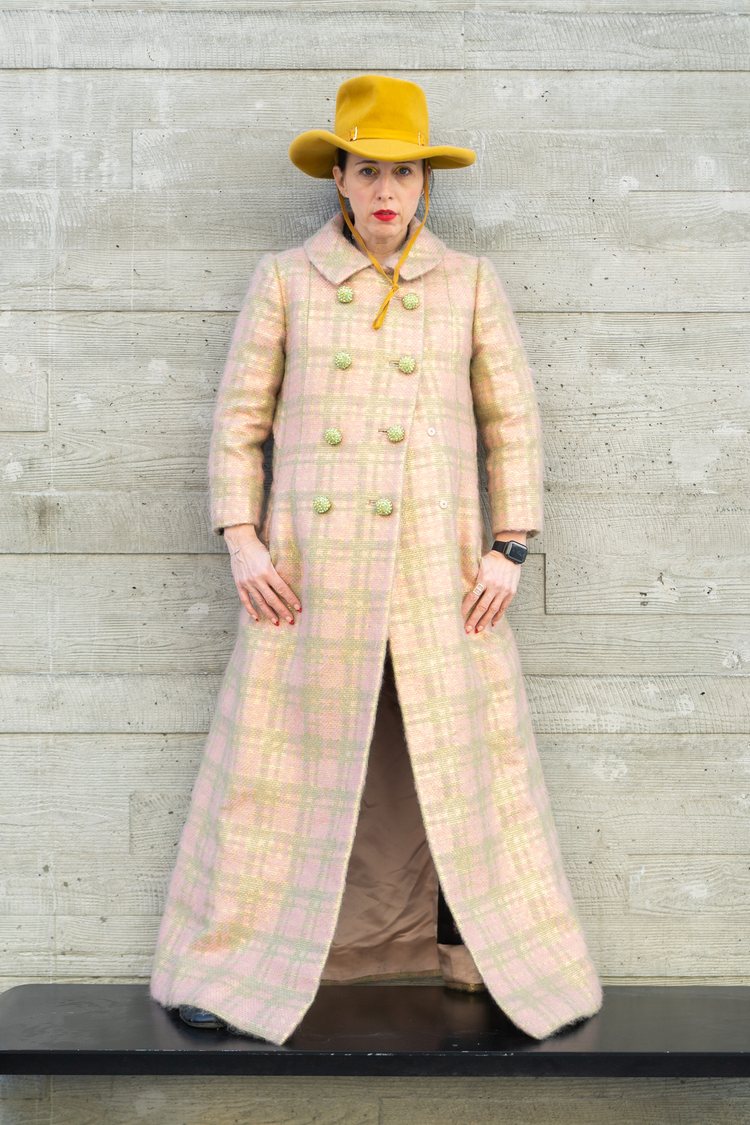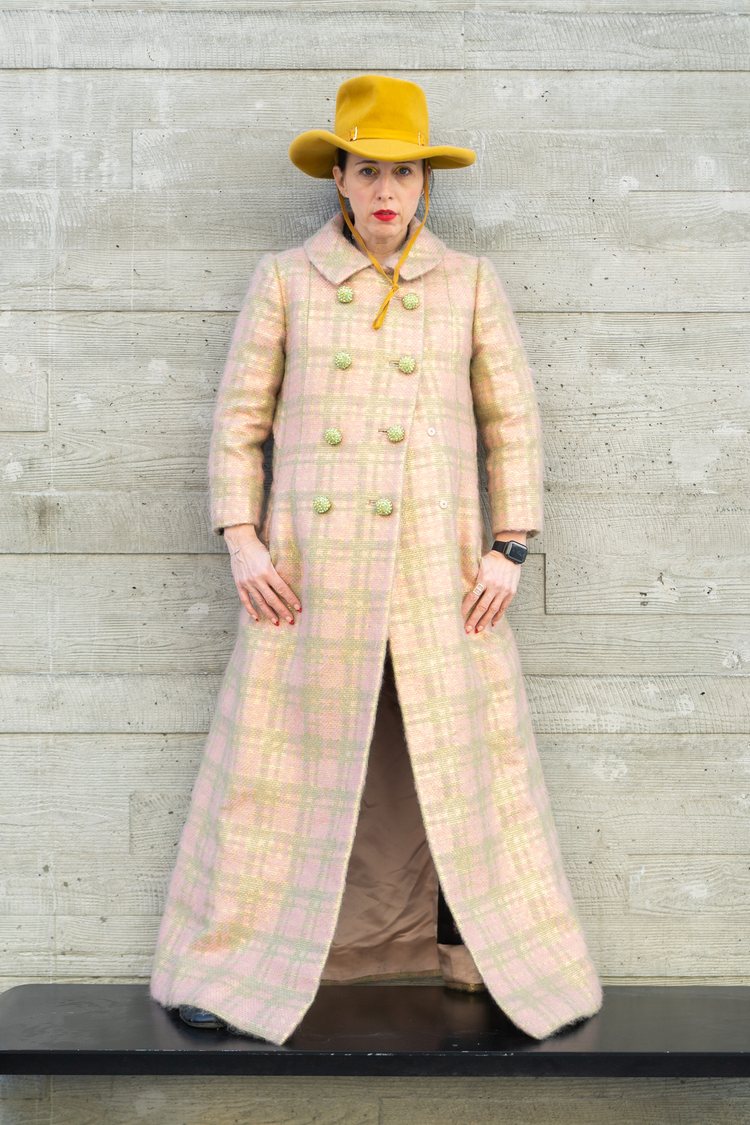 street style
The Best Street Styles at The Pickwick Vintage Show
We visited the first Pickwick Vintage Show at their new location at Row DTLA. Here are the best looks we spotted.
Liisa Jokinen · Mar 1, 2022

After a brief winter break, the Pickwick Vintage Show opened at a new location in Downtown, Los Angeles. The monthly vintage show features truly the best vintage that California has to offer. And some amazing street style as well. Check them out and grab your ticket for the next show on March, 12!
"I'm a vintage seller and have been a collector and second-hand shopper since childhood. I'm wearing an 80s metallic lurex skirt that I got from Thanx God I'm A VIP recently in Paris and an Issey Miyake top. I wear a lot of 80s vintage these days but I'm a 60s girl at heart."
"My outfit is inspired by the early 70s which, I think, was an interesting time of fashion because there are obvious remnants of the 60s (mini skirts and knee-high socks) but a polyester dagger collared shirt and sweater vest make it obviously a 70s look.
The 70s Sears polyester button-up shirt I borrowed from a friend, the 90s does 70s Esprit sweater vest is from my sister, the 80s skort is from Etsy, and the 70s deadstock shoes are a recent purchase from Poshmark.
I sell vintage myself, too, and work part-time at a vintage store in Pomona called Debutante Clothing."
"I'm wearing a vintage 70s Hawaiian caftan and the Pickwick Vintage Show was a complete blast. Great energy in the new location – these vintage shows are great for creating and having fun with the vintage community! I didn't have time to shop myself but hope to do so next time."
"I am wearing a Noah corduroy hat, Oliver Peoples sunglasses, vintage t-shirt from Scout LA, Jacquemus canvas skirt, Jacquemus fanny pack, and Yeezy Boost 700 sneakers. I traveled from Philadelphia to research denim inspiration as well as art inspiration at the fairs. I am a denim designer for Urban Outfitters."
"I'm wearing an 80s blouse from Guava Tree Vintage on Etsy, a reversible jacket I got in Portland, 80s watch jewelry from eBay, and stirrup leggings by Animal Crackers. At the show, I did buy a metallic gold bomber jacket from Embers Cinders."
"I'm wearing vintage 60s cats eye glasses I got from Vintage On Hollywood. Earrings are vintage turquoise beaded ones I got from Santa Monica Antique Market. The crochet custom jacket is made by me out of old t-shirts. The 60s purple glittery western pants I bought at the Vintage Rendezvous show a couple of weeks ago.
At the show, I got a vintage leather patchwork jacket, quilted lounge coat, patchwork printed jersey dress, and cutie clown bakelite pin."
"I am wearing men's 40s wool pants, a Moschino bustier, and a Gaultier blazer with Margiela tabi boots. At the show, I purchased a vintage step-in from Blossom Vintage."
"I'm wearing a 60s psychedelic mini dress from The End and 70s Pucci sunglasses. I always love going to Pickwick! I love wearing vintage because it's easier to find loud & unique items that fit me. I love wearing one-of-a-kind clothing. It's also better for the environment."
"My jacket is 80s Zuki heart fur coat, tank top is a 90s cashmere one, pants are acid-washed flares, sneakers Golden Gals Nike Dunks, silk head scarf 80s YSL, sunglasses 90s Gianni Versace, and all the jewelry is vintage, too. Everything was purchased from different estates and thrift stores while sourcing for the store."
"I'm wearing 100% vintage: oversized fisherman sweater, 60s cropped tee, 1800s thistle printed cotton skirt, 60s cowboy boots & naturally dyed silk bandana.
I've been a vendor with Pickwick for almost a year and love the energy of the folks who shop and sell. The community of vintage-obsessed, creatives is deeply inspiring and fun. Always have a blast!
Launching my vintage business Ludlow 2.5 years ago has changed my life. It's allowed me to fully lean into something I'm passionate about, sustainably. While also allowing me to become a part of a wonderful community that truthfully is unlike anything else. I'm so proud of Ludlow and endlessly excited for the road ahead."
Kazue Kobayashi Westfall
@ziggyloves
"I am wearing an 80s gold and black vintage top with 80s gold metallic skirt with Maison Martin Margiela metallic gold tabi boots.
My business is called ZiggyLoves and I have been doing my business for almost 30 years. I started in Tokyo Japan where I used to have a couple of stores. I deal in vintage, antique and designer label collectibles from the Edwardian era through present day. I have a showroom in Downtown Los Angeles at the Cooper Design Space whereI take private appointments."
"I'm wearing a vintage hat from The End, a thrifted blazer and turtleneck, a vintage patchwork skirt Swellegant Vintage, Swedish Stockings tights and shoes from Tamara Mellon.
I was at the show hosting the social media for Pickwick."
"I am wearing a Free People dress I borrowed from my friend Emily, Gucci x Yankee slides, a Telfar bag, and vintage Ray Bans! At the show, I bought an incredible Hawaiian shirt/crop top from Lulu Flippin Vintage that reminded me of something Prada would do, and a black 'bloomies' sweatshirt for my partner from Eden & Eden.
I love vintage because you get to wear other people's stories. I'm always trying to tell my own story through what I wear, and I love collecting all of the different essences and legacies that vintage clothing can carry."
"I'm wearing a vintage Escada blazer from eBay, thrifted green silk pants from Savers, a Louis Vuitton Murakami mini Speedy I found in Valois Vintage in Paris, with a Marine Serre top and Prada loafers.
My sister and I love going to Pickwick. We will miss the old location but it was nice to see it in a new space at Row DTLA.
There's such excitement around vintage shopping because you really never know what you'll find. My family has been thrifting and scoping flea markets since I was very young. Then I found personal style as a way of expressing myself so that tied all of it together. The sustainability aspect and the beauty of these pieces that are so well made are bonuses as well."
"The necklace is Golda Blaise, shirt is Zara, jacket is vintage (I just bought it a second ago from Check The Tag Vintage), shoes are GH Bass. This was my first time at this show. I loved it so much and I left totally inspired!"
"I'm a vintage furniture dealer, interior decorator, and furniture designer. In the photo, I'm wearing a vintage French moleskin jacket from Honey & Popsi Vintage. The pants were a limited run by Western Gifts in Los Angeles. The boots are made by a local bootmaker, Julian Boots. All jewelry is from None The Worse For Wear. My glasses are from vintage eyewear dealer Allyn Scura and the waist bag is a vintage Laotian fisherman's bag.
The new location is a fresh and exciting interpretation of the Pickwick show we all know and love. Something about this Saturday's show felt like the old days when you knew there was a treasure on each rack. The best part was being able to connect with old friends and hug people."
"I am wearing an "off my back by Talbott" blouse and Wilson's leather vest, both from flea markets, and pants from Sleeper in Echo Park. My clogs are by Nina Z and I got them secondhand on Noihsaf Bazaar.
I loved the show! I went to support friends who were selling and check out the new location. I didn't leave with anything physical yesterday but I got lots of inspiration and a few pieces that I will check back on if I'm still thinking about them in a few days."
In the cover photo Bea Åkerlund @bcompleted