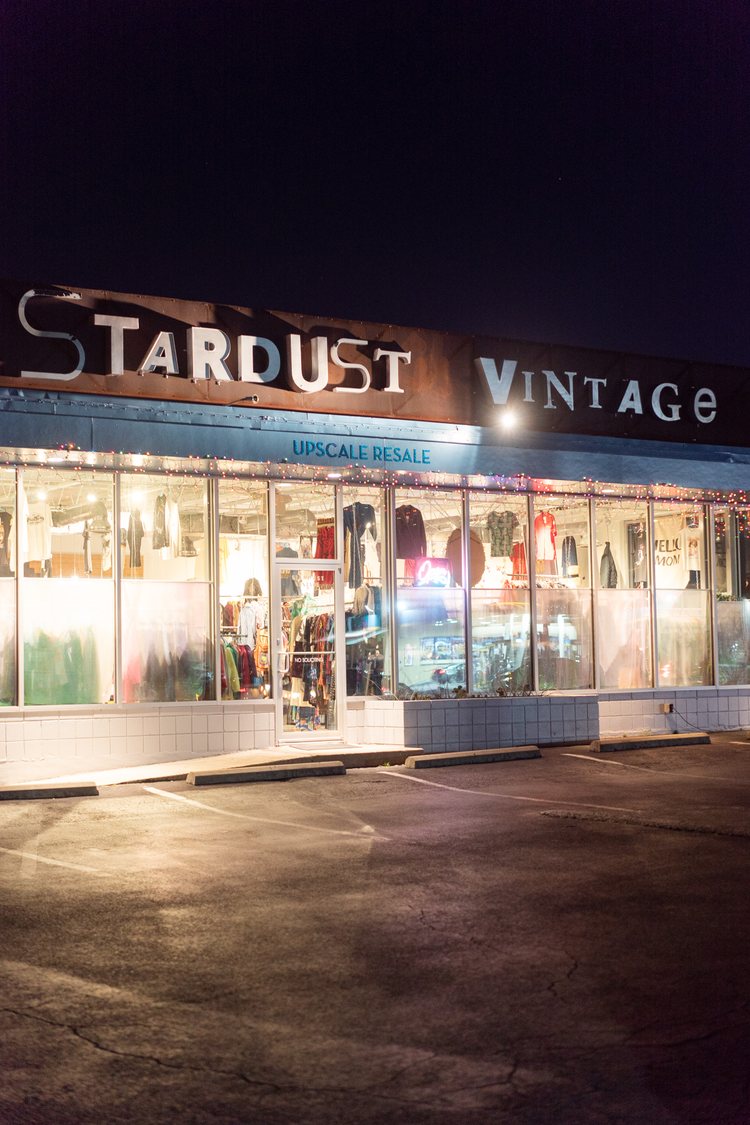 Your ultimate guide to Austin vintage stores. Four neighborhoods, 21 stores. Plus some bonus tips.
Austin is the vintage mecca of America: the amount of vintage stores will blow your mind. Here is a link to my Google Maps list to help you explore the city. It includes 21 vintage stores in four different neighborhoods.
Bouldin
The hipster neighborhood of Austin has plenty of vintage shopping. The majority of the stores are located near South Congress Avenue. For that reason the neigborhood is also often called simply South Congress.
Bloomers and Frocks
A store for romantic souls, brides searching for that special bridal gown, ladies looking for Great Gatsby style dresses, 50s ball gowns, rayon dresses, or just comfortable vintage knit sets. Everything is color-coordinated, clean, and neatly organized. There is even some vintage swimwear, a good amount of bigger sizes, and lots of accessories to complete your look. All the items are from the 1960s or older. I fell in love with owner Rebekka Adams and her warm personality. You are at good hands when she is around.
Bloomers and Frocks
1628 South 1st St, Austin 78704
(512) 715-4611
Tue-Sat 11-7
Sun 12-4
Prototype Vintage Design
If you have time to visit only one store in Austin, make Prototype your destination. Like the slogan says: "All killer, no filler." Every item is great, wearable, fun. All vintage (mostly from the 60s and the 70s), but fitting the contemporary style. The store is bursting with color; probably because it is inspired by Pop-Art and its futurism. The store has clothes for both women and men and children, too.
Prototype Vintage Design
1700 1/2 South Congress, Austin 78704
(512) 447-7686
Mon-Sun 11-7
Feathers
If you love silk, kimonos, suede, or Edwardian clothing, this is your store. Also an impressive selection of cowboy and leather boots. Possibly the most instagrammable store in the city!
Feathers
1700-B South Congress (enter on Milton St), Austin 78704
(512) 912-9779
Mon-Sun 11-7
@feathersboutiquevintage
Flashback
I loved this store because there was so much to discover, in every tiny packed room, from wall to ceiling. Visiting Flashback was a good, satisfying hunt. You might also like the fact that the owner, Marsha, hasn't changed the pricing since she opened in 1982.
Flashback
1906 South 1st St, Austin 78704
(512) 445-6906
Mon-Fri 12-7
Sat 11-6
Sun 11-5
Garment Modern + Vintage
I have been a fan of Garment ever since we discovered their collections at A Current Affair vintage show in Brooklyn a couple of years ago. The owner, Masha, somehow manages to find the most amazing, unique, breathtakingly beautiful pieces. Have plenty of time to give the store the attention it deserves! Some gems I drooled over: a 90s Carolina Herrera sequin houndstooth dress, a 60s Dior gown in colorful, folk-inspired floral print (see the photo), an 80s embroidered blouse from Oscar de la Renta.
Garment Modern + Vintage
701-F South Lamar Blvd, Austin 78704
(512) 462-4667
Mon-Sat 11-7
Sun 12-5
@garment_modern
Moss
The sister store of Garment, right next door! The best consignment store in Austin. So not technically vintage but I simply could not omit this one because the store is huge and it is full of high-end clothes and accessories from top labels and designers. You are bound to find something here.
Moss
705 South Lamar Blvd, Austin 78704
(512) 916-9961
Mon-Sat 11-7
Sun 12-6
@mossaustin
Stardust Vintage
Huge, fun, and youthful store at the outskirts of the Bouldin neighborhood. Multiple vendors, lots to discover, and super-long opening hours.
Stardust Vintage
2810 Manchaca Rd, Austin 78704
(512) 551-2678
Fri-Wed 11-9
@stardustvintageatx
Passport Vintage
Your denim destination number 1. If this store is good enough for Levi's staff, it is good for you, too. The owners Maria and Ryan love vintage denim, and are walking dictionaries on the subject. Also a large selection of vintage tees from the 70s–mid 90s.
Passport Vintage
2217 South 1st Street, Unit A, Austin 78704
(512) 814-6503
Mon-Sat 11-7
Sun 12-5
@passportvintage
East Austin
I biked around East Austin which was fun but a bit too exhausting, I have to admit. So I recommend getting a car if you want to hit all these stores in one day.
Blackfeather Vintage Works
The owner Greg Woolridge is always on the hunt. He seems to have an eye for the weirdest and therefore the most delightful things. The store is good at 70s maxi dresses, western suede jackets, velvet capes, and men's items in quality materials such as leather, denim, and wool.
Blackfeather Vintage Works
979 Springdale Rd, Suite 98, Austin 78702
(512) 904-0154
Thurs-Sun 12-6
@blackfeathervintageworks
Charm School Vintage
Charm School Vintage seems to be everyone's favorite and I understand why: there is something fabulous and exciting for every person. Tightly-packed racks hide everything from t-shirts to gorgeous designer pieces. A poetic, romantic, feminine store. Crystals and tarots included.
Charm School Vintage
1111 East 11th St, Suite 150, Austin 78702
(512) 524-0166
Mon-Sun 11-7
@charmschoolvintage
Lovecraft
A minimalistic store selling carefully curated vintage and new independent labels. Lots of white cotton, blue denim, neutral colors. One of the newest stores in Austin.
Lovecraft
1107 East 11th St, Austin 78702
Wed-Sat 11-6
Sun 12-5
@shoplovecraft
Las Cruxes
The award for the most beautiful vintage store in Austin goes to Las Cruxes! But the light-filled white space is more than a boutique: it is place connecting art, fashion, music, design, and literature. The store has its own radio show and hosts events and art exhibitions. This store alone could be a reason to move to Austin. (The second reason would be Barton Springs). Oh and the vintage racks! Delicious colors like pink and lime green and iridescent shades á la Sies Marjan, puffed shoulders, cute sandals – absolutely great curation.
Las Cruxes
Permanently closed.
Prisma Vintage
I love how colorful this store is! It just simply made me happy. Fancy sequin blouses greeted me at the door. The two-piece set selection was so large I had troubles picking up just one (My choice was a baby-blue sequin set with whirlwind decorations. Still thinking about a pink pajama silk set, too.) Lots of denim, boots, and jewelry.
Prisma Vintage
Update June 2021: Permanently closed.
@prisma_vintage
Mutual Feelings
The coolest and the bravest of the Austin vintage stores. This store shows what you are going to wear next year. If you are young enough to be able to pull off early 2000's mesh tops, cargo pants, mini backpacks, and crop tops, then do not miss this store. Keywords: cyber, rave, punk!
Mutual Feelings
Permanently closed.
North Loop
As compact as it can get: North Loop is basically three small malls within walking distance of each other.
Blue Velvet Vintage Clothing
A dress heaven! At Blue Velvet you are guaranteed to find a vintage dress in your size. I fell in love with a Gunne Sax for less than $60. Most dresses sell for around $30. A sizable men's selection, too, and a handy location next to a 24hr coffee shop and a record store at a cute little mall.
Blue Velvet Vintage Clothing
217 West North Loop Blvd, Austin 78751
(512) 452-2583
Mon-Sat 11-8
Sun 11-7
@bluevelvetvintage
Ermine Vintage
The owner EJ Anderson wanted to recreate an authentic 90s Austin vintage store and that's how Ermine was born. I salute the affordable pricing, relaxed atmosphere, and EJ's personal curation.
Ermine Vintage
106 East North Loop Blvd, Austin 78751
(512) 419-9440
Tue-Sun 11-7
@erminevintage
Revival Vintage
Eight vintage clothing (and furniture) sellers under one roof. A wide denim selection, and a huge amount of 50s-90s dresses. Garments for both him and her. Neatly organized racks and a well-light space make the store a great shopping destination.
Revival Vintage
100 East North Loop Ste A, Austin 78751
(512) 524-2029
Mon-Sun 11-7
Big Bertha's Paradise
This eclectic store is for those of you who care about iconic brands like Chanel, Louis Vuitton, Azzedine Alaïa, and Gucci. I adored a Comme des Garçons blazer which was (luckily?) in size XS so I could only dream of fitting in. The shop assistant was one of the sweetest person in the city!
Big Bertha's Paradise
112 East North Loop Blvd, Austin 78751
(512) 444-5908
Tue-Sun 12-5
@berthasparadise512
New Bohemia
Unfortunately this store was under massive renovation when I knocked at the door. Based on the reputation and the size I dare to recommend without ever visiting it.
New Bohemia
4631 Airport Blvd, Ste 116, Austin 78751
(512) 420-9099
Mon-Sun 11-9
The Drag
The Drag is a nickname for a portion of Guadalupe Street that runs along the western edge of the University of Texas campus. There is a great vintage store at both ends of the street.
Lo-Fi Vintage
Youthful store for youthful people: t-shirts, streetwear brands like Tommy Hilfiger, Guess Jeans, and Polo Sport, 90s mini skirts, crop tops, platform shoes. For the fans of 90s and 2000s fashions.
Lo-Fi Vintage
604 W 29th St, Austin 78705
(512) 792-9663
Mon-Sat 12-9
Sun 12-8
@lofiatx
Monkies Vintage and Thrift
Monkies is so good at vintage rock tees they even provide them to other Austin stores. Lots of 90s streetwear and sportswear: snapbacks, sport jerseys, wind breakers. Popular among the students from Texas University next door.
Monkies Vintage and Thrift
1904 Guadalupe St C, Austin 78705
(512) 520-4595
Mon-Sat 12-8
Sun 12-6
@monkiesvintageatx
P.S. For more Austin vintage tips check out the epic Austin Vintage Around Town Guide! Their map helped me to make this story.