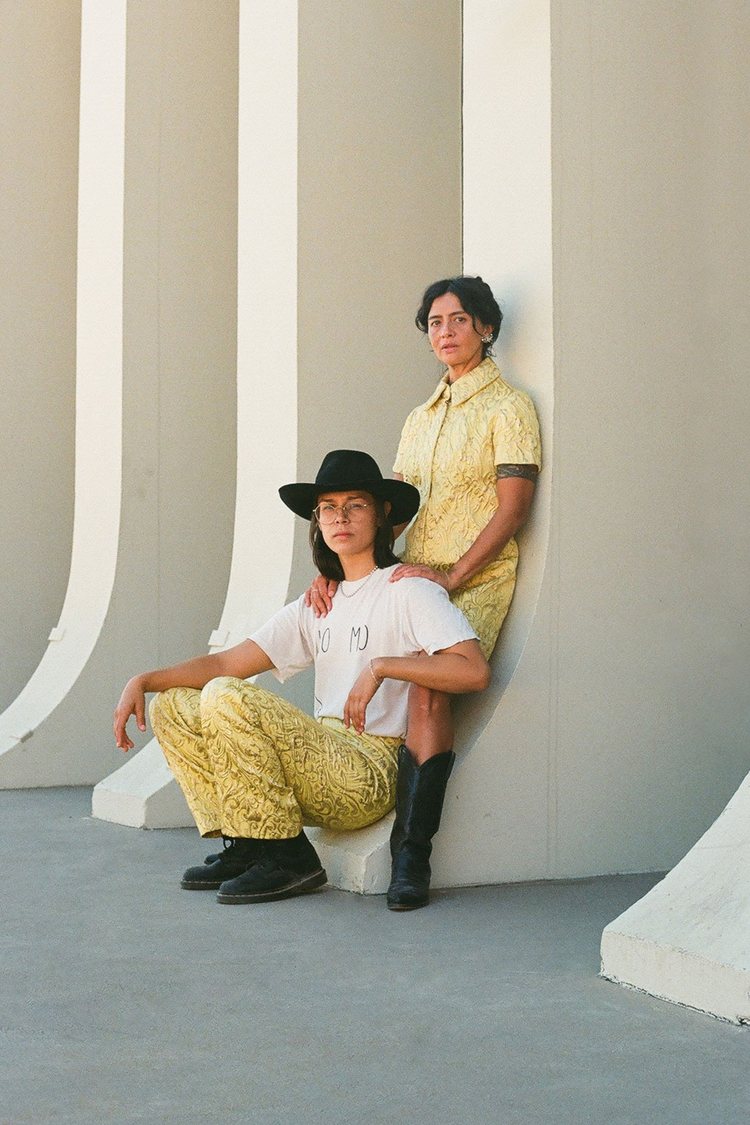 A queer couple Genevieve Marruffo, 24, and Em Rodriguez, 40, launched their Instagram account Tender Empresses after accidentally wearing matching outfits, often all thrifted, as crushed-out acquaintances.
"We met during our first year of nursing school in July of 2018, and soon noticed that we would accidentally wear matching outfits. There was one instance where we showed up wearing the same exact outfit (a tan jacket and neckerchief with jeans) – it was exciting and embarrassing! While we were dating, we found Korean matching couples and the Young Emperors, the Instagram account of a matching French couple, and decided to make a tribute page to them and to ourselves.
We created the Instagram account because we match. So the matching came first. We don't always match but will often coordinate as we dress. Ideally, in the future, we will have a large-sized shared closet that we can both pull from, which seems like a more fun way to dress.
This was a super-spontaneous look that we borrowed from Genevieve's grandparents' closet. It took about 10 minutes to dress and shoot.
Some of our Instagram looks are right out of our natural closets, which are comprised mostly of thrifted finds. We will sometimes hunt for a specific look in thrift stores or get really lucky and find a two (or three!!!) piece set.
We are learning to sew and sometimes we alter the looks to be a better fit or style we like more. We also find super special items from small designers that we will occasionally buy new. We are looking forward to being able to make and sew more of our outfits in the future.
Here we are in San Francisco Financial District, wearing a vintage Dior skirt suit that we scored for $9 from an off-the-freeway Goodwill in Riverside, CA.
If Em had her way, she would go thrifting three times a week. Genevieve goes every or every other week – she doesn't want to make herself tired of something she loves.
The best way to thrift is to look in your area; look for small places that you can visit somewhat regularly. Also, visit the locations near affluent neighborhoods for best scores.
Having a smiley meal: Artist Amanda Jasnowski Pascual made these super happy shirts with the most tender poem-list on the back. This shoot was one of our most attentive to outfit, choreography, and set at the time.
Growing up Em's grandmother worked in a thrift store and so she has always worn second-hand clothing. It luckily became really cool to thrift when she was in high school and she started looking for cool vintage pieces.
For Genevieve, it was in her late teens when she started to understand that she could choose how to express herself through clothing. She realized that mass-produced clothing didn't feel good or right to wear; seeing 15 of the same shirts was joyless. Pieces in second-hand stores were so individualized – you have to hunt for what you want and you feel this euphoria when you discover the perfect, perfect thing for you. It's addicting! One of the first Genevieve's thrifted items was a five-dollar Patagonia turtleneck jumper, what a score. 

Here we are at Stow Lake in San Francisco, wearing matching looks created with a vintage rayon three-piece set. The set was purchased from a corner store thrift shop in Big Bear, CA. These pieces were just so light and flowy and really dynamic in the wind created by the waterfall.
The 70s and 90s are the favorite decades for us both. There are also beautiful silk pieces from the 80s and tons of gorgeous Victorian pieces that are hard to wear but stunning. Our favorite second-hand brands include Natori, I. Magnin, Joseph Magnin, old Sears clothing, everything denim Wrangler, and Lee.
We have begun to work masks into our looks for practicality, statement, and fashion. These masks are Joon by Alexis Badiyi, and made of deadstock fabrics. Genevieve's lacy top was thrifted the day before this shoot and made the look perfect.
Em's favorite thrifted piece is a Junior Gaultier sheer Basquiat monster-print dress. Genevieve's favorites pieces are both jackets, one is a super-soft motorcycle jacket that laces up the sides so perfectly. The other is an 80s dark olive and brown plaid tweed trench with a silk paisley lining in magentas and mustards and leather cuffs and collar, it's so beautiful.
We are both now last year nursing students. This is our school day look, a casual coordinated look and typical dressing for us. Em is wearing a dress by Town Clothes and Genevieve is completely thrifted.
We have different personal styles but really benefit from each other's influence. It makes it really fun to dig in each other's wardrobes. We also seem to get obsessed with similar ideas or styles around the same time, which can be really fun, too.
Denim, denim, denim. One of these suits was made by the incredibly talented Silk Denim, the other was Em's first sewing project, replicated with blessings using recycled vintage thrifted jeans. What we love about this look, besides the fact it is obviously denim, is that it is a move into creating more of our looks."