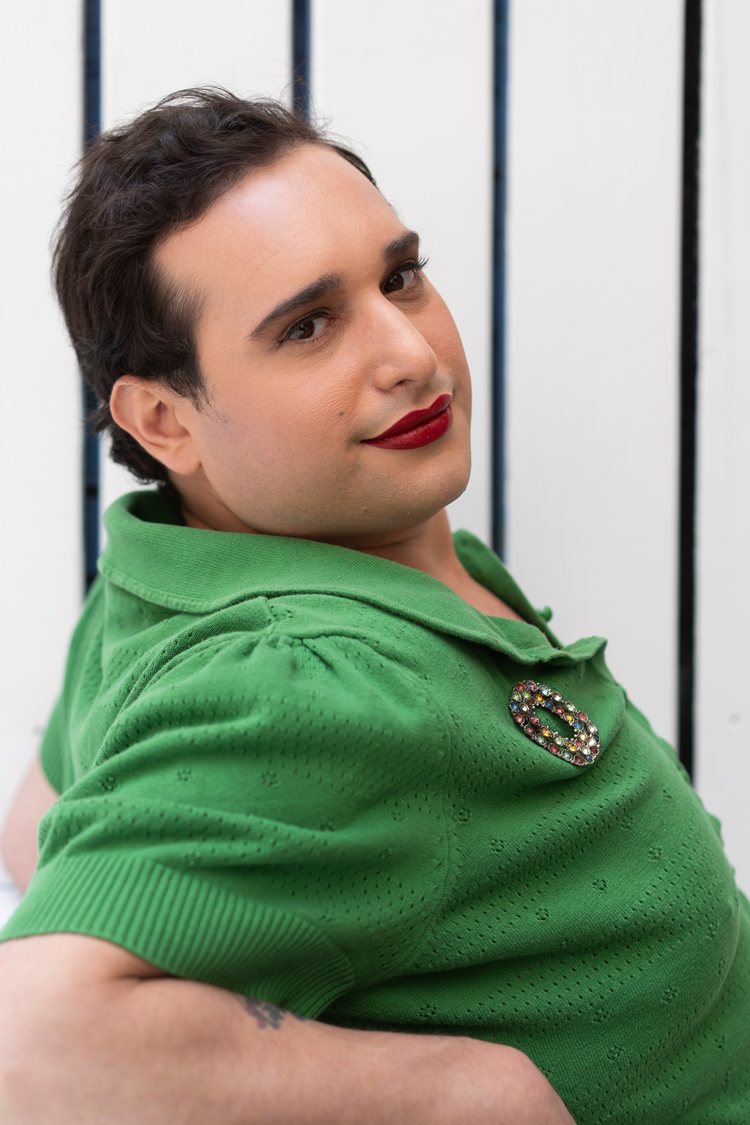 Vintage style and classic film content creator Harlow Harlow, 29, discovered vintage through old movies and Instagram.
"Since I was very young, I've loved old movies. Seeing the glamorous women in the 30s, 40s, 50s, and 60s movies made me fall in love with vintage style and aesthetics. Watching Marilyn Monroe in Gentlemen Prefer Blondes when I was six years old, felt like the most beautiful thing in the world. It was like someone turning on the light switch.
My style evolution has gone from having no style at all to where I am now. Until college, I was wearing just school uniforms. During my college years in Chicago the 90s grunge aesthetics were coming back so my style was about t-shirts, Doc Martens, tights with short shorts, and long cardigans – although that was not something I liked.
In 2017 I had gastric bypass surgery, lost weight, got to know my gender identity, and started to feel more comfortable.
I thought: Oh, maybe I can fit into 'women's clothing'. I started shopping at women's plus-size stores online: Torrid, Eloquii, ASOS, etc, and experimenting with my style and wearing more vintage and vintage-inspired clothes.
Instagram-person and burlesque performer Essence was one of the persons that inspired me to start dressing up in repro and vintage. My first real vintage piece was a 60s faux cheetah leopard coat from Saks Fifth Avenue. Finding this coat was like my first love.
The Barbie Midge bag is from 1964. I especially like the older 50s and 60s Barbies and Midge who was always kind of like the redheaded stepchild. A lot of my authentic vintage pieces come from Etsy, and so does this bag.
The bag is more of a decorative piece for me, I seldom wear it. I love it because it is so camp, but adorable. I love dolls and have started to collect older vintage fashion dolls.
The rest of the outfit is repro. The top is a sweater shirt from Target. My tip: pay attention to what people were wearing during the era you are trying to go for, and look for similar models on Target. This sweater reminds me of Lana Turner, something from the late 30s and early 40s. You just have to pair and accessorize the item right and it automatically turns into something from a different time period.
The blue gingham pants are from Vixen – I love these pants so much that I have them in six different colorways and prints. I love how they make my shape feel curvy.
I have a soft spot for the late 70s and early 80s. I love the movie Nine To Five and anything that reminds me of those women who were on their feet and working and dealing with all the BS. This vintage blouse is very much in that style.
I have started buying more and more gloves. They are both pretty and practical. I wear acrylics and when my nails get weak, I need to take a break and hide my nails with gloves.
A pair of gloves can make any outfit look vintage and take it to the next level. Wear gloves with something mundane like a t-shirt, and the outfit transforms instantly.
I started liking brooches because I think necklaces are not the most flattering for a curvy person. You can place a brooch anywhere you want, whereas a necklace always brings attention to your neck area. Put a brooch on something simple and monochromatic and you have a totally new look.
The green top is from ModCloth x Collectif collaboration. For me, it is one of those pieces which can almost fool thinking it is authentic vintage. It reminds me of 30s and 40s so much. The brooch is from Etsy; perfect to wear with something monochromatic. It makes the outfit a bit more eye-catching without being a headache.
Authentic plus size vintage is very rare to find, especially for a reasonable price. I'm not paying too much just because I'm fat!
There's this narrative that body shapes are different now and bigger sizes did not exist before. But that's a lie.
There's a great Instagram account called Historical Fat People, which shows there have always been people in different sizes. I think that a lot of people use this false narrative so they don't have to cater to plus-size people. Stop washing the fat bodies away from history!
This spring, I hosted an episode for The Vintage Woman podcast about plus-size style icons who don't get remembered because of their size. In an earlier episode, Jo Smyth makes a really good point that as we get older, most of us tend to grow bigger, not smaller. So a lot of the clothes that you find in thrift stores are from the time when people were younger, smaller, and shopped more. People tend to keep and wear the larger clothes longer and that's why they don't end up in thrift stores in large quantities.
The floral petal bonnet and the Western leather jacket are both vintage. I love camp, kitsch, and things that make people turn their heads. I was looking for head headscarves on Etsy and found this bonnet. I knew I would probably wear it only once or twice a year but it was too cute to resist. It's a fun statement piece. The color reminds me of the late 60s and early 70s – I feel the florals of that period are often in citrusy and whimsy colors. That's why I like yellows and whites.
I'm from Texas and I love Western style and country music. Patsy Cline and Dolly Parton are also my style icons. Patsy Cline was the first one to combine old Hollywood glamour with Western style. And Dolly Parton is a god to me. Both have an 'I don't care attitude' about their style but they do care deeply about what they are wearing. Patsy was my grandfather's favorite singer. Wearing something Western is a kind of homage to him.
The Eloqii jeans are my favorite pair of jeans. They look very authentic 70s bell bottoms; hugging the thigh very tightly and flaring at the bottom. They are fun times!
The watermelon cardigan is from Collectif. There is something fun but effortlessly chic about watermelon prints. The stretch denim pants and saddle shoes are from Unique Vintage. I love the Bobby Soxer look. Dressy but casual.
The 40s Rodo bag is my most used vintage piece. I got it at a thrift store in Houston called Metropolis. I fell in love with it instantly. I love all picnic aesthetic from gingham to fruit prints.
I shop mostly repro clothes from companies that make vintage-inspired clothes. One of my favorites is Vixen by Micheline Pitt – it's 50s-60s inspired, very Jayne Mansfield-like aesthetic, gets your waist just right, gives you shape, and feels very vixen-ish! Sexy but tongue-in-cheek.
UK-based Collectif, Miss Candy Floss, and Mod Cloth are my other favorites, although the last one has gone down in quality since Walmart bought it.
By wearing repro, you can look very authentically vintage and you're going to pay less than for authentic vintage pieces. You can try to find those brands secondhand, too.
My biggest advice to anyone who has a curvy body: forget any and all rules you have heard about what a plus-size person should or should not wear. I love wearing pieces that show off my midriff and legs which is very much against the so-called rules.
Make your own rules and wear what makes you feel pretty and comfortable – not what makes other people feel comfortable.
Advice number two: Always have references. There is such a strong plus size and vintage community on Instagram. Pay attention to where people you are following are shopping and what they are wearing. Get to know historical curvy persons like Etta James and Mae West."
Follow Harlow Harlow on Instagram @them_fatale