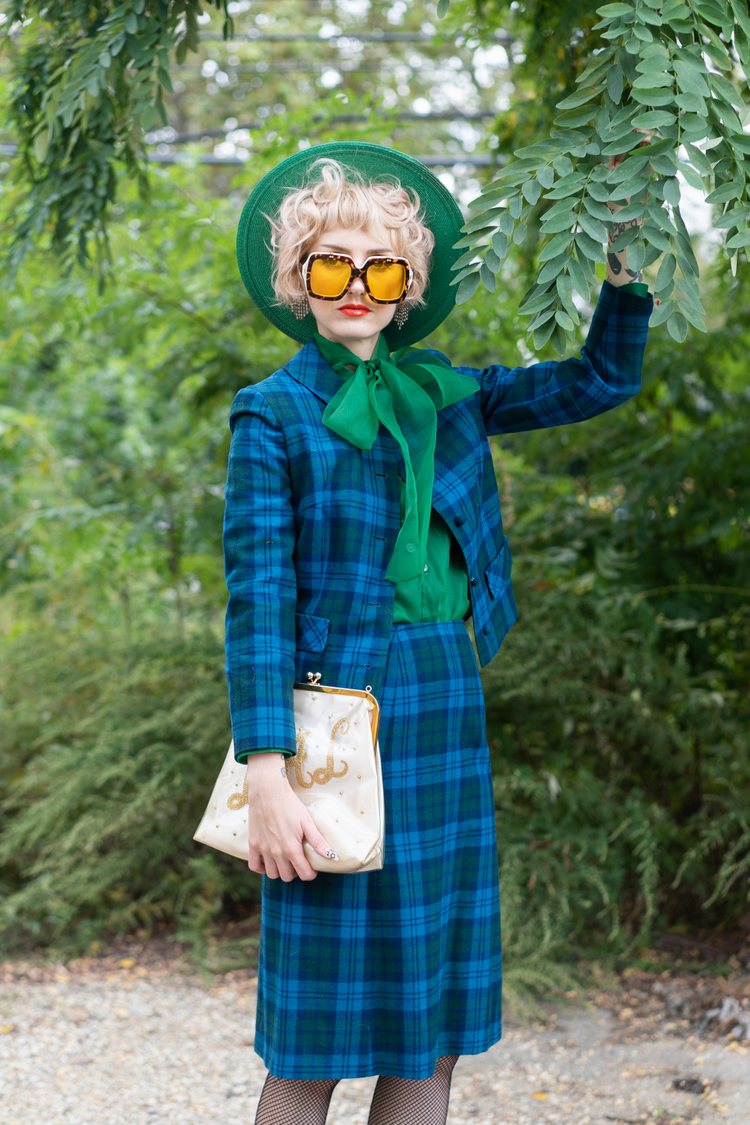 people
Granny Meets Gucci – Stella Rose Shares Her Best Vintage Finds
The love for vintage clothes made Stella Rose Saint Clair a fashion designer, stylist, and also briefly a vintage seller.
"I believe I was wearing vintage from an early age without even realizing it. However, when I was 15 I became enamored with punk fashion after feeling disenchanted with the early 2000s culture surrounding me at the time.
I began to seek out vintage clothing as a teen partly because it was affordable (fast fashion was not what it is now in 2020), and partly because in vintage shops I could find clothing that looked the way I saw punks dressing in photos and film footage from the 70s and 80s: leather pieces, destroyed dress shirts, and mod-looking mini dresses.
I could find weird things that felt unique and irreverent which echoed the way I felt about myself.
I would turn up to high school on any given day wearing a 60s polyester dress with a 50s floral hat, ripped up fishnets, and kitten heels.
I think early Westwood designs, 60s Carnaby Street culture, and what Madonna was wearing through the mid-eighties really jump-started my interest in vintage clothes. That, and growing up in poverty – the idea that thrifting for clothes could be creative and chic made shopping second hand feel like magic.
For years my Grandmother tried to offload her sizable collection of the late 60s printed dresses onto me, but I was too punk to want them. All of the dresses were cotton and banlon Ken Scott's – a print designer from the 60s. I had forgotten about the offer of the dresses until two years ago when Gucci announced a collab with none other than Ken Scott! I was knocking at my Grandma's door with bags in hand the following week. The dresses are lovely, and this orange cotton number might be the loveliest. I've paired it with accessories in the various shades of the print – dark and spring green, burgundy, and fuchsia.
Raiding your grandma's closet is vintage 101.
These days I am mainly interested in clothing from the 60s. I have a 'Twiggy' figure and the clothing from that era suits my frame especially well. Things I am always on the hunt for: knit sets, unusual and interesting textiles, brightly colored patterns, chunky heeled shoes, big earrings, 60s and 70s women's suits, and square crown brimmed hats. You can see nearly all of these represented in the photos of me here.
It's almost rare to nab a 70s piece like this jumpsuit that isn't made from crunchy polyester, so this linen one is such a good find. I purchased it from my friend Hayley of Oh Wow Vintage after ogling it for an extended period of time. I wear it so often, it was worth the investment.
I like to pair all my vintage with modern pieces, and this jumpsuit is so trendy right now that it barely reads as vintage when I style it the way I have here.
I am a big fan of using vintage items to create a look that's on-trend and modern, so my favorite looks seem to always be a combination of some really special vintage pieces with something from a modern store. I love following what's current in fashion, on the runway and on the street, and then getting creative with vintage to create my own unique spin on what's 'new' and 'now'. I think this is really the key to solid style.
I have this controversial theory that everyone who wears vintage regularly is kind of a vintage vendor, because once you start amassing a collection of vintage, you're eventually going to start selling pieces off – if only to afford more pieces.
A few years ago I got serious about it when my best friend and partner at the time Riley and I found ourselves living in Philadelphia temporarily, and decided to open an online vintage shop together.
We amassed a huge collection to sell via some connections we had made, as well as going to estate sales and digging in junk shops. We were mainly just buying things we thought were cool, so I think our inventory wasn't as curated as it could have been.
Moving back to expensive NYC, a pricey city with little free space in our apartment, and no car to haul loads of clothing with, broke us.
I worked on and off for years at a vintage shop called Legacy that no longer exists, on Thompson Street in Soho, NYC. They always had incredible pieces, and when they closed I acquired this gown with the intention to resell it – but before I do, I want to find an occasion to wear it out. If anyone would like to invite me to a ball, HMU. For now, I have no choice but to style it with street clothes in hopes that I can start a new trend where formal wear is reserved for the sidewalk, which means those attending galas and weddings will be forced to wear work clothes.
Vintage (and not fast fashion) is the true way to look expensive without necessarily breaking the bank. The quality of the vintage, especially pre-1980's, is often on par with the top designers of today. If you're a good hunter, you can track down a wardrobe that rivals a Prada runway show while only shelling out a few hundred bucks. This is what I love about secondhand clothing.
There is a wealth of used clothing in the world, and good-quality garments are the ones that continue to last.
High-quality beautiful clothing is accessible to everyone. You just need a good eye to find it for yourself.
This early 60s Pendleton suit and hat are some of my most loved items, and together I paid a total of $25 for them – $20 for the suit, and $5 for the hat. I've worn this hat so much that it now has a huge stain on the back – which is actually the front, and I have to wear it backwards now to hide the mark. The suit was found on a 12 hour trip to Pittsburgh in the one thrift shop we had time to hit. My jaw dropped at the low price. It fits me as though it were tailored for my body, and the quality is lovely.
I've always had a thing for vintage suits– especially boxy ones from the 60s because I'm shaped like a noodle.
The bag was purchased in L.A. I think the old method of covering fancy purses in vinyl is really funny, and adds an almost modern look to this purse. I still need to add a really great chain to the top of it.
This is such an unusual print for a vintage Hawaiian dress because the flowers don't look remotely tropical. The print reads more Marimekko which is why it caught my eye at Briar Vintage in Philadelphia. It's actually a maxi, but I took the skirt up – and without cutting any of the material so it can be restored to its original length if needed, by removing a few stitches.
You are not the first owner of the garment and you might not be the last.
Not cutting the fabric during tailoring makes it possible to tailor the garment again for another owner in the future. I've paired the dress with a crazy colorful palette including this hat I sewed and painted this past summer.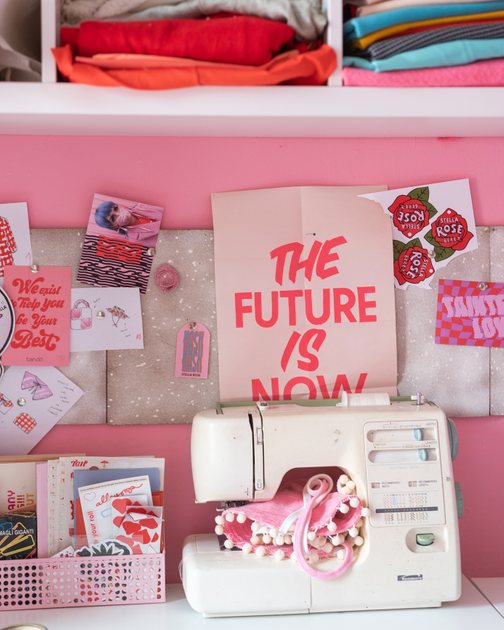 I've been designing accessories and clothing independently for a little over 10 years. Right now I am selling handmade quilted face masks and other accessories like hats and pins. I work on my own, generally doing everything myself because I work like an artist and not like a businessperson. If you own something I designed, I also made it with my hands and sent it to you myself.
If it weren't for my love of vintage, my interest in clothing design may have never developed.
The best quality clothing I have known has always been vintage. They just made things different back then. The textiles of vintage and the details: buttons, and snaps, and pockets. Good clothing inspires me to create more good clothing."