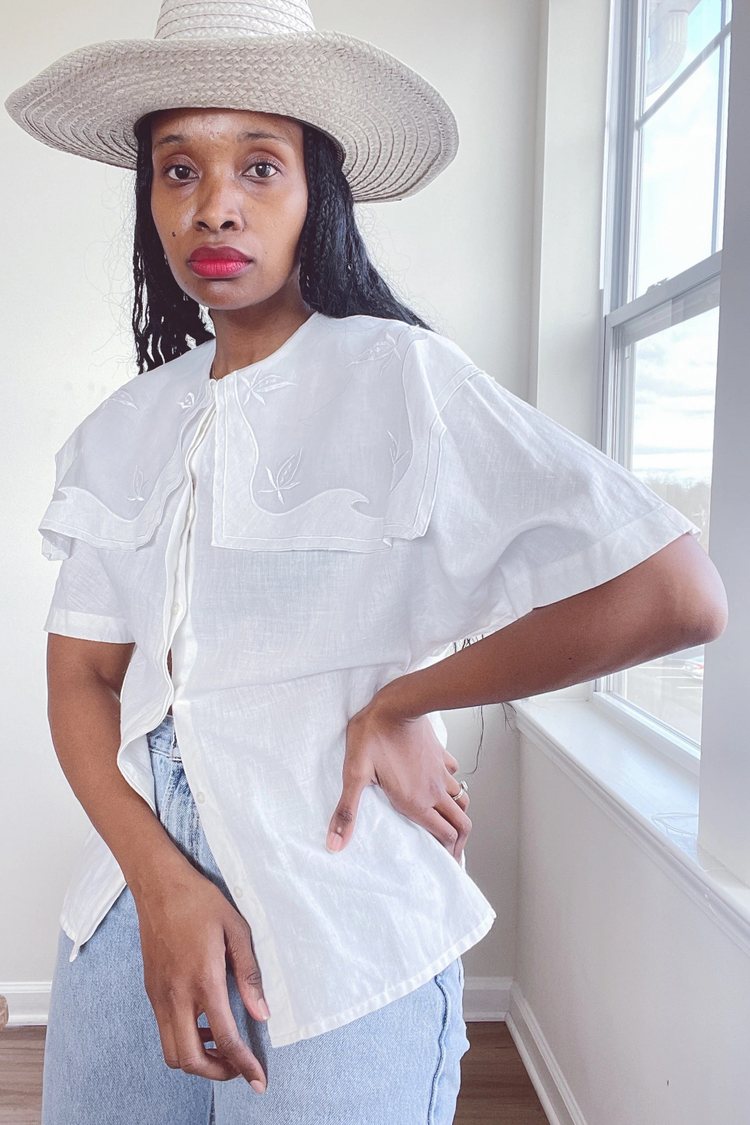 Make a statement with your collar. Why choose a regular one when there are options like pilgrim, jabot, and bertha?
Modern collars appeared first in the mid-1400s. The first type of collar was a standing one, meaning that it fit around the neck and did not lie on the shoulders. These early adaptations evolved into huge ruff collars – a status symbol of the times. The 15th-century ruff collars were also called "millstone collars" after their shape. At the time, collars were decorative pieces and were worn like jewelry.
The ruff craze did not last long, probably because they were expensive and hard to maintain. The change in fashion coincided with the Enlightenment, which encouraged men to stay away from fashion whims and dress simply and practically. When the precursor of the modern cravat became popular, collars became smaller and started to resemble the ones we know now.
In 1827 Hannah Montague invented the detachable collar – she was tired of washing her husband's shirts and realized the amount of laundry would be much smaller if she only had to wash the collar, not the whole shirt. When washing machines became more common, the market for detachable collars vanished.
Until the 1930s, it was customary to starch the shirt collars. As fashion got more relaxed and casual, so did the collars.
Bertha collar
Bertha collar is flat and round, often made of lace or sheer material. This collar type emerged during the Victorian era and was worn with a low neckline. It emphasized women's shoulders. The bertha collar resurrected in the 40s, but you can see it in 70s and 80s garments, too. You can create a similar effect with a detachable collar – look for real Victorian ones on the Gem app!
Bib collar
Bib collars resemble children's bibs. This collar type is rarer than some other types and maybe for that reason, often mislabelled. Bib collar is an integral part of classic traditional men's tuxedo shirt.
Chelsea collar
Chelsea collar is (a woman's collar) usually combined with a low V-neckline and with long points. It was popular in the 60s and 70s but has seen some revival recently, with brands like Ganni introducing girly tops and dresses with all kinds of statement collars and sleeves.
Jabot collar
The jabot collar is a standing collar with a pleated, ruffled, or lace-trimmed frill down the front. Jacot collars can often be found in 80s blouses.
Jabot collars originated in the 1650s. Soon every single European nobleman wore one. Jabots had many looks back then: they could be made of lace or fabric, decorated with jewels, pleated, and so forth. In the 19th century, jabot became a trendy women's accessory, often pinned with brooches to the shirt collar.
Peter Pan collar
Peter Pan is the most girlish of the collars featured here – the small, round-cornered collar is usually associated with little kids' clothes but who says you can not wear them at any point in your life? The collar was named after the costume worn by actress Maude Adams in her role as Peter Pan on Broadway in 1905.
A very similar in shape is the so-called Buster Brown collar. A Buster Brown suit was a popular clothing style for young boys in the US during the early 20th century. It was named after the comic strip character Buster Brown and it typically consisted of a belted, double-breasted jacket worn with a large round collar, floppy bow, shorts or knickerbocker, straw hat, and bangs.
Pilgrim collar
A pilgrim collar can easily be mistaken for a chelsea collar – the difference between the two is that pilgrim collar extends all the way to the shoulders, and chelsea collar can be much narrower than that.
Pilgrim collar might be the trendiest of all the collars discussed here. Huge pilgrim collars in lace and other materials have been popping around during recent years – our guess is because of the cottagecore trend. Pilgrim collars are often detachable and wide, reaching all the way to the shoulders.
Shawl collar
A shawl collar is a rounded, turned-down collar that forms an unbroken, curving line from neck to the front of the garment.
A shawl collar is typical for men's knitwear, tuxedos, and 80s outerwear. Look for chunky Ralph Lauren cardigans and classic Cowichan sweaters with shawl collars.
Sources:
· Aisize
· Bourrienne
· Fashion Sizzle
· Husbands
· Mel Magazine
· My Golden Thimble