people
Spontaneous Styling – Marion Lange Shares Her Best Vintage Finds
New York based creative and production consultant Marion Lange, 54, shares her best vintage finds.
Liisa Jokinen · Jul 6, 2021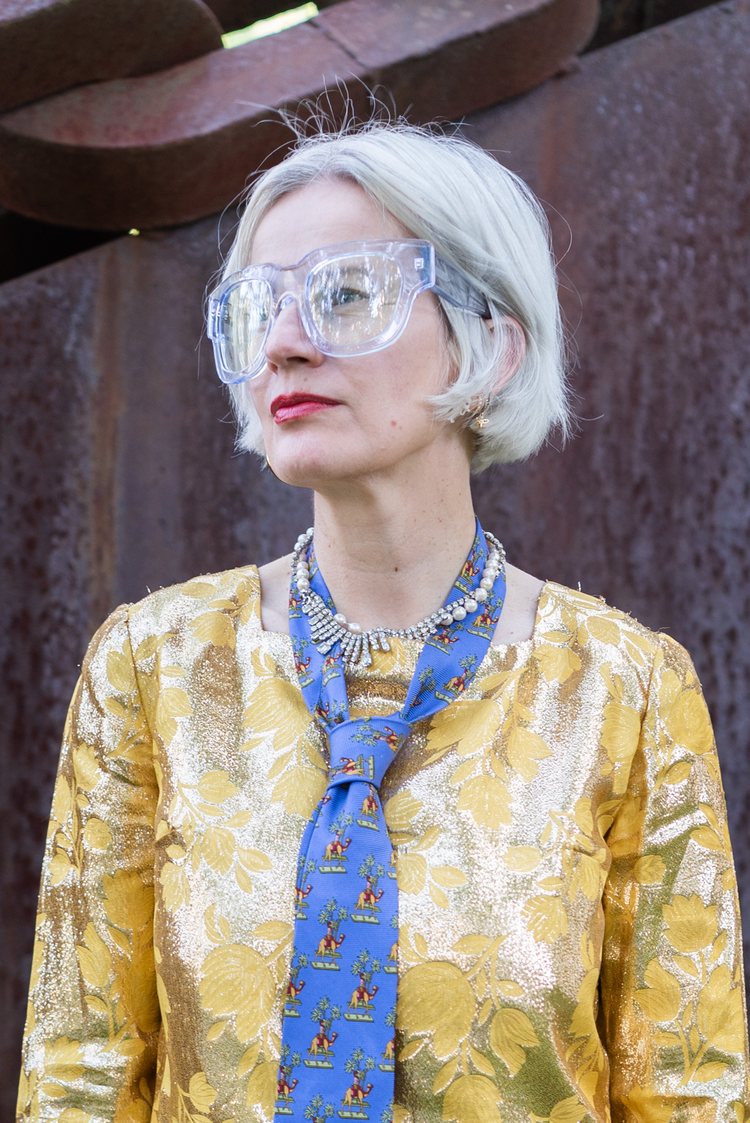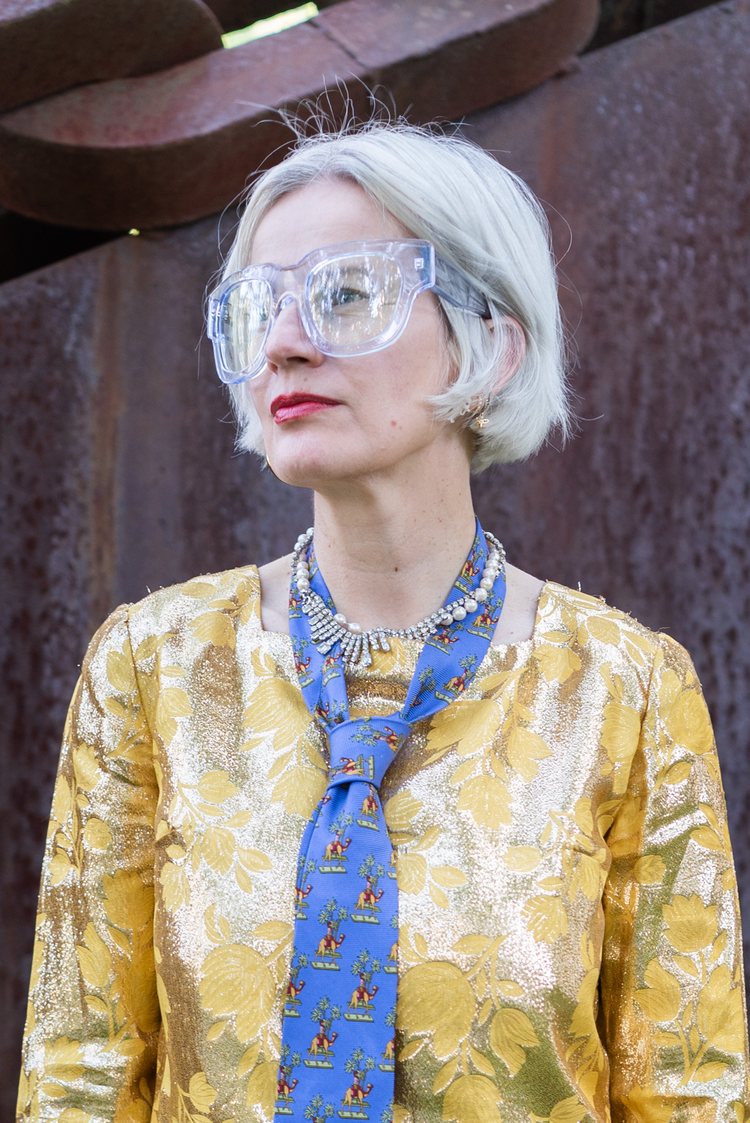 people
Spontaneous Styling – Marion Lange Shares Her Best Vintage Finds
New York based creative and production consultant Marion Lange, 54, shares her best vintage finds.
Liisa Jokinen · Jul 6, 2021

"My style philosophy is to have fun! It takes me 5-7 minutes to get dressed — and it's all "uuhh...that's fun" driven.
Dressing the way I do is my way of expression.
I am not precious — I can get on the bicycle in pretty much all my clothes and don't put much thought into whether what I am wearing might be practical or not. "Glittery Tuesday" is a thing and why wait for a special occasion to bring out the feathers? That would be way too limiting.
The coat is vintage Bill Blass from Female Hysteria Vintage in Boston, MA – I found it on Etsy about 5 years ago.
I can't remember where I got the pants from, I think I found them at a vintage show — they are a staple, striped pants can be combined with anything. I had not worn the coat with the striped pants before — next time I wear the coat I might wear it as a dress or with Adidas pants. Who knows.
Shoes are Gucci. While I love vintage, I don't buy vintage shoes — I am a little obsessed when it comes to the latest shoe designs and think that "now" shoes add an interesting twist to "past" clothes.
I shop vintage literally everywhere: stores, online, flea markets, yard sales… there are gems everywhere. This bag I found in a children's store in Paris a while back. It's just pure fun – and believe it or not, the belly holds quite a bit of stuff.
There is not much rhyme and reason that goes into me getting dressed — it always starts with one piece I want to wear and the rest just falls into place. It's all very spontaneous.
The jacket was the first piece of vintage I ever bought — about 25 years ago in Johannesburg, South Africa. I didn't know then that it would be the start of my love for vintage clothes. I added the gold pieces on the right lapel a few years later. The jeans are R13, the shoes Bottega Veneta, the smiley t-shirt caught my eye on Instagram and the necklace is from a vintage market. I completely forgot about the jacket and just recently discovered it again. I am not a jeans and t-shirt person, but in this case, the particular jeans and t-shirt (and shoes) felt right.
I found this 60s gold ensemble on Etsy — from a vintage store in Toronto, Canada. The color, pattern, and simple shape caught my eye — and adding a vintage Chanel tie makes this suit less precious. I am into ties right now, so I tried one with the gold suit and it kinda worked. Why? No idea. Who would have thought that a tie makes that suit less formal?
The pearl necklace I stole from my mum and the rhinestone one is vintage too.
My father gave the black bag to my mother as an engagement gift in 1962/63… and I glued the birds on it to make it "mine". The black feather hat I bought at A Current Affair in New York a couple of years ago. The shape is very particular and the feathers move nicely when walking. Balenciaga sunglasses are an Etsy vintage buy. When my friend emptied her grandmother's closet, she found a bunch of rather eccentric pieces. This pearl and fake fur necklace was one of them and apparently I was the only person she knew that would actually wear it.
I think vintage pieces have a soul, they have lived a life.
Imagine where the dress or bag has been, how many pool parties the kaftan or cover-up has attended, how much joy the fancy coat has given its owner. That's what I love about vintage pieces."

Marion Lange on Instagram @marionyc