trends
Skirt Suits Are Back!
Skirt suits are making a comeback, says former stylist and vintage vendor Chelsea von Mach. Now she shares her best tips on how to style and wear this spring.
Liisa Jokinen · Feb 8, 2022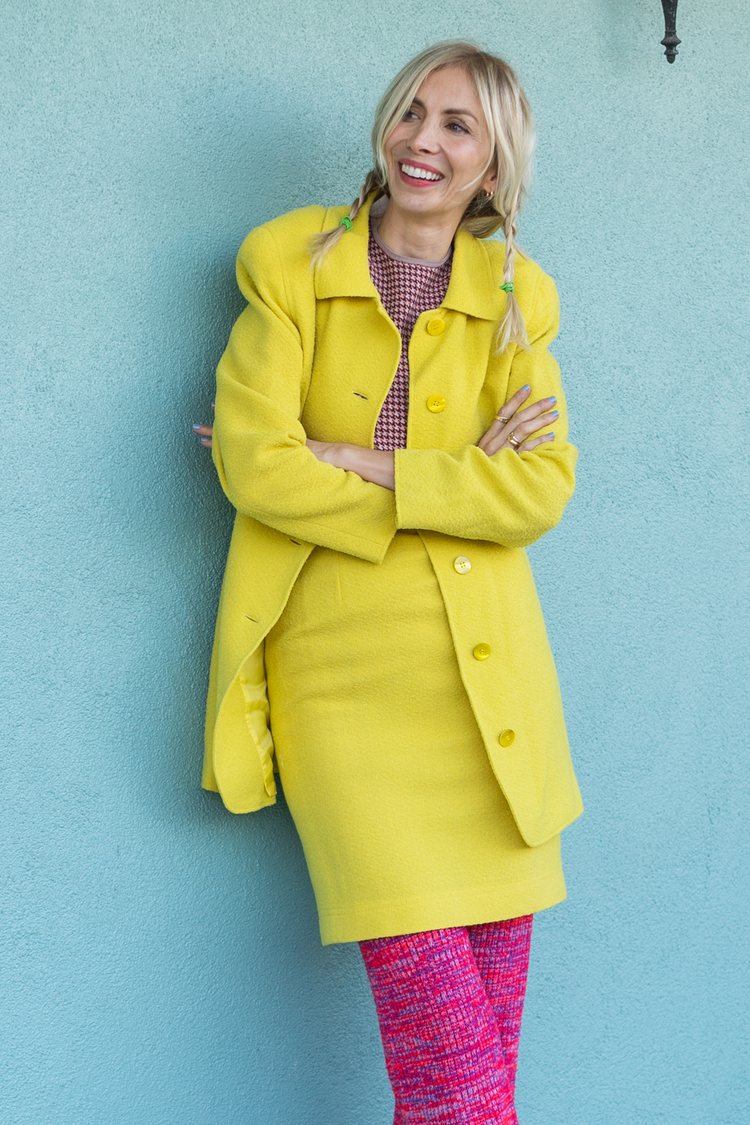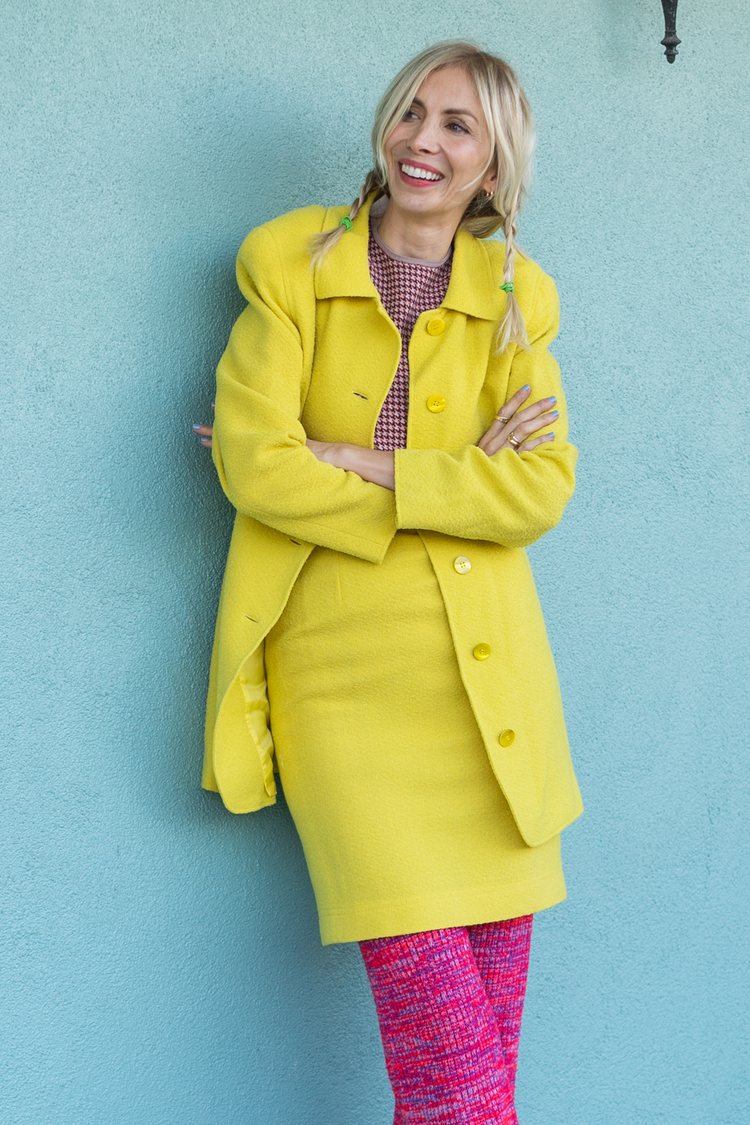 trends
Skirt Suits Are Back!
Skirt suits are making a comeback, says former stylist and vintage vendor Chelsea von Mach. Now she shares her best tips on how to style and wear this spring.
Liisa Jokinen · Feb 8, 2022

Chelsea von Mach knows the fashion trends – she has worked as a wardrobe and editorial stylist for over 10 years in New York and Los Angeles. Since last year, she is also running her own vintage store in Santa Monica, CA.
So why are skirt suits coming back now?
The skirt suit is definitely making a comeback! I would've never suspected it!? They have a bad rap for being remembered as like, "stuffy ladies who lunch" or "ladies in the workforce" in almost a condescending way?
In the 40s, they were marketed as the "Victory suit" to make women look more professional during WWII. Obviously, Chanel has done them since the beginning of the 20s, but now, women have really taken the skirt suit BACK and made it a sexy thing, that each individual woman can translate into however they want it to be interpreted or however they want to feel.
All the it-girls of pop culture have had a big part in them resurfacing: Rihanna, Bella Hadid, Emily Ratajkowski... they started sporting them ULTRA short, cropped, and super fitted, very similar to the 80s and 90s versions that were GLAM & POWER on supermodels like Naomi Campbell and Linda Evangelista with neon colors and such. Think VERSACE, who did some cool ones in cool fabrics like vinyl and leather.
In today's runway shows, they are always in the lineup. Dior's spring 2022 collection is one of my favorites. I loved how they did it in pops of color and made them very 50s/60s inspired. I almost prefer the shape of the 60s. I love how MOD they are, and they look fresh to me.
Skirts suits have become a street style staple and are so versatile because they're literally day-to-night. And I love that you don't have to always wear them together; you can mix and match the pieces with other garments in your wardrobe, so you get more bang for your buck.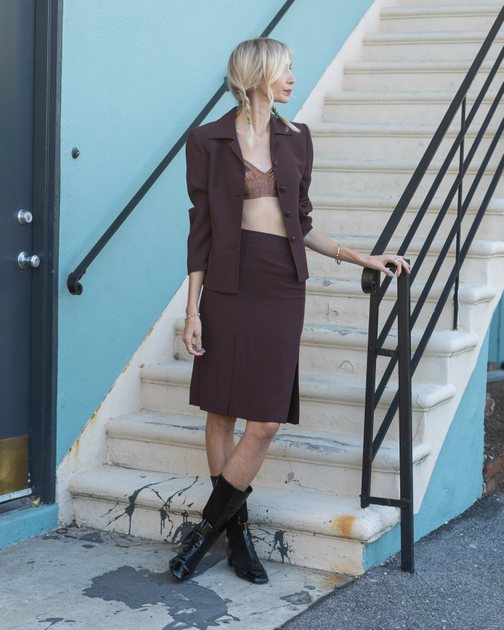 What kind of skirt suits should we look for for the spring?
I think def bright colors for sure! As I mentioned before I looove the colors Dior chose: orange, green, and yellow. Casablanca's fall 2022 collection has some cool knit ones and ones that looked flight attendant inspired which I LOVED! Kitschy fashion is so much fun to me.
I will say this: the length of the skirt will change the WHOLE vibe! Mini skirts seem like the way of the future for this spring/summer. I love how Miu Miu's spring collection went even SHORTER than the mini, which I know not everyone can pull off. It reminds me of things I wore in high school! I haven't been to Zara lately but I'm sure they will have the front of the store merchandised in skirt suits soon.
Which brands or designers to look for?
Lately, I've been collecting Flora Kung, and she did some fun skirt suits in the 80s. I like that she did them in silk (which she is known for) and the colors and patterns she chose were always eye-catching. Bright and happy floral prints!
I love when I find the brand Lolita Lempika while on the hunt, their skirt suits always have interesting hardware on them.
When to tailor a skirt suit?
It's all about proportions! Depending on how long your legs and torso are will determine the alternatives. I think most of the skirt suits look better cut as a mini, but I do think there's something fresh about a longer skirt, too.
For example this navy Christian Dior from the 80s or 90s had an odd length skirt – it is neither mini nor proper midi. The skirt needs to be made into more of a mini skirt to look better.
How to find a skirt suit that fits and is of good quality?
I think fabric content is most important. I try to stay away from synthetic fabrics. Wool, silk, leather, suede, cotton are all great fabrics for a skirt suit depending on the season.
Choose high-quality fabrics that feel rich to the touch. It affects everything. Especially the way it will lay on the body, which is KEY. So look at tags and find out what it's made of and WHERE it's made. Anything made in France is always the best.
How to style a skirt suit outfit?
For our photos, I tried to style all the skirt suits in a way where they look modern. I love the idea of wearing graphic sweatshirts or just bra tops underneath.
Take this hot pink 50s suit, for example. The length of the skirt was longer, and it was too much fabric on me (which is rare because I'm 5'10), so I ended up splitting both sides of the skirt to show more legs. Otherwise, it would have looked like I was in a costume and the set was WEARING ME instead of me WEARING the skirt suit.
As for shoes, all the suits are cute with either sneakers or a great boot. If you want to be really fashion forward you would go with a full-on 80s power skirt suit with cowboy boots. It takes a specific person to pull that look off!
Where to find good skirt suits?
I feel like I've been seeing them in thrift stores FOR FOREVER and have always passed on them unless the blazer part of it was interesting or a specific designer.
You can really score at the thrift stores while looking for skirt suits. I ALWAYS find designer ones. They could be the most prevalent item at a Goodwill or Salvation Army.
Where to get more skirt suit style inspiration?
OMMG you have to watch the 50s film Pillow Talk. The main character, Jan Morrow (played by Doris Day) wears tons of colorful skirt suits, they remind me of the Dior Spring 2022 show, but Dior went for a shorter skirt! Ohh also Tippi Hedren in Alfred Hitchcock's Birds wears this stunning pistachio-colored skirt suit. I think old movies are a great source of inspiration. It's so much fun to connect the dots when I find something currently being inspired by an old movie.
Also, Jacqueline Kennedy is great to google for inspiration, she did the skirt suit much more lady-like. They were mainly being made by Givenchy and Balenciaga at that time. I love how she always topped it with a pillbox hat and gloves. That look is ICONIC. And of course Motown fashion. Skirt suits remind me of the Supreme's and their coordinated outfits.
Chelsea von Mach
1242 20th St Suite D
Santa Monica, CA
@chelsea_vonmach