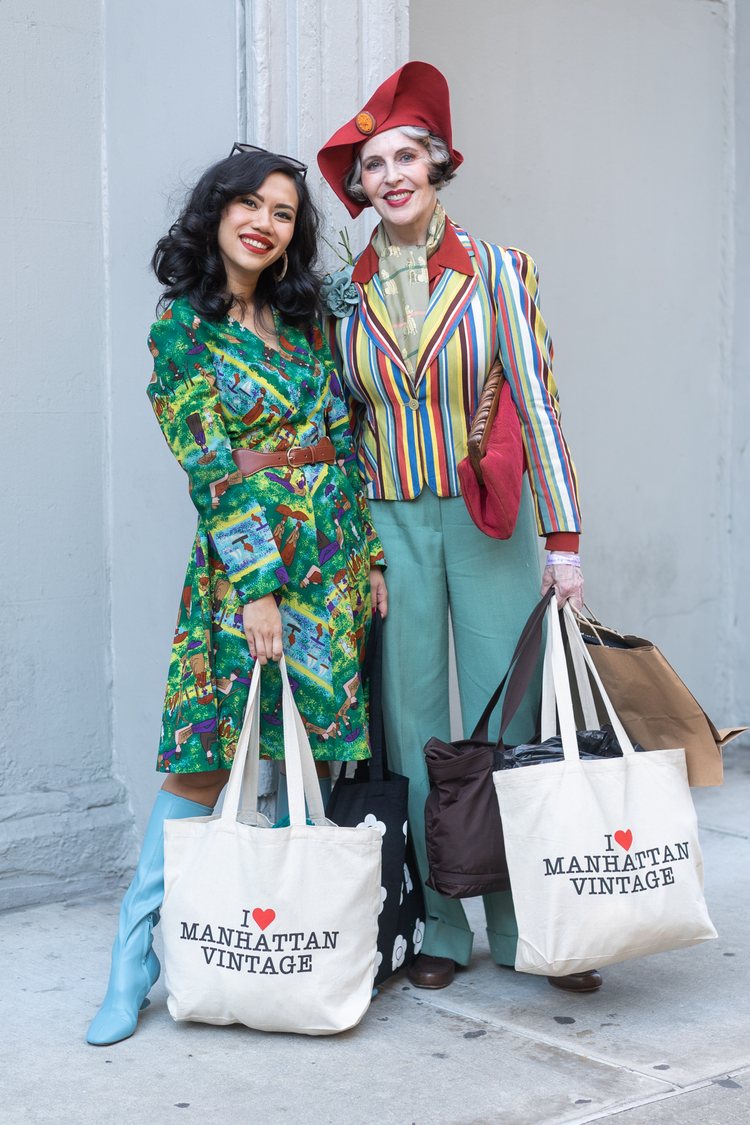 vintage fairs
Shopping at The Manhattan Vintage
The Manhattan Vintage Show is a not-to-be-missed event for any vintage lover. Check out what visitors bought at the October show!
This past weekend hundreds of vintage lovers flocked to the Metropolitan Pavilion in Chelsea, NYC, to attend the two-day Manhattan Vintage show.
There were over 90 vendors selling everything from antique gowns to costume jewelry and designer handbags. We stopped visitors outside the venue to see what ended up in their shopping bags. Scroll down to see what these stylish and happy shoppers scored this time!
Christine Wasmuth
"I went a little crazy and got 6 pieces at the show! The Victorian silk caplet is from The Falls. I loved the hand embroidery and beaded fringe. I plan to style it with a fitted white Edwardian mesh blouse and light-wash baggy jeans with black lace up fitted boots.
The coral crochet victoriana top is from Jac's Gold. I love Victorian and Edwardian pieces so much that I sometimes also buy pieces inspired by period (this one is from the 70s). I plan on wearing it with a Swiss dotted floral Edwardian maxi skirt to give it a bohemian vibe.
And finally, there is an Edwardian nightgown from Toots Vintage. I just love big ruffle collars so I had to buy this one. Toots Vintage has great vintage pieces so I'm always happy to purchase from him. I plan on styling this with some heeled lace-up boots and maybe a corset to cinch the waist."
Zoë George
"I bought this long blue coat from Flowers in the Mirror. I love the length and the color and the oversized-ness of it. I can see myself wearing it with a fun colored hoodie, or a cool hat! With some nice boots or fun sneakers. I believe the coat was $380."
Fay Leshner
"I thought the show was interesting. There was a lot of same-ness, but the booths that stood out were the ones that had a clear point of view: Buis New York, Sweet Disorder Vintage and Toots Vintage.
I picked out this hat from Buis because I can picture wearing it with a lot of the looks in my closet. It was $125. At this point, I have so many good pieces in my own collection, that for me to buy something, it really has to be special."
Kayla Hernandez & Kristin Blyverket
Kayla: "The Vintage Show was epic. I bought a Balenciaga moto bag and Tom Ford for Gucci era clutch from Yulia's Bags, and Prada heeled loafers from another vendor.
Each piece is a forever item and can be worn so many different ways. I'm so excited to add them to my collection!"
Kristin: "I loved the show too – an incredible place with so many treasures and inspiring people. I bought a 70s leather belt for $130 because I liked the dark brown leather and the gold details. I'm planning to wear it on oversized jackets or high waist jeans."
Va Va Va Voom
​​"The show was a lot of fun – shopping therapy and being able to see familiar faces.
I bought a boys' 30s brown herringbone coat and matching har for my friend's son Cormac, a poodle themed hand knit sweater for my friend Stina's daughter, Florence.
For myself, I bought a pair of robin egg blue gloves for $14 from Odds & Ads and a silk teal jumpsuit for $90 from Noble Vintage Clothier."
Jonathan Hurwitz
"I loved the show! This was my first time going, and I found it to be overwhelming in the best kind of way. Checking out the clothes at each vendor was obviously a highlight, but it was also a treat to check out what other people at the show were wearing. So much inspiration all around!
I bought a beautiful shirt ("blouse," technically!) from Escada with a penguin/polar bear print. I had that "Oh, this is my shirt" feeling when I saw it. It's a long sleeve button down... but with a penguin/polar bear twist! I was thinking I'd wear it with black slacks I recently got from Zara, but a lovely woman I ran into at the show suggested I try pairing it with something I wouldn't typically pair it with. So, what exactly I pair it with... TBD!
I got it for $95.00 from a great vendor called Malena's Vintage Boutique."
Mika Flanagan
"I try to make it to every Manhattan Vintage Show. They never disappoint and I've never left empty handed.
I bought three shirts in my forever-always-drawn-to color, yellow, from Tea Street Vintage for $235 in total, and a peekaboo 70s maxi dress from Collective Good Shop for $158. I plan on styling the dress with a bando top and either shorts or pants for the bottom, possibly with a different color/fabric apron on top for more layers. I'll be wearing my striped yellow and orange turtleneck with everything!"
Alessandra DiBernando
"The show was full of wonderful energy. I wasn't searching for anything in particular, but knew I wanted an accessory.
This Kenneth Jay Lane pendant caught my eye, and after walking around the show a few times, I decided to go back to it. I'm looking forward to styling it both dressed up and casual, and plan on sourcing thin velvet ribbon to string it on. It was $60 from Trace Carnell Clothier."
Morgan Caramello
"I bought the skirt because I have been wanting a pleated red tartan skirt and found exactly what I was envisioning and it fit perfectly. I also liked the way it looked when I tried it on over my pants in the open. I plan to wear it with mismatching patterns and tights. It was $75."
Morgan Zuanic
"The vintage show was super inspiring. I really enjoyed seeing all the different styles from all the different decades. It was great place to connect with others vintage lovers.
I bought the handkerchief because I loved the delicate look of the embroidery and it was special to me as it is my home state New Jersey. I truly bought it because of my admiration for the Odds and Adds vendor. I really appreciated how passionate the vendor was on all the things she was selling. She had a story to tell with each item. I wanted to support her so I decided to buy the handkerchief ($12)."
Rebecca Talley
"I loved the vintage show! I found it on Instagram when some of the vendors I already follow were posting about it. I saw the Lassie doll across the room at Odds & Ads and immediately knew I needed it for my apartment. I love a good random find that feels meant to be. Lassie was $65, a really good deal considering the incredible condition she's in."