vintage fairs
Shopping at A Current Affair
What did people find and shop at the recent A Current Affair vintage show in Brooklyn, New York?
Liisa Jokinen · Nov 10, 2020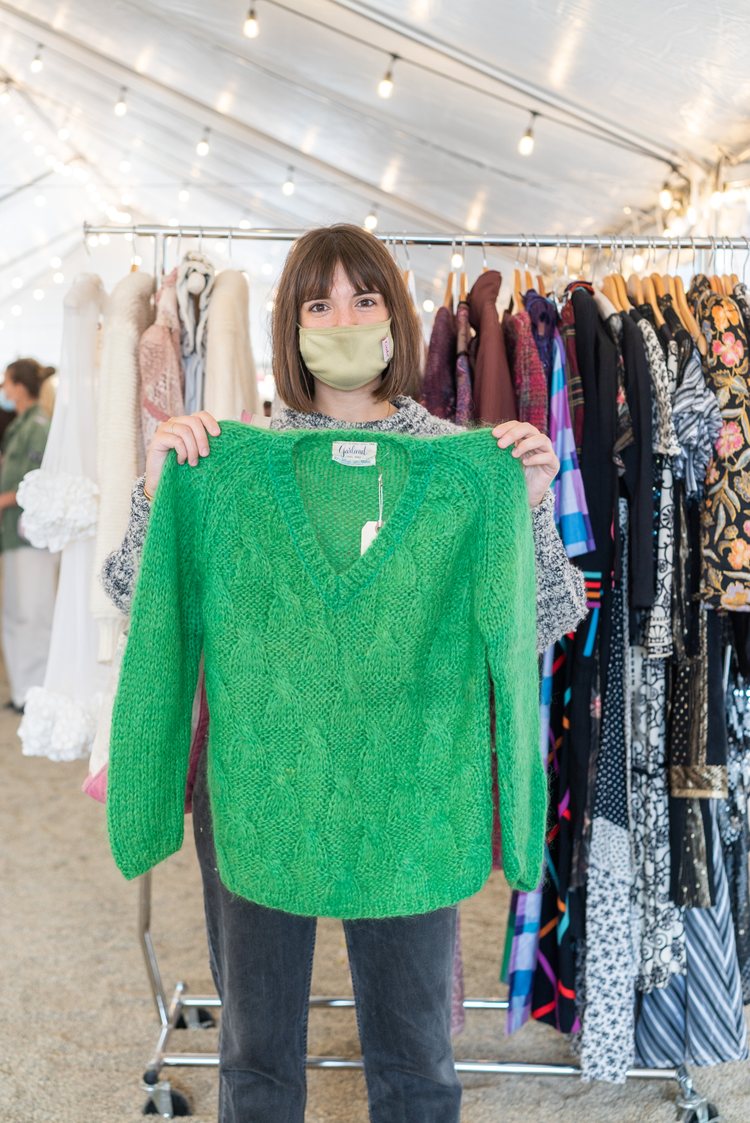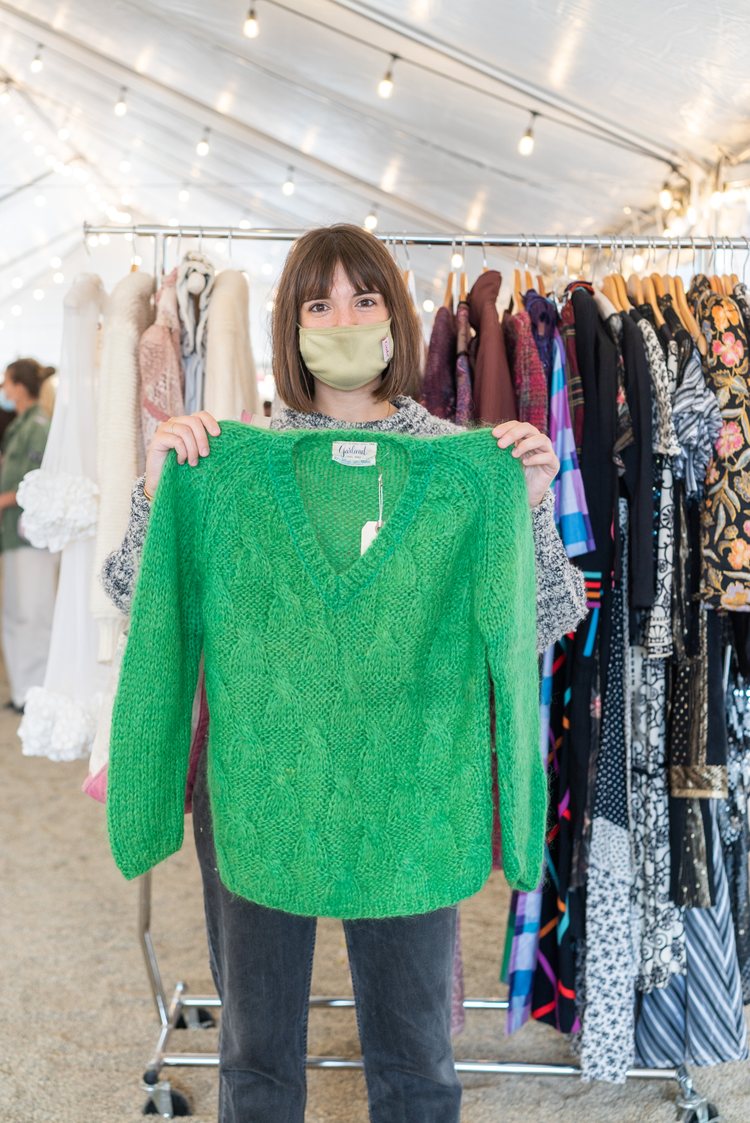 vintage fairs
Shopping at A Current Affair
What did people find and shop at the recent A Current Affair vintage show in Brooklyn, New York?
Liisa Jokinen · Nov 10, 2020

For the four weekends of October, A Current Affair returned to its New York home base, Industry City.
A Current Affair is a community of over 200 vintage retailers and private dealers showcasing carefully curated vintage clothing, accessories, and jewelry three times a year in Los Angeles and SF Bay Area and twice a year in New York.
We asked the visitors to October show what they discovered at the show and how did they enjoy the first physical vintage fair in many months. This time, the show was organized outdoors and the masks were mandatory to keep the event safe.
Beatrice Hagney, 25
"I bought this 1950s homemade patchwork skirt from Antoinette Vintage – I believe the piece was a little over $100. I've been looking for a lot of patchwork and quilted-style vintage pieces for fall, especially jackets and skirts.
At the fair, I was mostly looking for warm fall pieces, such as sweaters. I sometimes tend to indulge in the beautiful 1970s of 1930s dresses at these events, but I've been trying to be more practical recently as I don't have as many places to wear these glamorous pieces.
What I loved about A Current Affair, was the vintage sellers' fantastic curation and eye for pieces. All of them are so warm and passionate about what they do! It's always such a pleasure to talk with them about their special finds and the aesthetic they're going for that season. It's difficult to make these connections and have such wonderful conversations in a more traditional retail setting."
Rachel Seville Tashjian, 31
"I bought this jacket for $150 from Alexandra NYC, which, for a beautiful vintage double-breasted coat with this incredible taupe and gray weave, I thought was a steal. I'd been looking for a really beautiful, classic overcoat, though I obviously don't have a tame, classic style, so I wanted something with some texture and intrigue.
I'm one of those strangely patient people who want to look at every single piece in a vintage store, especially A Current Affair, which is like a museum to me – one that you can touch.
It seems like the appreciation for beautiful designer pieces has reached a larger audience of vintage shoppers, which I love. I was so excited to see all these cool Prada pieces, old Helmut Lang, Yohji, Gaultier, Norman Norell, Armani jackets... Also, as a fashion writer, it's so helpful to see those pieces in person, rather than just reading about them or viewing them in a museum setting. You can really figure out what a designer was up to and how they've influenced designers working now."
Sarah Hughes, 38
"I loved this piece from Winning & Losing because I'm obsessed with vintage Halloween costumes, especially pierrots and harlequins. It's probably an over-skirt from an old harlequin or stage costume and from the 20s or 30s.
The skirt cost $88 and I plan to layer it over Edwardian whites and pastels. I also recently bought a fairy-like 20s dress that I knew would work with this piece.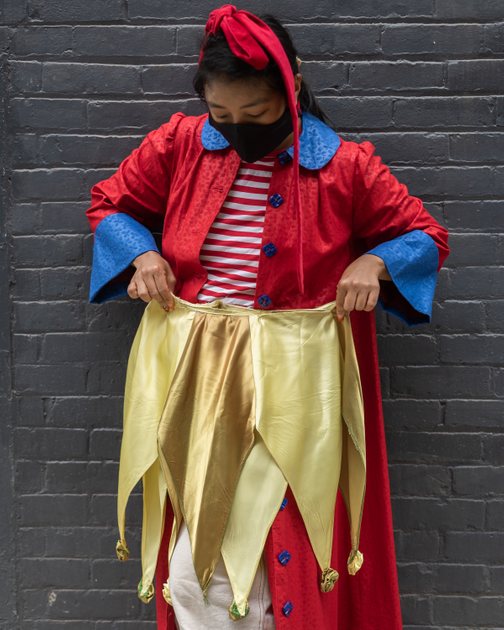 The event was great – it felt safe and it was really nice to get dressed up and be around other people who like dressing up and don't think it's odd!"
Julia Pacitti, 24
"I purchased this never been used black patent leather Tom Ford era Gucci bag with gold hardware from Amarcord Vintage for $375. I needed to replace my everyday black bag, so I plan to wear this piece EVERYWHERE! Since I only wear gold jewelry, the gold hardware definitely caught my eye first. But, the pristine condition of the bag is what caused me to actually make the purchase.
I had heard from friends how amazing A Current Affair is, but could never find the time to visit. I am so happy I was finally able to go. I love that there are so many vendors and options. No one I know who visits leaves empty-handed.
I am really picky when it comes to buying vintage. My only tip is to touch, feel, and try on everything before you decide to buy."
John Park, 25, & Javier Irigoyen, 30
John: "I paid $175 for this black and white Ferragamo silk shirt. I fell in love with the print, the buttons, and the fact that it wasn't just a standard black and white boxed print. I'm planning on wearing it to the beach."
Javier: "I'm wearing a lovely silk shirt from Lofty Vintage which I did not buy at the end as I didn't find the right bottom to wear with it, unfortunately."
"This was our first time at the fair and we really liked the selection of vendors. All of them have a different approach to vintage which makes it exciting while you go from rack to rack.
Our tip: Don't go vintage shopping alone. It's hard to browse by yourself. Going with someone that knows your closet is best."
Danielle Abramovich, 27
"I have this thing with oversized bomber jackets. I can never get enough of them, so compound that with caramel suede – sold! The vendor was Alexandra New York and I paid $150. Since the jacket is rather light, I will layer it over a hoodie or two, depending on the outdoor heating situation.
A Current Affair is a staple for my best friend, Lily, and I. We've been going for about four years now and pre-Covid would spend the day bouncing from vendor to vendor. The diversity is truly incredible.
Albeit vintage, it needs to feel modern and timeless for me – a great trench, men's tuxedo blazer, Levi's 550, etc. Personally, it's the thrill of the search I love the most. Rummaging through past decades is something special, something I cannot explain."
Christina Rinker, 25
"I purchased these amazing blue star cowboy boots from Lady Lancaster and paid $132.50 for them. I never really envisioned myself owning cowboy boots but the blue stars were just so unique I couldn't pass on an awesome find.
I ended up wearing the boots the next day – paired them with some torn up black denim, Eagles band tee, and my moto leather jacket.
This was my first time at A Current Affair. What I enjoyed about it was the space it was in. Love how it was right by a food court, outdoors, covid-safe, and had great shops to select from."
Natalie Choy, 30
"I loved too many things at the fair! I bought this fur coat from Swanee Grace. This was my first time at A Current Affair, and it was fabulous. Especially during strange times like this. My tip on how to make great vintage purchases: follow your instinct, if you see it, grab it."