people
Sewing & Styling for Happiness
Artist Allison Hamer, 28, found calm and happiness in sewing vintage-inspired ornaments. The vintage clothing hobby inspired her to practice more hand-sewing.
Liisa Jokinen · May 4, 2021
Photos: Allison Hamer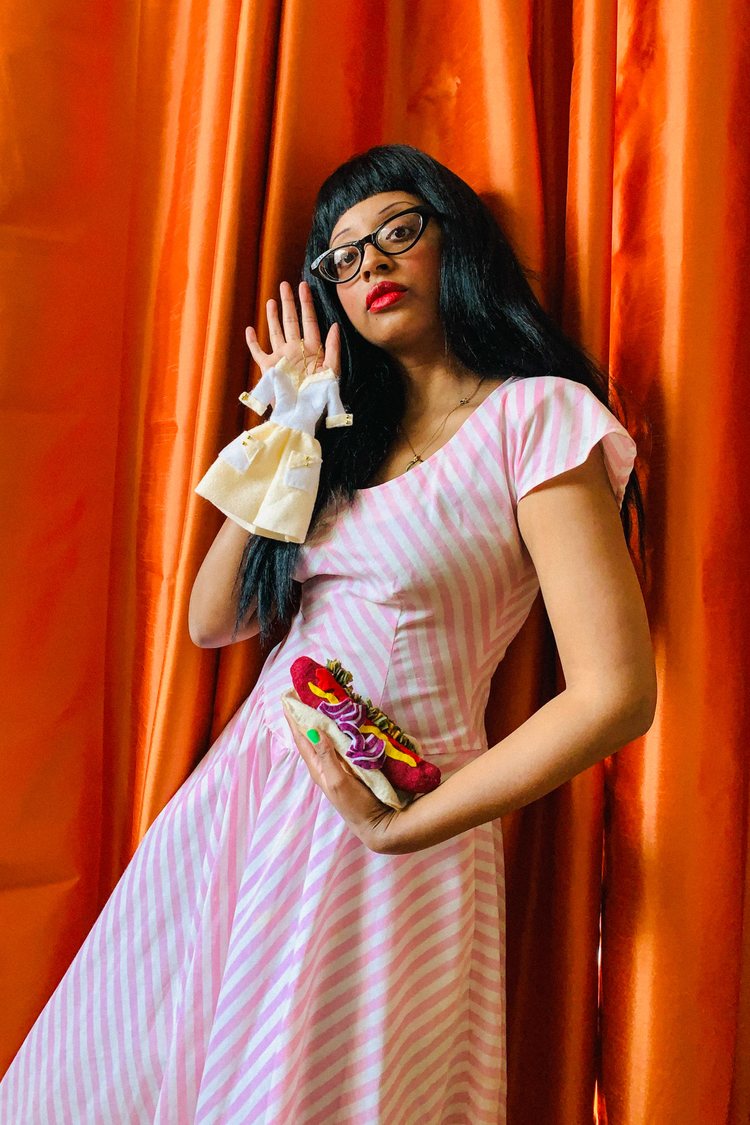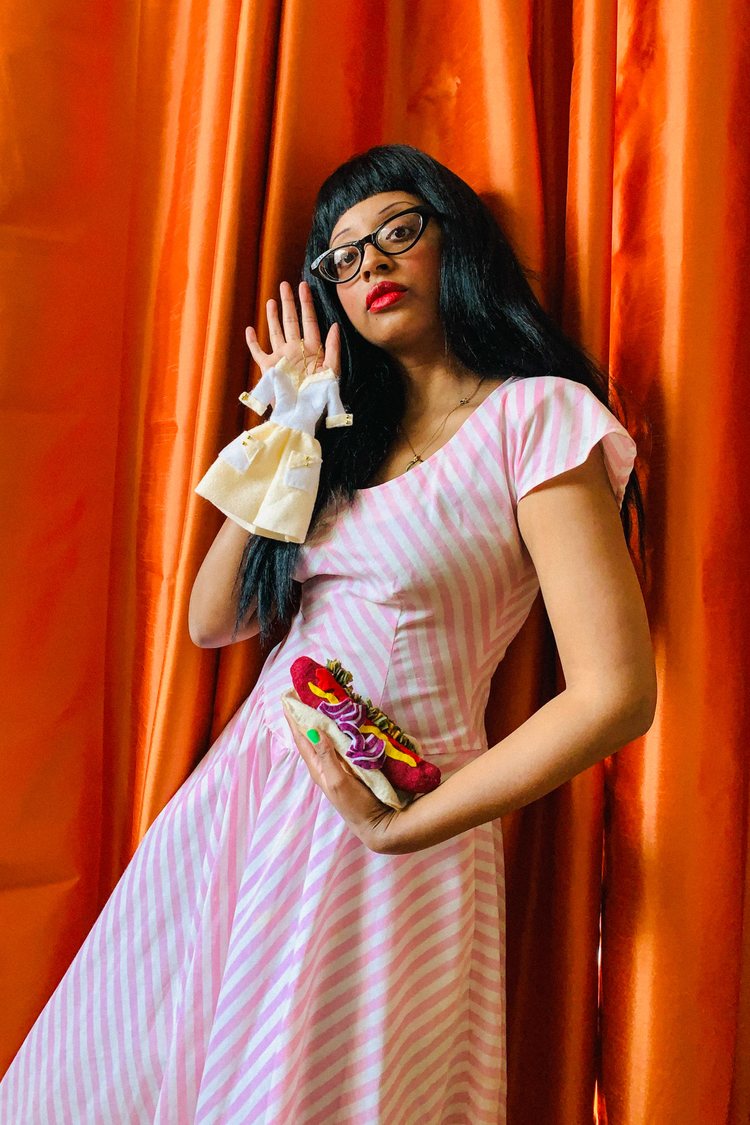 people
Sewing & Styling for Happiness
Artist Allison Hamer, 28, found calm and happiness in sewing vintage-inspired ornaments. The vintage clothing hobby inspired her to practice more hand-sewing.
Liisa Jokinen · May 4, 2021
Photos: Allison Hamer
"I started learning to sew in 2017. 2016-2018 were extremely difficult years for me, the beginning of when I started dealing with my mental illness. I had lost everything, school, work and where I lived because of my mental breakdown. I am still dealing with the aftermath but I am slowly adjusting to my new normal. I started collecting Barbies as a hobby and something soothing I could do as an activity. I thought having dolls to dress and display around would be nice for me to look at in my room.
When I started collecting I noticed how poor in quality the Barbie clothes made by Mattel are compared to the Barbie clothing in the 1990s and y2K era when I was child and playing with Barbies. I joined the Barbie community on social media and noticed a lot of adult collectors sew clothing for Barbies. I sort of knew how to sew by hand – my Mom and Grandmother taught me how to thread a needle and do some simple stitches. I also watched Youtube for some help.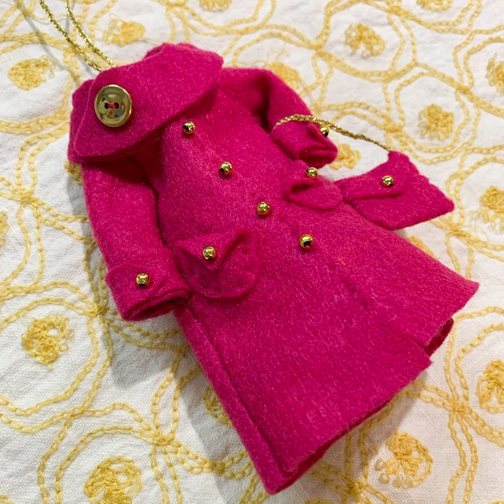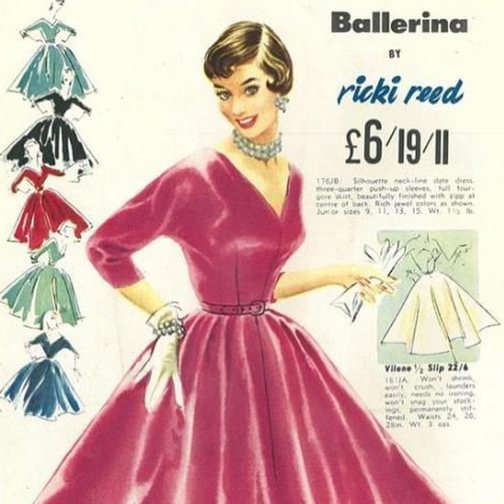 The past holiday season I also started making ornaments out of unfinished and failed Barbie clothing I have made in the past. I started with a pair of jeans that looked bad on Barbie but cute on their own and I sold them in a few hours after sharing on Instagram and people really liked them, so I just made as many as I could to make some extra money.
Most of my ornaments are inspired by mid-century 1950s-1970s fashion. Sometimes I'm inspired by songs. I will hear a song and see an outfit and imagine a character. That's how I get inspired for my own outfits at times.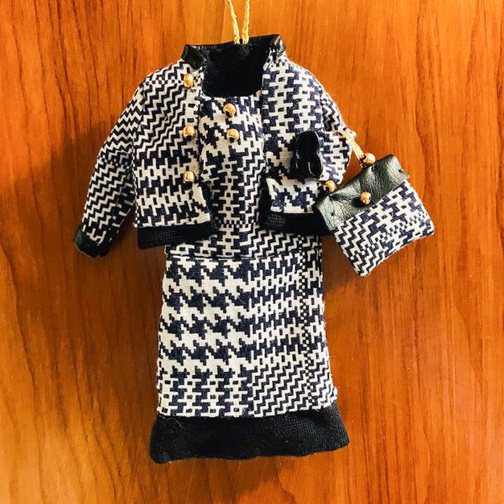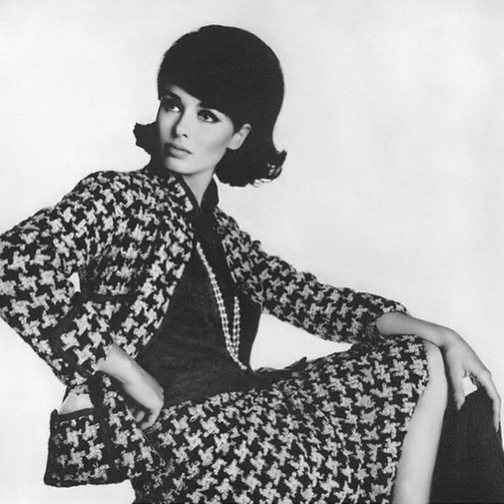 After the ornament is made I imagine who would have worn it and when in particular and make up a silly little story. Some outfits remind me of my friends so I name it after them.
Sometimes people gift me scraps or I cut up old fast fashion clothing I don't wear anymore. Recently, I got some from Get Shredded vintage shop here in Baltimore. I like to challenge myself and see how I can use the whole piece of fabric all up. The smallest scraps I use for stuffing in my felt items I make.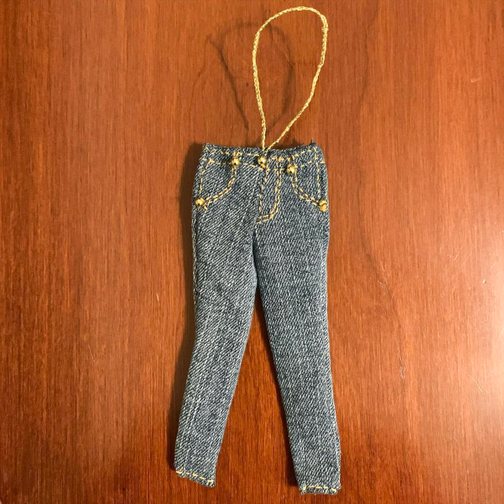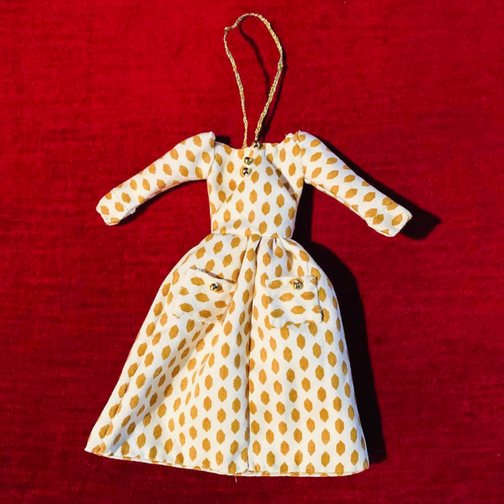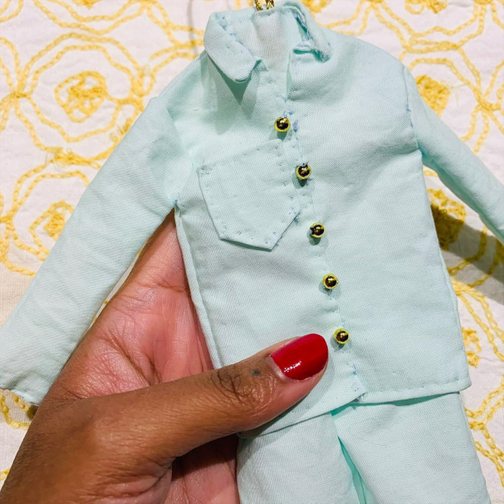 I wanted to make some cute little jeans to send to my friend José in Portugal who has become a close friend from afar because of quarantine. He recorded himself opening the envelope and it was the best thing ever to see his surprise of tiny jeans I sewed for him. He really loves denim and 1980s fashion and I thought it would be a cute surprise.
The dress was made for my friend Kelly who requested a mid-century dress with a full skirt and let me figure out everything else. This was made with old sheets I cut up.
Everyone loves tiny things! I don't know why. Tiny clothes make people smile. Sending items I sewed by hand to my friends I haven't had the chance to meet in person yet feels like sending a hug.
I had a eureka moment about a year and a half ago that I didn't have to wear modern clothing – I could have Halloween every day and dress for different eras of the past. I believe that being alive is a good occasion to wear whatever you want, especially after the mental stuff I've been through. If I can get myself to leave the house that means it's good occasion for a great outfit.
I have always been interested in history and obsessed with dates and years. Even before I started to wear vintage I was pretty good at dating clothing and recognizing styles, especially of the 20th century.
I do a look for about 1957-1963 very often and I think it suits me the best, it feels very me. But I also like to do a later 1960s look, think 1967- into the early 1970s. I like to go all in and be a bit strict with my vintage dressing. I think of it as portraying characters and I want to look like I stepped off a film set or a time machine. But, when I do these more strict looks I still often mix in modern pieces but everything needs to pass for the era I am wearing.
I like quality, flattering everyday basics that can mix and match with a lot of other pieces and be worn in many seasons. 50s housecoats are great examples of this: they are great to put on when I don't feel like getting dressed but I don't want to be hanging around in my pajamas all day.
My favorite 50s grey cardigan and 40s oxfords from my friend Nick are also great vintage basics. I met Nick online a few years ago in a fashion group on Facebook. He had the shoes hanging around and realized they may fit me. I nearly screamed when he sent them to me and I saw them. They fit me perfectly.
I got the cardigan on eBay. It is so flattering and soft. I put it on and knew I would be wearing it just about every day. It's the most perfect thing and reminds me of something the 1959 Barbie may have worn.
My friend Tina sent me the purple floral dress. She took me under her wing when I started wearing vintage. It's because of her that I started wearing and experimenting with the 50s style.
I like to do the cleaning, researching, and finding of items for myself. That's half the fun of wearing vintage for me. I like history and I like repairing and mending. I'm also very lucky that many online friends I have made in the vintage community have sent me items as gifts."
Follow Allison on Instagram @thekokolounge