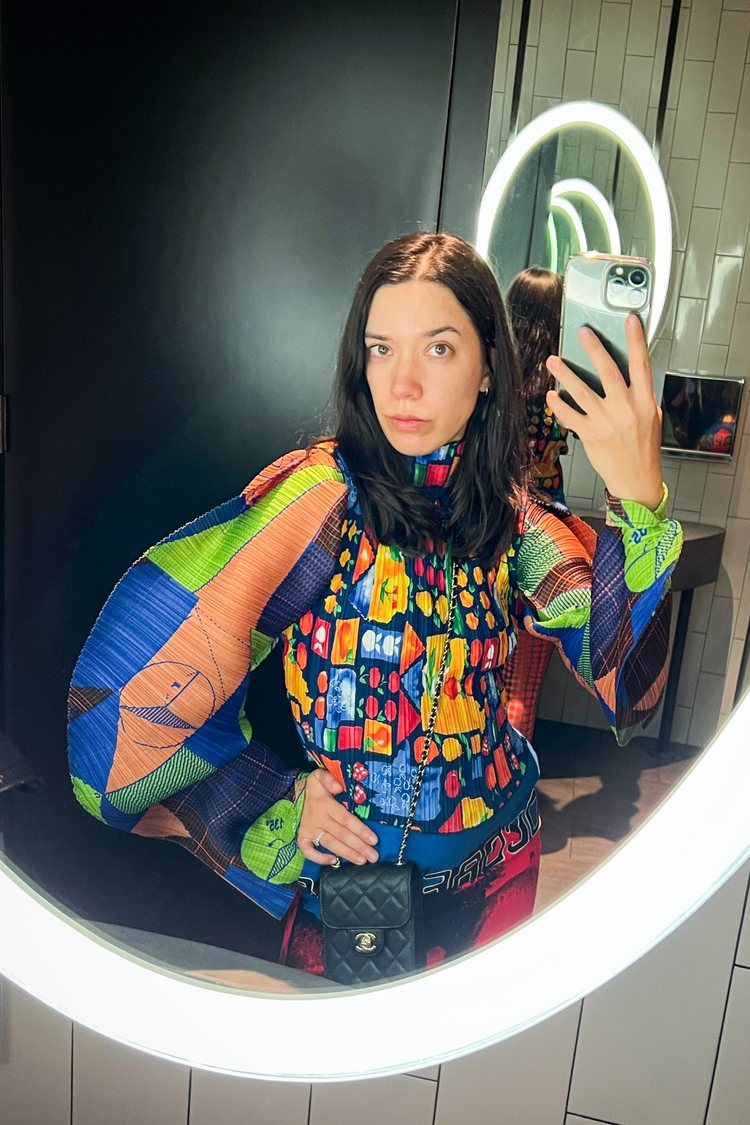 Monica Sallay is a 31 year old fashion collector and tech marketing manager based in Indianapolis, Indiana. Check out her best vintage finds!
"My style is expressive through color, layering, and coordination (or sometimes lack thereof). It's also reverent towards the designers who make the clothes I wear. My closet is heavily focused on investment pieces and I buy with value growth, quality, and design in mind.
My favorite brands to collect are Jean Paul Gaultier, Comme des Garçons, Issey Miyake, and Chanel. I would say collecting started naturally through an obsession for unique designs and avant garde pieces. When I was younger, I was constantly scrolling through runway show images on Style.com and gathering inspiration for my next hunt.
To me, a collector is someone who enjoys surrounding themselves with what they love.
In a way, everyone is a collector of something: from close friendships, to food experiences, and more.
My style has been unique and vintage-derived since being in high school, circa 2007. While my peers were shopping at Abercrombie and Hollister, I was frequenting the Goodwill down the street. My mom would drop me off at Goodwill while she would go to Target, and I'd walk out with a bag full of special finds like 80s dresses and beat up 90s leather boots.
The uniqueness of the Goodwill pieces were what drew me in the most. I knew that what I would be wearing to school could not be worn by anyone else in class. In terms of how I learned to find the good stuff, it was a game of trial and error. I learned that not all cheap designer finds were worth it. Specifically, a pair of worn out, orthopedic-looking Tod's sneakers come to mind, which I immediately regretted buying once I got home.
My sophomore year of high school, I made my first eBay purchase of a pair of Chanel ballet flats; that totally changed the game for me in finding archival designer deals.
The Loewe hat was special to see pop up in my 'bucket hat' saved search because I am a huge fan of the movie, Spirited Away. The character in leather on the hat, No Face, is one of my favorites in the film. I had been looking for these Chanel 2003 motocross boots for 8 years! I only recently got them on Poshmark for an absolute steal, albeit one size too small. However, a trip to the cobbler for stretching solved that. The Marc Jacobs 2000s frog bag was given to me from my mom. Whenever she retires items from her closet, she runs them by me, and this was a unique must-have!
My mom has always been a constant inspiration for me. She instilled my love for designer clothing and shopping for steals. Her style is not similar to mine; she enjoys a more 'quiet luxury' aesthetic. Nevertheless, her support of how I dress is something that keeps me going.
I bought this Chanel 1990s floral vest to match a pair of shorts I have from the same collection. Though they look cute together, I love how I can mix and match them separately with other pieces in my closet. The Raf Simons 2014 dress is one of my most frequently worn pieces. I actually bought another dress from the same collection because of how much I like the washable fabric and cool print.
These Chanel boots 2014 were such a good buy! I love that they have all the comfort of a sneaker with the fashion of a knee high boot. The Chanel tweed is a great classic touch to the edgy lace ups. I got the Chanel sunglasses out of necessity, but I love the 90s style. I was at a work conference and forgot my sunglasses, so I bought these on the spot at The RealReal's San Francisco storefront.
I'm lucky to have plenty of freedom in how I dress at the office. For me, going into work gives me the opportunity to embrace workwear from years before. I love incorporating shoulder-padded skirt suits and patterned button ups to liven up my 9 to 5.
I got this stunning Katharine Hamnett 90s dress for a whopping $20 on Depop in 2018.
I wore this look to a 1920s-themed gala and it was the perfect pick for a flapper silhouette. The Karl Lagerfeld 80s fan bag popped up in a simple 'vintage' saved search and I snapped it up. I came to find out later that the same bag is in The Metropolitan Museum of Art's collection! The 1920s brooch is a special piece to me (I got it from my grandma) and extremely beautiful. It is 10K gold with a small emerald that is surrounded by twirly Art Deco elements.
Each weekend, I do my Goodwill rounds and visit the locations near me. My best Goodwill find this year was an Issey Miyake skirt for $5. Lately, I've been enjoying estate sales, which I only started going to this year. If you haven't shopped at an estate sale, don't wait! There are so many amazing finds to be had and it's genuinely a fun experience.
In my experience, there's no such thing as a 'bad' Goodwill or charity shop. To find the best stuff, frequency of visits is what matters. On weekends, I'll dedicate some time to thrift shopping at closeby spots to check out what's new. In terms of online, saved searches are a must!
The sporty 2000s Chanel jacket is a recent find on Poshmark. I love easy-to-clean fabrics and neoprene is ideal for that. The 60s skirt was actually part of a set at Goodwill. I ended up donating the jacket portion due to fit, but the skirt is very transitional and simple to style. I had actually spent my saved up Christmas money in 2007 on this pair of Chanel sneakers, but returned them due to guilt of how much I had spent! Years later, I found these on Depop for $120 and was reunited with them once again. I love the mix of black patent leather and cream soft calfskin for a classy look.
The most I've ever paid for a vintage piece is $2200 for a Chanel 1995 Medium Classic flap bag. It was a birthday gift to myself and something that is a timeless piece. I bought it from The RealReal in 2018. Today, the same bag goes for ~$5000 on the site. I justify expensive spending based on any additional income I can expect, like a yearly work bonus or holiday gifts. From there, I want to make sure that the resale value will grow over time. I measure this by the rarity of the piece and sold comparables from Google-ing around.
I'd really love to find a reasonably priced glove piece from the Comme des Garçons Fall 2007 collection. Prices for these are insanely high, so I've been keeping an eye out. Saving that search in the Gem app now!"
Follow Monica on Instagram @sartorialscraps