people
Thrifting In Your Middle Age – Sabra Johnson Shares Her Thrifting Tips
Closet creative, stylist, and Instagram person Sabra Johnson started thrifting in her late-40s. Here is her journey and best tips for beginners!
Liisa Jokinen · May 3, 2022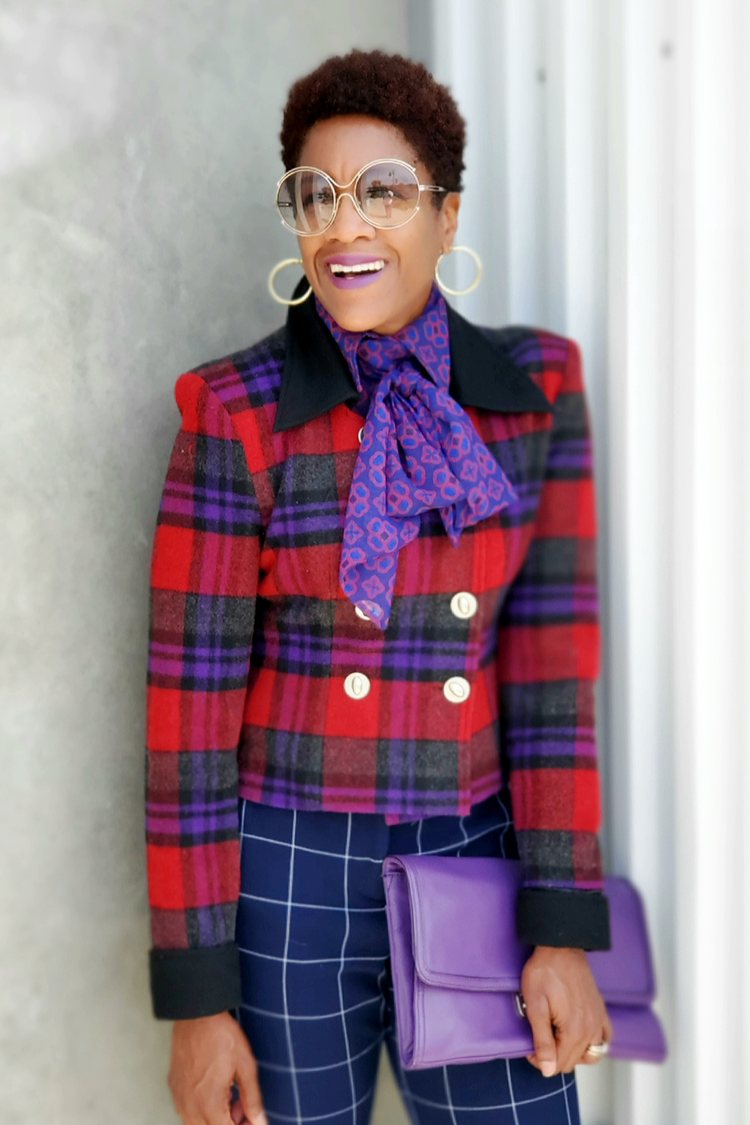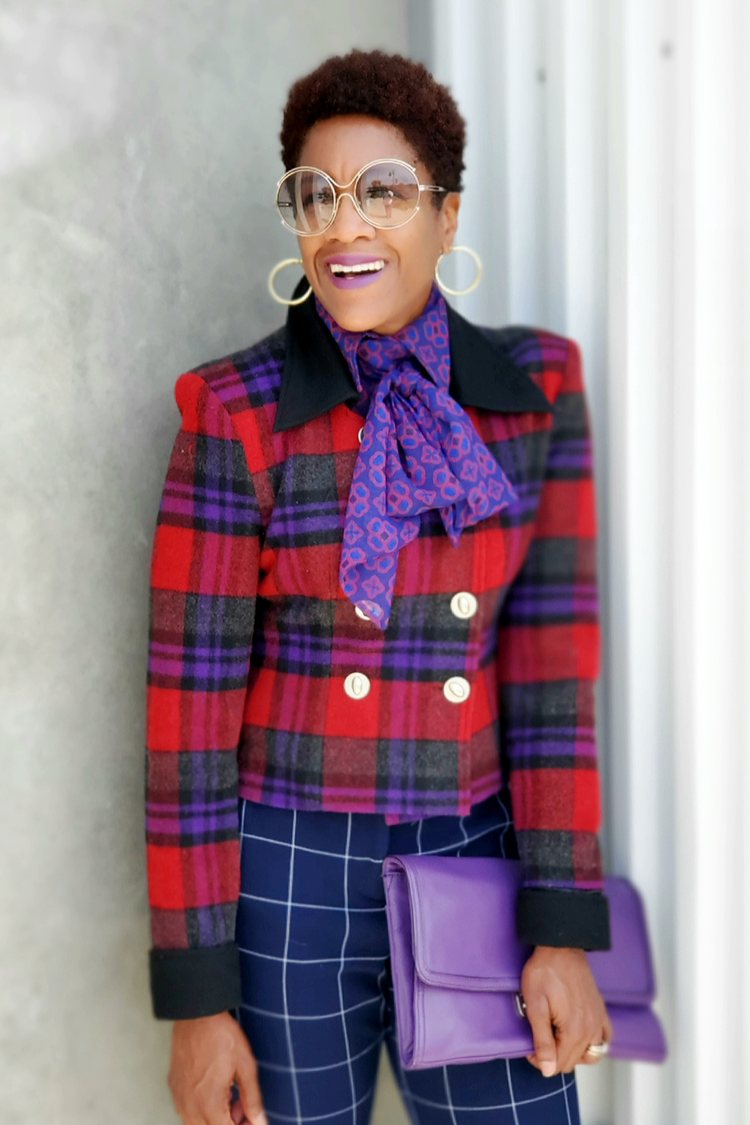 people
Thrifting In Your Middle Age – Sabra Johnson Shares Her Thrifting Tips
Closet creative, stylist, and Instagram person Sabra Johnson started thrifting in her late-40s. Here is her journey and best tips for beginners!
Liisa Jokinen · May 3, 2022

"My interest in thrifting was prompted by some of the style accounts I began following on Instagram. The people I followed were always showing amazing pieces that they thrifted. I couldn't believe they were finding such amazing and unique pieces at thrift stores. I wanted in on that action.
One of them was Patricia Dilbert of @imnutzaboutfashion. She has a love of 80s vintage style, and crazy talent for making the styles look fresh, current, and very cool. Patricia is also a master at thrifting home furnishings and remaking in them into extremely elegant pieces.
Lucy of @stufflucywore is a master at finding thrifted and secondhand pieces that reflect her specific style. Brenda of @thechiccitygirl and me have a very similar style aesthetics. I envy her thrifted and vintage finds.
I first started thrifting online with ThredUp. It was easy because I was already used to online shopping, and it was very curated, but I was still curious about the stores. My first thrifting trip was at Goodwill, which was a disappointment because I had no idea what I was doing, and didn't understand the layout of the store. I left the store empty-handed and discouraged on my first trip. I felt like I just didn't have the ability to reimagine these pieces like the folks I follow on Instagram. I say this because I learned that it's not really about the item itself, it's about your creativity in styling the items you find. You need to be able to picture how you will use the item.
My second venture was to Desert Industries on Craig Road in Las Vegas. It was well organized and brightly lit like a regular retail store, and it was a thrill. I found so many fantastic pieces, including the 80s Jones New York skirt I'm wearing in the photo and an 80s Diane Von Furstenberg blazer.
The skirt has turned out to be one of my favorite thrift finds. It's totally outdated, but I love the large-scale print, the quality is amazing and it somehow fits my style aesthetic.
I'm a layering fanatic, so sweater vests are always on my thrift list. Frankly, thrift stores seem to have the best options when I can find them. I love plaid, so I immediately jumped at the chance to buy these Trina Turk pants. Most days you will find me wearing thrifted jewelry, which has all been given to me by my mother. I have never thrifted any jewelry. My Mom has the eye and constantly gives me great pieces to style.
Thrift stores can be very intimidating for newbies. I recommend following other thrifters on Instagram – they share a lot of great information that can help build your confidence.
Also, they tend to be very creative and can show you how something that seems like it's not a very special piece, can be styled into something really awesome. This opens your mind up to see the hidden potential in some of the items in the store.
Some of my favorite IG thrifters are: Faye DeLanty who focuses on styling designer-inspired looks from the basics found in the thrift store, Chevonne Bowers Frank who is a master thrifter and has amazing style that is bold and electric, and Ruth Silverio who talks about how thrifting saved her. She always stuns me with her fully thrifted looks.
I'm wearing one of my favorite all-time thrifted finds: a leather Ralph Lauren vest. I love the vest for so many reasons: RL is my favorite brand; leather is one of my favorite textiles, I'm obsessed with menswear styling, and the quality of this piece is insane.
I did make some rookie mistakes when I started thrifting: I bought some things just because they were cheap, or because I saw one of my Instagram friends with something similar. I ended up with things I had no desire to wear and donated them back to the store. Overconsumption is easy to fall into. I don't go thrifting very often, because I will buy something every time.
I felt in love with these thrifted pants instantly. I love color and I love plaid. These pants are the best of both worlds. The original length was odd for me, so I had them cropped and now they're perfect.
I love creating unique outfits. When I thrift, I find random cool pieces and not whole outfits. This approach fuels my creativity to find how I can use the piece to enhance my existing wardrobe. I also like to imagine how the person before me wore the piece. More often than not, I wonder why they fell out of love with an item that I think is incredible.
In this photo, I'm wearing a thrifted Rene Derhy jacket, thrifted sweater vest, thrifted Veronica Beard pants, and my Mom's thrifted Etienne Aigner handbag. I love the jacket and vest for the colors, texture, and pattern. The pants are awesome because of the high-waist and wide-leg; a very 70's vibe.
It is good to have a strategy to keep from being overwhelmed while thrifting. I have an order in which I shop. Upon arriving at the store, I start in my favorite section, men's blazers and button-down shirts. Then I go to lingerie (I love wearing robes as dusters), children's, pants (I particularly look for printed pants. Plaid is always on my wanted list). Lastly, I shop for accessories –especially ties because I'm totally into menswear style.
My love for this Carlisle blazer is all about the color, texture, and amazing fit. The pants are cropped just right, and the shade of green is perfect for my colorful wardrobe.
Be patient when you thrift! I make sure I have plenty of time to search through every piece (sometimes twice) because I don't want to overlook any gems.
Go often if you are intent on finding something specific. I don't go often because I don't really need anything (nor do I have the space). If I go, I will buy.
Men's blazers are probably my favorite thing to thrift. They add polish and attitude at the same time. The rhinestone accessories make this look seem like so much more than a t-shirt and jeans.
Thrifting is like any other skill. The more you do it, the better you become at it.
You begin to really understand your style, and what pieces will work for you. It's never too late to figure out your true style."
Follow Sabra on Instagram @mystyleismybrand