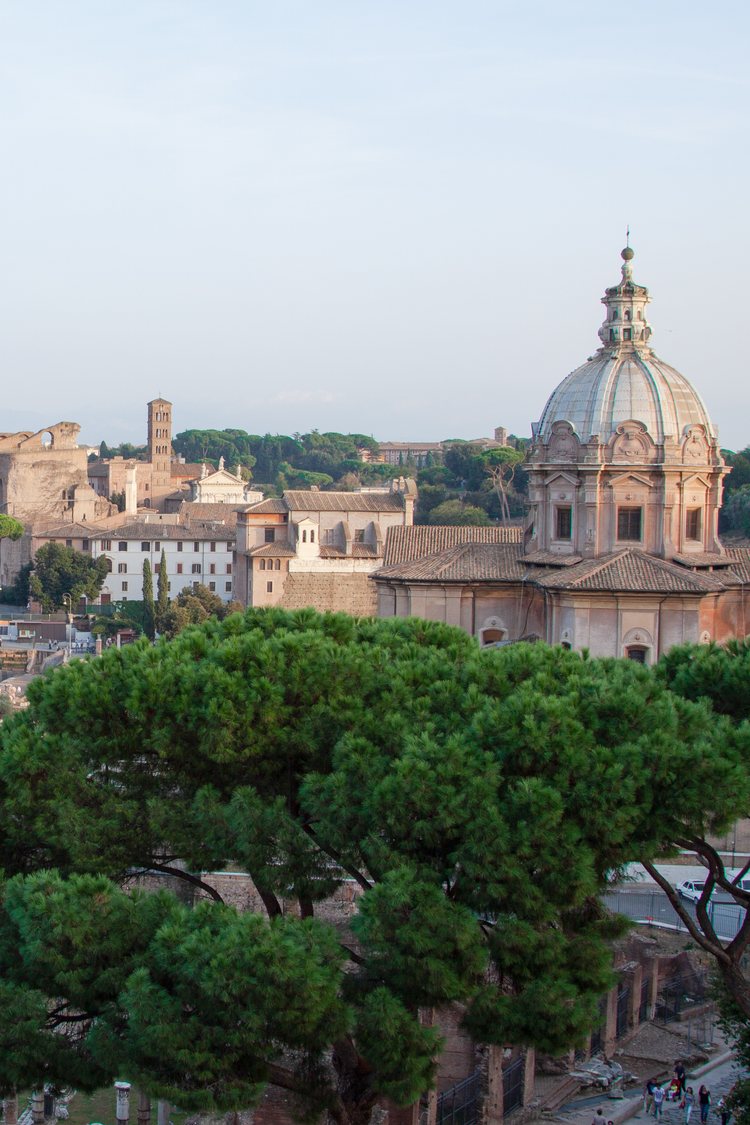 Rome is not just ruins and antiques – we explored the city and these are the best vintage and thrift stores we found.
Rome might not be the fashion capital of Italy, but it has a great amount of vintage stores to explore – and flea markets happening every day of the week. We explored all the central neighborhoods of the city and these are the best vintage and thrift stores we found! Included are also some flea markets we visited. You can find these and even more stores on our Google Maps list.
Monti
Monti is conveniently located next to some of the most important sights like Colosseum and Forum Romanum. The vintage stores are all located along three main streets – start at the other end of Monti, hop from one store to another and have lots of breaks at the neighborhood's plentiful coffee shops, restaurants, and piazzas.
Humana Vintage
Humana has three locations around Rome, two of them in Monti. If you have visited Berlin, Lisbon or Scandinavian cities, you might be familiar with the Humana stores. Their inventory is donation-based, and some stores focus more on vintage than secondhand. All the Rome stores had true vintage and lots of sweaters, coats, and jackets at the time we visited. Our favorite of them all was the one on Via Cavour as it felt less crowded than the one on Via Leonina and had lovely, helpful staff. All stores have decent prices: sweaters 19-25 euros, plaid wool blazers 21-22 euros, trench coats 25-35 euros; to list a few examples.
Humana Vintage
Via Cavour 102
+39648906187
Mon-Sat 10am-7.30pm, Sun 11am-7.30pm
Humana Vintage
Via Leonina 38
+396483831
Mon-Sat 10-7.30pm, Sun 11-7.30pm
@humanavintageitalia
Moll Flanders
Avantgarde labels and contemporary secondhand for fashion lovers and minimalists. Muted colors, and lots of black. Japanese labels like Comme and Issey, European labels like Acne Studios and Margiela. Great bags and shoes. Moll Flanders is the only consignment in Rome that carries both women's and men's clothes. "No granny vintage or fakes!", says their logo.
Moll Flanders
Via Urbana 132
+393492177817
Mon-Sat 4-8pm
@mollflandersroma
King Size Vintage
Everyone's favorite and a Rome institution! The store is bigger than you would expect from the outside – be sure to check out all the rooms, nooks, and corners. The store carries everything from denim to sports jerseys and silk dresses. Possible to find some true vintage and Italian designer gems (Missoni, Dolce, etc) if you comb trough the racks. Downsides: can get crowded because of the central location, not the cheapest pricing, and only one mirror outside the fitting rooms.
King Size Vintage
Via Leonina 78
+39064817045
Mon-Sun 11.30am-7.30pm
@king_size_vintage_
Pifebo
Three owners founded this popular store in 2007. They source the items from the US and some also from German speaking countries (spot the cool German diy soccer vests on the walls – not for sale unfortunately!) Lots of Ralph Lauren and Nike logo shirts (they seem to be Italians' current favorite brands!), sports jerseys, varsity jackets, and other American staples. Two floors to browse. Another, even bigger location in San Giovanni at Via dei Valeri 10.
Pifebo
Via dei Serpenti 135/136
Mon-Sun 11.30am–7.30pm
+39697658916
@pifeboshop
Blue Goose
Feminine, tiny, boutique-like, densely decorated store for the ones looking for designer bags or women's secondhand clothes from Italian or international high end labels. Another location in Barcelona.
Blue Goose
Via del Boschetto 4
+39648906738
Mon-Sat 11-8pm, Sun 3-8pm
@bluegooseroma
Pulp Vintage
This store is easy to spot thanks to bright red lip logos decorating the walls. "Vintage clothes, exclusive designs, and crazy stuff!" Lots of colorful prints, shirts and dresses, and occasional designer brands like Versace and D&G. Check out their Instagram for the best finds on sale. Closed for the lunch breaks.
Pulp Vintage
Via del Boschetto 15A
+396485511
Mon-Sat 10.30am–1.30pm, 4–8pm
@vintagepulp
Fabrica Studio Roma
A concept store of a Roma-based clothing line with a small but great selection of vintage accessories and clothes that deserves a mention. 70s and 80s Celine bags, vintage Gucci accessories, Fendi bags, Hermès, etc.
Fabrica Studio Roma
Via del Boschetto 14
+39064870726
Mon-Sun 10.30am-7.30pm
@fabricastudioroma
Trastevere
This romantic and touristy neighborhood is home to a couple of great vintage shops, the best thrift store we found, and the most famous flea market in Eternal City.
Twice Vintage Shop
A Trastevere gem! Nicely curated store carrying small, but just perfect collections of every possible segment, from workwear to sports jerseys, denim, and sunglasses. We loved to see some Missoni knits and Ungaro dresses. Lovingly run by two sisters Tania and Cristina since 2010.
Twice Vintage Shop
Via di S. Francesco a Ripa 7
+3965816859
Mon-Sun 11 am–1.30 pm, 2–8 pm
@twicevintageshop
Soffitta Ecosolidade
The best thrift store we found in Rome! Only open three evenings a week, profits go to homeless people in Rome. Everything in store was in impeccable condition. We spotted a 50s Gucci, a Balenciaga City bag for 300 euros, lots of Italian brands, great leather bags and clothes for both men and women.
Soffitta Ecosolidade
Via del Paglia 9
Thu-Sat 6pm-10pm
Vintage by Retro
Step through the first room and find a collection of rare t-shirts, sneakers, and sports clothes curated by Kent Edward Louise. Highly recommended if streetwear are your cup of tea!
Vintage by Retro
Viale Glorioso 8
+393293025552
Mon-Sun 11-8pm
@vintagebyretro
Merkat Roma
A small designer and vintage market takes place every weekend (Sat and Sun) in a nightclub space in Trastevere. Approximately 15 vendors of whom four were selling vintage the day we visited. Studio54 is one of the regulars, she is specialized in Max Mara coats, blazers and suits – all in great condition. Amor Vintage Eyewear sells old sunglasses and eyewear and Vivi Vintage sells timeless, feminine vintage pieces.
Merkat Roma
Via di S. Francesco a Ripa 25
+393347309936
Sat & Sun 10-8pm
@merkat_roma
Porta Portese
Porta Portese is the most iconic and famous flea market in Rome. The whole market is over 1km long with hundreds of stalls and sellers. While the main entrance is by the ancient city gate, you may want to consider starting at the Piazza Ponte Testaccio, where the market ends, as most of the curated stalls tend to be closer to that end, and it can also be less crowded.
There are lots of by the kilo sellers – you can comb through countless piles of sweaters, jeans, jackets, and blouses. Silk ties for 1 euro, cashmere sweaters for 5!
Piazza di Porta Portese
Sun 7am-2pm
@portaporteseroma
Tiber Bend
This area what we call 'Tiber Bend', follows the big bend of the Tiber river, and has some iconic landmarks and sights of Rome: Campo dei Fiori, Pantheon, and Piazza Navona. Walk the traditional vintage street Via del Governo Vecchio and visit some stores who have been here for decades. If it is Sunday, visit the Borghetto flea market.
Omero & Cecilia
This traditional store (they even don't have an Instagram) was founded in 1978 and is carrying a wide range of vintage from the 80s and older. Lots of men's items from shirts to jackets and suits, Italian leather shoes and army surplus. A friendly store manager showed us some highlights like 80s Alberta Ferretti dresses, 50s gowns made by Fontana sisters, and pieces by Capucci, Italian designer who has been called the architect of fashion.
Omero & Cecilia
Via del Governo Vecchio 110
+3966833506
Mon-Sat 10.30am-8pm, Sun 1.30-10pm
Cinzia
Another Via del Governo Vecchio staple, Cinzia has been in operation since 1980. The collection is more colorful, quirky, and wild than at Omero & Cecilia – more psychedelic and floral prints, showy costumes, and flamboyant accessories. Every piece is special and unique.
Cinzia
Via del Governo Vecchio 45
+3966832945
Mon-Sat 10.30am-7.30pm, Sun 2pm-8pm
@vestiti_usati_cinzia
Babastyles
The cutest location and the best handbag collection. Also high heels, silk scarves, jewelry, and some clothes from brands like Chanel, Hermés, Valentino, and Yves Saint Laurent. Founded by Barbara Manera.
Babastyles
Via del Cancello 21
+393737860201
Mon–Sat 10am–7pm
@babastyles11
Vintachic
The best store in Rome for true vintage dresses, accessories, and bridal dresses. The owner Esterita Di Cesare has over 300 wedding dresses from the early 20th century until the 80s, and is ready to pull more options for you and help with finding the perfect fit. A lovely store that you should not miss if you love vintage from the 80s and older!
Vintachic
Via Leccosa 2
+393495194297
Mon 3.30pm–7pm, Tue-Sat 10am–6.30pm
@vintachic_roma
Bibelot
A tiny beautiful store specializing in mostly American costume jewelry from the 30s to the 70s. Rings, necklaces,brooches and more from Trifari, Miriam Haskell, Coro, Monet, Sara Coventry, Vendome, Lisner, etc.
Bibelot
Via dei Banchi Nuovi 2
+393391563018
10.30am-7pm
@bibelot_bijoux_vintage
Spectacular Vintage
A small storefront specializing in vintage deadstock eyeglasses and sunglasses from the 60s to the early 2000s, from famous brands like Dior, Fendi, Bulgari, and Schiaparelli. Another store in Milan, and you can also find them online on Etsy.
Spectacular Vintage
Via dei Coronari 142
+393393154192
Tue-Sun 11am-7.30pm
@spectacular_vintage
Mercantile
Mercantile has two stores on Corso Vittorio Emanuele opposite each other. Both sell street and sportswear: Carhartt, River Island, Stussy, Patagonia, etc. The newer location on the north side of the street is huge and dedicated to more affordable items: two floors and both busy and full. The older location is dedicated to heritage brands.
Mercantile
Corso Vittorio Emanuele II 190-192
Corso Vittorio Emanuele II 187-195
Mon-Sun 10am-8pm
@mercantile.vintage.selection
Borghetto Flaminio Market
Italian ladies selling secondhand clothes at a small open air market. Entrance fee 1.60 euros which you can pay in cash only. Great place to hunt for designer bags, jewelry, and Italian-made secondhand. Be vary of fakes though and investigate items properly before purchasing. A small cafe and restrooms.
Borghetto Flaminio Market
Piazza della Marina 32
+3965880517
Sun 12-7pm
@borghetto_flaminio
Pigneto
Pigneto has been dubbed the new hip neighborhood of Rome – this considering it has surprisingly few stores and only two vintage shops. If you plan to do some bar-hopping in Pigneto, check out these stores as well!
Mademoiselle
After working for several years for fashion companies, the founder Chiara started traveling around Italy sourcing vintage and secondhand, and learning from the experts in the industry. She first started selling at the Vintage Market (the monthly vintage market in Rome) and then opening her store in 2018. The collection is romantic, functional and comfortable. The age of the garment does not matter to Chiara – as long as it fits the store's vibe she is ready to have it.
Mademoiselle
Via Alberto da Giussano 62e
+39652727686
Tue-Sat 11am-8pm
@mademoisellevintageshop
Bato Vintage Group
A treasure trove of deadstock streetwear, denim, and sneakers. The owner Simon has collected Visvim shoes since 1999 and was the second retailer of Edwin, the legendary Japanese denim label. Lots of Stussy, Nike, and Adidas, too. Ask Simon if you are looking for something specific and he might open some extra boxes for you!
Bato Vintage Group
Via Galeazzo Alessi, 176
Tue-Sat 10 am–1 pm, 4–8 pm
+393888621656
@batovintagegroup
Testaccio & surroundings
Located across the river from Trastevere, this quiet residential neighborhood has a lot of restaurants and a couple of vintage and thrifts stores.
Shop in London
The most specialized and tiniest secondhand store in Rome! This shop sells and repairs pre-used Barbour coats, hats, bags and accessories. The story started in 2010 when the founders of the store discovered Portobello Market and British vintage in London. They started to resell British vintage in Italy where labels like Barbour were not so well-known yet.
Shop in London
Via Marmorata 93
+393477719162
Mon-Sat 10.30 am–7.30pm
@shopinlondon
Mercat Ecosolidale
This charity thrift store might be one of the best hidden thrift stores in Rome. The store is only open three evenings a week. It consists of several hangar-like halls: one is dedicated to vintage, one to secondhand, one to homegoods, and the last one has sale bins and racks (prices ranging from 1 to 5euros).
The vintage room was a true treasure trove. Ferragamo, Fendi, Dolce and other Italian labels, silk blouses, Max Mara wool coats, and other quality Italian-made labels in great condition.
Over 20 people were waiting in line before the opening of the doors when we visited, and more people arrived steadily. The crowd consisted of locals, a few tourists and trendy hipster guys snatching River Island sweaters. So arrive early and prepare to dig!
Mercato Ecosolidale
Via del Porto Fluviale 2
+390657300510
Thu, Sat and Sun 4-7pm
@mercatoecosolidale
Via Sannio Flea Market
Partially covered market open Mon-Sat. We recommend visiting on a Saturday when most booths are open. About 50% of the sellers sell new stuff but you can still find good vintage leather jackets and coats, denim, cashmere knits, and army surplus here. Our favorite seller Passioni di un Tempo, specializes in antique lace and textiles, lingerie, and kids' vintage. We wish Via Sannio had more sellers like them!
Via Sannio
+393288589811
Mon-Sat 8am-1pm
Prati
If you visit the Vatican and its museums, stop by at one of the best menswear stores in Rome, and discover some new restaurants in the residential neigborhood of Prati.
Lighthouse Station
Carefully curated men's classic and heritage vintage in a beautiful setting. Denim, leather shoes, workwear. Worth venturing out to this store if you are looking for quality menswear and iconic pieces.
Lighthouse Station
Via degli Scipioni 35b
+393351608816
Mon 4pm-7.30pm
Tue-Sat 11am-2pm, 4pm-7.30pm
@lighthouse_station