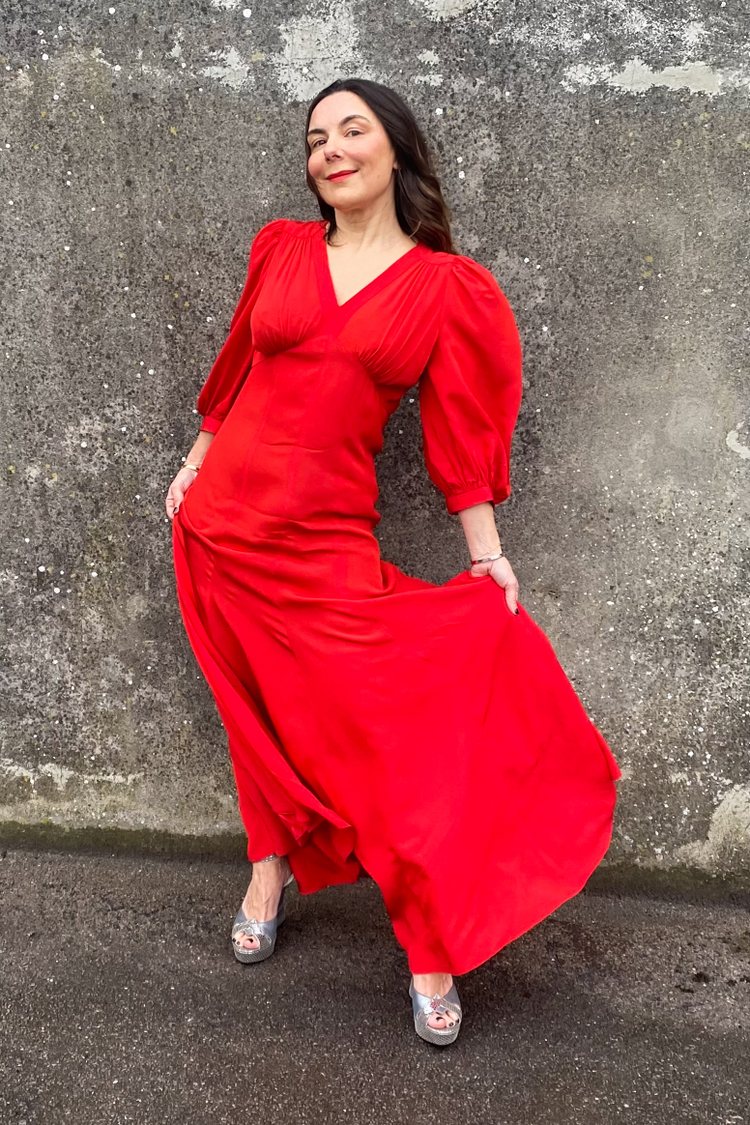 Quorum challenged the fashion of the times and made London the place to be in the late 60s. We asked Emily Bothwell of The Archive London to tell the story of Quorum and how she fell in love with the 60s and 70s fashion.
"I was about 13 when I came across 60s and 70s fashion. I became obsessed with the mod look firstly, then I started mixing looks from these eras through my teens. All my friends wanted the clothes from the high street yet I would trawl charity shops looking for vintage finds!
Ever since, I have loved 60s and 70s vintage, especially the designs of all the Quorum designers. Quorum, Biba and Mary Quant were influential in creating the cool mood of swinging London, a scene that became recognised worldwide and made London the place to be. This was a period in time when London was breaking the rules; when fashion, photography and music converged. Quorum set the precedent for London becoming known as a creative, cultural capital.
Founded by Alice Pollock in 1964, it was her collaboration with then-little-known designer Ossie Clark that put Quorum on the map. Ossie joined Quorum first as a designer and then as her business partner. Ossie brought his wife Celia Birtwell along too, who famously designed the beautiful prints that Ossie Clark dresses are known for today. Celia would also go on to collaborate with other designers that Quorum were working with at the time. Alice was quite a visionary and despite being an amazing designer herself she was happy to effectively take the backfoot to support Ossie and his vision.
Other Quorum designers included Tony Costello, Kathleen Coleman, Fiona Ronaldson and Terence Nolder, a creative collective that were instrumental in changing the way women were starting to dress. Earlier women would traditionally dress similar to their mothers. Thanks to these new designers, the first generation to not dress like their mothers was born. When I come across original 60s mini dresses today you can't quite believe how high they went. In some ways, anything went as long as it was glamourous and cool. In contrast, the mothers wardrobes' were quite formulaic. Suddenly there was a abundance of choice, colours, textures, super short, glamourous long, psychedelics.. this wasn't just the ladies – the men were equally dressing outrageous.
Quorum Collections were presented to a loyal mix of cultural icons and fashion followers twice a year. These were in essence the first fashion shows, or runway shows as we now call them, and they became huge events. The Quorum show at the Revolution club saw Jimi Hendrix and Rolling Stones in the audience. This merging of music, film, and fashion hadn't happened before. Patti Boyd would only do runway shows for Quorum. Up until then, fashion shows had been intimate affairs, more like salon shoes, and these shows were new and exciting. No-one had ever experienced fashion shows on such a scale. They truly set the tone for what was to come.
Quorum was significant because collectively they had a huge impact on fashion. While Ossie was the first to experiment with 30s bias cut design, this had an impact on all the designers working at Quorum, helping to create a timeless, collective vision. The 60s were a huge cultural revolution emphasizing modernity and fun-loving hedonism. It was an era of pushing boundaries and Ossie and Alice articulated this through their designs.
A visit to the Quorum shop on a Saturday wasn't just about shopping, it was an experience. The combination of loud music, and the fact that customers were able to mix with the celebrities of the time made it the place to go.
Celia is still working today and created a highly sought after collection for Topshop in 2008 and has gone on to collaborate with other high street brands. Celia Birtwell and Ossie Clark of course feature in the absolutely iconic painting by David Hockey, who was very friendly with the Quorum collective. In fact, he was best man at Celia and Ossie's wedding, which led to him painting the famous 'Mr and Mrs Clark and Percy' in 1970-1971.
For me, it was mainly Ossie that stood out. I have been collecting items from these designers since I first started selling vintage at Portobello Market in the early 90s. Now I have a large collection of Ossie Clark dresses, around 50 pieces. I also have other Quorum dresses designed by Betty Jackson, Sheriden Barnett, Terence Nolder under the Quorum label.
In that brief era of history, those designers created pieces that have withstood the test of time. They haven't dated. If you purchase a true Ossie Clark, Alice Pollock, or Celia Birtwell you are buying into a piece of fashion history. These items are over 60 years old and have surpassed fleeting trends, they are stand-alone pieces. I think now that people are turning their backs on fast fashion, and are not as influenced by fleeting trends anymore, they are turning to investment pieces. This has seen a big resurgence in demand for true vintage pieces.
If you consider that the energy and excitement of the 60s created these beautiful dresses, you can't recreate something like that. These are one-offs. I have been wearing these dresses myself for over 30 years and they never date and always seem relevant. What makes them so unique and special is that they come from a small window in time that seems to remain relevant forever.
Part of the Quorum's legacy is that they remain so sought after today. Their designs are still worn on the red carpet by celebrities and have a timeless appeal. I have dressed a host of celebrities in vintage dresses from Quorum, including Billie Piper and Jenna Colman. Alexa Chung and Fearne Cotton are also vintage fans and have worn some of my 60s and 70s vintage pieces.
Like Fiona Donaldson has said: "Ossie and Alice managed to articulate the freedom of the decade and express what was going on through their designs."
Shop vintage from The Archive London on ASOS Marketplace: The Archive London
@thearchivelondon