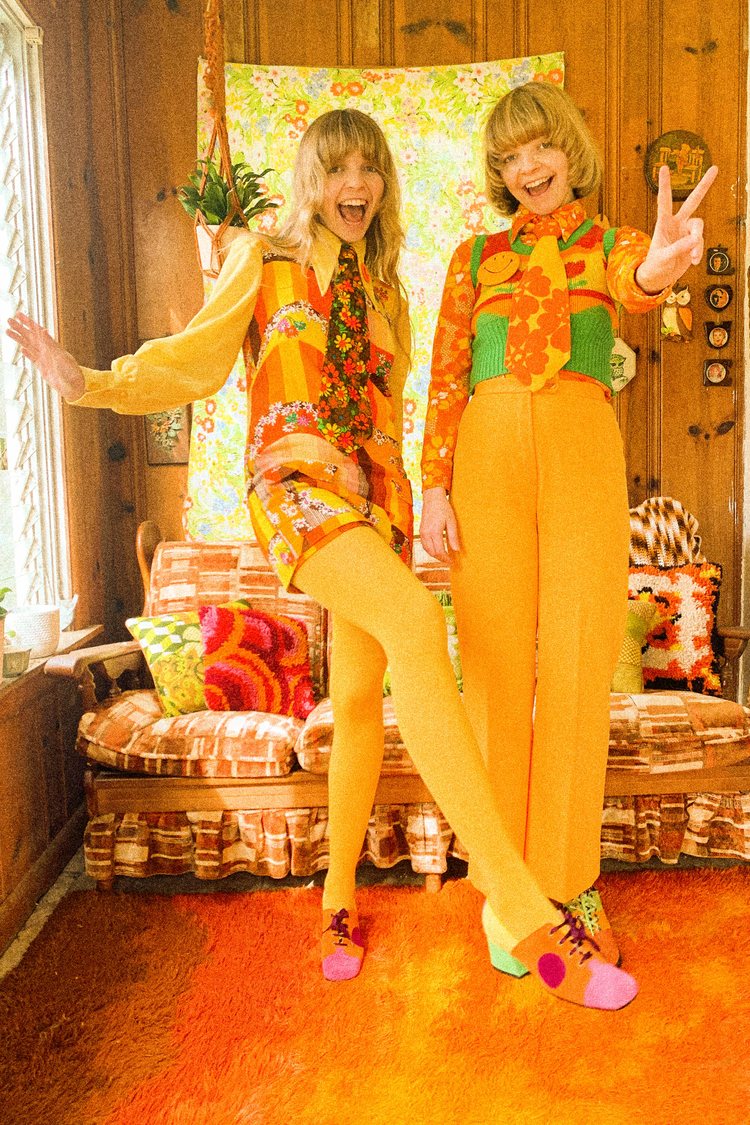 Identical twin sisters Emma and Grace Allen, 23, love anything vintage, matching outfits, lime green, and Oxford shoes.
"Our first vintage piece was bought in our home town San Marcos, Texas, at this little antique shop by the river. It was the cutest little prairie dress. Sadly, the store was washed away in a flood one year.
The moment we bought that first dress we knew vintage would make us stand out. We never wanted to fit in with the crowd, and vintage brings something unique that most modern brands don't carry.
Once we really started getting into vintage it became like a big, exciting treasure hunt. The excitement of finding one of a kind things is a big reason why we love vintage.
We also really love the ethical view on buying vintage. We love our planet and the people on it and buying fast fashion exploits the workers and harms our environment.
We shop for vintage literally anywhere and everywhere: online, in old ladies' houses, estate sales. We love perusing Etsy – our favorites list has over 14,000 items.
Our favorite thrift stores are all over Texas, the best ones are always those random rural ones far from Austin. Our favorites in Austin are Prototype Vintage, Blue Velvet, and Roomservice Vintage – shout out to them for furnishing and decorating 85% of our home. We also love Vagabond in San Marcos for the killer deals.
Our favorite decades are hands down the 60s and 70s. We can never get enough of those bright prints and flower power. However, we have a love for all eras of fashion and will branch out to lots of eras if we love the item enough. Victorian clothing has always sat upon a romanticized thrown in my head haha. So beautiful and dainty.
Lime green is definitely both of our favorite color. A big majority of our wardrobe is in green tones. We also love mustard yellow, pink, and orange. And can rainbow be a favorite color...?
Some of our favorite pieces are Bobbie Brookes, they have the best prints. Always super fun! We also always swoon over 70s Fredericks of Hollywood. Cause who doesn't want to feel like a sexy disco babe?? Also, 60s and 70s Malia of Hawaii – the best flower power prints.
There are too many style icons for us to even name but one group in particular that has strongly influenced us is The Fool Design Collective. The bright color combinations, psychedelic prints, and clashing patterns enthrall us to no end. We also love Janis Joplin, Jimi Hendrix, The Beatles. And of course, we can't forget Twiggy, she is an icon to so many, and rightfully so! Can we all just be Twiggy for a day?
We love watching old tv shows for style inspiration. We love Marsha Brady and totally try to emulate her sometimes. Also "That Girl" main character, played by Marlo Thomas, has the cutest style!
Also, love looking through old magazines, we went to an art school where they had every single copy of Vogue and Harpers Bazaar ever. That was an amazing resource for inspiration as there were photos on there that I've never even seen on the internet.
Outfit planning involves us just sitting in our closet staring at the rack of clothes. Sometimes it comes easily to us and sometimes we just sit and stare for an hour, stumped on the look we want to rock. We normally start out with a color we wanna wear that day and go to that section of the closet. Then we kinda just start adding styling elements from there. Sometimes we laugh at ourselves because we usually don't feel like an outfit is complete unless we have a tie or an ascot on – haha – is there a thing such as over styling though?
We twin as much as we can! Which is funny because when we were younger we didn't want to dress alike at all really. Being a twin you kinda get grouped as one person and when we were younger we hated that but now we actually love it! It is so fun looking for matching vintage items, definitely a challenge but we've found way more than we ever thought we would.
If one of us buys something it's for both of us you know? We enable each other so much when it comes to our vintage addiction! Emma does have more of an affinity for 70s boho and hippie style clothes while Grace is always a sucker for psychedelic.
At the moment we want to find lime green and pink bell-bottoms – that's what's missing from our pants collection. Also, any type of poet sleeve blouses as we are always looking for cool shirts to layer under dresses or vests.
One of our favorite things to collect is vintage buttons and pin-backs. We have so many at this point but if we see them we will never not buy them. We love the addition a cute button can add and there are so many with funny sayings from the 60s or 70s that just crack us up.
We also collect ties and scarfs! Another styling thing that we can't live without. We had this one with smiley faces all over it and we haven't been able to find it for ages, we are super sad about that one. And finally, we also collect color-blocked Oxford shoes. If we find ones we like in our size, there is just about nothing that can make us not buy them.
Before the pandemic, we worked at a vintage store in Austin which – hello!! – is perfect for us considering the discount. Recently, we started selling vintage on Instagram and shocking to us, it's going really well. At first, we weren't positive on continuing it but after the amazing support from our followers, we decided we are gonna make this a real thing. We are wanting to make an Etsy store and maybe one day we will even have an in-person spot! Our dream would be to start our own line of clothing one day.
Currently, we reside in an old house in San Marcos, Texas. It may be falling apart but it has got the vintage charm we can't live without. Our space is so important to us. We want every part of our life to reflect who we are and inspire us so naturally, our house is a big part of that.
Now that we've been wearing vintage for over 10 years it's become a part of who we are. There's really not a moment when we aren't in vintage, even when we are sleeping – it keeps us inspired and feeds our souls.
When we aren't playing with clothes you can usually find us swimming in the river and reading books, listening to music, and dancing. We love going for drives and sticking our feet out the window, singing our favorite (and sometimes embarrassing) songs."
Follow Grace & Emma and shop their vintage on Instagram