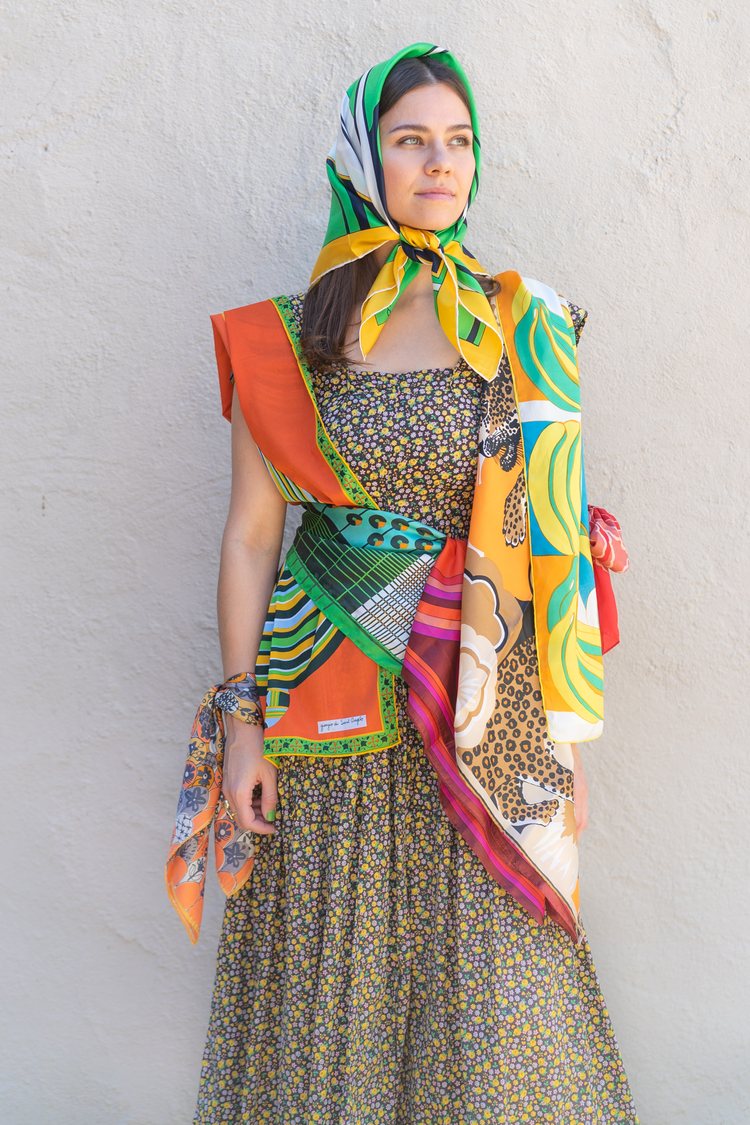 Meredith Minne runs a vintage business dedicated solely to vintage scarves. Read her tips on shopping, storing, and wearing these fun accessories!
"When I wear a scarf it reminds me of being a child and draping myself in my Mom's silks and how luxurious they felt on my skin. I don't think I can be in a sour mood and wearing a scarf.
Scarves are an easy way for anyone to get a little vintage into their wardrobe.
A simple scarf will easily elevate any outfit with minimal cost and effort. Anyone and everyone can rock one in a subtle or flamboyant way. And there is a scarf for absolutely every kind of personal style: op-art graphics, lush florals, paisleys, polka dots, psychedelic scenes or rustic tableaus…there is an unlimited supply of fantastic vintage scarves out there! As an artist myself, I appreciate seeing how different designers used the confines of the scarf shape to play and experiment with visual ideas.
Shopping vintage and thrifting has always been part of my life. I enjoy the artistic styling opportunities and respect the sustainability aspect of 'second-hand'. When I lost work at the start of the pandemic I found the time to conceptualize something new for myself. Why not try selling?
Outdoor markets became viable after the first wave of COVID. So, I dove right in. I discovered that the creative impulse to wear vintage was a comforting and fun distraction to people during a very uncertain time. The vintage shopping experience is so different than wandering at the mall. It's more like a treasure hunt.
I've learned that people who shop vintage are independent-minded yet don't take themselves too seriously.
I feel very lucky to be in LA where there are enough creative buyers to support the wonderful community of creative sellers!  
Currently, I'm loving some early Pierre Cardin and Jeanne Lanvin scarves. The colorways are fantastic with stunning modern designs. This delightful modernist poppy by Cardin just screams 'frame me'.
If you want to be sure your scarf is silk you can look at the tag, but if it's been removed a good rule of thumb is to see if the edges are hand-rolled. It's good to check if the material has a nice drape with a smooth luster and feels gentle against the skin.
Silk warms up with friction so try gently moving it around the palm of your hand to see if you feel its change in temperature – if you don't it's probably not silk.
Giorgio di Sant'Angelo made some incredibly colorful animal and folklore-inspired scarves that I adore. This sky-blue Sant Angelo oblong silk with a tarot-inspired sun and moon motif is a brilliant example of his bohemian folk art flavored fashion.
Silk is usually what I look for because it feels the best on the skin and drapes so elegantly. Having said that I also really appreciate poly, acetate, and rayon if the graphic is fun! Especially for wall art because synthetic colors hold up well and have a great shine. 
To take good care of your silk scarves you can drape or stow them somewhere out of direct sunlight to more effectively protect the color.
You don't need to wash a scarf after every use. The fibers are actually anti-microbial.
If the scarf was a big investment definitely turn it over to a trusted dry cleaner, but most scarves can be laundered at home in a small basin.
Gently hand wash it in cold purified water with a small drop of silk safe detergent. Don't leave it soaking, the color may bleed. Just a few minutes in a cold bath and then agitate the fabric with suds. Rinse gently but completely. Dry indoors by lying it flat on a towel to avoid wrinkles. Careful steaming is effective at removing most wrinkles in silk.
If you want a scarf in mint condition expect to pay for it. If you are forgiving and you don't mind a blemish or two you can get a much better deal. Tiny spots are easily hidden in the folds of a scarf as you wear it.
If you are looking for a stellar quality silk scarf, look for plump hand-rolled hems. If the hem is coming unrolled at the edges a tailor can fix that for cheap.
If you are shopping for a specific designer like Chanel be aware there are fakes.
Check to see if the attached label is hand sewn and of impeccable quality. If the signature on the scarf is blurred or irregular, it's a fake.
There are countless ways to wear a scarf. You really can't go wrong with a classic knot at the neck. A simple loop tie is also easy and casually elegant. For bad hair days a triangle tied under the chin (the babushka) has classic mystique. I also love a full head wrap – it makes a bold statement. A pony-tail scarf can really add visual interest without much fuss.
And a scarf on the wrist feels really good – more people should try it! The silk is much more comforting than a bangle.
Youtube is an amazing resource for tutorials on tying scarves. Turn your scarf into a rosette, weave two scarves together, braid a scarf into your hair, build your own scarf dress… the options are limitless!"
Follow @pryde_vintage on Instagram
Model: Jennifer Rose Porter sells her vintage clothing under the name The Mystic Lamb in LA.