style
10 Pickwick Vintage Show Looks
For your inspiration – ten vintage looks spotted at Pickwick Vintage Show in Burbank in February.
Liisa Jokinen · Mar 17, 2020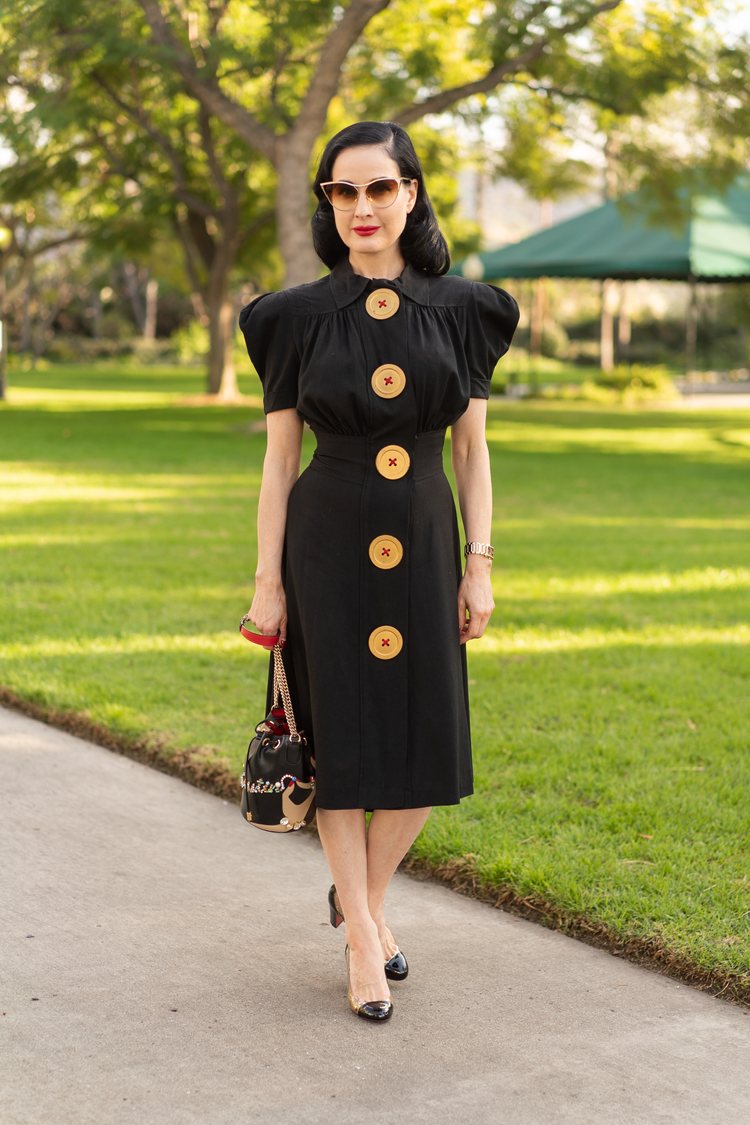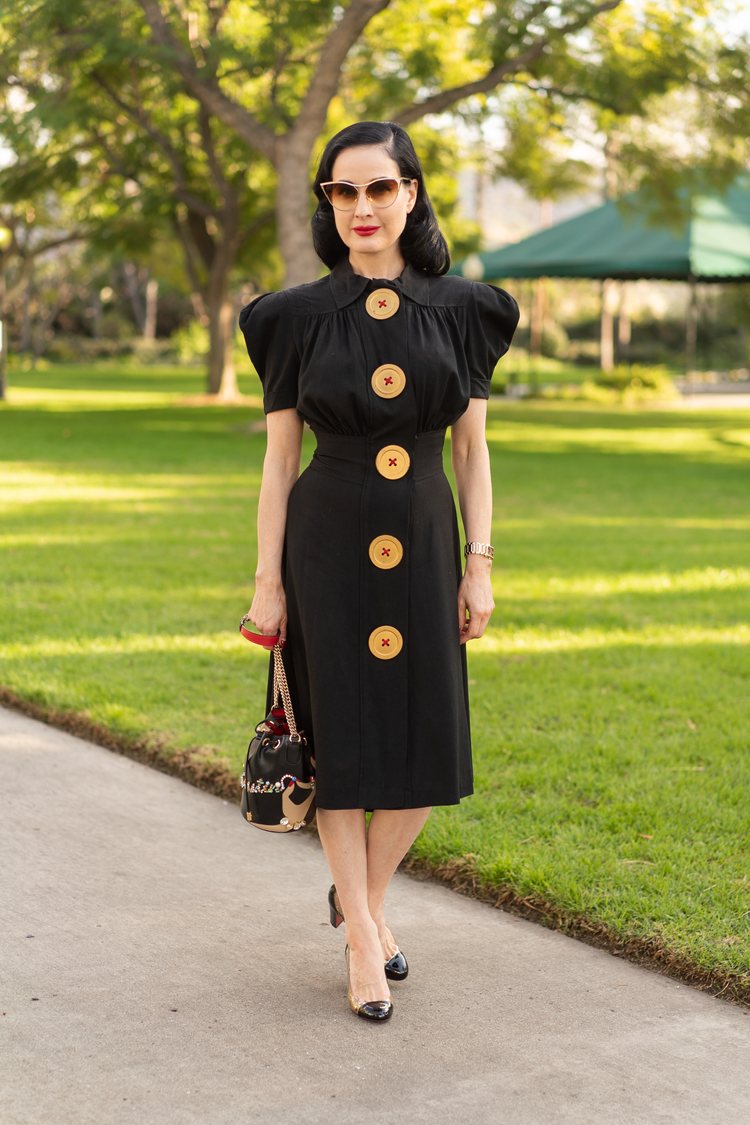 style
10 Pickwick Vintage Show Looks
For your inspiration – ten vintage looks spotted at Pickwick Vintage Show in Burbank in February.
Liisa Jokinen · Mar 17, 2020

Vintage shows are great not only for shopping but also for people watching. We visited the Pickwick Vintage Show in Burbank in February and met some fabulous vintage shoppers.
Jimmy Barker, 33 and Marvin, 6 months
"I'm wearing Tabi boots by Margiela, pants by Paria Farzaneh who's a British designer with Iranian heritage, and a gold-painted shirt by Issey Miyake. The pearl necklace was my grandma's and she gave them to me at Christmas after years of me trying them on; glasses are by Walter Van Beirendonck, which were sunglasses but I got them made into prescription. Oh, the sunglasses hanging on my shirt are Braindead with custom rose tinted lenses (and yes, life feels pretty amazing through them).
I came to Pickwick for inspiration and to see some of the vendors I've gotten to know. I'm a designer and stylist so going to events like Pickwick provides a bucket load of inspiration. I do menswear but I find the most interesting references with women's clothing. I also love meeting people and there's always a good bunch at shows."
Amanda Suter
"I'm wearing a 1980s Diane Freis silk dress and Opening Ceremony leather hurraches. The dress was found for me by my best friend – a friend of ours was selling it at a local flea market in San Diego. I think I got it for a total of $30! The shoes were an eBay score.
I always shop for my business, Butch Wax Vintage, at Pickwick and find lots of fabulous merchandise. I'm always looking for unique 1940s and 1950s items, mixed with the occasional 1980s avant-garde designer piece.
I love this show because I see friends who are in the same business as me. Everybody is so nice and welcoming. The selection of vintage is great and it's not overwhelming. It's one of my favorite shows to attend."
Cecile Burns, 27
"I'm wearing a 1970s California handkerchief souvenir blouse from Black Ribbon Vintage, 1950s boys sweater from Silver Lining Honey, a 1950s gaberdine skirt, and modern Martiniano glove shoes.
I just bought a 50s 7up mechanic coat from Caramel Vintage Shop. I enjoy Pickwick for its diversity and an all era scope. It's well-curated and has the best sellers."
Elyse Vieni, 32
"I'm an acrobat and vintage collector of all things weird and wonderful and reseller of my vintage treasures. I'm meshing my love for acrobatics and fashion in my business Runway to The Circus.
My outfit is a combo of vintage pieces I've found at all different Goodwills and Salvation Army's all over the world through my travels.
This is my first time checking out the Pickwick vintage show. I came to say hi to all of my vintage reseller friends. What I like most about the show is viewing all the fabulous vintage and catching up with friends and vendors that buy or consign with me, allowing my pieces to be a part of this beautiful show."
Patrick Aaron Gainer, 29
"The Wrangler long sleeve is a vintage piece from my personal collection. The leather harness top is by Zana Bayne. I made it myself while I was apprenticing with her here in LA. The skirt is a simple staple piece. Shoes are pink crushed velvet Air Force 1's and I bought them new.
I am at Pickwick helping my friend Mel run her booth for her brand Hall of Wonders."
Eleanor Wells, 32
"My Quarterbacks of the Century jersey is from the Nearly New thrift shop in Louisville Kentucky (where I'm from). My hat is from the Nitty Gritty vintage store in Louisville as well. I got my bottle cap bag in Ghana when I lived there for a summer. Shag jacket I got from Pickwick last year! Lastly, my J.Renee boots I found on Etsy.
This time at Pickwick, I found the most beautiful 40's sea foam green dress with a little sequin accent that I plan on wearing to the Kentucky Derby this year. Finding the hat for the outfit is always a little harder. I have quite a Frank Olive collection (as does my mom from past Derby's) but if those don't work, I usually have one made by a milliner in Louisville. I like The Mysterious Rack or Formé.
Pickwick show is as much of a hang-out as it is a shopping session. I consider myself very well versed in vintage (brands, collections, etc) but I always learn something new there. It's fun to nerd out with your fellow vintage heads."
Samantha King, 24
"I'm wearing a Vivienne Westwood Worlds End shirt and trousers are unknown, there is no label in them. With Gucci loafers, Balenciaga bag, and vintage custom glasses from the 70s."
Sarah Taylor, 29
"I am wearing a Rachel Antonoff jumpsuit and vintage shoes. I was keeping an eye out for good shoes, weathered tee's, and jewelry here at Pickwick. I like how the show is organized, it feels easy to navigate and see everything. Also so much great vintage!"
Brian Dinh, 22
"I am wearing a 1970s leather fish scale jacket and culottes. The jacket was purchased from the Rosebowl Flea Market and the shorts were a birthday present. I am sporting a very 80s does 50s secretary top to match, with white ribbed socks and some tassel loafers. I bought a theater corset from Sacred Estate, and I came to the show specifically for the piece after seeing the vendor post about it online!"