designer vintage
Ossie Clark – Lauren Lepire's Number One Vintage Love
Lauren Lepire, the owner of the Timeless Vixen vintage fashion company, is drawn to Ossie Clark more than any other designer. Clark was the celebrity designer of the 60s and 70s Swinging London.
Liisa Jokinen · Aug 11, 2020
Photos: Lauren Lepire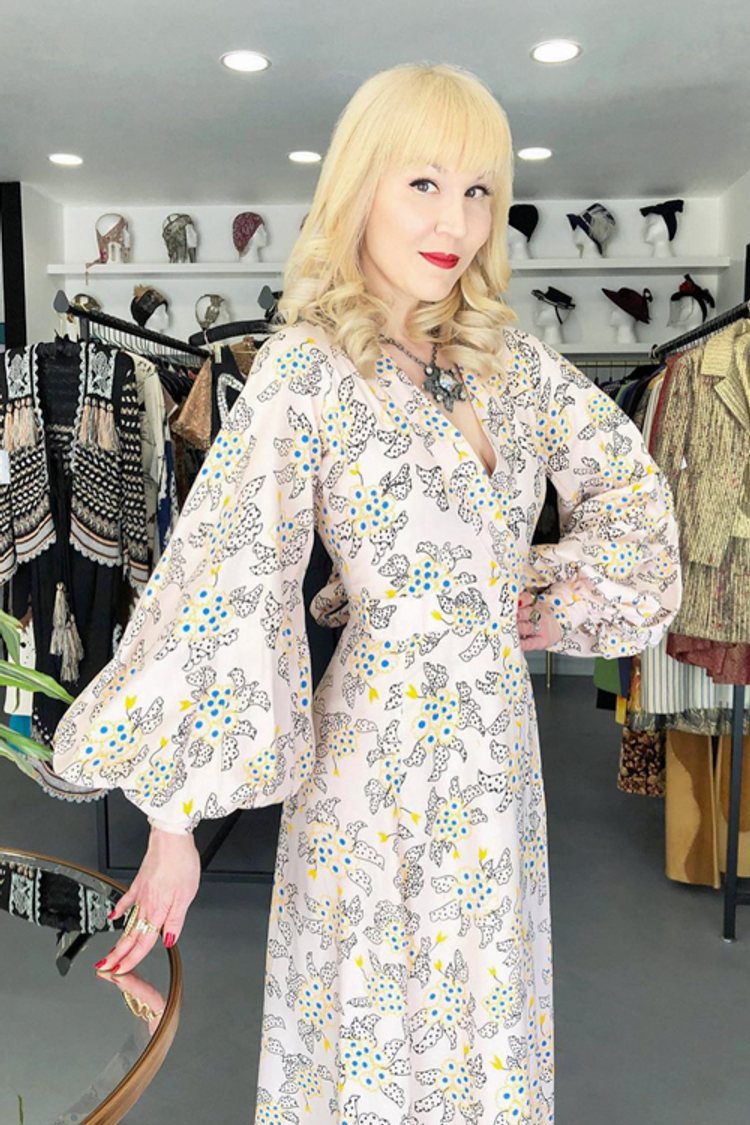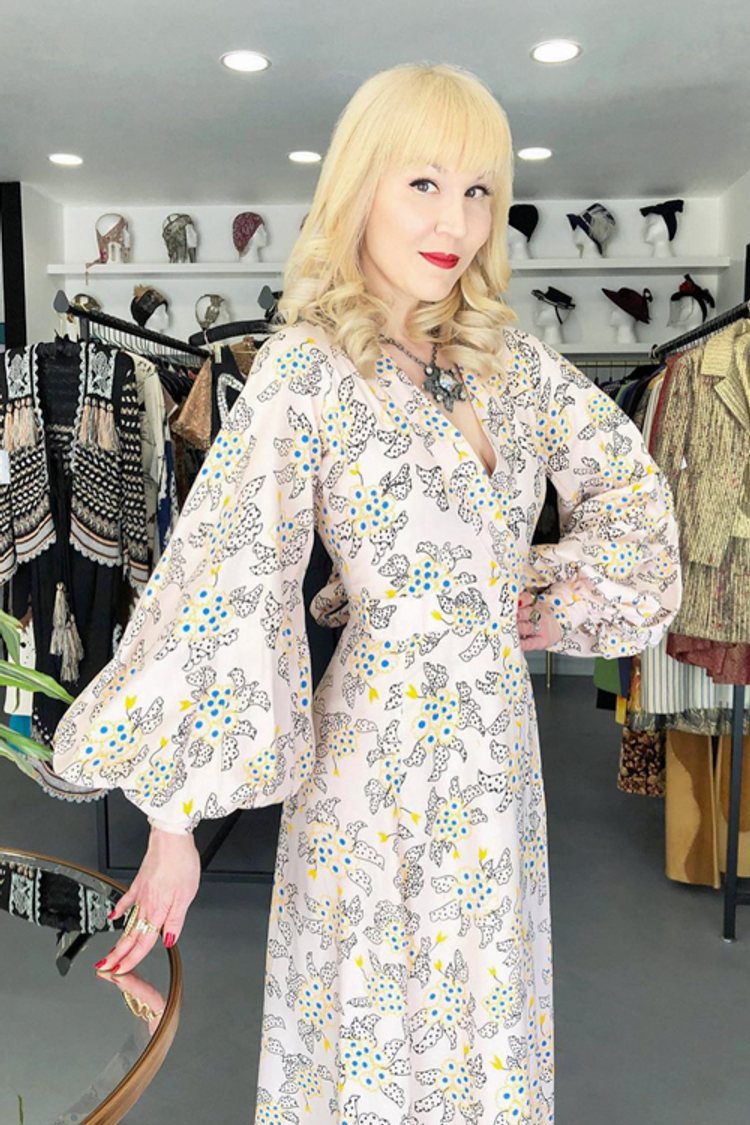 designer vintage
Ossie Clark – Lauren Lepire's Number One Vintage Love
Lauren Lepire, the owner of the Timeless Vixen vintage fashion company, is drawn to Ossie Clark more than any other designer. Clark was the celebrity designer of the 60s and 70s Swinging London.
Liisa Jokinen · Aug 11, 2020
Photos: Lauren Lepire
"I found my first Ossie Clark dress when I was 17 years old and it was love at first sight. The dress cost $400 at the Santa Monica Civic Fashion Show – the only vintage show at the time in the Los Angeles area. Today that dress would sell for $1500-2000.
I still have my first Ossie Clark gown and could never imagine letting it go. It's not about their high value to me. I just love wearing them and keeping the garments safe. I have well over 160 Ossie Clark pieces in my personal collection now and it just keeps growing.
You could not really know which decade the gown was from. There were some 30s influences, some 70s influences, and it even looked contemporary at the time. His designs were truly timeless. He borrowed aspects from many decades."
Ossie Clark was one of the most influential British designers in the 60s and 70s. His most productive years coincided with The Swinging Sixties, the youth-driven cultural revolution that emphasized modernity and fun-loving hedonism, with Swinging London as its center. Art, music, and fashion flourished.
Clark was born in Liverpool, studied fashion design at the Royal College of Art, and had an extraordinary collaboration with his wife, textile designer Celia Birtwell. After graduation, he was featured in Vogue as one of the promising young designers. Soon after, fashion designer and retailer Alice Pollock invited him to design for her hip Quorum boutique and Clark started to get recognition.
Birtwell's floral prints were inspired by the Russian artist Leonid Bakst and the art collections of the Victoria & Albert Museum. Clark cut the printed chiffons and crepes on the straight and turned them to fit the body on the bias, to form the "spiral line" that he borrowed from Pierre Cardin.
Clark also experimented with alternatives to zippers, in particular ties or numerous covered buttons. His versatility in the period from 1967 to 1968 was best illustrated by his use of a range of materials: he made use of snakeskin and leather as well as chiffon, satin, crepe, tweed, and furs.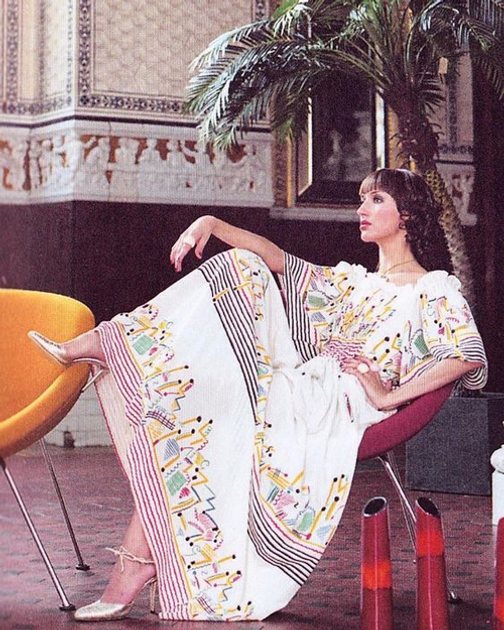 Clark dressed the famous and fashionable of the times – Patti Harrison, Anita Pallenberg, Marianne Faithfull, Elizabeth Taylor, Yoko Ono, and Twiggy.
"Designer Anna Sui has said that Clark made dresses for the girls that we all want to be – rockstar's girlfriends! He was one of the first young celebrity designers. Nowadays you would call him a celeb stylist", says Lepire.
Women loved and still love to wear Ossie Clark. He designed for the female body. His designs looked seductive but they were also comfortable. Low necklines, wrap cuts, pointy sleeves were some details that made his garments fit any body.
"I like feminine clothes which make the girl more important than the dress", he told a journalist in 1965.
"Clark's designs are so flattering – he really knows and understands the female figure. Because of the bias-cuts and draping, women with curves look stunning in his dresses. Anyone can look great in Ossie Clark. Unfortunately, it is very hard to find his gowns in bigger sizes due to desirability", Lepire says.
Clark was more inspired by earlier decades than the unisex looks favored by his contemporaries. He was greatly influenced by Madeleine Vionnet who was one of the leading designers in Paris between the Wars (1919-1939) and Charles James who was active in New York during the 40s and 50s.
"One of my favorite Clark designs is the so-called "Bridget" dress which was named after Brigitte Bardot. It is a wrap style dress with no hooks or zippers, and extremely comfortable and easy to wear", says Lepire.
Bardot was a great fan of Ossie Clark's designs and a regular client at the Quorum boutique. The dress was inspired by the sixties sex icon with the super low plunge and high leg slit and cute puff sleeves.
Clark also designed the iconic sequin jumpsuit for Mick Jagger for the Rolling Stones' U.S. Tour in 1972, which followed the release of their iconic album Exile on Main Street.
In 1968 Quorum launched its "Nude Look" collection, transparent chiffon tops and dresses worn with little or no underwear.
"Clark's nude looks were magical – you literally looked like you had nothing underneath the semi-sheer silk yet it read so classy and elegant", describes Lepire.
"It is hard to find Ossie Clarks in good condition because people really loved, lived, and partied in his dresses! There are wine stains on the front, sun damages, and I have even come across heel marks on the bottom because people danced all night in Ossie Clarks. If you find a vintage Ossie Clark it is most likely from its original owner."
Museums don't have his pieces in great numbers either. Maybe because Clark was more interested in creating beauty than making lots of money.
"Not many people know that Ossie and Yves Saint Laurent were good friends but Laurent copied his ideas somewhat. During the late 1960s, when they spent the most time together, Laurent mirrored his ideas."
Clark's career was short. The period from 1965 to 1974 is regarded as his zenith. In 1967 Pollock had sold her store to a large UK fashion house, Radley. Radley took over Quorum's debts, got the management onto a sound basis, and expanded Quorum's retail business by distributing Clark's dresses to leading retailers around the world through the introduction of the "Ossie Clark for Radley" collections.
But Clark's drug abuse and his divorce from his wife lead to a downhill spiral from which Clark never recovered. In 1996, Clark was tragically murdered by his lover.
"He is still inspirational to many contemporary designers like Tom Ford and Marc Jacobs. And Gucci has been borrowing both from his designs and his aesthetics in their recent AD campaigns. 10 years ago people did not know who he was. I'm just happy people know and appreciate him more now", Lepire says.
Timeless Vixen
1100 South Beverly Drive
Los Angeles, CA 90035
@timelessvixen
Sources:
• Watt, Judith: Ossie Clark 1965-74. V&A Publications. 2005
• lovetoknow.com – Ossie Clark