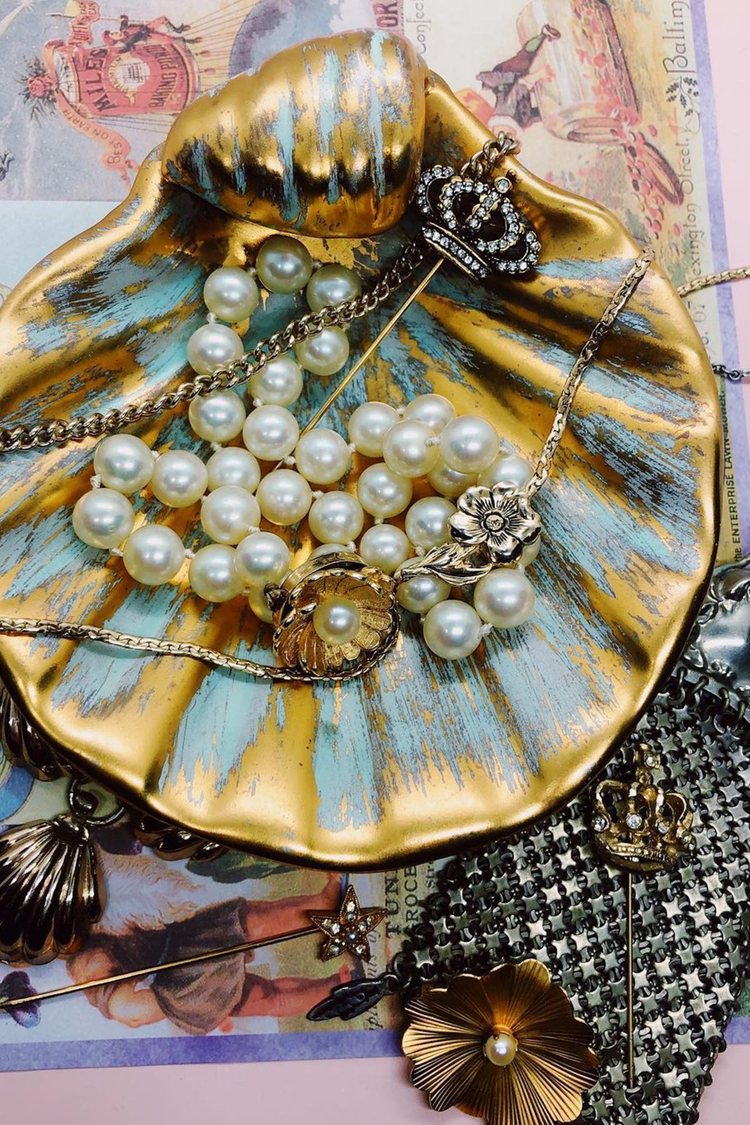 Since the pandemic began, vintage auctions have largely moved online. We interviewed some experts to get the best tips on how to shop and bid like a pro on all kinds of online auctions.
Suzie Ryu, the Senior Director Of Marketing at LiveAuctioneers online marketplace, has over 5 years of experience working at an online auction marketplace. LiveAuctioneers brings millions of auction items online annually, allowing users to get rare and desired vintage items for affordable prices.
Ryu's most important pieces of advice are: follow searches, bid early, participate also in the live bidding, and factor in all costs when you are setting your budget.
"Thousands of items are added each day on LiveAuctioneers, so following searches helps make sure you don't miss out on amazing pieces. You can type in a search, hit enter, and you'll have an option to 'Follow Search'. By doing this, you'll be notified anytime an item matching your criteria surfaces at auction. It's the best way to keep track of various designers and styles that you may be hunting for."
"Once you've found an auction you want to bid in, registering and placing absentee bids early is the best way to go, you'll be notified if you're outbid by another bidder's absentee bid. Every auction house has different criteria for approval, so it's best to register early in case they require additional information from you. If you really want to win the item, make sure to participate in the live bidding. There's always a chance someone can swoop in with a leading live bid and win the lot, so you'll want to tune in if it's a really important piece."
Before you start bidding, be sure to review the auction house's shipping policy, and ask for a shipping quote to avoid any surprises. And don't forget about the buyer's premium, which varies by auction house (generally 20–25%), Ryu lists.
Before bidding, doing some research can be helpful so that you won't bid too much.
"You can always look through LiveAuctioneers' free price results database to see what similar items have sold for, and use that to formulate a general price range that you're comfortable with."
Ruy says it is not impolite to offer low bids – just keep in mind that if you are eyeing a special piece, someone else most likely has an eye on it as well.
Instagram Auctions – Party on Your Phone
During the pandemic, Kait King of Tiny Shiny Things Vintage discovered the Instagram auctions.
"IG auctions feel like a party and there is a sense of community. I think since it's coming from smaller shops or creators there's a great sense of community. It's definitely a fun way to spend an evening while we are all socially distancing. Grab a glass of wine and unwind."
IG auctions can also be a great way to find good deals as vendors use the auctions as a tool to move inventory. Despite that, it is advisable to do your research, have a budget in mind and avoid getting too emotionally attached to the items, King says.
"My tip is to never be the first to bid unless it's near the close! Most IG auctions move quickly, so if the seller is repeating item details and no one has jumped you're likely to get a good price. If bidding heats up you need to have a clear budget in your head and the will power to jump."
To find vintage auctions on Instagram, simply search the hashtag #vintageauctions. Some of King's favorites are run by Vintage on First, Nomad Heart Vintage, and Bear Bone Vintage.
"Finding a few solid auctions and building relationships with the seller can help you stay within your budget, but also go home with your dream vintage piece."
King's favorite piece, a 50s classic black purse was a score at one of Bear Bone Vintage auctions.
"I paid $26 against one other buyer. It was an easy process. I received a DM where I could submit payment and my mailing details. I received my bag a few days later. It is so well made and my new go-to bag."
King says IG auctions feel more accessible than traditional auctions. "I also feel like you get a better sense of the item's condition and true look on Instagram live. IG lives tend to feel very QVC: There's dialogue, sellers demonstrate condition and details whereas on eBay auction or other lot auctions are mostly limited to a few still images. The personal touch on Instagram is really nice."
eBay – The Original Auction Site
Hel Grierson of Hel's Closet has been using eBay since the early 2000s. Her best advice is to always set the absolute maximum before bidding and not getting too obsessed about the items – they are just clothes, anyways.
"It is easy to get tricked into bidding too much! When you are bidding and the adrenaline is going it's easy to get sucked in and pay whatever just to win. Never get too attached to an item because nothing is guaranteed. (This is really hard lol). The worth of vintage clothing is never set in stone so it's really important to know how much something is worth TO YOU so you don't feel bad later. It's probably a good idea to follow some auctions for a few days before you start bidding to get a feel for the prices things go for."
If you get too excited, it also easy to overlook flaws. Always check the measurements and study all the photos.
"I think it's extremely important to read descriptions and view photos carefully. Make sure the item isn't damaged beyond repair. If you want to wear the garment make sure you check the measurements – sizes back in the day are not comparable to modern sizing so be aware of that. Once I made the mistake of buying a dress size 26 which ended up having a 22 inch. Oops! Also, be aware of shipping costs. Some sellers will sell items for cheap but jack up the shipping price. Always factor shipping and taxes into your total before bidding."
Grierson loves finding last-minute things that somehow got looked over by other people. Therefore her favorite feature on eBay is the "Ending Soon" auctions.
"With vintage clothing, it's also possible to find things that people simply didn't know what they were/the worth of them. I recently bought a 90s Donna Karan sequin body for $10 because the name was misspelled. Another favorite is finding handmade things that have an undetermined value due to no branding. I think this is a way to find some really cool and unique stuff without breaking the bank!"
Online Estate Sales
Many estate sales have gone to online auctioning because of the pandemic. Ann Hyett, the founder of the vintage lingerie company Easy Seda, has been shopping on sites like Auction Ninja, Clearing House Estates, and Annie's Auction House through the pandemic.
"I think online auctions are a wonderful platform for people who can't get out to physically shop, and for Covid times, it was an amazing option put into place."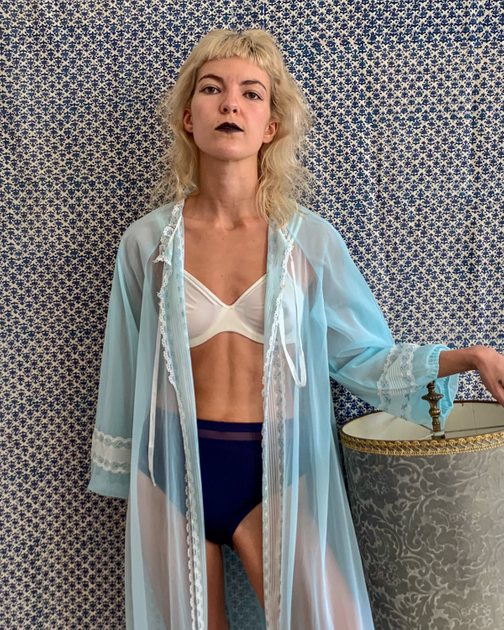 Still, Hyett prefers IRL auctions.
"For me, online auctions are a tricker game due to the fact that you can't see the object in person. Pictures can only tell so much of a story regarding stains, quality, etc. Also, with in-person auctions you are physically there, in the moment, feeling the energy. With online auctions, you are strictly dependent on your phone or computer sending you updates about being outbid or an auction ending, or your credit card not going through in time. And you have to have quick access to your technology of choosing at any given time."
Regarding her best tips how to do online auctions, the same rules apply as IRL: do your research before making the bid and decide the maximum amount you are willing to pay.
"The taxes and fees really add up and you often times spend more money on an item than you would shopping in real life. Lastly, be on it! Set alarms and reminders to check in when the auction goes live. Then, have the website pulled up and ready to go. Pre-enter your credit card information with the auction company so this doesn't become an issue if and when you win!"
Hyett also recommends trying to bundle your bids. "If you are picking up your items, it's best to find a few items you want and make multiple bids. If you win one item, your already spending time, gas, and potentially tolls to retrieve the item so you may as well make the trip worth it by hopefully winning multiple items."
Sometimes you can get carried away while scanning online catalogs and bidding last minute.
"For my boyfriend's birthday, I found a 7ft FAO Schwartz stuffed giraffe (don't ask, lol). I got so caught up in last-minute bidding frenzy and things got out of control, not to mention the taxes and fees added on. Luckily, right at the last bid, I came to and googled other options and found a similar, albeit not vintage, giraffe. "Instead of potentially spending $400 on a gag gift, I did some much-needed research and saved myself a lot of money."
Sometimes you can get lucky – like when Hyett scored 1800s petticoats and gowns found in a steamer trunk for $40. Or sometimes you just need to give up at the right time.
"Once I bid on so many 1900s silk nightgowns but only won one, due to staying true to my max bid. It was hard to lose some of these, but I knew they were not worth the money they were going for in the end."