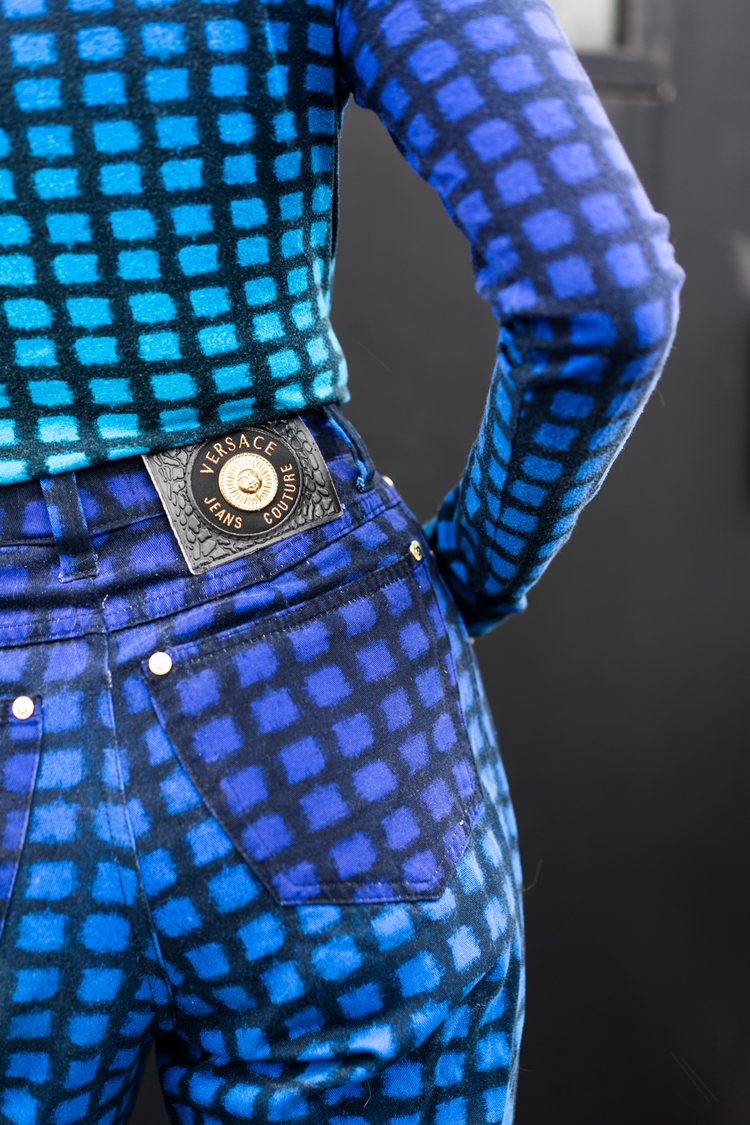 Ting Ding collects and reunites 1980s and 1990s print sets by Moschino, Versace, and Gaultier.
"In 2013 I was living in Berlin where I first met Rhiannon Barry, co-founder of Wavey Garms, a prominent UK based Facebook group specializing in 90s niche streetwear brands such as Burberry and Moschino. Rhiannon also keeps a personal archive under the Instagram handle Ninety Fly.
This was the first time I'd ever seen anyone wearing such a full look. Especially in gray Berlin where everyone was wearing black, drapey clothes. I was also wearing a lot of black just to fit in with the mood of the city. It was really refreshing to have Rhiannon just pop up, in her colourful and bold Versace print looks paired with her rude girl attitude.
I actually bought my first piece from her, a black leather Versace backpack which I used after many mends and tears. I then moved onto other accessories, like a Moschino fannypack and belt.
It wasn't until I moved to New York four years ago that I first started collecting the sets. I felt more comfortable wearing color in New York. The vibrance and diversity here made me realize that the social policing is different; I can express myself more.
My collection officially started with a pair of Moschino pants which I then later found the matching shirt for. Gradually, I branched out to other brands like Versace and Gaultier.
It is all about the cohesiveness of wearing a set since I never wear the pieces separately. To be honest, I am quite weary and lazy about "fashion".
I don't enjoy the endless options that capitalism provides and am much more utilitarian in nature. I prefer to put on just one uniform and be ready to go.
Much of this ethos has folded into the thinking and production of my own apparel line HECHA / 做.
I like bold patterns because they make me happy and seem to make others smile as well. I'm lucky that most pieces fit me but I do have a good tailor on hand if the fit is ever off.
For most of my sets, I have acquired the pieces separately because it is rare to find them together. Complete sets are also more expensive than finding the tops and bottoms separately. The longest it has taken is 2-3 years to complete a set.
The search and act of "reuniting" two pieces is what adds value and creates the personal attachment to the clothes.
eBay is my primary source, but I also buy on Etsy, Depop, or any online second-hand store. My accumulated knowledge and mental index of the prints and styles is what helps me game the vintage garment market. I know what a good deal is; and I know what pieces have value, so I'm generally buying and flipping pieces regardless of current trends.
In the beginning, I was more obsessed and would spend at least half an hour everyday hunting online. Now that my collection includes around 20 sets, I do find myself slowing down since there aren't as many prints left that appeal to me (except a few ultra rare prints).
The most that I've ever paid was $400 for a rare Gianni Versace print silk top but usually I limit myself to $100-150 per article.
I'll admit that there is a specific sense of satisfaction in wearing designer clothing but not necessarily paying designer price.
The pieces that I collect are well-produced as I consider the quality of fabric and stitching.
I typically only buy garments made in the 80s and 90s as the quality was much higher then. There was thought put into the composition of each piece, before fast fashion accelerated the cycling of consumer seasons."