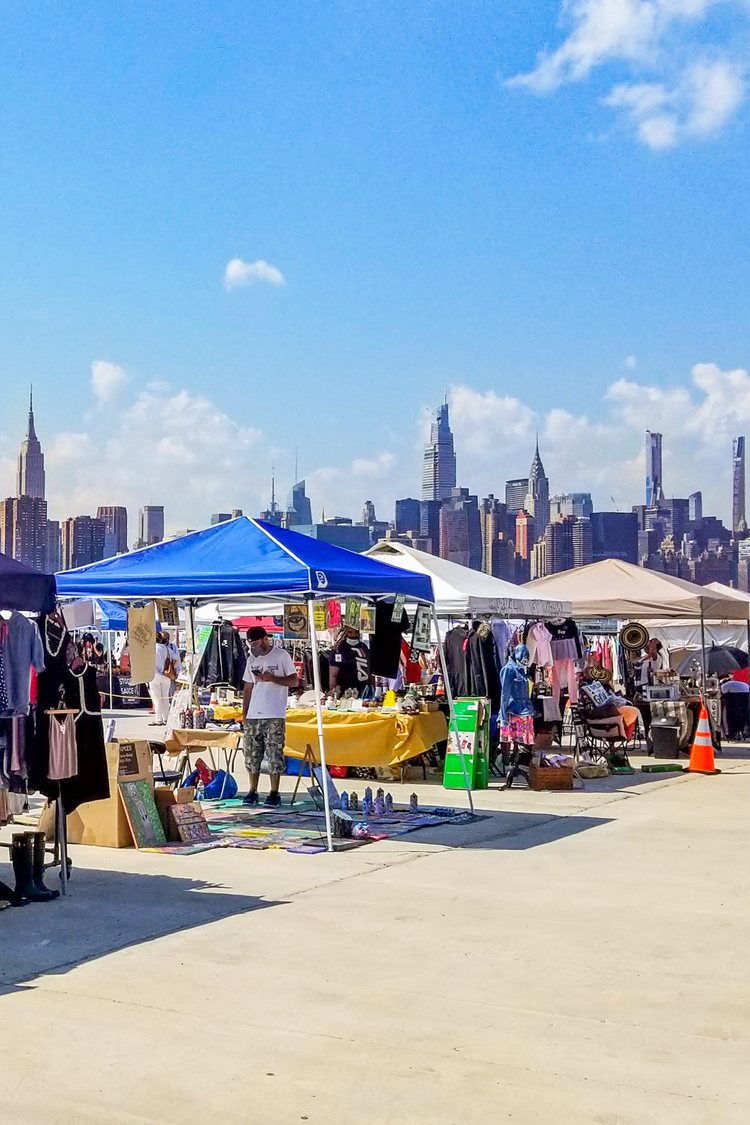 A guide to outdoor flea markets in New York City: 7 flea markets that all have several vintage clothing vendors.
The summer is finally here, and so are the outdoor flea markets. The flea markets in New York City have seen quite many changes so we decided to put all the up-to-date infos together and draft you a shopping guide for the summer of 2021.
The best part: entrance is always free to all these flea markets!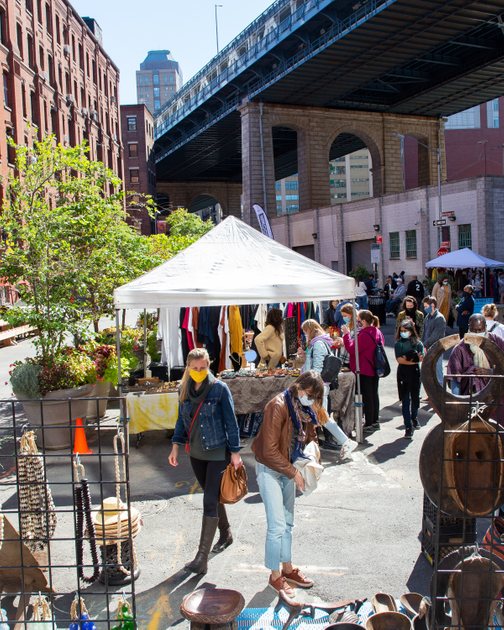 Brooklyn Flea
Two locations in Brooklyn: the flea is in Williamsburg on Saturdays, and in Dumbo on Sundays.
Eric Demby and Jonathan Butler co-founded the original Brooklyn Flea in Fort Greene, Brooklyn, in April 2008. They remain the only partners and run now four different fleas in the city.
"Jonathan and I knew each other from his running the blog brownstoner.com (since sold) and me being communications director for Brooklyn Borough President Marty Markowitz in the mid-aughts. We got along, had a drink at an empty bar in Dumbo in October 2007 and decided that Brooklyn needed its own flea market. Turns out we were right", Eric Demby tells in an email.
Currently, Dumbo has around 30 and Williamsburg around 20 vendors each weekend.
Brooklyn Flea Williamsburg
Sat 10am–5pm
Kent Ave & North 6th St, Williamsburg, Brooklyn
Brooklyn Flea Dumbo
Sun 10am–5pm
Manhattan Bridge Archway, Dumbo, Brooklyn

Chelsea Flea
The iconic NYC flea market since 1976. The only market that is open year-round, rain or shine.
"This iconic antique and vintage market has been through plenty of changes since its founding in 1976", tells Gothamist. "At one point it sprawled across five parking lots, before developers discovered the neighborhood and built over almost everything. At the end of 2019 it looked like it was done for good. At the time, operators Helene and Alan Boss announced they couldn't re-signe the lease on the space and were shutting it all down."
Within a month of that announcement, Eric Demby and Jonathon Butler (founders of Brooklyn Flea) took over, inviting back all Chelsea Flea vendors for the same price they had previously paid.
Yardena Lulu of Lulus Vintage Lovelies has been selling at various Chelsea Flea locations since 2001.
"Designers from all over the world would come to shop, and we enjoyed the thriving community. We provide a service and beautiful clothing that has sometimes survived over 100 years."
Pre-pandemic, Chelsea Flea had around 80-90 vintage vendors each weekend. Now the number is at about half of that to square with the city regulations.
"We focus on vintage and antique items, because New York has lost most of its flea markets and people still love to dig and discover finds. There are enough places to buy everything else out there. When it comes to handmade we are very selective and look for amazingness over 'craft'", explains Demby.
Chelsea Flea
Open year-round, rain or shine
Sat & Sun 8am–5pm
29 West 25th St, Chelsea, Manhattan
@chelseaflea
Greenpoint Terminal Market
Big outdoor flea by The East River in Greenpoint, Brooklyn. One-third of the vendors sell vintage clothing and accessories.
The vast outdoor area by the East River has the capacity to comfortably and safely accommodate up to 100 different vendors. As of now, about 30% of vendors are selling vintage clothing & accessories.
Customers are occasional shoppers, professional thrift hunters, families, people walking their dogs, everybody who enjoys nice company and stellar views.
The market was born in the midst of a global pandemic. Having witnessed so many local businesses struggling or going out of business, the founders wanted to generate a business opportunity for them.
Scenic views of the Manhattan skyline. Live music, food, and drinks available.
Greenpoint Terminal Market
2 Noble St
Greenpoint, Brooklyn
Sat & Sun 10am-6pm
@greenpointterminalmarket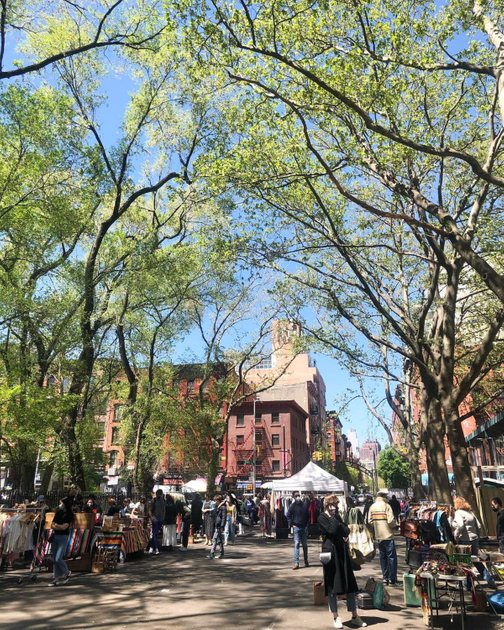 Hester Flea
A small neighborhood flea market in Lower East Side. Run by the people behind Brooklyn and Chelsea Fleas.
The owners of the Brooklyn and Chelsea Fleas took over the space in Seward Park in spring 2021. The previous flea market at the same spot was called Hester Street Fair and ran by David Komurek and Janine Ciccone. (At the time of writing, Hester Street Fair is looking for a new space in Lower Manhattan and is hoping to open again during summer 2021.)
The flea has usually 15 shopping vendors and 3-4 food vendors and they are planning to expand the hours to Sundays soon, too.
Hester Flea
26 Essex St
Lower East Side, Manhattan
Sat 11am–6pm
@hesterflea
Nexus Flea
Bi-weekly flea market supporting local East Village small businesses. Not just a flea but also a social gathering hot spot.
The flea is curated and organized by Lisa Marie who launched the flea to help her friends during the pandemic.
"I carefully select sellers that match the vision I have to fit the Nexus Flea. Nexus Flea was born out of necessity to help struggling friends, musicians and sellers like myself that had been affected during the pandemic. I needed to make some income and a lot of my friends were in the same situation. This flea is an avenue to showcase new energy by offering items from independent designers and artists you don't see in the homogenized chain stores."
The flea has generally 25 sellers of whom almost half are selling vintage clothing. Customers reflect the vibe of East Village from "non-binary teens to old school EV locals".
Nexus Flea
May–October, every other weekend
11am–6pm
1st Ave & 2nd St, East Village, Manhattan
@nexusflea
Grand Bazaar NYC
The oldest flea market in NYC. The flea was launched to raise funds for NYC schools and it still serves the same purpose.
The Grand Bazaar NYC (originally GreenFlea Market) was launched by a group of parents as a simple yard sale to raise funds for their children's schools in 1982.
100% of the profits are donated to four public schools, funding arts, enrichment, and classroom essentials for over 2,000 children.
For the reopening, the bazaar will have over 80 merchants of which about half are vintage/antique dealers. When permitted again, Grand Bazaar will reopen its indoor section inside the school building.
Besides being a mission-based market that is "the biggest, oldest, and most diverse in NYC" Grand Bazaar also organizes 26 special themed events and experiences throughout the year (pre-pandemic).
Grand Bazaar NYC
Starting June 6, open year-round
Sun 10am–5.30pm
100 West 77th St, Upper East Side, Manhattan
@grandbazaarnyc